Expert Review
Super Soco TC Max review (2019 - )
Super Soco are current UK market leaders in electric bikes with their stylish, Chinese-built range of 50 and 125-equivalent scooters and bikes and its range-topping TC Max brings funky, biker style to affordable green commuters.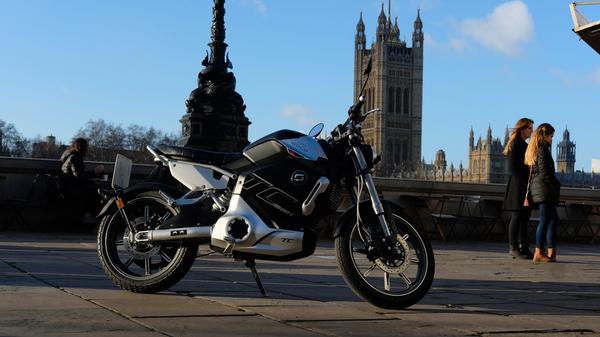 Words by: Phil West
Published on 4 June 2021 | 0 min read
The Auto Trader expert verdict:
Newcomers Super Soco have been making waves on the fledgling UK electric two-wheeler scene, and with its stylish yet practical and affordable TC Max range-topper you can see why. Electric bikes have never been a closer, credible alternative to conventional petrol power.
Reasons to buy:
Has 60miles range, can go 60mph and charges in less than 4 hours from a standard UK 3 pin plug
Easy and cheap to ride (if you're 17+ you can ride with a CBT)
Just about enough performance
Design
Until now, electric two-wheeler design had comprised either compromised scooter (as the battery takes up the luggage space) or exotic, expensive roadster (Energica, Harley LiveWire etc). The designs of Chinese-built Super Soco, however, are more adventurous than most and their range-topping, £4249 (or £4349 with spoked wheels as tested here) TC Max is a credible stab at a 125cc equivalent (so you need an A1 licence and CBT to ride it) retro roadster, yet still at affordable money – think 'electric Honda CB125R' and you won't be far wrong. There's plenty of stylish, clever touches such as three power modes, built-in immobilizer, keyless ignition and charger compartment, it works well and is good looking. But it's also a bit 'cute' and small, especially for larger riders and overall build quality is slightly flimsy.
Expert rating: 4/5
Riding position
On face value there's nothing to complain about here. With 'proper' 17in motorcycle wheels (with £100 extra wires no cast alloys on our test bike), inverted forks, monoshock rear and roadster stance, the TC Max is also a 'proper' motorcycle – that happens to be electric-powered. It's also very slim and light enough (just 100kg) to easily wiggle around, lift the rear off the ground etc. The bar position is OK, the fairly cheap round mirrors work and the ribbed bench is adequate (for one at least). As a novice-friendly, motorbike-style commuter the TC Max ticks a lot of boxes. It also has to be pointed out, however, that it's almost toy-like small, like an 80%-scale version of a full-sized bike. For novices or shorter riders that may be a bonus, for larger riders it's on the verge of embarrassing.
Expert rating: 4/5
Practicality
You might expect an electric bike to be less practical than an electric scooter but that's not really the case as most scoots have any potential luggage space taken up by the battery. As it is, the TC Max makes a decent city commuter. With a max of around 50mph it's fast enough for all bar dual-carriageways, it's light, slim and ultra nimble at slicing through traffic, its keyless fob is a nice touch and it's also so light and manageable it's easy to store in a shed (or even indoors). A full charge lasts up to 70miles (depending on power mode) so is ample for daily commuting. Charging is easy via the three-pin plug charger supplied (with a full charge possible in just four hours via an optional extra fast charger) and it costs just pennies to run. We do still have to dock it a mark, however, for lacking a conventional petrol scooter's leg protection and luggage capacity.
Expert rating: 4/5
Performance & braking
The TC Max is the most powerful, fastest and most expensive machine in Super Soco's electric line-up but, even so, there's nothing to get too excited about. While most of its other scooters and bikes are, in layman's terms, 50cc/AM licence equivalent, so capable of around 30mph max via their 2.8kW motors fed by 30Ah batteries, the TC Max has a more powerful 5kW (6.7bhp) motor drawing on a 45Ah battery. There is also a useful 3-mode power switch, with '3' being the most powerful. But although its 0-25mph acceleration is brisk enough to outstrip traffic, top whack, even in mode 3, is around 55mph at which point you can almost count down the remaining range (in miles) on the LCD display. We found it best (and most entertaining) to use the power switch almost like a gearbox to maximize range. Up to 30mph? Mode 1. 40mph? Mode 2, and only Mode 3 if you really need the extra speed. But even then it's still not really '125 equivalent' – more 100cc equivalent. Braking, too, is passable, but nothing to get exciting about. The single front disc is OK, but a bit feeble but as the brakes are linked, using the rear also activates the third front caliper and makes a real difference. Final drive, incidentally, is by narrow toothed belt.
Expert rating: 3/5
Ride & handling
A little bit like the motor, although the TC Max has a lightweight tubular steel frame with cast aluminium subframe, inverted telescopic forks and monoshock rear, its chassis has more shades of a budget, Chinese commuter than of a genuine quality roadster. Even so, it's so light and its proportions so dinky that the TC Max is ultra nimble and a hoot to wiggle through cars yet also carves through mini-roundabout and the like with aplomb. The ride is adequate rather than refined and overall it's also simply not fast enough to make serious demands of its chassis. Considering the price, however, we were hoping for a slightly greater sense of quality.
Expert rating: 4/5
Running costs
Once you've paid the £4249 list price (or £4349, due to the wire wheels of out test bike) things get interesting. With zero road tax, a claimed full recharge cost of just 50p and a range of about 50 miles on average, that means the TC Max costs only 1p a mile to run – which when an equivalent 125 costs about 7p/mile on fuel alone makes things intriguing. Of course, that's not including insurance, depreciation, servicing etc but even then the indicators are good. Consumption of consumables such as tyres, brake pads etc will be minimal due to the low performance and final drive is by belt so no chain replacement is required. The life of the battery and the cost of replacing it, however, is hard to say…
Expert rating: 5/5
Reliability
With few mechanical moving parts reliability should be good however battery life is a question mark, owners have reported some minor problems and corrosion and build quality is more on par with a budget Chinese bike than a £4500 125, so we have our slight reservations. That all said, Super Soco is so far one of the most successful electric bike brands in the UK and it has an extensive dealer network.
Expert rating: 3/5
Warranty & servicing
Impressively and reassuringly, the TC Max comes with a standard, manufacturer-backed, two year warranty covering all parts and labour. Better still, this is extended to a full three years for the battery itself, so you should have few concerns. Service intervals are fairly frequent compared to conventional petrol bikes in being every 2000, rather than every 6000 miles, although considering its round town use high mileages are unlikely and the servicing itself very straightforward.
Expert rating: 4/5
Equipment
Although build quality is a little budget and flimsy, the TC Max is nicely styled and features more than its fair share of quality extras. The keyless ignition and built-in immobilizer are nice touches, as is the extra cost option of wire spoked wheels. The single round console is a mix of analogue speedo (with kph dominant over mph) and LCD panel, with useful displays for mode, range (according to which mode you're in), percentage battery life remaining and so on. On the slight downside the switchgear is a little crude, the indicators are not self-cancelling and that, combined with a slightly dull indicator warning light, means it's all too easy to leave them on. There's also a compartment for the standard charger and easily-accessible charging socket with a weatherproof rubber cover.
Expert rating: 4/5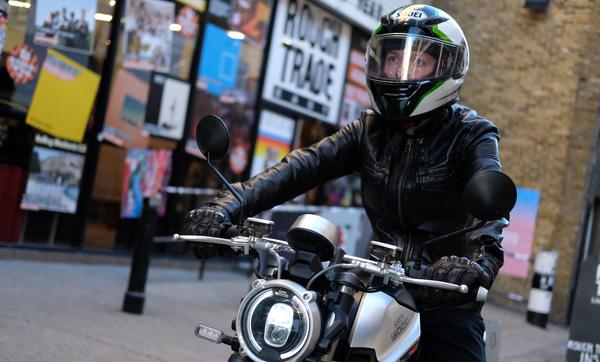 Why buy?
If you want a credible electric motorcycle – as opposed to an electric scooter – at an affordable price, the Super Soco TC Max is currently out on its own. On top of that it's not only affordable, it's stylish, easy to ride, unintimidating for novices, great fun around town and cheap to run. What's it's NOT, however, is quite the 125cc equivalent machine it claims to be (it's 6.7bhp and 50mph peak simply isn't close enough to, say, the 15bhp and 70mph of Honda's conventional CB125R) and, although similarly priced (the latest CB125R is £4299) nor can the Super Soco match its build quality, likely durability, slightly better spec and proven residuals and dealer network – but it IS the closest any electric bike has come to that kind of parity yet.
Expert rating: 4/5