Expert Review
Sunra MIKU SUPER Scooter (2021 - ) Electric review
Range-topping electric monkey bike from leading Chinese firm Sunra boasts impressive performance, quality and spec to go with its affordable, fun style.
The Auto Trader expert verdict:
New electric bikes from unfamiliar names may seem to be arriving by the week but this stands out not just for its fun and performance but also for its impressive quality, spec and price.
Reasons to buy:
Quality, high-tech monkey bike style
Easy to ride, operate and recharge
Near-125 equivalent performance yet affordable price
Design
While electric bikes still often seem to be finding their feet when it comes to style – conventional motorbike designs can be either too basic (Zero) or too expensive (Energica), scooters often lose luggage space to their batteries – this modern monkey bike interpretation by leading (but new to the UK) Chinese brand Sunra seems to have found its niche. With a similar, street savvy, mini 12-in wheeled monkey bike style to Honda's popular, petrol-driven MSX125 Grom, the Miku Super is equally 'bang-on-trend' as an urban, A1/125cc class equivalent urban runabout. It's also impressively delivered with smart looks all its own, plenty of practical features (eg removeable twin batteries), competitive performance (three modes including Eco and a Grom comparable top speed of around 50mph), features (LED lights, smart digital dash, Smartphone connectivity and even touch ID security). In short, for a monkey it has it all, but in electric form. It even undercuts the Grom on price and comes in pseudo Suzuki MotoGP colours!
Riding position
At the end of the day, the Miku Super's a small-wheeled 'monkey bike', so in terms of ergonomics there are inevitable compromises. Small and cute, with 12in wheels and an upright riding position means it's so easy to get on with your granny could ride it – seriously. Being a twist 'n' go electric, with no gears or clutch, makes it even easier than the petrol-powered Grom. While although electric-powered and lugging around two hefty batteries, its overall small dimensions means weight's not a problem either. For a town or short hop bike it's dinky, effective and fun – and brilliant at carving through traffic or parking pretty much anywhere you like. The downside is that, though 50mph capable roads faster than town tributeries can became daunting, long journeys are a no-no, there's no weather protection or luggage capacity and motorways don't bear thinking about – but then that's true of all monkey bikes.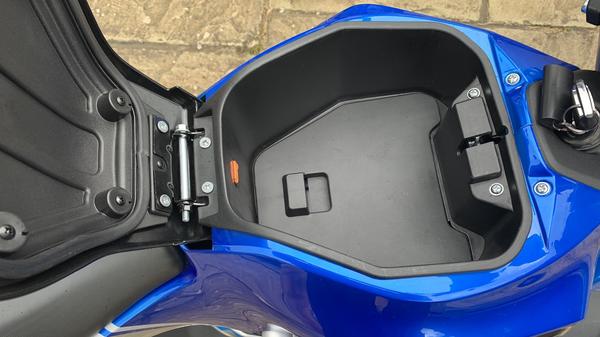 Practicality
It depends what your idea of 'practicality' is. If you want something capable of 100s of touring miles, can carry a pillion or luggage, you're looking very much in the wrong place – that's really not what monkey bikes are for, whether petrol or electric powered. If, however, you only want a round town fun bike that can be ridden on an A1 licence, is easy to ride so brilliant for raw novices and 'shorties' and is affordable and cheap to run, then the Miku Super is practically perfect. As mentioned before, it's even better than the Grom in some ways as its actually cheaper to buy and costs virtually nothing to run. We do have to dock one mark, however, simply for having virtually zero luggage capability (although the small compartment in the top of the dummy tank will take your phone and wallet) and it's also new and thus unproven with a still small-ish dealer network.
Performance & braking
This is where things start to get really interesting. Usually, until now, when you compare an electric bike or scooter to a petrol equivalent, they're either down on range or performance or up on price – or all three. Not with the Miku Super. Its rear hub-mounted electric motor produces a claimed 3kW, which is equivalent to around 4bhp. OK, that's not massive, especially as the 125cc petrol-powered Grom produces around 9bhp. In reality, though, there's not that much difference. The Miku also has three power modes, 1, 2 and 3. '1' is an eco mode, '2' and '3' roughly the same acceleration with '3' a top speed of around 50mph whereas '2' tops out at 40. Obviously '3' also drains the twin batteries faster. On our experience a range of 60-80 miles is possible using '1' and '2', more like 40-50 in '3'. That 50mph, however, compares to the Grom's of 58, which is not much different and is also more than enough considering it's mini-bike proportions: above 40mph it does start feeling a bit vulnerable so you wouldn't really want any more. Besides, it's more than enough for town use anyway. Braking is a little less impressive but still adequate. The single disc at the front isn't bad but I found myself supplementing it with a left-hand fistful of rear on more than one occasion…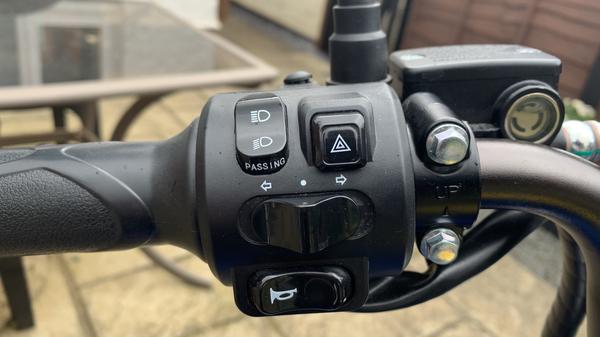 Ride & handling
Again, as the Mike Super's a small-wheeled minibike you have to give it some credit. If judging it over-harshly the ride given by the fairly basic twin shocks at the rear and fairly spindly telescopic forks at the front isn't that great. On smooth roads the ride is fine. But throw in a few pot holes (which its small wheels are particularly vulnerable to) and the suspension's limitations are quickly revealed. On the whole, this isn't a bad thing and not conspicuously worse than any other bike of this type. Handling-wise, though, the Miku Super's a laugh and perfectly up to the job. It's easily manageable, the weight is carried low, the steering is light and whistling around all the hazards a town centre can throw at you is a doddle. Yes, those small wheels mean it's a little twitchy and flightly, without the solid, stable security a bigger-wheeled bike brings. But for a monkey bike it's fine.
Running costs
Another aspect where electric bikes, and especially short-distance urban offerings such as the Miku Super, excel – and that's certainly the case here. There's no need for road tax, its limited performance means its hunger for the usual consumables such as tyres and brake pads is minimal, there's no chain being a hub motor and insurance will be low, too. Best of all, though, the cost of recharging those twin batteries – which can be done with them both in situ in the bike or, for added convenience, taken out and done indoors – which is claimed to take around four hours and will provide 80 miles in return – is virtually nothing. The Miku Super's not even that expensive to buy in the first place (currently £3499 when the Honda Grom is £3799) so depreciation won't be that bad, either. Win-win.
Reliability
The Miku Super is a new product from a relatively unknown (in the UK) Chinese brand so we have to hold back on mark out of caution. That said, it also appears to be impressively well-made, has quality features and design and, being electric, has very few moving parts and thus very little that potentially go wrong. Considering also its minimal performance and likely round town use – no long distances in poor weather are likely here – we have few reliability concerns.
Warranty & servicing
Another unexpected bonus. Although a relative unknown brand brough into the UK by a new company – Moto Electric – the Sunra is being not only promoted via a credible, well-invested promotional campaign but the bikes themselves also come with a two-year, unlimited mileage, manufacturer-backed warranty for all parts and labour, plus also and even more impressive THREE year or 18,000-mile warranty on its two batteries. Being electric with few moving parts or fluids also means servicing is simple and economic, too, requiring little more than a dealer visual check every 12 months or so. It's also worth pointing out here that Sunra's UK range also consists of the scooter-style Robo (£2499 rising to £3299 for the S twin battery version) and the Miku Max, a stylish, 50cc equivalent moped currently priced just £2199.
Equipment
For a Chinese, 125cc-equivilent, electric monkey bike, the Sunra Miku Super has a pretty impressive level of equipment. Most of that is youth-orientated digital tech, mind you (rather than, say, higher spec brakes or suspension) but then, that's what's appropriate for this kind of machine. So, as well as LED lights, removeable lithium ion twin batteries and even a small in-tank cubby hole for your phone, there's also, via Bluetooth, Smartphone app connectivity which enables all sorts of tracking features, a smart digital dash, an auto-lighting function similar to those in the latest cars, a keyless, fingerprint-enabled touch start system like a laptop and even a reverse 'gear' to improve manouvrability and parking. Whatever will they think of next?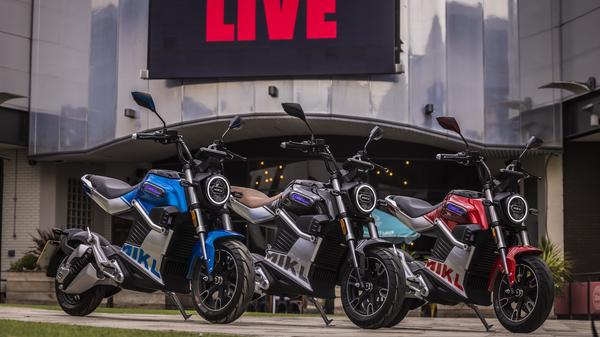 Why buy?
Until now most electric two-wheelers have fallen down in some aspect or other in direct comparison to their closest petrol-powered rivals. Sports bikes are too heavy, more conventional bikes lack range or are too expensive, scooters lack luggage space and so on. But here, with the Sunra Miku Super mini bike, whose closest petrol equivilent is surely Honda's hugely successful MSX125 Grom, there's no need for excuses. The Sunra is as stylish and slick; it's (almost) as fast (and, anyways, it makes little difference) and is actually cheaper to buy and run. We always knew the day would come when electric bikes matched or bettered their ICE equivilents. With monkey bikes, it's already come.