Expert Review
Royal Enfield 350 Meteor cruiser/retro (2021-) review
The ambitious Indian/British marque's follow up to its popular 650 twins may lack those bikes' power and pizazz but it's a worthy, affordable commuter that bodes well for Royal Enfield's future.
The Auto Trader expert verdict:
Available new from £3,599
All-new 350cc single cylinder cruiser/commuter hasn't the performance of Royal Enfield's recent 650cc twins but its novice-friendly, affordable and with even more style and quality touches.
Reasons to buy:
Brilliant value
Novice/commuter-friendly manners
Impressive quality and detailing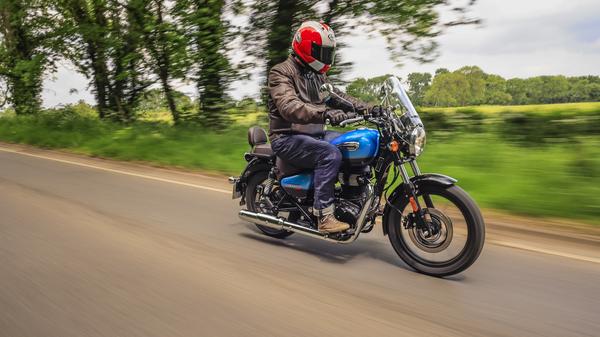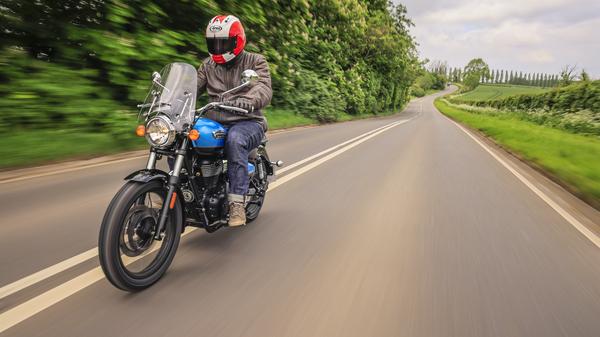 Design
Basic layout of 350cc air-cooled, single-cylinder engine in a twin loop, twin shock chassis may be so old school it's veering on vintage (it is aimed primarily at the Indian utilitarian market) but it's neatly done and there's plenty of evidence Royal Enfield is raising its standards, ranging from new, retro-influenced but neat switchgear, 'Coke bottle' bar grips, stylish, tactile tank badges and even its clever 'Tripper' navigation system. Lavish, cutting-edge and high performance it isn't, but the Meteor is an encouraging sign of Royal Enfields to come.
Riding position
The Meteor is intended as a practical, semi-custom style commuter and that's borne out by its ergonomics – but this is no extreme chopper. Instead the riding position is relatively upright, the bars only mildly raised, the footpegs only subtly forward and the seat comfortably padded. It's all natural and very novice-friendly, something enhanced further by the Meteor's almost toy-like all-round proportions, single-cylinder slimness and overall lightness. It all makes for a bike so cherubic your nan could ride it – but also one that makes a great novice machine and an easy round-town commuter, too.
Practicality
You might not have thought a relatively dinky, 20bhp cruiser would offer much practicality but the Meteor begs to differ. It's so upright, comfortable, easy and manageable it's easy to imagine it as a stylish, cheap to run, A2-licence compliant urban commuter. While it's also obvious that the Meteor will also make an unintimidating first big bike after progressing from an A1-class 125. That said there's also a limit to its versatility. A top whack of around 65mph means motorways and dual carriageways are largely out of bounds while the Meteor's small size and limited power also restricts its ability to carriage luggage or pillions, not that it will likely prevent that happening on the Indian home market where 350s are considered big bikes.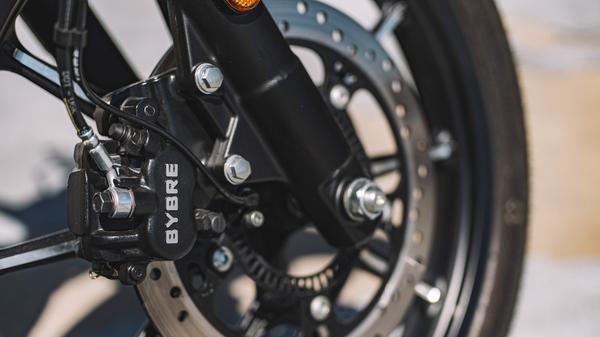 Performance & braking
It's difficult to sugarcoat this: the Meteor's brand-new, Euro5-compliant, 350cc single cylinder engine produces just 20bhp. That's little more than most 125s and less than half that of, say, Yamaha's RD350LC over 40 years ago. So much for progress, eh? Most of that strangulation is, of course, down to modern emissions regulations – Suzuki's Inazuma 250 of a few years ago could barely muster 24bhp, after all, and that boasted liquid-cooling and twin cylinders! But while the Meteor's 20 horses may be nothing to get excited about it is also worth mentioning that it thrums along willingly, is sufficiently lively and effective at town traffic speeds up to 45mph, is also flexible, smooth and characterful and will (eventually) top out at about 65. Of course, the brakes – a single front disc with twin piston caliper and a similar set-up at the rear – is nothing to write home about, either. But then, considering its performance and weight, it doesn't need to be: for most instances it's fine and if you want a little brisker braking, the rear is there to help.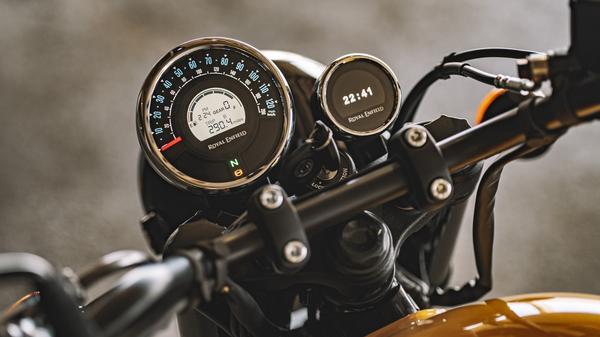 Ride & handling
Again, as with its performance, the Royal Enfield Meteor 350 has little chassis or handling-wise to get excited about but then that's missing the whole point of this friendly, affordable, unintimidating commuter. The front telescopic forks are a little spindly and unsophisticated and the twin rear shocks are preload-adjustable only. But for the Meteor's intended, gentle use, though basic, they're mostly fine. Besides, with the chassis developed by frame specialists Harris Performance (which Royal Enfield bought in 2016), it should also come as no surprise that the light, sprightly Meteor is also incredibly nimble yet also stable, reassuring and idiot-proof – even when ridden far harder than it's otherwise ever likely to be by a idiot road tester of 30 years (me) who should know better!
Running costs
This is where the new Meteor 350 starts to come into its own. With a remarkable sub-£4K new price when launched, equally low insurance premiums not to mention virtually negligible consumption of fuel (reckon on 100mpg+), tyres, brake pads and so on, riding a Meteor into work could be about as cheap as commuting gets – but with more performance (well, just) than commuting on a more flimsy and less desirable and stylish 125.
Reliability
As a completely brand new design from its engine to its instruments we have to hold back one mark here for the Meteor's reliability – if only to cover any 'unknowns'. That said, its design is also about as simple as bikes get, its mechanicals are understressed, Royal Enfield's track record in recent years is pretty decent (partly due to its impressive, all-new, high tech Development Centre set up in the Midlands in 2017 and headed by mostly ex-Triumph staff) and the Meteor also stands out for significantly raising Enfield's standards when it comes to quality and finish, so we have few qualms.
Warranty & servicing
Here's another aspect of the new Meteor 350 to get excited about. As new it comes with not only an extended, manufacturer-backed, three-year, unlimited mileage warranty for all parts and labour it also comes with three years roadside assistance, for even more peace of mind. Service intervals of the new 350 are pretty impressive, too. The first service is due at the usual 500 miles, after which services are only due every 6000 miles, which, considering the type of riding and distances it's likely to do, isn't bad at all.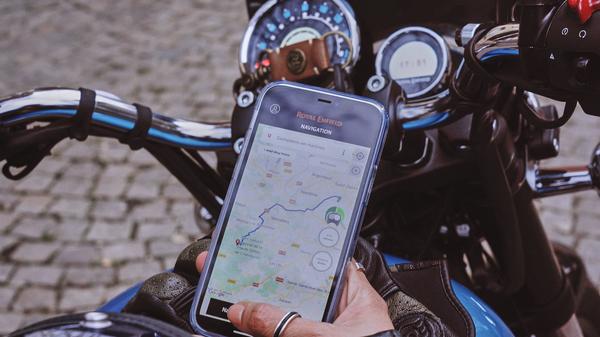 Equipment
Enfield's have always been traditionally 'old school', affordable, basic machines and although the reinvigorated company has ambitions for European growth and new bikes, which appeal to more western tastes, this remains true of the new Meteor 350 – it's a fairly basic, bargain-priced, 350 single, after all. All that said again, however, the Meteor does represent a significant step up in terms of equipment and quality. Although a single binnacle, its 'clocks' are an all-new, stylish, combined analogue and digital affair. There's the added, standard 'Tripper' navigator, while switchgear, bar grips, mirrors, filler cap, seat etc are all conspicuously higher quality than before. On top of that, the Meteor comes in three different trim levels, with either fly screen, pillion back rest or both, optional two-tone paint and an impressive accessories catalogue including things like comfort seats, engine bars and more, which is another 'first' for a brand new Enfield.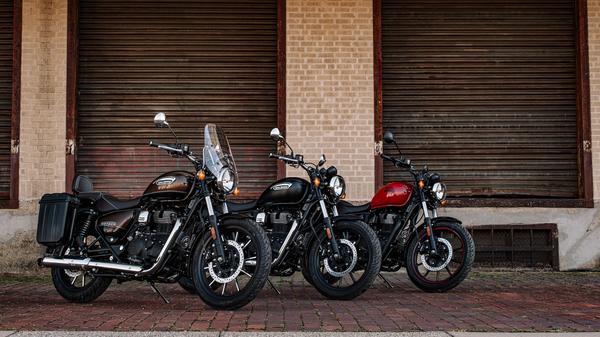 Why buy?
There's no denying the new Royal Enfield Meteor 350 is something of an oddball in being a 20bhp 350cc single-cylinder cruiser. That's because it's primarily been built for the domestic Indian market where utilitarian 350 single remain king. For the UK, however, it does have charm as a completely unintimidating city bike or commuter, is well executed and has a price tag that's impossible to ignore. The added bonus for the rest of us is the significant step-up the Meteor represents for Royal Enfield's quality, style and attention to detail, which bodes well for its future bikes. Can we have a scrambler version of the 650 twins next, please, ideally for under six grand?