Expert Review
Royal Enfield HNTR 350 retro/roadster (2022-) review
Revived Royal Enfield are on a roll with its latest 'retro', the charming, gentle but impressively able, quality and cheap HNTR 350 it's best yet.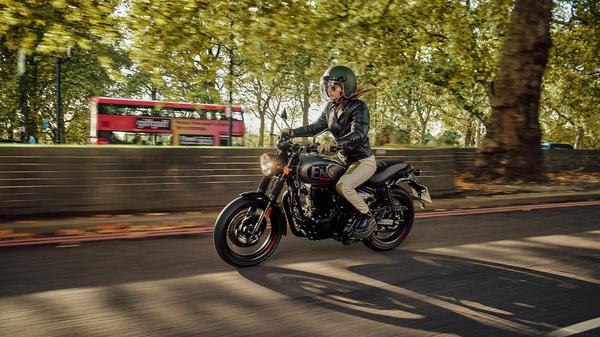 Words by: Phil West
Published on 16 December 2022 | 0 min read
The Auto Trader expert verdict:
Reinvigorated Royal Enfield is going from strength to strength. A 20bhp 350cc single may not sound that exciting, but the HNTR is charmingly authentic, impressively built, a doddle and fun to ride and, at under £4K amazing value.
Reasons to buy:
Quality, authentic retro design
Easy, A2-accessible manners
Hugely-tempting sub-£4K price
Design
There's nothing high tech or clever about the 350 HNTR. It's conceived as an affordable, entry-level, single-cylinder retro roadster as a 'little brother' to Indian-owned Enfield's hugely-popular Interceptor and Continental GT 650 twins. But it delivers that so well, yet with a notable step up in terms of build and component quality and all at a price of under £4000, that it deserves to do at least as well. Styling and detailing (such as the smoothly integrated side panels and pillion grab handles) is beautifully executed; switchgear and clocks are now approaching Triumph standard; paint, finishes and build quality are a significant step up from the previous 650s; it looks 'quality' (especially compared to some budget rivals) is handsome and does everything it sets out to. If that isn't 5/5 for Design, we don't know what is. If we were being picky, we'd like more chrome and maybe wire wheels, but, as is the case with Guzzi's V7, that would undoubtedly cost more. For under £4000, though, it's brilliant.
Expert rating: 5/5
Riding position
Royal Enfield's new model development is now headed up by ex-Triumph product chief Simon Warburton along with design supremo Mark Wells (also ex-Triumph) – and it shows more than ever here. The HNTR 350 is beautifully proportioned both for novices and larger, more experienced types; its seat, though thick and plush, is comfortably low; its classic upright roadster ergonomics are spot-on (another trait possibly carried over from Triumph); being a single means it's light and slim; all the controls (including the new switchgear and quality levers etc) fall intuitively to hand and, all round, for an accessible retro roadster it's beyond criticism – so much so, in fact, that I reckon Triumph themselves are going to have a fight on their hands when they come out with their own widely-reported, 250/350cc retro single in the near future. There's just one addendum: at the end of the days, it's still a 350cc, retro roadster single, so performance, touring and motorway ability is limited. For what it is, though, no complaints.
Expert rating: 5/5
Practicality
Although the new HNTR 350 delivers as what it's intended to be, ie a small capacity retro roadster, impeccably, there are still limitations as to how practical this sort of bike can be. Sure, it's novice-friendly, comfortable, nimble so great around town and enjoyable, like many bikes of this type, for relatively short sunny Sunday afternoon rides. In that respect it's 'job done'. But that's also pretty much all it can do. The HNTR 350 is not a bike for touring, for carrying much luggage or a pillion or, really, for long commutes, hence the docked mark. For what it does do, however, it's brilliant.
Expert rating: 4/5
Performance & braking
As said earlier: the new HNTR 350 does what it sets out to do brilliantly. The new air-cooled 350cc single is flexible, torquey, smooth and capable of a relatively easy 70mph (75 at a push). The gearbox is smooth, clutch light and single front disc (accompanied by a similar, smaller item at the rear), more than sufficient. As a gentle, introductory retro-styled roadster it has enough. But there's a 'but' coming – which is, again, why we've docked a mark. At the end of the day, the HNTR has a brand new, 350cc engine which produces a whisper over 20bhp at peak. Whichever way you slice it, that's pretty underwhelming. Don't forget: over 40 years ago Yamaha came out with its own all-new 350 – the liquid-cooled, twin cylinder RD350LC which produced 47bhp, or well over twice as much. Yes, times have changed, noise and emissions regulations have tightened (the LC simply wouldn't be allowed today) and the HNTR is doing a different thing. Even so, I can't help feeling it should have more…
Expert rating: 4/5
Ride & handling
Again, there's nothing to get too excited about here. The HNTR 350, after all, is a budget priced 'retro' with fairly basic, unadjustable, conventional telescopic forks at the front and preload-only adjustable twin shocks at the rear. In short: 'cutting edge' it ain't. That all said, however, it works perfectly adequately (and again is perhaps a symptom of the ex-Triumph expertise now finding its way into Royal Enfield's wares): steering is light, accurate and secure; grip is good as is stability at whatever speed it can muster, and the ride provided by the suspension is plush and comfortable without being at all wallowy.
Expert rating: 5/5
Running costs
As entry-level, 125cc-plus bikes go, few motorcycles are likely to have as low running costs as the HNTR 350. In short, it ticks every box: the initial purchase price is low (with likely low PCP rates as well) which, added to Royal Enfield's better-than-average residual values (compared to other budget bikes) means you'll lose little here; mpg figures are close to 100mpg, so fuel costs are low while the HNTR 350's gentle performance means there'll be little outlay for consumables such as chain, brake pads, tyres and so on, either. Even servicing, insurance and road tax will be about as low as it can get, as well.
Expert rating: 5/5
Reliability
It's very early to say (simply because the HNTR 350 is a new bike based around a fairly new engine) but given that the air-cooled single debuted on the 2021 Meteor with no reports of problems since; is extremely under stressed (producing just over 20bhp); build quality is better than ever and Royal Enfield's recent record with other machines such as its impressive 650 twins, we think you'll have no concerns.
Expert rating: 5/5
Warranty & servicing
The new Royal Enfield HNTR 350's warranty and service intervals are fairly typical for the mainstream brands. The warranty is manufacturer-backed and covers all parts and labour for two years with unlimited mileage. This is also extendable at extra cost. Servicing-wise, oil and air filters along with other routine checks are due ever 6000 miles with the major valve check service due at 12,000 miles, although this is unlikely to be exorbitantly expensive simply because the air-cooled engine is so simple and easily accessible.
Expert rating: 5/5
Equipment
The new HNTR 350 is a fairly basic, budget-priced, retro-style machine, so it was never likely to be festooned with the latest gizmos and gadgets – and it's not. There's a single 'dial' instrument display with an inlaid LCD digital panel, but, rev-counter aside, this does show everything you actually need such as odometer, trip, fuel gauge and gear indicator. Mirrors are decent, too, as is the new, nicely retro-styled switchgear. There's a classic-style fuel filler cap, smart pillion grab handles, all models come in different variations of two-tone paint, there's sweet, old fashioned fork gaiters and ABS. It's all nicely done and works well – but that's your lot.
Expert rating: 4/5
Why buy?
If you're looking for an affordable, fashionable, 300cc+ A2 compliant bike, we can't think of anything that works so well for so little money – in fact very little comes close. If you're a relative novice or aren't concerned about the slight lack of performance, thew HNTR is a brilliant value, well built bike. Any alternatives that come close on price are poorly built, unsatisfying, Chinese-built machines we'd strongly advise you to avoid. But the HNTR is more than that, too. As a 'junior' retro it's got bags of appeal as well: it's nicely built, easy to ride and will have enough performance for many. Think of it as a 'Baby Bonnie' and you won't be too far wide of the mark. The HNTR is that good is should soon be giving Triumph's own imminent 'junior' retro, it's expected 350cc single cylinder 'Cub' more than a run for its money, not just on price but on spec and style, too.
Expert rating: 5/5