Expert Review
Peugeot Speedfight 4 Scooter (2017 - ) review
The original Speedfight in 1997 set the template for the 16-er sports scooter. This latest version, complete with phone dock, USB socket and more is still the standard by which all others are judged.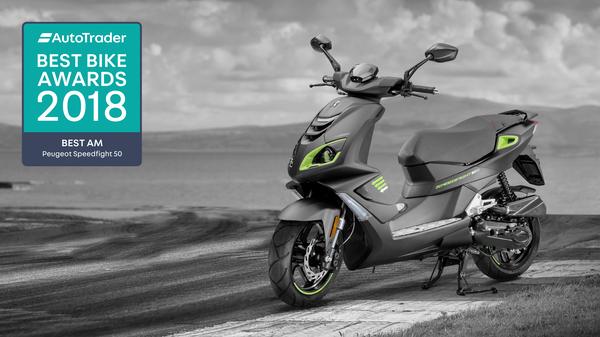 The Auto Trader expert verdict:
Available new from £2,575
For many 16-year-olds this is the ultimate. Updated, definitive, 50cc AM licence sports scooter is smart, cool, a doddle to ride, has stacks of neat design touches and is decently affordable, too.
Reasons to buy:
Great image
Ease of use
Updated specification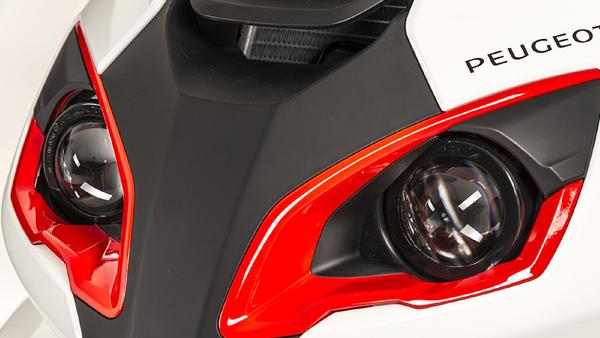 Design
The first Speedfight in 1997 effectively invented the sports scooter class with its swoopy style and sporty specification, was an instant success and set the template for all sports scooters to come. Peugeot themselves have sold over 600,000 examples of it and its derivatives, in both 50, 100 and 125cc form since. This new fourth generation version – hence the name – was launched to mark that 20th anniversary and features updated styling and engines (in both air-cooled four-stroke and air or liquid-cooled two-stroke form, a digital dash with a backlit LCD display and USB socket – in short everything you could want at 16.
Riding position
The Speedfight4 is still the definitive 50cc sports scoot and its riding position is typical of the breed. The bike itself is fairly small (partly thanks to the small 13 inch wheels) and light (just 100kg); its 'step-thru' scooter style means it's a doddle to get on board and manouvre and the riding position, too, is classic 'sit up and beg', putting you completely in control. There's really no conversation or analysis to be had here – you really do just get on board and go: easy.
Practicality
Powered two-wheel transport doesn't really get any more practical than this. OK, there are some less sporty, more humdrum 50cc scooters that arguably are even more practical, with added comfort, luggage space or features, but in truth they're all pretty much of a muchness. Like the rest of the breed, there's enough underseat storage for a full-face helmet (or a decent amount of shopping) while its USB socket is neatly tucked away in a small compartment beneath the clocks.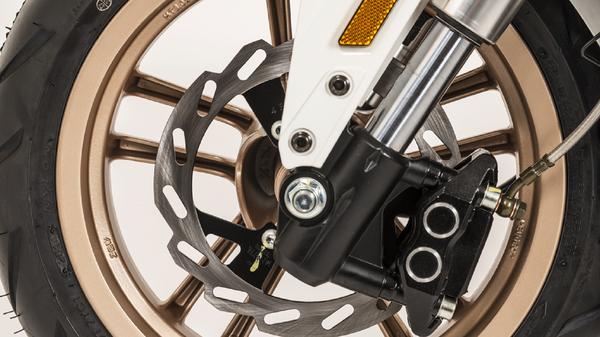 Performance & braking
Five out of five may sound overly generous for a 50cc scooter restricted by law to 30mph but the latest Speedfight simply smashes what it sets out to do. The latest engines are perky, easy and economical – certainly as good as anything else in the class and rugged and reliable, too. While the brakes, although 'only' a single 215mm disc at the front grasped by a twin-piston caliper at the front with an even smaller 190mm disc and single piston caliper at the rear, they're powerful and more than up to the job.
Ride & handling
Again, as with its performance, the latest Speedfight4, while hardly revolutionary, is pretty much the definitive 50cc sports scooter, with all the handling traits and characteristics that go with the breed. As such it's brilliantly light and nimble, great for terrorizing across town. Its ride is better than most although still a little budget and basic as is also inherent with the type and those 13in wheels, can be a little skittish compared to say, un-sporty 15inchers – but that's what you get with scoots of this style, too.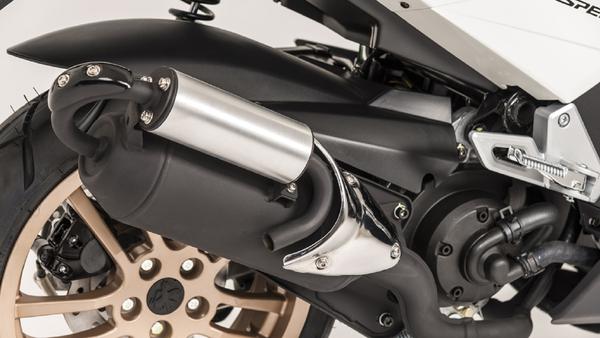 Running costs
Any owners biggest worries with this kind of machine are not so much running costs, which are minimal, but scraping together the original purchase price and being able to afford the insurance premiums – which for 16-year-olds can be terrifying. By comparison, the Speedfight's miserly fuel consumption and virtually insignificant hunger for tyres, brake pads and so on, pales into insignificance. Of course, most will be thrashed mercilessly, which changes things slightly, but we can't judge the Peugeot on that basis here…
Reliability
Again, now being on its fourth incarnation, Peugeot's Speedfight is not only proven but it's refined and has virtually every glitch by now well and truly ironed out – so there's essentially nothing to fear here, as long as its ridden and maintained sensibly. And there, for many, is the rub: virtually none WILL be ridden and maintained sensibly – we are talking about a prime 16-er machine here, after all…
Warranty & servicing
Peugeot scooters' standard warranty is on a par with all the leading motorcycle manufacturers being a two-year, unlimited mileage, manufacturer backed, parts and labour affair, which is certainly more than you get from some lesser scooter brands, so there's nothing to fear here. Servicing meanwhile, simply because the Speedfight4, like most 50cc scooters, is so simple and straightforward, is routine as well.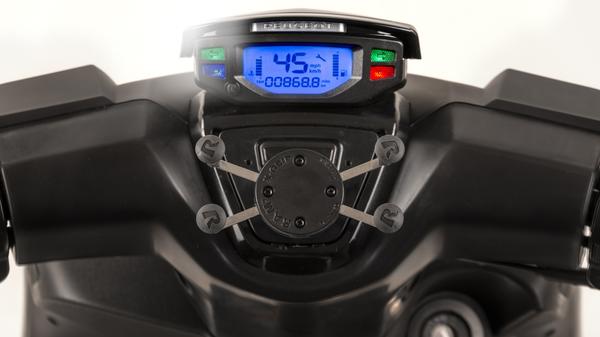 Equipment
50cc sports scooters targeted at 16-year-olds are never the most luxurious of transport but the Peugeot Speedfight4 is certainly better than most. Snazzy styling, sports alloy wheels and sporty (looking at least) suspension and brakes are all better than most while new additions include the aforementioned backlit LCD instrument display (where most rivals are still analogue) plus the useful USB socket.
Why buy?
Things are very simply with the Speedfight4, really. If you're 16 and want some powered transport and independence, your only options are either an AM licence 50cc motorcycle or, more likely ('cos they're simpler, cheaper and, for most, just as cool) a scooter. And if you're after a scooter, it's a sure thing that the most desirable of all, thanks to its name, heritage, style and spec, is the Speedfight4. Nothing else really comes close.