News
New motorbikes for 2024
This week's EICMA Show in Milan saw the unveiling of a whole raft of new motorcycles for next year – here's our pick of the best!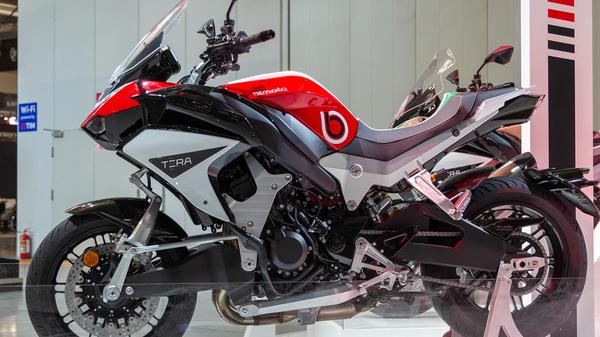 Words by: Phil West
Published on 10 November 2023 | 0 min read
2024 looks set to be the year of the high performance, 'cross-over' adventure sports motorcycle, if the trend in bikes unveiled at this month's EICMA Show in Milan is anything to go by.
Along with the expected, 'M' version of BMW's updated S1000XR, similar new high-performance 'adventure sports' bikes also included the new Ducati Multistrada V4 RS, Suzuki GSX-S1000GX, Moto Morini X-Cape 1200 and even a supercharged, 200 horsepower Bimota Tera. But it's not all high power, big money mega bikes. Plenty of more affordable options across all capacities and categories have been unveiled as well, including the first petrol/electric hybrid, some new A2 category machines from Honda and more. Here's our pick of some of the best – which you can look out for on British soil at Motorcycle Live later this year!
Bimota Tera – the supercharged 'adventure sports'
A big name in the market for handbuilt Italian exotica, Bimota has a storied history of coming up with extreme bikes, ranging from its pioneering, hub-steered Tesi of the early 1990s to its latest Kawasaki supercharger powered machines, which followed the Japanese marque buying an interest in the brand in 2019. And with adventure bikes – and particularly adventure sports style machines – remaining among the most popular of all categories it should probably come as no surprise that Bimota's Milan offering combines all three. The new Tera is its first 'Performance Crossover' machine, is powered by Kawasaki's latest 200 horsepower 999cc four (as in the Ninja H2) and even features an updated version of the Tesi's hub-centre steering. Striking and innovative it is, but with a price likely in excess of £30K, it's not going to be cheap, either.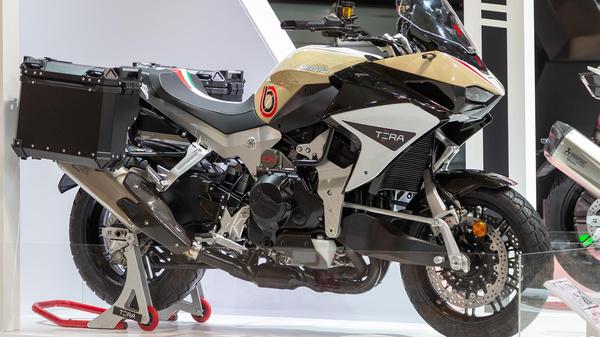 BMW M1000XR – the 'M' all-rounder
Another extreme performance sports adventure, and also one that, in truth, was unveiled just before the Milan Show as BMW wasn't there in person. Don't let put you off. The S1000XR was first launched in 2015 as an adventure style sport all-rounder based on the 160 horsepower S1000R super naked's four-cylinder engine. Updated in 2020, it's now been improved again for 2024 with a smidge more power, updated ergonomics and more. BMW has now also introduced this even more performance-orientated M version, which gets the uprated, 201 horsepower engine from the S1000RR superbike, aero 'wings' on its fairing to help keep the nose down, more powerful M brakes, an optional M Competition carbon fibre bodywork pack and prices starting at £22,580. BMW has also announced new F800 and F900GS models, which replace the previous F750/850, plus a new R 12 NineT retro.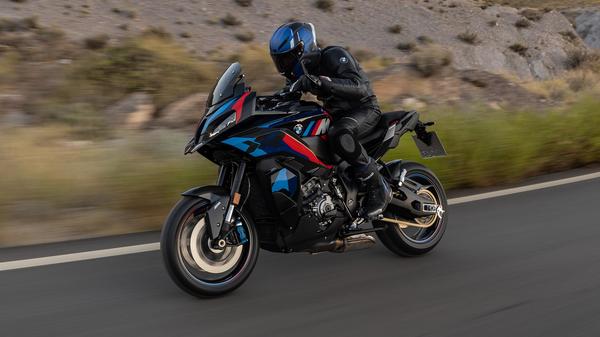 Ducati Hypermotard 698 Mono – the return of the Ducati single!
Think all variants of Ducatis are exotic V-twins or V4s? Think again. The Italian marque started out in 50s with singles and had one of its biggest success stories with the bevel-drive, single-cylinder Scrambler in the 1960s and early 70s before moving into V-twin superbikes. Now the Bologna marque has gone further still by producing its first performance single in decades, and mounted it in an all-new version of its popular Hypermotard. The 659cc engine is itself a work of art – and performance. A massively oversquare configuration allows an ultra-high 10,250rpm rev ceiling and results in peak power of 77.5 horsepower – more than any other road single. Add that to the Hypermotard's lightweight yet exotic supermoto style chassis and it could be one of the best fun bikes of the year!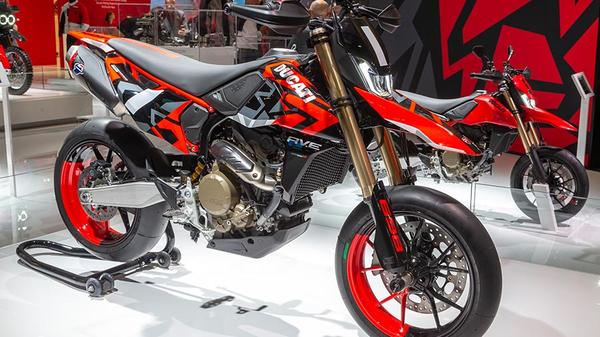 Honda CBR600RR – the supersports king is back!
In the return few had expected, Honda unveiled a virtually all-new CBR600RR supersports at EICMA, giving the once dominant middleweight sports class a huge shot in the arm after the decline of recent years. Now fully Euro5 compliant, the 600cc four-cylinder produces 119 horsepower, features a full suite of electronic rider aids including riding modes, traction control and cornering ABS, has a slick colour TFT dash and comes with the option of an HRC-developed race kit. Along with Kawasaki's reborn ZX-6R it marks the revival of the whole supersports 600 class. Honda also unveiled a new CB1000 Hornet (a remodel of the old CB1000R), new CB500 Hornet (a made over CB500F), a new CBR1000RR-R SP2 Fireblade, updated CB650R and CBR650R, now both with an optional clutchless 'E-Clutch' system, and a facelifted Africa Twin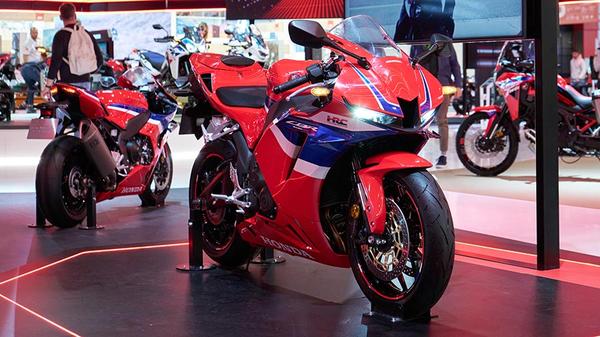 Kawasaki Ninja 7 HEV – the first mainstream hybrid
One of the most talked about and pioneering new bikes at the show – and going on sale in 2024 – is Kawasaki's all-new Ninja 7 HEV. Claimed to be the world's first mainstream hybrid petrol/electric motorcycle it combines a conventional 451cc parallel twin with an electric traction motor and battery to run on boosted petrol power (around 69 horsepower), petrol power alone (59 horsepower) or on pure electric power. It's not cheap (around £12,000), particularly fast, well-equipped or even economical (reckon on around 70mpg) and is also pretty heavy at 227kg. But it is effective, and an intriguing glance into at least part of motorcycling's future.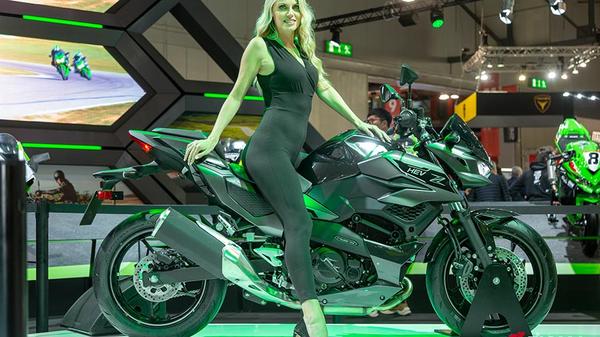 KTM 990 Duke – not just 'yet another Duke'
Just when you thought Austrian super naked specialists KTM had pretty much exhausted its Duke family possibilities (there's already been a Duke 125, 200, 390, 690, 790, 890 and Super Duke 950, 990 and 1290), it comes up with this – the new Duke 990. Although reviving a previous V-twin model's designation, it's actually mostly new and derived instead from the parallel-twin powered 890 Duke. Capacity and power are up, to 947cc and 123 horsepower, there's an all-new frame (gone is KTM's previously signature tubular steel trellis), revised styling with a Predator-style nose and more. It promises to be an absolute hoot!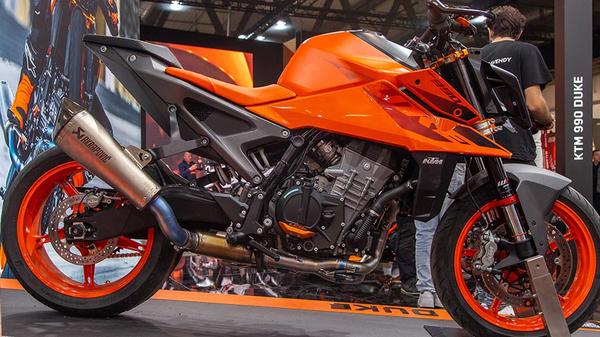 Moto Guzzi Stelvio – the Italian adventurer returns…
Last year historic Italian brand Moto Guzzi delivered the biggest shake up to its range when it unveiled its all-new V100 Mandello sports tourer, a bike which, while keeping the marque's signature transverse V-twin and shaft drive layout, completely modernised it with a new, 120 horsepower, liquid-cooled, ultra-compact unit with its barrels rotated 90 degrees, fresh electronics, single-sided shaft-drive swingarm, innovative semi-active 'aero' panels and more. Now Guzzi has built on that with the first spin-off model – an adventure bike reviving Guzzi's historic Stelvio adventure bike moniker. It gets taller suspension, a larger wire front wheel, bigger tank, electrically-adjustable screen and more. Judging by the Mandello's competence and character and the continuing popularity of adventure bikes, it could be Guzzi's most appealing bike in decades.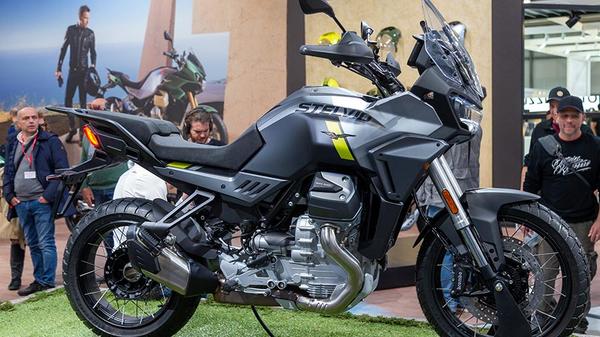 Moto Morini X-Cape 1200 – Italian legend is back in the big time
Yes, another new Italian-built adventure bike, albeit with a twist. Historic Italian brand Moto Morini, most famous for its 60s and 70s V-twin, was revived briefly with a new range of 1200 V-twin before floundering again in the early 2010s. In 2018 it was bought by giant Chinese scooter manufacturer Zhongneng then, in early 2022 it announced that no fewer than 11 new models would be released over the next two years. A family of 650cc twins arrived at the end of last year, which impressed even with power from slightly archaic Kawasaki-derived engines, and at EICMA Morini unveiled two new V-twin 1200s, as well as two new 750s V-twins that promise to be better still. The 1200's comprise a revived, retro-inspired Milano roadster and, even more tempting, this new X-Cape 1200 adventure bike. Both are powered by re-engineered versions of the old 1200, now putting out 125 horsepower. They've also got slick styling, TFT dashes, Brembo brakes and, if the 650s are anything to go by, should have tempting prices, too!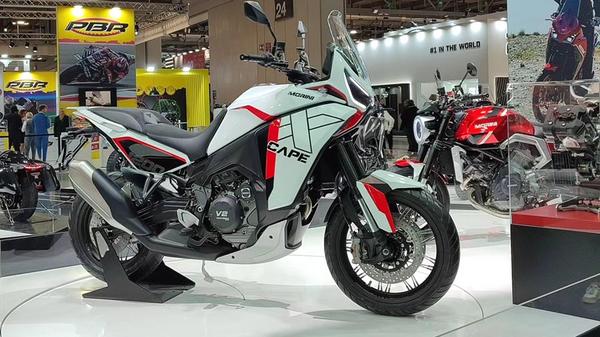 Suzuki GSX-S1000GX – watch out Versys!
Another surprise unveiling at EICMA this time came from Suzuki. Along with the Japanese giant's expected new faired, sports version of the GSX-8S launched last year, Suzuki also unveiled a new 'tall-roader' version of its popular GSX-S1000GT four-cylinder sports tourer. Taking a leaf out of Kawasaki's Versys 1000 playbook (and arguably that of BMW's more expensive S1000XR, too) by being an adventure bike inspired sports tourer with a more upright riding position than the GT, longer travel suspension, a more expansive fairing and screen, roomier riding position but still much of the performance and sports appeal of the street sibling. It won't go off road, of course, but that's missing the point. It should also be comfortable, brisk, well-equipped and, at £14,499, it's also temptingly priced.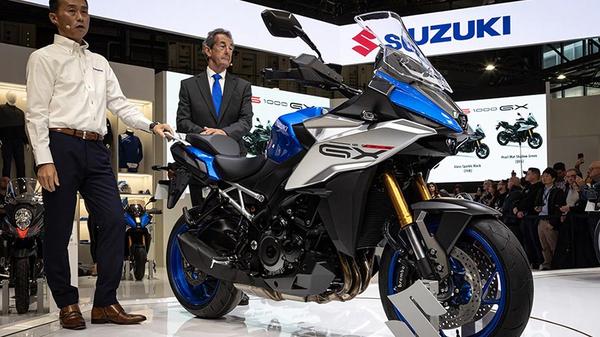 Yamaha XSR900 GP – Back to the '80s…
Finally, how's this for a bike no-one probably knew they wanted (or predicted) when it's MT-09 roadster triple grandad was first launched in 2015. Nine years on and the entertaining and affordable 118 horsepower MT-09 has spawned not only the sports-tourer Tracer 9, retro-inspired XSR900 and high-spec MT-09 SP, all of which are brilliant in their own ways. Now there's this – a retro-sportster version of the XSR inspired, Yamaha say, by its GP bikes of the 80s and 1990s. The result looks fabulous (in an Eddie Lawson kind of way) should ride even better without being too extreme or uncomfortable and also has lots of official accessory options, including a lower fairing to make it look even more authentic.