News
New Ducati Superleggera is ultimate superbike
Say 'hello' to the most exotic, sophisticated and potent production superbike ever built – Ducati's astonishing, newly-unveiled Superleggera' version of its already breathtaking Panigale V4.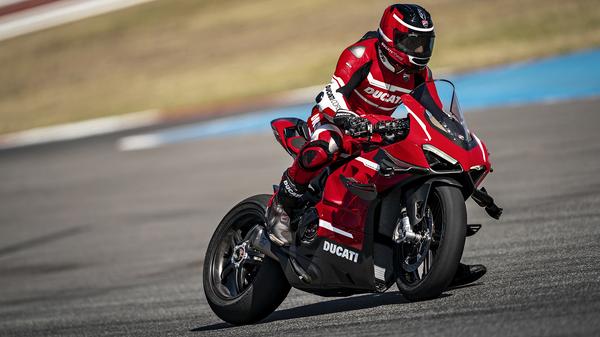 With a whopping 220bhp (230 with the track-only Akrapovic exhaust fitted) it's the most powerful Ducati road bike ever built. But it doesn't stop there. The Superleggera (Italian for 'super light') is also the world's only street legal motorcycle with a carbon fibre frame, swingarm and wheels which together cut the V4's weight by 6.7kg and help also give it a world record power-to-weight ratio of 1.54 bhp per kilo.
And if all that isn't enough, the Superleggera also bristles with the very latest and greatest in cycle parts, high tech electronic rider aids and exquisite detailing. No wonder, then, that the end result is also priced at a whopping €100,000 (or about £84,000 at current exchange rates) and just 500 are to be built, each with an individually-numbered plaque on the top yoke.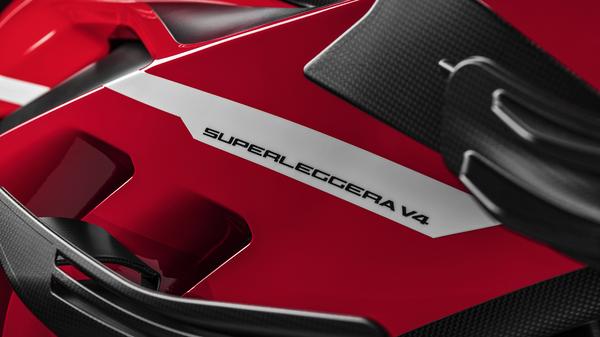 In fact, the Superleggera is so exotic and expensive it betters even (standard) world superbike racers. In order to be homologated for WSB bikes currently have to cost less than €40,000 (£35,0000), which is why Ducati's current entrant is the £34,995 Panigale V4 R. The Superleggera, by comparison, doesn't even get close…
But although the new Ducati is an astonishing machine it's not the first. The Italian marque have a strong, recent tradition of producing 'Superleggera' versions of its top-of-the-range superbikes. The first, the 1199 Superleggera back in 2014 was a lightweight, tuned version of the then 1199 Panigale V-twin boasting an ultralight dry mass of just 155kg thanks to its special, magnesium monocoque chassis, carbon fibre seat and sprinkilng of titanium plus had a boosted peak power of 200bhp. It cost £54,000 and just 500 were made, all selling out virtually instantly. That was followed up in 2017 with the 1299 Superleggera, again limited to just 500 units, which this time was even more extreme and exotic. The 1299 featured a carbon fibre monocoque, swing-arm and wheels (being effectively two brackets off the engine the 1299's chassis is not truly considered a 'frame', hence the V4's 'world first' claim) while the bigger V-twin was boosted to 215bhp. This time it cost an eye-watering £72,000.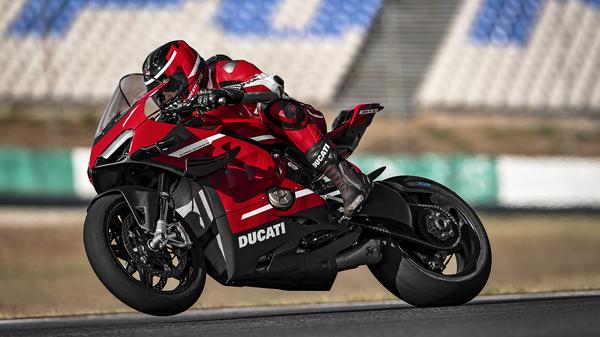 But Ducati have far surpassed even that with this latest V4 version. Not only is the power up and weight down, the new Superleggera also features new 'Biplane' carbon fibre winglets or aerofoils which are claimed to be even more effective than those on Ducati's MotoGP machines.
More MotoGP tech comes by way of the colour TFT dash which now includes a 'RaceGP' display intended exclusively for track use and developed with help from Ducati MotoGP star Andrea Dovizioso. The electronics are uprated, too, with three reprogrammed riding modes (named Race A, Race B and Sport) plus, for the first time, five additional riding modes that can be personalised with the rider's preferred settings. Riders can also monitor lap times via the upgraded lap timer, which can record finish line and split times coordinates for five favourite circuits. On top of that there's uprated Ohlins suspension, the very best Brembo Stylema R brakes and even a special, one-off key and certificate of authenticity. Deliveries start in June with bikes being produced at the rate of only five per day. The few who get their hands on one will be very lucky indeed…