News
MASTER-protected motorcycles less likely to be stolen
When you're buying a new motorcycle or scooter, it could be well worth your while to choose one that comes with the MASTER security package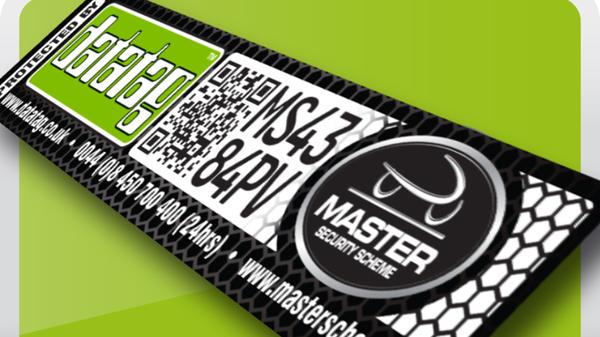 Uses a combination of visible and hidden elements to give a bike a 'fingerprint'
It's almost impossible for a thief to remove all traces of the marking
Not only does it deter theft, it makes it easier for the police to secure a conviction
New bikes protected by the MASTER Security scheme are six time less likely to be stolen. That's according to recent analysis of theft data for new motorcycles sold in 2017.
Information from the Master Scheme database and new registration data shows that 66,423 new motorcycles and scooters were registered in the UK from the beginning of this year to the end of July 2017. Of these, 42,254 were marked with the MASTER system, but only 78 have been reported stolen. Of the 24,169 motorcycles and scooters which were not protected by MASTER, 285 have been stolen. In other words, tagged machines registered in the first seven months of the year have a theft rate of just 0.18%, while non- tagged new bikes have a theft rate of 1.17%. This shows that tagged bikes are more than six times less likely to be stolen than bikes which are not protected by the Scheme. MASTER, which stands for Motorcycle and Scooter Tagged Equipment Registration, is the UK's only official and national scheme and has been adopted by the majority of major motorcycle manufacturers since its launch in 2013. It both deters theft and makes it easier to secure a conviction.
The MASTER Security Scheme uses a sophisticated array of technology to mark the motorcycle or scooter's major component parts, providing a unique 'fingerprint'.
This involves a combination of visible and hidden elements including warning labels, hidden microscopic Datadots, stealth UV etching and a number of unique radio frequency identification transponders which are embedded into parts (similar to the technology used in chipping cats and dogs). It would be virtually impossible for a thief to remove all traces of the MASTER Scheme technologies from all parts, which is why this makes protected bikes far less attractive to them. All motorcycles and scooters from participating manufacturers are registered on the MASTER Security Scheme's national secure database. This is updated continuously, which means the reporting of stolen vehicles is immediate. Police have access to the scheme's secure database 24 hours a day. You can find out more about the MASTER Security Scheme at
www.masterscheme.org
.