Expert Review
Maeving RM1 review
British startup Maeving brings a breath of fresh air to the electric revolution with this 1920s-inspired retro roadster. It's stylish, quality, fun around town and decent value, too.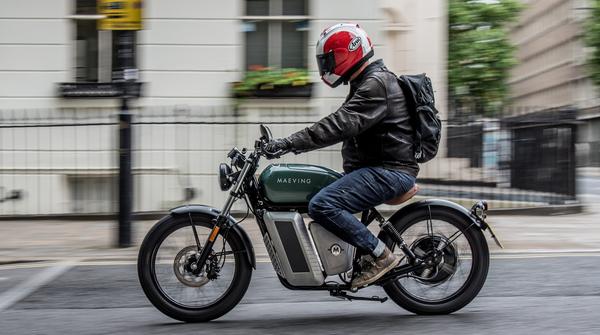 The Auto Trader expert verdict:
Until now, most electric bikes have either been cheap, toy-like 125-equivilents, expensive Zero mid-rangers or ridiculous exotica like the LiveWire and Energica. This is different, with charming style, easy manners, impressive quality and value. Round town it's almost irresistible.
Reasons to buy:
Charming vintage British styling
Authentic British build quality
Brilliant city commuter manners
Design
As the move to EVs accelerates, the British conceived and assembled Maeving stands out and is a breath of fresh air. Conceived as a stylish city runabout its crafty adoption of a 1920s vintage board-tracker style means it's distinctive, eye-catching and fashionable yet at the same time slim, light, full-sized (mostly due to its retro 19inch wheels) and easy to ride. Its 'retro-mod' design is well thought through. There's enough quality touches for you not to baulk at the £5K+ price (stitched leather seat, wire wheels and decent instrumentation among them); is well-built and its familiar, 125-equivilent performance is enough given its intended use. Who knew we'd have to go 'back' so far to go forward?
Expert rating: 5/5
Riding position
As simple and straightforward as lighter weight roadsters go. The slim, large diameter, retro-style 19inch wheels give full-size but utterly manageable overall proportions. The RM overall is slim, too, and the riding position from classy, single leather seat to wide-ish, flat bars is completely natural and helps make the Maeving an absolute doddle to ride. Bar-end-mounted mirrors are a nice touch and in reality, not the hindrance to filtering through traffic you might expect. Comfort overall, especially considering likely use is just short 'hops' around town, is more than sufficient – but not perfect. An hour in the saddle in our extended London first ride resulted in slight bum ache, but nothing to write home about.
Expert rating: 4/5
Practicality
Yes, 5/5 sounds generous, especially considering the RM1's obvious limitations – it's no use for pillions, luggage, out-of-town use, motorways, touring, sports riding, the list goes on… But for what it's specifically designed to do – it's brilliant. And that's short, city commuting with lots of style. Around London's West End it was in its element: nippy, easy, supreme at slipping through traffic, astonishing at pulling a crowd. If it wasn't for Boris Johnson walking out of No. 10 the exact moment, we rode down Whitehall all eyes would have been on us. An accessory satchel pannier is imminent, too, which'll improve practicality further by carrying your vegan wrap and iPad. Range is around 40miles on the £4995 standard single battery version which clips out easily and recharges off a three-pin plug in just four hours. Or you can go for the dual battery version (which goes in the 'tank' space) for £5990 which doubles the range.
Expert rating: 5/5
Performance & braking
With a familiar, proprietary Bosch motor producing around 6bhp, performance is on par with a 110cc or so ICE machine, so reckon on a top speed of around 45-50mph albeit with the benefit of more torque for far sharper acceleration away from the line (or traffic lights). But it's actually slightly better than that. The hub-mounted design really looks the part in this vintage-style machine while there's also three switchable modes, 1-3 with 1 being the fastest and 3 the most 'economical' (although, in reality, once tuned in you rarely switch down from 1, even around town). Like many electrics, there's a very slight lag off the throttle, which can annoy, although you soon get used to it. The brakes comprise a single disc front and rear with a twin piston Chinese LBM caliper at the front. In truth, it's not amazing, but considering the lightness of the bike as long as you use the rear as well it's more than enough.
Expert rating: 4/5
Ride & handling
With its proper, full size (well, almost) proportions, light weight, slimness, an upright riding position and large, 19-inch wheels, the RM1 is both easy to ride – like a bicycle almost – and yet also with a big-wheeled stability most scooters (with their smaller 12 or even 10inch wheels) simply can't match. The result is stable yet intuitively nimble and brilliant for cutting through traffic. Suspension, comprising conventional, Chinese-made but fairly basic telescopic forks up front with preload-only adjustable, retro-style twin shocks at the rear, is adequate but uninspiring. On a couple of occasions, the rear end bottomed-out and jarred over the worst of the West End's potholes, although in fairness, the bike probably wasn't set up for my bulk and I didn't get a chance to try to wind up the preload.
Expert rating: 4/5
Running costs
Still the ace card of any EV and that's certainly the case with the new RM1, as well, which, with sky-rocketting fuel prices is becoming ever more tempting. The Maeving is not only relatively affordable new, but there's also little or no running costs to worry about. The hunger for consumables is negligible, with only some brake pad and tyre wear (although not much) to be expected and, due to the hub motor, no chain or belt concerns. Road tax is also free, being an EV, while a 40-mile (or 80-mile, if you go for the twin battery option) charge is, compared to conventional petrol, virtually non-existent. You do have to shell out for insurances, however, and residuals remain something of an unknown.
Expert rating: 5/5
Reliability
It's early days so we have to be prudent. Maeving is an all-new British-based startup based near Coventry. Although designed and assembled here, many parts are bought in from overseas, often China, including the wheels and hub motor, brakes, suspension, switchgear and so on while the frame is made in Italy. That said, assembly and build quality is high and most of the components are better than many rivals. It's also so new that few have yet covered many miles. All of that said, the build and component quality, fit and finish are good enough for us to have few reliability concerns.
Expert rating: 4/5
Warranty & servicing
The new Maeving RM1 comes, as new, with an industry-standard, two-year, manufacturer-backed warranty which covers all parts and labour. Serving requirements are negligible, as there's only a handful of moving parts and the only fluids are in the brakes. That said, prudence dictates and annual check over which, as Maeving don't have dealers, is done, like CCM for example, by a mobile mechanic in a van.
Expert rating: 5/5
Equipment
Three modes, a stitched leather seat and an LCD panel on the speedo apart, the RM1 doesn't have much, but then it also somehow gets away with it because of both its retro, vintage style (for which the wire wheels, single dial etc are totally appropriate) and the unfussy simplicity its city commuter role commands. Anything more would be excessive, add to the expense, and be unnecessary. The bar-end mirrors are a nice touch, however, as it the subtle etched badging on the battery box and embroidered tab on the seat. It's the little details like that which add to the RM1 standing out.
Expert rating: 4/5
Why buy?
Up to now, although the flood of Chinese 125cc-equivilent electric scooters sometimes makes sense (if they also disappoint slightly for their expense and flimsy quality), while the more high-end Zeros, Energicas etc impress with their straight-line acceleration (to go with their excessive price tags), overall, it's been hard to find a compelling reason to buy an electric two-wheeler. Until now. The Maeving RM1 could change all that. It's charming and distinctive vintage style; genuine relevance as a cool city runabout (but no more) not to mention its quality and decent value adds up to being the all-round best electric two-wheeled 'motorcycle' experience we've had so far. Yes, it may be more an alternative to an electric bicycle than a longer-distance ICE motorcycle, but it does it so well it's worth taking seriously.
Expert rating: 4/5