Expert Review
KTM 1290 Super Duke R Naked (2013 - ) review
Dubbed 'The Beast' even by KTM themselves this 170bhp monster is about as fierce as super nakeds get – although it's significantly more refined thanks to a host of updates for 2017.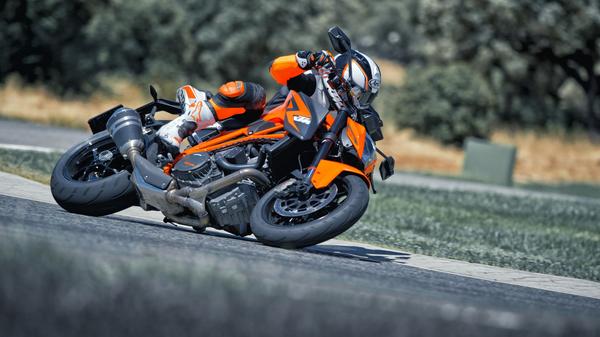 The Auto Trader expert verdict:
Available new from £15,635
Austrian off-road specialists KTM are no wallflowers and its biggest, maddest bike is exactly that: explosive, lary, gaudy, impressively equipped and (if you're brave) hugely entertaining. Imperfect when launched in 2013 it's since been honed to approaching it, if you like the style…
Reasons to buy:
Monster 174bhp performance
Now more refined electronics and specification
Lary, wheelie-prone dynamics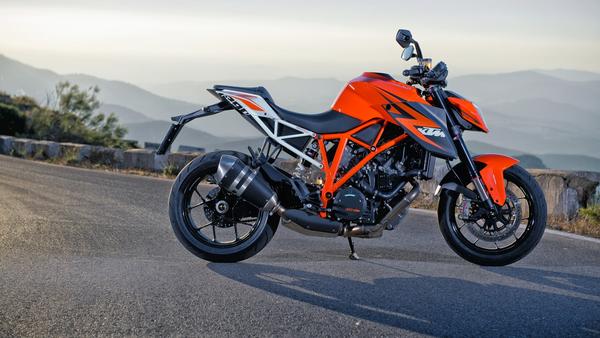 Design
There's no mistaking the 1290 Super Duke. Built to replace the already brutal 990 version, when launched in 2013 it was Austrian firm KTM's most outrageous, potent and lary bike yet. Unfortunately, those first examples also lacked a little refinement, especially concerning its otherwise sophisticated electronics while its gaudy style can't match the class or allure or rivals from, say, Ducati or BMW. However, refinements and uprates to 'R' spec in 2017 ironed out those glitches. It still might not be pretty but the Super Duke is undeniably potent and impressive.
Riding position
There's not much to debate, here: with its classic 'super naked' upright, but semi-sporting and aggressive posture, plus being a relatively light, slim, twin, the Super Duke is both comfortable and easily manageable. In fact, the only slight downside here is intrinsic to the very nature of super nakeds – they leave their rider exposed to the elements, making long journeys or motorway cruising a chore. On the plus side, those new, distinctive, angular LED headlamps (introduced for 2017) do act slightly as a nose fairing so even that's not all bad.
Practicality
Super nakeds such as the Super Duke inevitably have their limitations – with little weather protection or luggage ability they're not ideal for touring, for example. But that said they can be surprisingly versatile. As its slim, punchy and upright it's great for slicing through city traffic. It has enough performance to hold onto the coattails of most sportsbikes and it can take a pillion (just about), too. On top of that, distance ability can be improved with the addition of luggage or fly screen cost extras.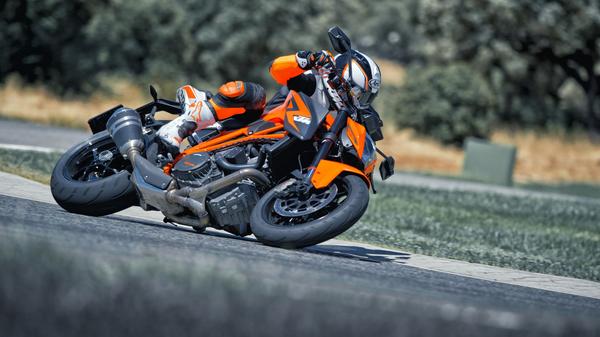 Performance & braking
KTM originally claimed 160bhp from its monstrous, 1301cc V-twin. That, with 2017 Euro4-necitated revisions, is now 174bhp which, along with top notch Brembo radial brakes and an impressive and now much more refined electronics package, puts the Super Duke R among the most potent, and best braking, of all super nakeds. In fact, in this increasingly competitive class, only Aprilia's similarly updated Tuono 1100 V4 Factory, gives the KTM a true run for its money. Sports bike riders with one of these in their mirrors should be afraid. Very afraid.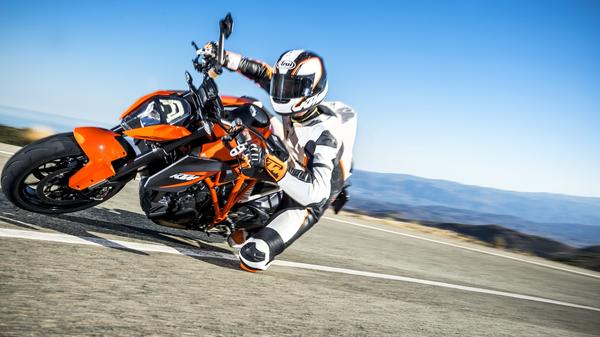 Ride & handling
Along with the internals engine changes, electronics improvements and new detailing, this latest, post-2017 incarnation of the Super Duke also benefits from improved suspension internals; not that the old bike was in any way harsh. The result, again, is one of the keenest performers of all super nakeds. The Super Duke is nimble, agile and dynamic but now also has a more refined ride while the lean-sensitive traction control and ABS are improved, too. Yes, the KTM's a slightly twitchy wheelie monster, but it's also impressively agile and sportsbike-rivalling in terms of handling.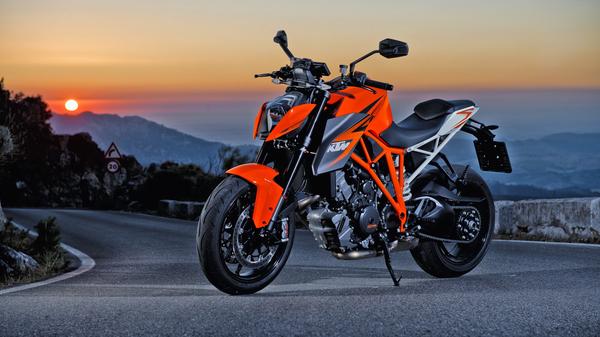 Running costs
Lets face facts: with new prices starting at around £14K and performance most sportsbikes are the envy of, running a Super Duke R was never going to be a frugal undertaking. Those 174 horses mean its appetite for consumables such as tyres, chains, brakes pads and even fuel is greater than most while insurance doesn't come cheap either. In fact, all told, running costs are on par with most superbikes. Most would argue, though, that, given the experience the KTM provides, it's worth it.
Reliability
While some of the Austrian firm's very early big bore road bikes suffered from minor niggles and reliability issues, that's now well over 10 years ago and those days are long behind us. What's more, although the original 1290 Super Duke also had a few issues this latest version appears to be significantly refined all round while the level of quality and components has improved, too. Yes, it's early days, and we still have to be a little cautious, but we have no major concerns here.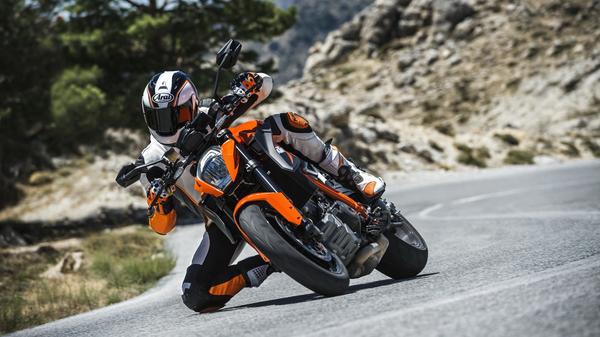 Warranty & servicing
KTM, again like nearly all the major global motorcycle manufacturers, offers a standard two-year/unlimited mileage parts and labour warranty. After the initial first 600-mile service, the standard major service interval is 15,000kms, or about 10,000miles.
Equipment
At first glance, the 1290 Super Duke appears a pretty basic machine, like many KTMs, but what it has is generally very good stuff. Suspension is by WP, brakes are top notch Brembos, there's the full suite of electronic rider aids including switchable rider modes, traction control and ABS, since 2017 it has a new, fancy, full colour digital dash plus new LED lights plus it has keyless ignition and cruise control as standard. And, if all that's not enough, a quickshifter, performance exhaust and more are all available as optional extras.
Why buy?
It's a moot point, particularly as this class is now one of the most competitive of all, but if you want the punchiest, lariest and arguably most exciting super naked of all – the uprated KTM 1290 Super Duke is, arguably at least, it. It's got bags of brutal power, a lively chassis and aggressive looks yet, now better than ever, it's all also kept in check by some of the best electronic rider aids around. No, the 1290 Super Duke isn't subtle, hasn't the refined charisma of some nor is the cheapest. But if the 'most' is measured in raw performance and a gaudy image, the 1290 Super Duke is it.