Expert Review
KTM 890 Adventure adventure/enduro(2021 - ) review
Enlarged successor to 2019's 790 Adventure adds power, sophistication and refinement to an already excellent middleweight adventure/all-rounder – and if you want even more dirt ability there's the 890 Adventure R, too!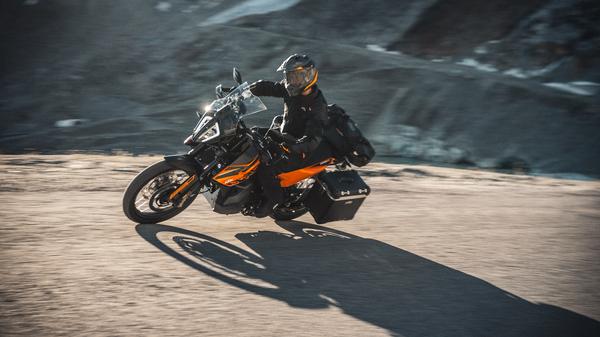 The Auto Trader expert verdict:
Middleweight adventure bike has the punch of the twin-cylinder 890 Duke engine, sophisticated electronics of its 1190/1290 bigger brothers and better dirt manners than all of them – but it's not short of quality competition, too.
Reasons to buy:
Thrilling high rpm performance
Class-leading versatility and spec
Reasonable value
Design
KTM are more formulaic/modular than most so it's no surprise the 890 Adventure follows a familiar template. In this case that's the engine, frame, TFT dash etc from the punchy, parallel twin 890 Duke roadster with fresh but typically KTM angular, adventure bike styling. That said, there's genuine quality where it counts (dash, engine, suspension, electronics, brakes), a few clever design features (eg the 'pannier' fuel tank which keeps the CofG low) and it works impressively well. Though better (and faster) than the outgoing 790 version, however, it's still not perfect. The modes are a little baffling, the dash digits a tad small, the screen's not adjustable (and is noisy) and its style a little cold and characterless compared to, say a Triumph Tiger or Ducati Multistrada 950…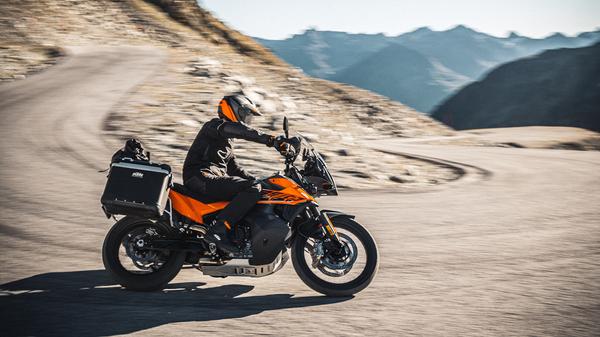 Riding position
For a credible, off-road-capable adventure bike the 890 Adventure is surprisingly low and 'cute', mostly thanks to the pannier tank. That's no complaint as it makes it more manageable but if you like your adventure bikes to have substance and stature you'd be better with the taller, longer-suspension, more off-road 'R' version. Other than that, and the KTM's noisy, non-adjustable screen (which is almost unforgiveable in this sector), the 890 Adventure's riding position is without complaint. The seat is narrow enough at the front for off-roading yet broad at the rear for added touring comfort. It's adjustable (through two heights), too, as are the bars.
Practicality
The whole adventure bike class owes its popularity to its superior versatility – the best can tour, commute, tackle off-roading and even be decently sporty, after all – and the 890 Adventure is no different. In fact, with full-size adventure bikes often growing into 1200cc, 250kg+ behemoths, the new 'middleweight' adventure offerings, such as the 890 but also including Triumph's Tiger 900, Ducati's Multistrada 950 and BMW's F850GS, by being less daunting, cheaper and more manageable in town, are the most versatile bikes of all. KTM's new 890 is right up there with the best of this bunch. The extra performance puts it on par with the best, as are its electronics, chassis and comfort; it's as light, slim, low and manageable, as any and it's better than most off road, too. It's a true bike for all reasons – but then so's the Triumph, BMW and (as long as you don't go off-road) Ducati, too!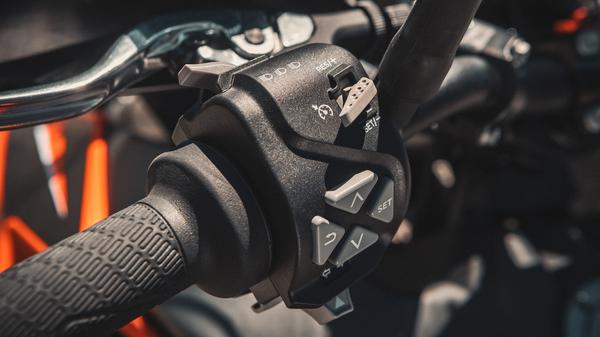 Performance & braking
Among the best in class. The previous 790, with 95bhp, was hardly lacking, but it's been bored and stroked to 890cc boosting power to 103bhp with the torque to match. That's significantly more than all rivals bar the Multistrada 950. Controlled through three switchable riding modes (although these aren't as distinct and well-defined as some) it's at its most impressive accelerating hard above 6000rpm when, clicking through the gears, the 890 is a seriously brisk bike. The uprated brakes are equally impressive. Twin big 320mm front discs clamped by KTM-branded, radial four-piston calipers, which give plenty of sharp bit and power. The only slight criticism is a slightly fluffy throttle response in some modes at lower rpms and a rather metallic, soul-less delivery. But hit 8000rpm and most of that's forgiven.
Ride & handling
KTMs traditionally have fine, sharp-handling chassis along with quality WP (which it also owns) suspension – and the same is true of the 890. For an adventure-style bike it's sharper with a lower CofG than most – you can again thank its unusual 'pannier' fuel tank for that. Plus it also has a decent quality, compliant ride. On the slight downside, the front 43mm inverted forks are unusually unadjustable with the single rear shock being preload only. In addition, probably because of its unusually low stance and CofG, the 890 Adventure seems to have little of the 'weight transference' wither front to rear (under acceleration) or rear to front (under braking) most taller adventure bikes give. For sheer speed, that's probably an advantage; for a sense of dynamism and involvement, less so.
Running costs
It's a mid-range, mid-performance, mid-price bike, so the 890 Adventure is never going to be as expensive to run as, say, the Austrian firm's larger adventure offerings with £16K price tags and 160bhp performance, nor as frugal as cheaper, lower performance alternatives. On top of that, the new engine, although powerful and potent, has proven reasonably economical. Even so, the 890 Adventure's performance potential will give it a greater hunger for consumables such as tyres, chains and brake pads than most of its direct rivals.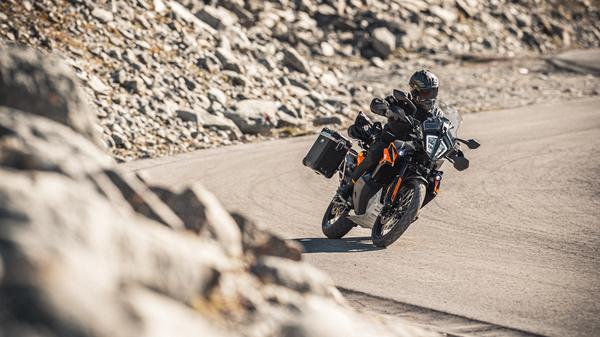 Reliability
As with many of our reviews, the 890 Adventure is a brand new, heavily revised model so it's impossible to be certain about reliability until it gets a good few miles and years under its belt. That said, it is heavily based on the 790 version which has had a few minor issues and KTM's overall reliability record isn't the best, with a few stories of oil leaks, warped discs and the like, although these are fairly few and far between and KTM's record is improving.
Warranty & servicing
KTMs come with the industry standard two year, unlimited mileage manufacturer-backed warranty covering all parts and labour and the same applies to the new 890 Adventure. Servicing is the same as for the previous 790 version, too, with impressively wide major service intervals of 15,000kms (or 12,000miles).
Equipment
KTMs are characterized by having fairly basic, lightweight, off-road inspired layouts (single or twin cylinder engines in a tubular trellis frame) which then benefit from generally better than average suspension, brakes and electronics. The same is true of the 890 Adventure, so its electronics, although a little befuddled, include cornering ABS and more to be among the best in the class. There are LED lights all round, adjustable bars and seat, a decent TFT dash and even cruise control. In short: it wants for nothing bar luggage (as an optional extra) or an adjustable or taller touring screen.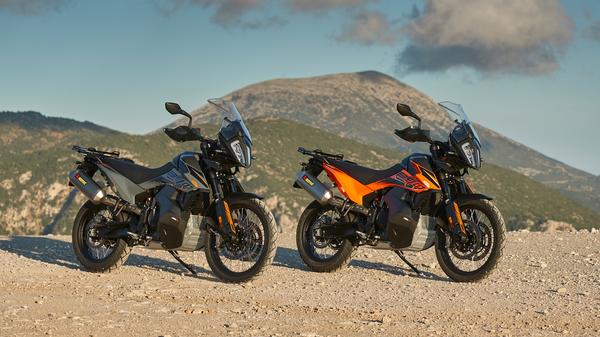 Why buy?
Middleweight, more manageable, affordable (and better off road) adventure bikes have become one of the most competitive classes of all in recent years and their sheer versatility yet affordability explains why. Why KTM launched the 790 Adventure in 2019 it was instantly among the best, shining out for its sophistication, punchy performance and genuine off-road ability. This updated, now Euro5 version is better yet with a significant step up in performance, a quality chassis, electronics on par with full-size adventures and even cruise control. It may lack the style and character of some and the luxury and kudo of others, but it's a brilliant all-round performer that does it all at a still impressively keen price.