Expert Review
KTM 1050 Adventure Adventure (2014 - 2016) review
The KTM 1050 Adventure is pricey for an entry-level bike, but it makes up for that with unerring quality across the board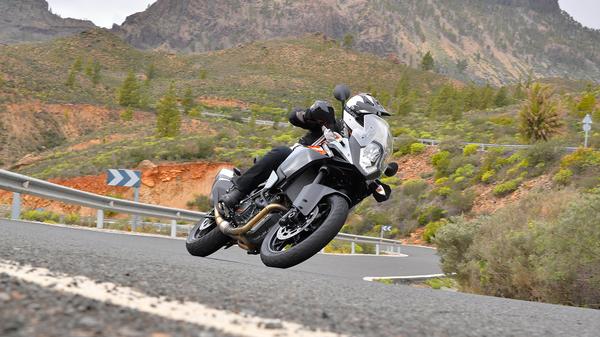 The Auto Trader expert verdict:
The 1050 Adventure is the entry-level model of KTM's V-twin range, designed to give most of the performance and versatility of the 1190 Adventure in a more rider-friendly, less expensive and potentially A2-legal form. It's a fast, fine-handling and generally excellent road-going all-rounder with off-road potential. There are plenty of less expensive entry-level bikes but few approach the Adventure's ability to shine in just about any situation.
Reasons to buy:
Softly tuned, dohc V-twin engine is flexible, smooth and refined
Quality frame and suspension give superb handling and ride quality
Comfort and generous range mean it's very practical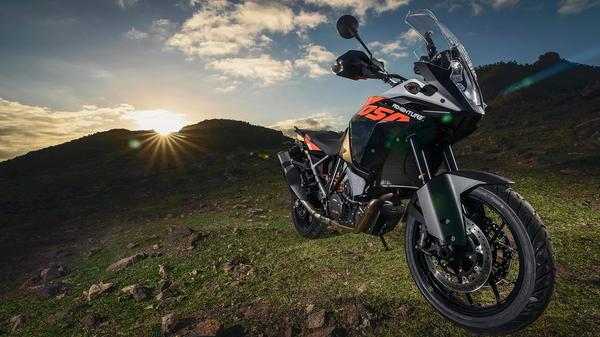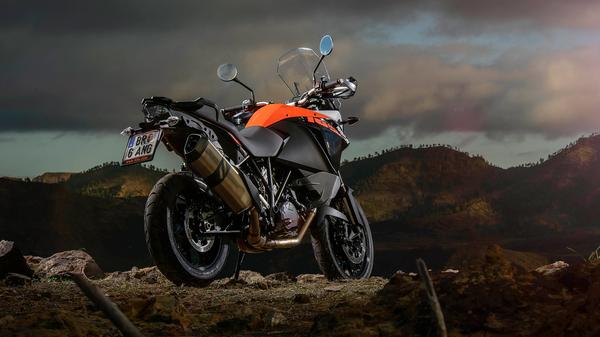 Design
"

The 1050 is very similar to the 1190 Adventure with 19-inch front wheel, and having an equally distinctive style complete with trademark orange paint

"
In design terms, the 1050 is very similar to the 1190 Adventure, sharing its blend of 75-degree, dohc V-twin engine and steel-framed chassis with 19-inch front wheel, and having an equally distinctive style complete with trademark orange paint. KTM's key design decision was to make the bike A2 compliant, which meant it had to produce a maximum of 48bhp in restricted form, and no more than twice that much when unrestricted – hence the maximum output of 95bhp. Its reduced weight and a slightly lower seat help compensate for the less sophisticated electronics and suspension, and narrower wheels that are cast instead of wire-spoked.
Riding position
The typical adventure-bike riding position is very upright, with plenty of legroom and a one-piece handlebar that is slightly wider than that of the 1190. Both bars and pegs have a small but potentially useful amount of adjustability. The dual-seat is fairly broad, thinner than those of the other Adventure models, but also lower, at 850mm. It can be replaced by the adjustable 1190 seat as an accessory. The screen is unchanged from the 1190's, so is adjustable for height after you've unlocked it with a couple of levers, which requires both hands so can't be done on the move.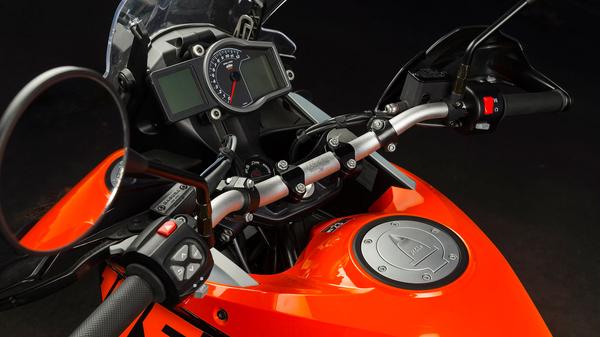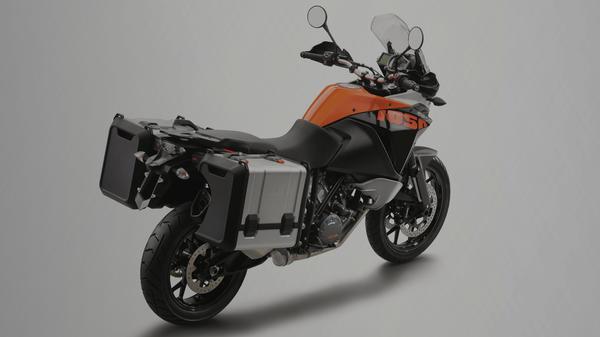 Practicality
In most respects the 1050 is very practical, combining good engine and chassis performance with respectably light weight, generous steering lock and impressive comfort and luggage-carrying ability. The adjustable screen gives reasonable wind protection too. Shorter riders will find the seat on the tall side, but at 850mm it's lower than many, and male riders of average height or above should have few problems. The 23-litre tank gives a genuine range of 170 miles if you're riding hard, or over 200 miles with more gentle use. For A2 licence holders the bike's most practical feature is its ability to be restricted to 48bhp.
Performance & braking
"

The smaller V-twin has plenty of smooth low-rev and midrange torque, and cruises effortlessly at the legal limit

"
For an entry-level bike the performance is outstanding, although anyone riding the 1050 after the 1190 Adventure is likely to feel less than enthusiastic. The smaller V-twin has plenty of smooth low-rev and midrange torque, and cruises effortlessly at the legal limit and above. But it delivers its 95bhp maximum at just 6,200rpm and can't match the bigger engine's exhilarating high-rev kick. Some riders have criticised a snatchy throttle response in the more aggressive Sport riding mode but I found it fine and rarely used the softer Street mode, let alone reduced-power Rain. The Brembo brakes are excellent although the 1050 has standard ABS rather than the 1190's superb cornering system.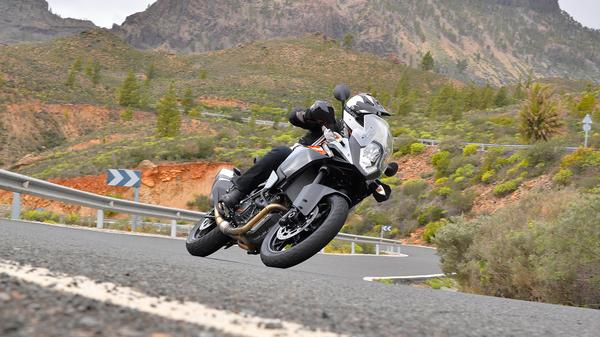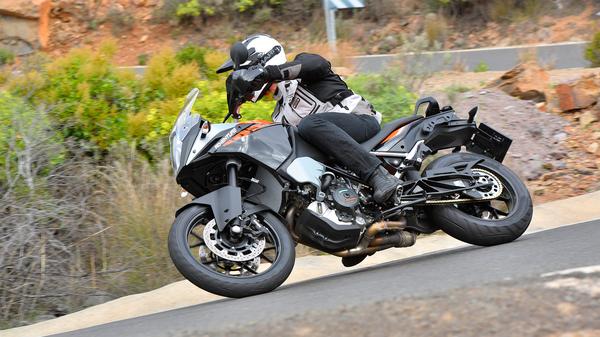 Ride & handling
"

Suspension is excellent, giving a compliant ride yet plenty of control even under hard riding

"
This bike borrows the 1190 Adventure's steel frame and aluminium swing-arm, and has a similarly generous suspension travel of 185mm up front and 190mm at the rear. But its WP forks are slimmer, 43mm units with no adjustment, and the shock has only preload and rebound damping adjustment, while the cast wheels and road-biased Metzeler Tourance Next tyres are relatively narrow. Suspension is of excellent quality, though, giving a compliant ride yet plenty of control even under hard riding. The 1050 steers with a light touch on the bars, stays stable at speed, and has plenty of grip and ground clearance.
Running costs
As with most bikes the biggest running cost is likely to be fuel, which should be reasonable, with well over 40mpg possible with normal riding. The KTM is reasonably light and low-powered by the standard of large-capacity adventure bikes, so should be fairly kind on its chain and tyres. Arguably its biggest asset is that someone with an A2 licence won't feel obliged to trade up on qualifying for a full licence. Derestricting it will produce a bike that many riders would be happy to keep for years.
Reliability
As always with a new bike it's impossible to talk about reliability with much authority, but what can be said about the 1050 is that it's essentially the 1190 Adventure with a detuned, less stress-producing engine with the same bottom-end; and a simpler, less sophisticated chassis and electronics package with the same well tested frame and swing-arm. That should mean that it's at least as reliable as the larger-engined model, which has a reasonable although not flawless record.
Warranty & servicing
The 1050 Adventure follows KTM's other V-twins as far as servicing goes. Internals are pretty generous: 15,000km (9300 miles) between check-ups and double that before the valve clearances need inspecting. It's a fairly complex, liquid-cooled engine with dohc, eight-valve top end, but will be very familiar to many mechanics. The warranty follows KTM's and other manufacturers' normal format in covering the bike for two-years with no mileage limit.
Equipment
This bike can't match the 1190 Adventure's equipment level, lacking its off-road riding mode, and the lean-angle sensor that allows cornering ABS and ultra-sophisticated traction control. On the other hand it does have three riding modes, traction control and very good ABS as standard, along with a comprehensive instrument panel, self-cancelling indicators and built-in luggage rack and pannier mounts. The long accessory list includes an off-road engine mode (with ABS on the front wheel only) plus many bits designed for the 1190, ranging from wire wheels, crash-bars and a bash-plate to hard luggage and an Akrapovic exhaust can.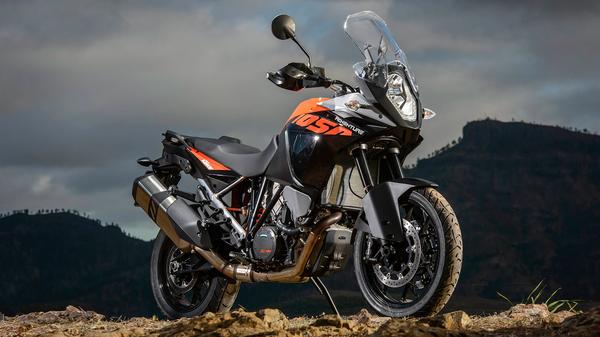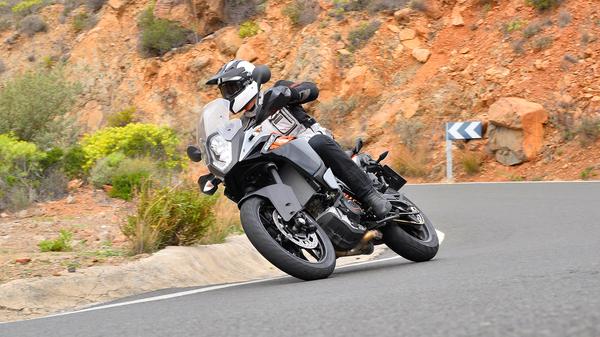 Why buy?
"

The 1050 Adventure has a huge amount to offer many riders

"
If you're looking for an A2 compliant bike with good all-round performance and comfort plus the ability to be better still when derestricted, the 1050 Adventure has a huge amount to offer. It can't match the pace or versatility of the bigger-engined Adventures, and is expensive by entry-level standards, but its wide range of abilities would suit many riders just fine.