Expert Review
Kawasaki Z900 Naked (2017 - ) review
The new Z900 revives its historic name, but the bike can't match the '70s original's significance. Effectively a Z800 replacement, it's a junior Z1000, without that bike's electronics. While it's a decent option if you want an affordable Japanese four, it can't match Triumph's latest Street Triple.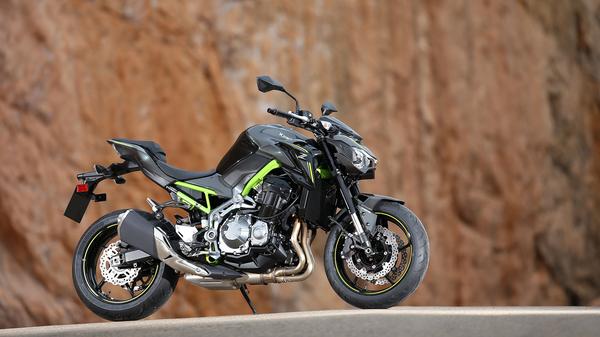 The Auto Trader expert verdict:
Available new from £8,550
The Euro4-forced replacement for the Z800 is bigger, pokier, and a decent bike as a sort of 'lesser Z1000'. As a budget but bruising Japanese four-cylinder naked, you won't be disappointed, but it hasn't got the sophistication of some, or the excitement of Triumph's class-leading new Street Triple.
Reasons to buy:
Slick four-cylinder produces 123bhp
Substantial, big bike feel, without being intimidating
Classy detailing and impressive refinement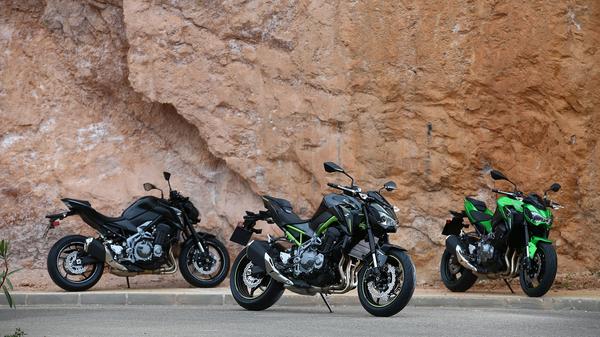 Design
There's no doubting the intent: the Z900 is probably bigger and better than the outgoing Z800 (already one of the better midi nakeds) by about 10%. It's more potent, lighter, more substantial, and for the most part, more integrated and refined in every way, too. However, you either like Kawasaki's rather extreme ('Sugomi' they call it) styling… or you don't. Some also won't like the conspicuous lack of electronics and its rise in price. For what it is, though, the Z900 is well-executed.
Riding position
The Z900 is a typical roadster with a slightly aggressive, mildly forward cant: classic super-naked in fact, for better and worse. On the upside, if you're taller than average, the Z900 is larger and more substantial than most midi nakeds, and, being based on the Z1000, is only slightly smaller than its larger brother. On the downside, bikes like this, by being fully exposed to the elements, can be tiring and a strain over distance. That said, we can't really criticise the Z900's ergonomics.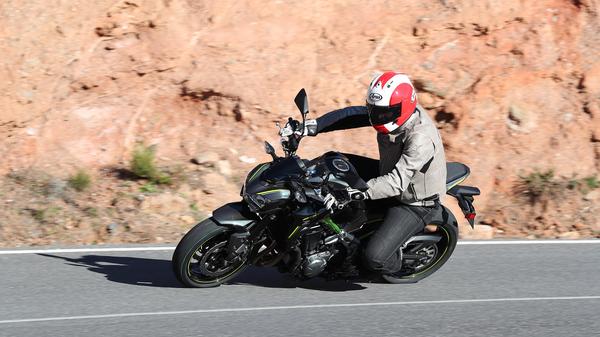 Practicality
Not the Kawasaki's strong suit, but then, practicality was never what the Z900 was designed for. Being a punchy, tractable roadster, the Kawasaki is reasonable around town (although some slimmer, lighter rivals are better), and is a fun proposition for short, sunny Sunday ride-outs. As with all nakeds, that's pretty much where it ends. There's no weather protection to make long hauls tolerable, little luggage provision, and the Z900 is only passable as a pillion bike. That's what you get when you buy a toy.
Performance & braking
On face value – and bearing in mind how competitive this category is – this is the Z900's strongest suit. The all-new, Euro4-compliant, sleeved-down Z1000 four-cylinder engine, produces a class-leading 123bhp (up from the 800's 113), which is 10bhp more than its closest four-cylinder rival, Suzuki's GSX-S750. It's smooth and grunty, too, although the lack of power modes will be a negative for some. Brakes, being decent, ABS-equipped four-pot Nissins biting onto petal discs, are more than class competitive.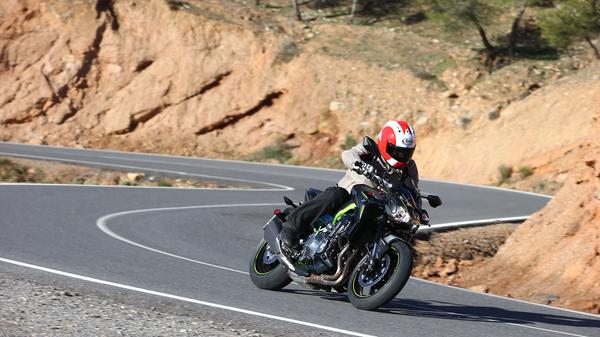 Ride & handling
It's decent or adequate, rather than exceptional. Taken on its own merits, the Z900's handling is a slight step up from the outgoing Z800. An all-new, H2R-inspired, lightweight tubular steel frame is an impressive 13.5kgs lighter than before, but this is still one of the bigger, more substantial and heftier bikes in the category. There's nothing in particular deserving criticism, and its multi-adjustable forks and rebound and preload adjustable rear shock are both a boon, but when ridden hard for a prolonged period, there's no getting away from the fact that it's harder, heavier work than Triumph's new Street Triple.
Running costs
As a mid-range, slightly price-conscious (certainly compared to its Z1000 bigger brother), mostly short-haul machine, the Z900 will hold few surprises in terms of cost of ownership. Being more powerful than most in its class will bring a slightly higher hunger for consumables such as tyres, fuel, chain, etc., but it's nothing to worry about. On its own merits, it's a decently affordable, mid-range bike – but it will be slightly pricier to run than bikes like the cheaper, less powerful Suzuki GSX-S, or the lighter Triumph.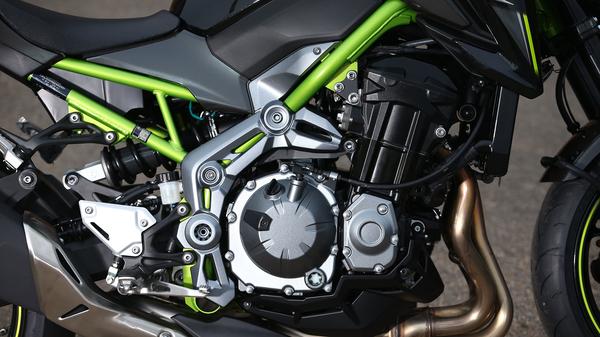 Reliability
The Z900 is effectively an all-new model, so at this stage it's very difficult to be certain about reliability. That said, it's based on proven mechanicals. The engine is derived from that of the solid Z1000, but sleeved down and detuned so we wouldn't be overly concerned. Likewise, with no electronics, there's less to potentially go wrong, the cycle parts are also known and proven, while the new frame is simple and straightforward.
Warranty & servicing
As is seemingly common with many Euro4-revamped models, the Kawasaki Z900 simply continues the service schedule and warranty of the outgoing model, in this case the old Z800. As such, it's also typical of current Japanese bikes in requiring a 600-mile oil and filter first service, followed by repeat minor services every 7,500miles with major valve adjustment services every 15,000. Warranty-wise, the Z900 is fairly standard, too, in having the usual 24-month/unlimited mileage type.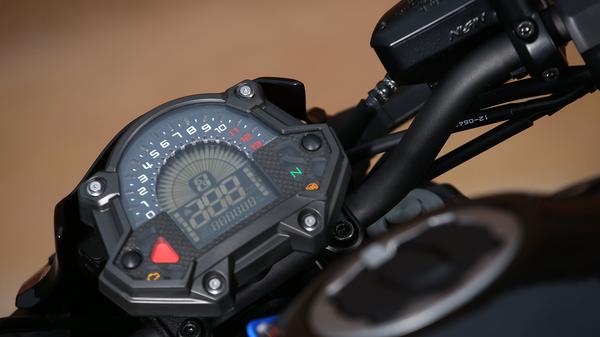 Equipment
Recent Kawasakis continue to impress in terms of their general quality, fit and finish, and the new Z900 is no exception, with pleasingly tactile surfaces, quality build, and gleaming paint. There's also span-adjustable clutch and brake levers, multi-adjustable suspension, new five-spoke cast alloy wheels, a new instrument LCD display (that now, pleasingly, includes a gear indictor), and that's it. Partly to attain a near £2,000 price reduction over the similar Z1000, the 900 – apart from compulsory ABS – has no electronic rider aids at all. Some won't mind, others might.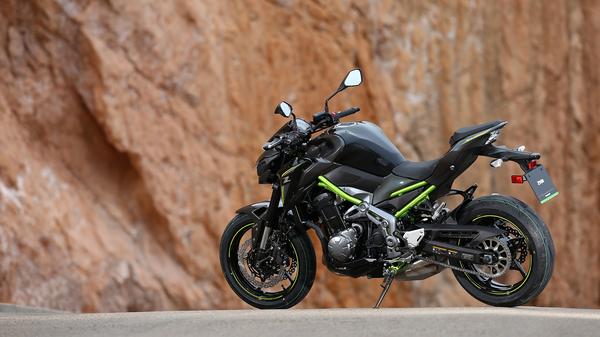 Why buy?
Although the midi naked class is shaping up to be one of the most competitive of all, with rivals like Triumph's hugely impressive 756 Street Triple, Suzuki's updated GSX-S750, a new Ducati Monster, and more, the appeal of the Z900 is simple: it's the most potent and substantial four-cylinder Japanese bike in the class. For many, that will be enough. It's decently executed, too, with no conspicuous foibles. Trouble is, it's also the most expensive and has little conspicuous star quality, either. A good bike, but perhaps not a great one.