Review
Kawasaki Z1000 SX Sports Tourer (2010 - ) review
Essentially a faired, sport-touring version of the Z1000 super-naked, the SX is a brilliantly effective sports-tourer that just keeps getting better.
The Auto Trader expert verdict: ★★★★★

★★★★★
4.2
Kawasaki's Z1000SX has been one of the surprise hits of recent years. Originally launched in 2010, then updated for 2014, it's essentially a fully faired, sport-tourer version of the company's Z1000 naked roadster. But, while the roadster failed to sparkle, the SX manages to blend fun, practicality and value like almost nothing else. A great all-rounder, now better than ever.
Pros
Fabulous blend of versatility and fun

Now better specced than ever

Great value is icing on the cake
Cons
Image a little bland for some

Lacks weather protection of some of its rivals

Panniers are a cost extra
Interested in buying a Kawasaki Z1000SX?
Design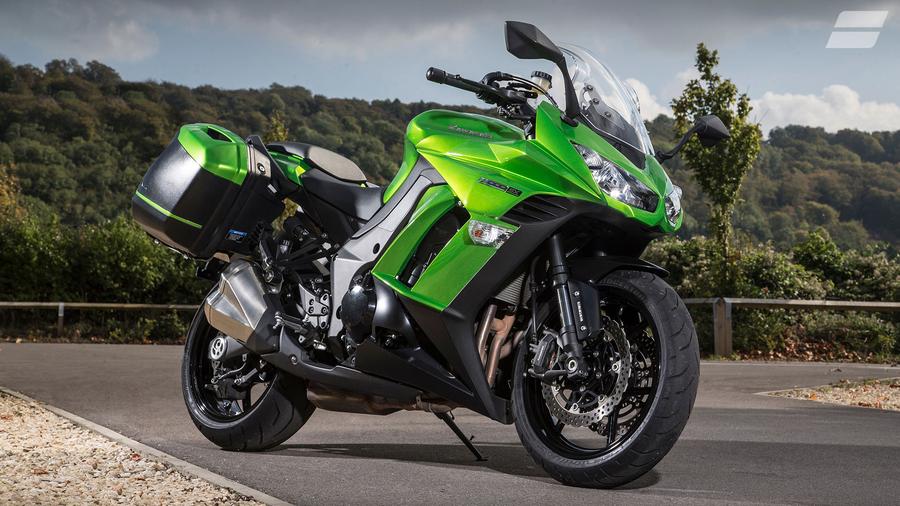 "
It's essentially a Z1000 with a fairing but in truth, brilliantly effective
"
Essentially a Z1000 with a fairing but in truth, brilliantly effective. The 2010 original was a great all-rounder and great value. The 2014 update received improved, bespoke optional pannier system, uprated suspension and brakes, new traction control and power modes and tweaked engine, saddle and styling. Then, in 2017, it gained updated styling, a bigger screen and gear indicator, improved electronics and ergonomics, and more refined suspension. Priced originally just shy of £10,000, it's easy to see why it has become a best-seller.
Riding position
Classic, semi-sports, 'sports-touring' tuck is spot-on compromise: comfortable enough for 500-mile days, sporty enough to encourage controlled 'scratching' when the roads get twisty. At the same time, the ancilliaries are brilliant, too, and include new, wider mirrors, a slightly improved seat, uprated, more modern switchgear (to incorporate the new power modes and switchable traction control). Even the slightly bigger screen is a welcome improvement over the old.
Practicality
The Z1000SX pretty much does it all: it's a great two-up tourer, a decent sports bike, is great fun, the cleverly-narrow new luggage means its even better round town than many and it's now pretty well equipped, comfortable and good value, too. There may be no stand-out feature, it may lack the glittering spec of some more expensive machines and it may not be brilliant at any one thing, but as a great value all-rounder there are few better.
Performance & braking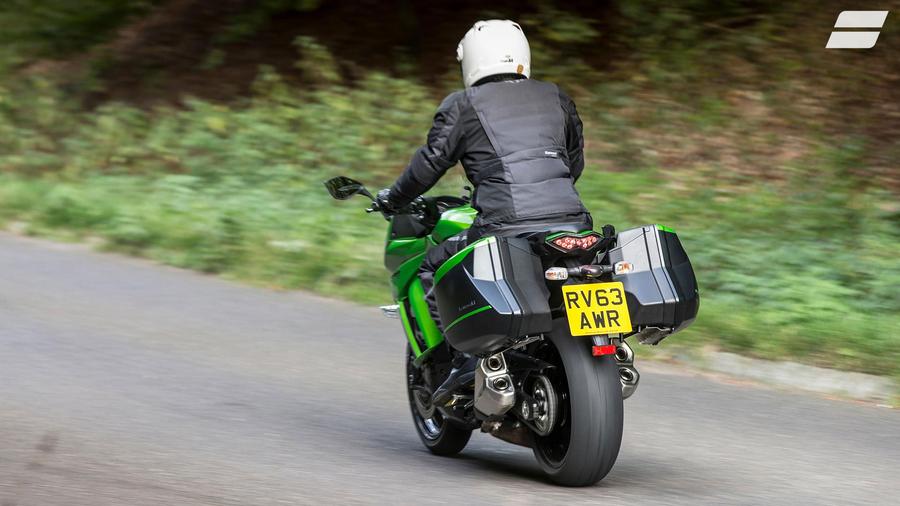 "
Its combination of excellent fuelling, massive grunt and true top-end zest is brilliant
"
There was nothing much wrong with the old SX's 1043cc four thanks to its combination of excellent fuelling, massive grunt and true top-end zest, but the 2014 updated version with improved throttle response and added smoothness is better yet. The brakes, too, are now better than ever. New radial-mount Tokico monobloc calipers (Kawasaki's first) complete with a radial pump front brake master cylinder now bite on the twin front petal discs to deliver true superbike-standard braking.
Ride & handling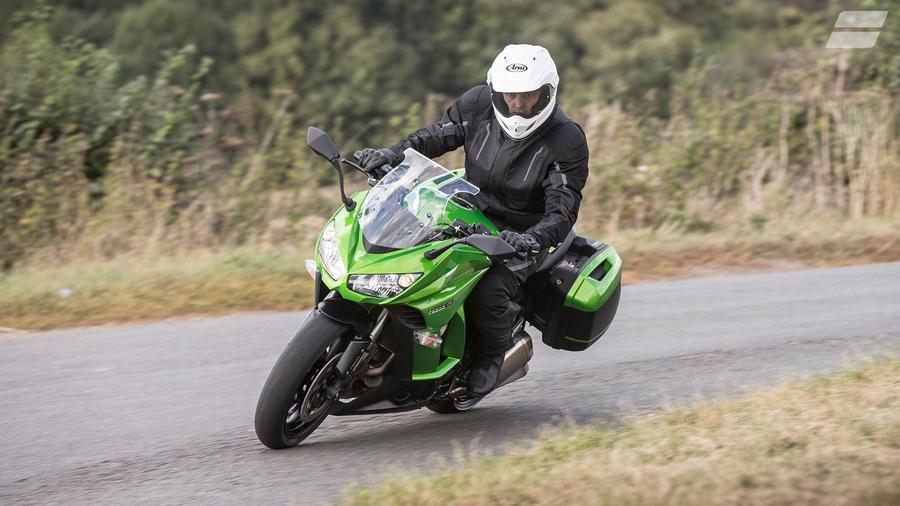 "
Plush enough for comfort, firm and controlled enough for sports
"
The stumpy, compact yet mostly quality Z1000-derived chassis was always enough to make the SX genuinely sharp and sporty, yet roomy and comfortable enough to be a credible sports-tourer as well. From 2014 it gained decent, multi-adjustable forks, while the quirky, horizontally-mounted rear shock gained a heavier spring plus a very handy remote preload adjuster knob (just the thing sports tourers need for easily winding up the rear to compensate for pillions, luggage… or both). The latest 2017 version is improved further still with a new shock linkage. The result is plush enough for comfort, firm and controlled enough for sports, and all easily adjustable as well.
Running costs
The Kawasaki Z1000SX is a high-performance, 1000cc four so it's never going to be as cheap to run as some. That said, it's not a full-on superbike, either, and has been cleverly designed to offer value, so it's also not as bad as you might expect, either. Ridden hard and mpg will drop under 40mpg and consumption of tyres, brake pads etc will suffer, though more gentle riding will improve on that.
Reliability
There's no reason to think that the SX will be anything but utterly reliable. Most of its components have already been proven elsewhere and there have been few reports of any problems whatsoever in either of the SX variants. Build quality is also better than most although, as with some Japanese machines, it would be wise to properly maintain the SX's finishes and exposed surfaces.
Warranty & servicing
Servicing the Z1000SX is fairly typical for a Japanese machine of this type although a little more frequent than some. A first service/oil and filter change comes at 600 miles followed by a 3,750-mile check-over, then services at 8,000, 12,000 miles and so on. Like most Japanese machines the Z1000SX comes with a two-year, unlimited mileage warranty.
Equipment
Impressive considering the price and especially since the 2014 update. Although the new, compact but spacious panniers are an optional extra, the uprated electronics package, which now includes cornering ABS and lean-sensitive traction control, are class-leading, plus there's an an adjustable screen, three power modes, fully adjustable suspension front and rear (with the rear having a useful remote preload adjuster), top-spec, radially-mounted front brake calipers, triple petal discs and more. Not bad for a supposed 'budget' machine.
Why buy?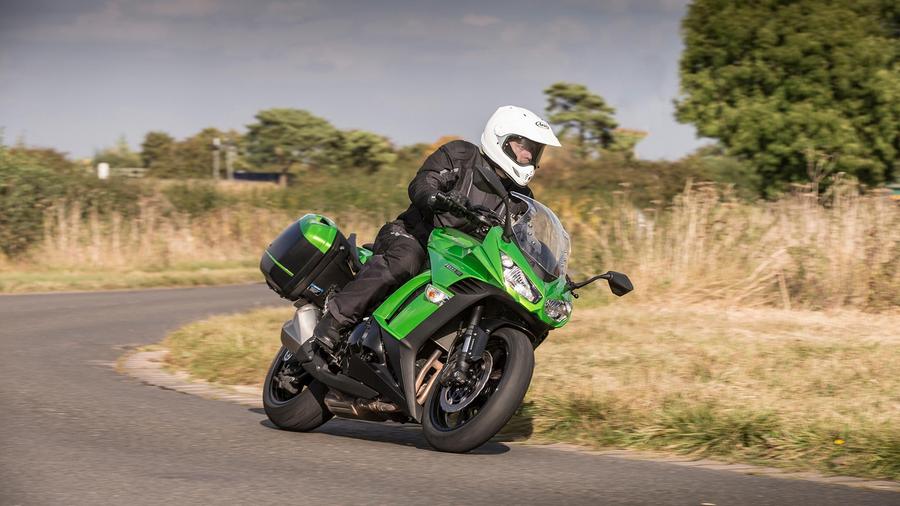 "
It's as engaging as a pure sportster and as comfortable, capacious and long-legged as virtually any sports-toure
"
Why not? The Z1000SX is a superb all-rounder at an impressive price. It's as entertaining as a super-naked, as engaging as a pure sportster and as comfortable, capacious and long-legged as virtually any sports-tourer. It's even decently equipped and built. Kawasaki UK's No. 1 selling machine is the Z1000SX. We're not at all surprised.
Interested in buying a Kawasaki Z1000SX?