Expert Review
Kawasaki W800 Naked (2019 - ) review
Revived retro now complies with latest EU regulations, has been refreshed and updated and comes in two forms: a pleasant, Bonneville T100-style roadster called the Street and this stylish and sporty café racer.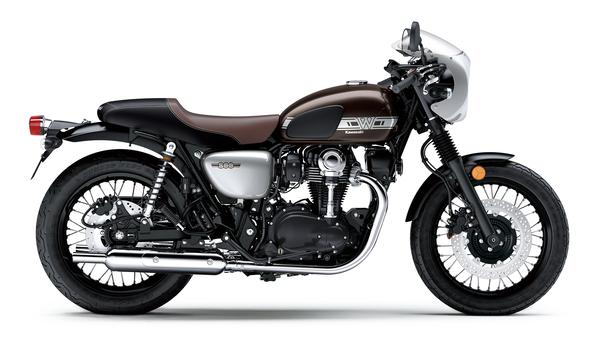 The Auto Trader expert verdict:
Available new from £6,800
Revived retro (it first appeared as the W650 in 1999) is charming, easy, ell-detailed and A2-compliant – but it lacks the performance and versatility of Triumph's latest Bonnevilles and the bargain price of Royal Enfield's latest 650.
Reasons to buy:
Easy manners
Authentic detailing and style
Quality and durability
Design
The original W650 outdid even the Triumph Bonneville for authenticity thanks to neat touches like its bevel-drive valve train and metal switchgear, but lacked a little for performance. Updated to become the fuel-injected W800 it fell foul of Euro4 regulations in 2017. Now it's back and, although changes have had to be made, again restricting performance to 47bhp while a disc replaces the drum brake at the rear to accommodate ABS, there's still plenty of authentic details such as the analogue dials and fork gaiters. Best of all, in this café racer 'Café' trim, there's a seductive sports fairings, knee pads, Lucas-style taillight and more. It's not perfect in our eyes: the lack of tactile badging is a disappointment and the chrome would be preferred to the black metal finishes, but it's better than most.
Riding position
You might assume this Café version, with its lower bars, to be more uncomfortable than the upright roadster Street variant – but you'd be mistaken. The one-piece bars tilt you forward into a gentle cant that's not at all taxing; the fairing and screen, though small, make a welcome contribution to keeping off the worst of the windblast and the W800 is light, slim, low and easily manageable. Short hauls will be no problem, but this is also a Sunday afternoon toy and no tool for long distance, two-up touring.
Practicality
Few retros are designed to be practical all-rounders, just as capable of big mileage touring holidays as nadgery weekday commutes, so the new Kawasaki W800 Café was always expected to have its limitations. Yes it's pleasing and easy to handle, making it more than able around town or on other short hops. But it has no substantial carting capacity, its weather protection is limited, pillion-carrying isn't recommended and it's so pretty and pristine it'd be a crying shame to ride through rain and winter. But, of course, all tat's missing the point: practical? No, not really. But as a pleasing Sunday toy that earns admiration both as an object and to ride, it's among the best.
Performance & braking
There's not much to get excited about here, either, but again that's missing the point. 47bhp may be nothing to shout about but it makes the W800 accessible to more by being A2-licence compliant. Besides, for this type of bike, those horses are enough for pleasant Sunday rides, makes it capable of a steady 70mph and is reasonably flexible and unintimidating, too. And while the brakes are fairly basic, too – comprising just a twin-piston caliper and single disc up front with a new disc now replacing the old drum at the rear, both now assisted by ABS, the W800 Café is so light, and so likely to be gently ridden, they're actually more than enough.
Ride & handling
Kawasaki's retro roadster twin has always been a pleasing, if gentle and undemanding handler and the same is true in this latest café racer form – in fact it's better than ever. A new frame is claimed to improve rigidity, the forks are now larger diameter featuring stiffer springs while the new wire wheels are now both 18 inches where before there was a 19-incher at the front. There's nothing particularly new or high tech about any of that but then, being a retro, there doesn't have to be. Active suspension or electronic rider modes have no place here, after all. Instead, what you get is a pleasing, neutral but nimble lightweight with an uncompromised ride and an undemanding demeanor, the sort of old school bike anyone can just get on and ride.
Running costs
A well-built, simple, proven and undemanding Japanese machine putting out just 47bhp is never going to be hugely expensive to run, and exactly that's true of the new W800 Café. Unless severely abused you can expect fuel consumption well over 50mpg, other consumables such as tyres, brake pads and chain aren't hugely taxed either while insurance and other running costs such as servicing, as the W800 is so easy to work on, are not to be feared either.
Reliability
The W series dates all the way back to 1999 with no serious reliability issues encountered through any of its incarnations, including the upgrade to fuel-injected, 779cc form in 2011. The air-cooled twin-cylinder engine is a simple, solid, under-stressed unit while the rest of its chassis is uncomplicated and proven – with little in terms of either performance, features or equipment there's also little to go wrong, after all. Ultimately we have to maintain an element of doubt simply because this latest version is so new, but overall we've little reason to fear any kind of mechanical failure with the new W800 Café.
Warranty & servicing
Like most modern machines from the major Japanese manufacturers, the new W800 Café benefits from a standard-issue; manufacturer backed, two years, unlimited mileage warranty covering all parts and labour. Its service schedule is fairly typical, too, with the first oil and filter service due at 600 miles with services due thereafter every 7600miles, so at 15,200, 22,800 and so on, not that many examples are likely to rack up high mileages.
Equipment
As you might expect from a fairly basic, authentic, retro bike, there's little by way of gizmos, gadgets or even luxury – but given the style of the W800 Café nor does it seem lacking, either. Yes there's a neat fairing, but there's no luggage options, no fancy cycle parts and no rider electronic aids, either, apart from the now mandatory ABS. That said, there's plenty of authentic styling additions such as the knee pads, gaiters and quality seat, the twin dials are well done and want for nothing and the new LED headlight and indicators are a nice touch, too.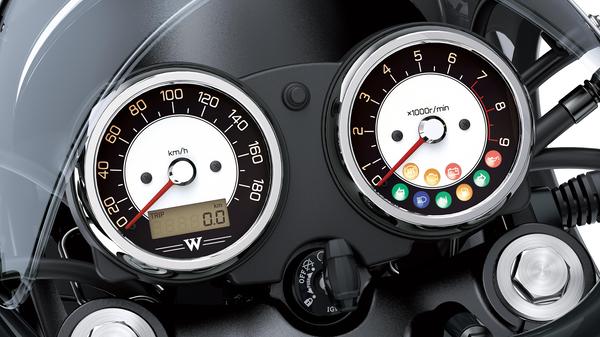 Why buy?
We're spoilt for choice when it comes to easy going retro bikes these days and even if you more specifically want a café racer there's no shortage with Triumph's Thruxton and Street Cup, new Speed Twin plus Royal Enfield's very similar new Continental GT 650 twin all easily springing to mind. Ironically, though, the new Kawasaki is more authentically done than any of them plus has the reassurance of Japanese build quality and proven mechanicals. Trouble is, though sweet, if we want a retro we'd rather have one with a more historic badge on its tank, the W800's performance is a little flaccid and Royal Enfield's new 650, while lacking the Kawa's quality, does everything the W800 does AND has a better badge for £3000 less.