Expert Review
Kawasaki Versys 1000 Grand Tourer (2011 - ) review
The Kawasaki Versys 1000 is a massive improvement over its predecessor; more handsome, better-equipped and just as practical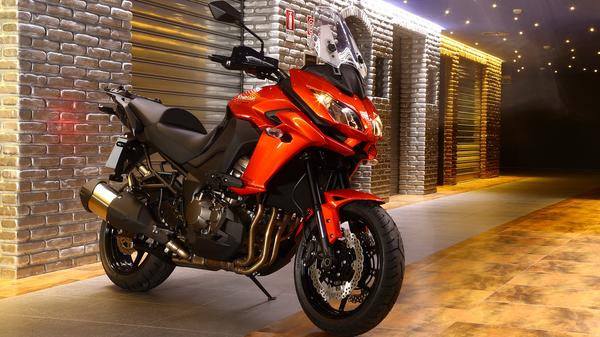 The Auto Trader expert verdict:
Kawasaki have given the big Versys a major restyle for 2015, and shifted its focus slightly away from the adventure sector to make it more of a long-distance roadster. The big four is as powerful and torquey as ever. In its new, top-spec Grand Tourer guise, in particular, the Versys 1000 is also comfortable, comprehensively equipped and competitively priced for a bike that is capable of covering serious mileage at speed and in style.
Reasons to buy:
Supremely flexible four-cylinder powerplant
Stylish and well equipped
A lot of motorbike for the money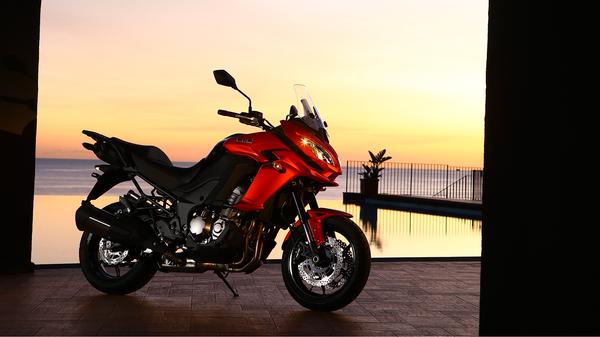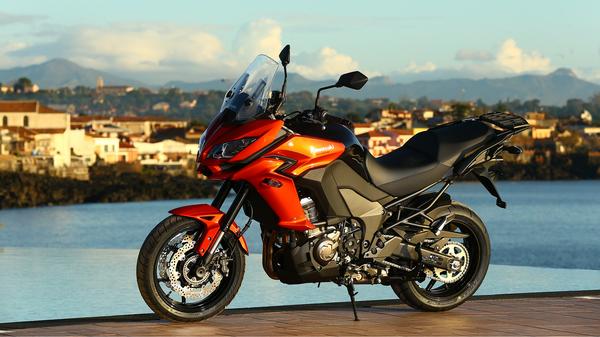 Design
"

The new model's sharp lines and side-by-side twin headlights make an attractive machine

"
This Versys incorporates some useful updates, but its most important change has got to be the styling. The old model was a decent bike, but has never sold well, and its distinctly eccentric appearance was a big reason for that – even Kawasaki's development staff admit that many riders dismissed it because of the way it looked. That certainly won't be true of this new model, whose sharp lines and side-by-side twin headlights make an attractive machine. The burnt orange colour scheme makes for a distinctive alternative to traditional black or white, too.
Riding position
The unchanged, upright riding position is enhanced by usefully improved wind protection from the new screen. Adjustment is increased from 30 to 75mm via two hand-turnable knobs on the front; not as easily used as some systems but much better than nothing. I'm very tall and couldn't find a completely quiet position, but with the screen at roughly its half-way point the turbulence wasn't too bad. The seat is wide, seemed well padded and should remain comfortable for a long time. Pillions get a similarly large seat plus generous hand-holds. The seat is 5mm lower at a still substantial 840mm. The Versys is a sizeable bike but it's more manageable than the biggest tourers, and reasonably easy to manoeuvre.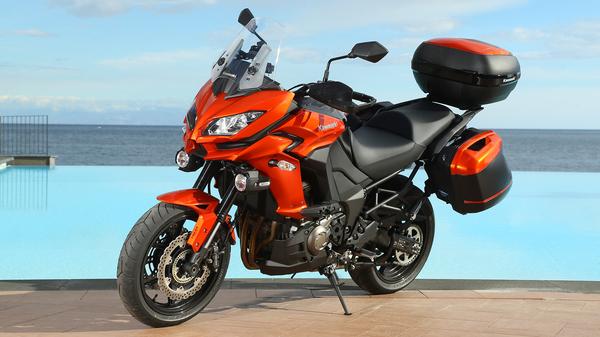 Practicality
"

Its 21-litre tank gives a useful range of 200 miles or more

"
With a name like Versys you'd expect the big four to be versatile and practical, and it's better than ever in this regard. Unlike some tourers it has chain rather than shaft or belt final drive, but one significant criticism has been answered by the addition of a centre-stand as standard fitment, making adjustment and lubrication much easier. In combination with the bike's overall rider-friendliness, comfort and flexible power delivery, its unchanged 21-litre tank capacity is generous and gives a useful range of 200 miles or more. The new slipper assist clutch has a light action that will be welcome for urban riding. The Tourer and Grand Tourer gain additional practicality with their high quality luggage systems. The strengthened rear subframe allows these to be fitted simultaneously, which wasn't officially recommended with the previous model (although some riders did), giving storage space for a full-face helmet in each pannier or two in the top-box. The ignition key fits them all, they're quick to remove or replace, and don't leave behind ugly rails.
Performance & braking
The 1,043cc, dohc 16-valve engine is a detuned version of the unit in the Z1000 and Z1000SX, and is tweaked slightly for this model although still very much designed for low-rev grunt rather than top-end power. Mods to the injection system, airbox and exhaust add a couple of horsepower to bring maximum output to 118bhp at 9,000rpm, against the other fours' 140bhp. It is a superbly flexible engine, happy to pull from below 2,000rpm even in top, and with enough power for a top speed of about 140mph. Fuelling is so smooth that there would rarely be a need for the low power mode that cuts output by 25 per cent. Such is the effortless low-rev pulling power, that on a twisty road, I spent most time with the tacho needle between 2,500 and 5000rpm, and with the Kawasaki punching smoothly out of the turns with an enjoyable strong and effortless feel. For maximum speed it's necessary to rev the Versys harder, towards its 10,000rpm redline, but the motor doesn't feel quite so enthusiastic at high revs, and the four-cylinder unit has a slightly busy feel that occasionally made me look for an extra gear in the efficient six-speed box, although top is taller than on the Z1000 models. There's a three-way adjustable traction control system that can generally be left on its least intrusive setting. Level three is for very slippery surfaces and would be worth having in the rain. The other electronic aid is an efficient Bosch ABS system that adds to the confidence provided by the uprated brake system, which features larger, 310mm petal front discs plus revised callipers, and gives excellent stopping ability.
Ride & handling
There's no escaping the fact that the Versys is a big bike, and this model is slightly heavier due partly to the addition of the centre-stand and stronger rear subframe. But Kawasaki have made a big effort to address criticism of the old bike's handling. The twin-spar aluminium main frame is unchanged but new 43mm Showa upside-down forks have longer, more rigid outer tubes, and the KYB shock's spring rate and damping are also modified. The wide bars and 17-inch front wheel combine to give reasonably light steering, and both ride quality and handling are pretty good. The frame has new front rubber mounts that reduce vibration, so the ride is basically smooth although you're aware of the four-pot motor at cruising speeds. Suspension has a generous 150mm of travel at each end, which does a good job of ironing out bumps. And although the Versys can still feel a bit vague when ridden hard on standard settings, with a fair bit of fork dive under braking, there's potential to firm it up slightly (made more easy by the shock's remote preload adjuster) and find a good balance between comfort and control. The standard fitment Bridgestone T30s, which are more road-biased than the previous model's tyres, grip well too.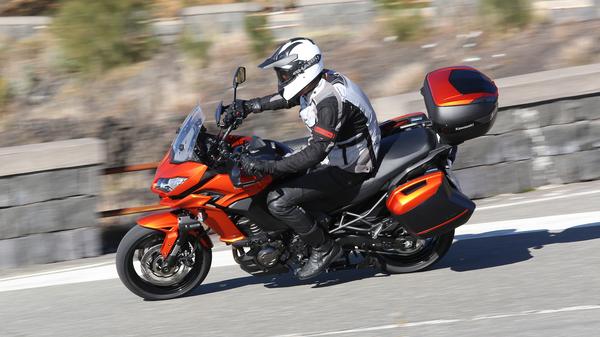 Running costs
"

The Versys won't be especially cheap to run, but one benefit of the Kawa's flexible power delivery is that keeping the revs down helps its fuel consumption.

"
Like any large, heavy bike the Versys won't be especially cheap to run, but one benefit of the Kawa's flexible power delivery is that keeping the revs down helps its fuel consumption. I averaged 47mpg on the launch, riding quite hard at times although rarely revving it above 6,000rpm. Plenty of owners will probably do even better.
Reliability
The 1,043cc, four-pot motor that powers the Versys is essentially a detuned version of the Z1000 unit. Given that Zed Thous have frequently been described as "bulletproof" ever since the first, aircooled model of 40 years ago, we wouldn't envisage any problems. The rest of the Versys seems produced to a high standard, too.
Warranty & servicing
Service intervals are not especially generous at 7,500 miles, and some touring riders would no doubt prefer the reduced maintenance and cost of shaft final drive, but modern chains last well if they're looked after. The standard 24-month, unlimited mileage warranty can be doubled with Kawasaki UK's extended option.
Equipment
This obviously depends on which Versys model you choose, but the flagship Grand Tourer is comprehensively equipped, with its full set of luggage plus hand-guards, fog lights, 12V socket and digital gear indicator. The launch bikes also had crash protectors, plus heated grips that would be well worth having for cold days, though they're not as powerful as some. The generator's output has been increased to allow plenty of electronic accessories to be used. Charging extra for the electrical socket and gear indicator (a round dial that fits into the inside of the fairing) on the standard and Tourer models seems a bit mean, but at least the otherwise comprehensive instrument panel, which combines digital speedo and analogue tacho, includes a fuel gauge and consumption indicator. Other accessories include gel seat, tinted screen and tank protector.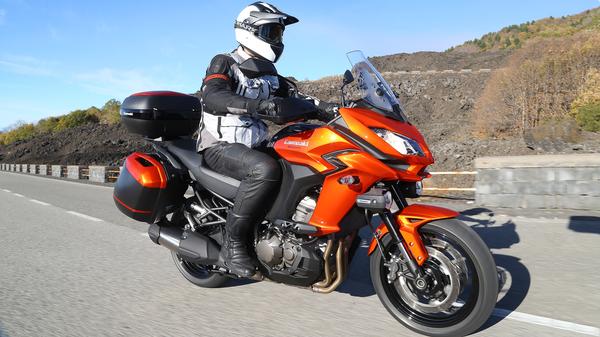 Why buy?
"

This updated, better-equipped and, most of all, much more handsome machine has been transformed into a bike that does its job extremely well

"
It's amazing how much a facelift can boost a bike's appeal, when the change is as effective as this. The original Versys 1000 was a pretty good bike but had a few flaws, most notably its strange styling. This updated, better equipped and most of all much more handsome machine has been transformed into a bike that not only does its job extremely well, but will generate plenty of positive comments from other riders and non-motorcyclists alike.