Review Kawasaki Versys 1000 Adventure (2019 - ) review
Effectively a 'taller Z1000SX' sports-tourer, the four-cylinder Versys, first launched in 2012, made up for odd looks with pillion practicality and value. This up-specced version may get all lots of 'bells and whistles' but hasn't the class and style to go with its now BMW price.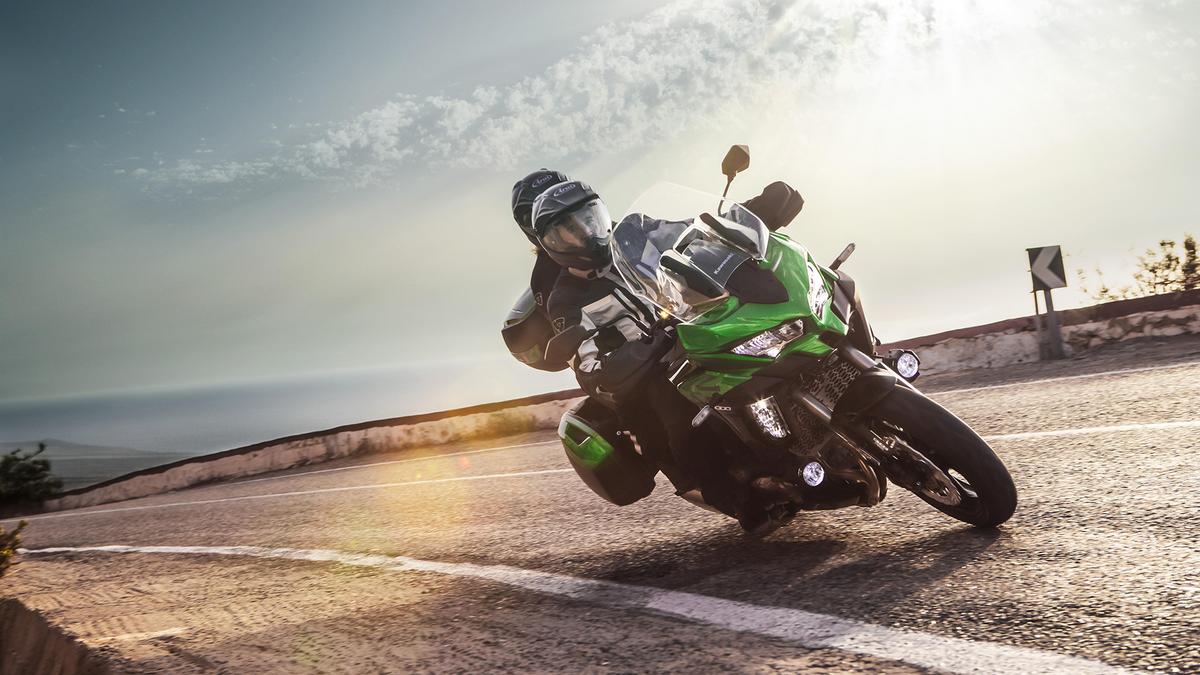 View gallery
The Auto Trader expert verdict: ★★★★★

★★★★★
4.2
The smooth, four-cylinder Versys 1000 was always a value-packed, smooth and practical 'adventure-sports' but this SE version, complete with fancy dash, semi-active suspension and more loses its affordability for trinkets and toys you don't really need – a bit like an Escort Ghia.
Reasons to buy
Impressive specification

Decent two-up comfort

Smooth performance
Design
The original Versys 1000, first launched in 2012 and based, oddly, on Kawasaki's excellent Z1000SX sports-tourer, may not have been much of a looker or convinced as a credible adventure bike, but it more than made up for that with impressive value and smooth, four-cylinder comfort and practicality. This new SE version adds to that with swish semi-active suspension (from the ZX-10R), fancy colour TFT dash (from the H2 SX), cornering LED lights, 'self-healing' paint, useful cruise control and heated grips and less useful things like a 'lean angle-o-meter'. Unfortunately, all of that also lifts its price to almost £16K (where the stocker remains under £12K), which is Ducati/BMW territory, and the Kawasaki, though well equipped, simply can't match their style and class.
Riding position
In many respects the big Versys is a Z1000SX 'on stilts' – ie with longer travel suspension and a more roomy and upright riding position. As a result, rider and pillion comfort is sumptuous, aided by a plush, wide seat – which is part of the reason it's proved such a success. For two-up touring comfort bikes don't get much better. Tweaked bodywork has also brought a slightly larger, manually adjustable screen, which provides plenty of protection although some riders have complained of wind noise.
Practicality
As a versatile motorcycle for two the big Versys has a lot going for it – that's the reason for its name, after all: smooth cruising speed; plenty of long-distance comfort; lots of luggage options (Kawasaki also offer a GT version complete with panniers and top case) and now, in this new SE trim, cruise control, Bluetooth, heated grips, quickshifter – the works. In short it now pretty much has everything including the kitchen sink. On the slight downside, however, that also makes it a big, old beast to lug around and intimidating for smaller or less experienced riders – but you can't have it all.
Performance & braking
The SX-derived 1043cc four has been retuned to give even more smooth, grunty midrange at the slight cost of top end excitement (peak power is down from 140 to 118bhp) but in this category that hardly matters and as a big 'adventure sports' the Versys is slick, smooth and impressively brisk. The SE's new quickshifter helps here, too. That said, ultimately it still can't match the sheer 160bhp speed of rivals such as the KTM 1290 Adventure and latest 1260 Ducati Multistrada. The brakes have been improved for 2019, too, with the big Versys now also getting the powerful, radial-mount calipers which first debuted on the Z1000 super naked.
Ride & handling
Though not bad, the old Versys 1000 was such a big old bus it could sometimes feel wallowy in fast turns or cumbersome in tighter twisties, and the new semi-active suspension, though subtle, is certainly an improvement. It's still not as nimble as a Multistrada or as taut as a comparable KTM and there's no getting away from the fact that it remains a big bike, but it's definitely an improvement with a touch of extra refinement and class. The ride, meanwhile, remains sumptuously assured at all speeds.
Running costs
However affordable its sticker price might have been, the original big Versys was still ultimately a heavyweight 1000cc machine, with all the implications that brought for fuel and consumables (chain, tyres, brake pads etc) so running was never going to be cheap. All of that's still true of this updated SE version, with the added caveat of its now far more expensive price. In its defence, fuel consumption isn't too bad but we're not that confident about its residuals, either having already seen low mileage SEs on offer for only £11K.
Reliability
Although economically priced, there was little cost corners cut on the original Versys and quality remains good. The bike's base mechanicals, being derived from the long-established Z1000SX among others, are also proven and durable with few reported issues so overall we've few reasons for concern. Instead the only doubt remains over the SE's added sophistication – the semi-active suspension, flash TFT screen and associated electronics and so on although, again, most of that has already been out for over a year on other bikes such as the ZX-10R SE and H2 SX.
Warranty & servicing
Like most of the major bike brands, Kawasaki offers a standard two-year, unlimited mileage, manufacturer-backed warranty for parts and labour on all of its large capacity machines, and that certainly applies to the new SE. Servicing-wise the big Versys is fairly typical, as well, with major services due every 6000 miles. It is worth mentioning, however, that some rivals, such as Ducati, now offer extended, 15,000-mile intervals while, being a four-cylinder in a class of twins means you should expect service cost to be higher than many, too.
Equipment
'SE' stands for 'Special Edition' (or is it 'Special Equipment'?) so you'd expect Kawasaki's newcomer to shine here – and it does. The stock Versys 1000 isn't exactly basic but the SE adds to it a full-colour TFT dash, Bluetooth, heated grips, adjustable screen, LED cornering lights, fancy 'self-healing' paint and the previously mentioned headline semi-active suspension. You even get things like a 'lean-o-meter', which, like some others, has dubious value, but you certainly can't say the SE is lacking…
Why buy?
It has to be said that expressions like 'gilding the lily' or 'you can't make a silk purse out of a sow's ear' spring to mind a little, here. After all, although there's no doubting the SE gives you more, by hoiking its price up to nearly £16K also means the Versys has lost one of its most appealing features – value. If, however, you're less bothered by that and are also unmoved by its still ugly duckling styling, there's also no doubt that you're left with a tempting proposition: a four-cylinder, smooth, comfortable adventure sports that's now better equipped than ever. It's just that we think you'd be better off getting the bargain stock version.