Expert Review
Kawasaki Ninja H2 Super Sports (2014 - ) review
The Kawasaki Ninja H2 is a ferociously fast and uniquely intoxicating sportsbike. It's not for everyone, though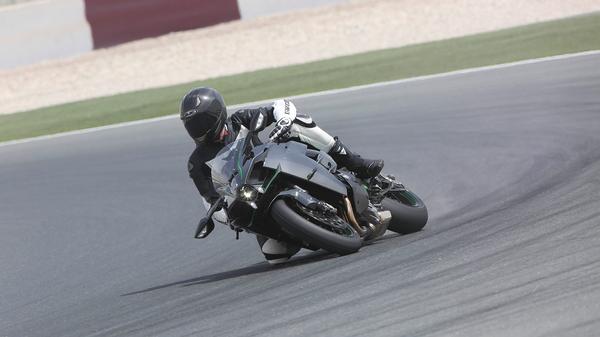 The Auto Trader expert verdict:
There has never been a production streetbike remotely like the Ninja H2. With its striking looks, immaculate detailing and most of all its 998cc, supercharged, four-cylinder engine – which makes 197bhp, or 207bhp with ram-air – the H2 is a breathtaking machine that was conceived to showcase Kawasaki's technology and to provide spectacular levels of performance and excitement. Along with its even more extreme, non-street-legal sibling the Ninja H2R, it succeeds in doing just that.
Reasons to buy:
Superbly potent engine gives ferocious straight-line performance
Supercharger's unique character and sound add to the fun
High quality chassis and detailing plus stunning finish quality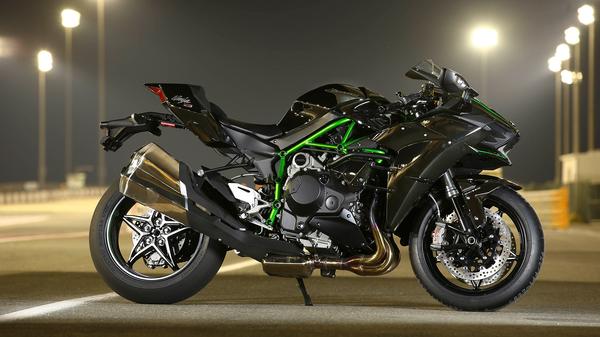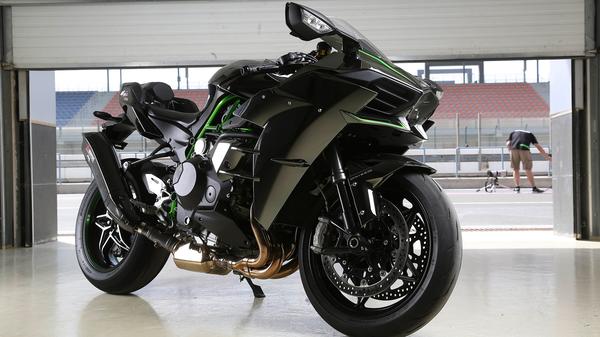 Design
"

It's dramatically styled, intricately detailed and beautifully finished

"
If any bike could get top marks in this section, the Ninja H2 would be the one. The supercharger sets it apart but is just one of countless outstanding features of a bike that is dramatically styled, intricately detailed and beautifully finished. The H2 features Kawasaki's first tubular steel trellis frame, finished in bright green. Paintwork, applied by hand using twice the normal number of coats, incorporates a layer of genuine silver that gives a unique mirror finish. Aerodynamic mirror stalks echo the H2R's carbon-fibre fins, designed for downforce at speed.
Riding position
Kawasaki intended the H2 not as a track-focused super-sports bike like the ZX-10R, but as a slightly less aggressive machine aimed at slightly older, roadgoing riders more likely to afford its high price. Its riding position is more relaxed than the ZX-10R's, with handlebars 10mm higher and wider, and footrests further forward by a similar amount. The roomy and generously padded seat has 15mm of forward/back adjustability and is shaped to give support under hard acceleration.
Practicality
With its fierce performance and single seat the Ninja wasn't conceived for practicality but should nevertheless make a useful, ZZR1400-style roadster, provided its rider doesn't want to carry a pillion. The 17-litre tank capacity means range won't be huge but the Kawasaki is roomy and gives decent wind protection. The classy looking instrument panel includes fuel consumption and lap time info, and can be operated from the bars. Mirrors are wide and clear, switchgear respectably good.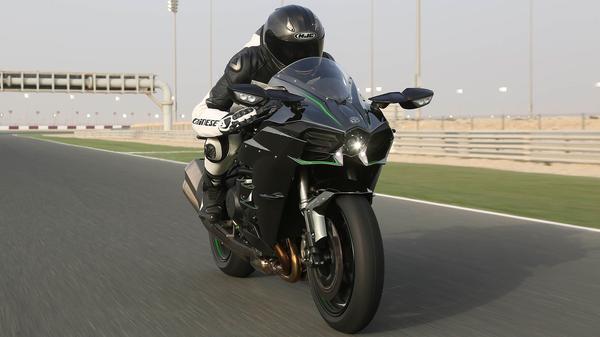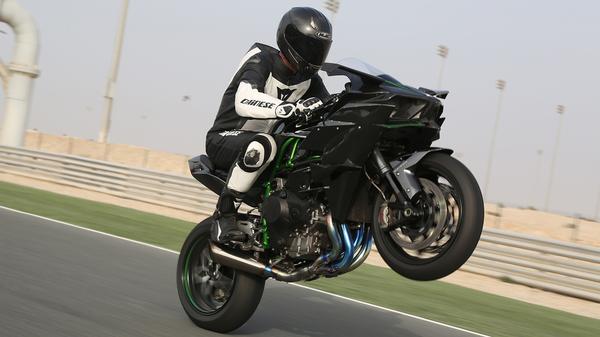 Performance & braking
"

A tweak of throttle in the lower gears sends the Kawasaki rocketing forward, revving almost as fast as you can quick-shift through the 'box

"
Straight-line performance is spectacular, and made even more memorable by the 207bhp (with ram air) supercharged engine's unique feel and sound, including a twittering noise from the blower when you back off. A tweak of throttle in the lower gears sends the Kawasaki rocketing forward, revving almost as fast as you can quick-shift through the box. But the H2 loses a point for the supercharged unit's throttle response, which is sharp enough to make precise control difficult at lower speeds. Brembo radial front callipers give fierce braking, backed-up by an ABS system that is efficient, if not state-of-the-art.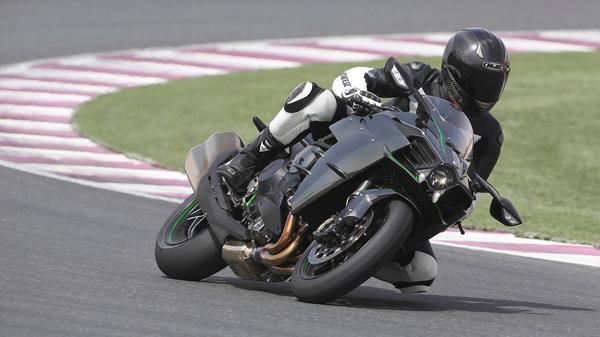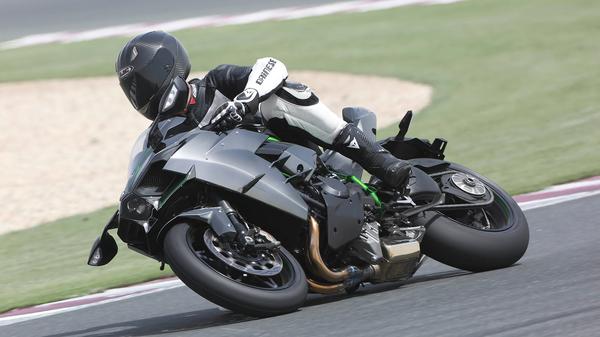 Ride & handling
"

The Öhlins electronic steering damper, adjusts according to speed and acceleration

"
With a kerb weight of 238kg the H2 is heavier than a top sports bike, but it handles very well. Ride quality is excellent, helped by a fairly generous 135mm of rear wheel travel from its shock, which, like the forks, is from KYB. Kawasaki chose the trellis frame partly to aid cooling but mainly because, unlike the firm's familiar aluminium beams, it allows a little flex that aids stability at very high speeds. The bike is solid in a straight line and composed in bends, especially with its suspension firmed slightly. The Öhlins electronic steering damper, which adjusts according to speed and acceleration, also helps.
Running costs
With its massive power output, vicious acceleration and relatively high weight, the Kawasaki is very demanding on tyres, though customer bikes will wear Bridgestone's RS10FG street rubber rather than the slicks with which the launch bikes were fitted at the abrasive Losail circuit. The supercharger blasts in so much mixture that fuel economy is unlikely to be anything special, either, and if you chip that gorgeous paintwork it will be difficult and expensive to repair. Not that such issues are likely to be a huge worry for many of the Ninja's relatively affluent owners.
Reliability
This is a key issue with a supercharged bike, and one that nobody can answer. Back in the Eighties the ZX750 Turbo's blower sometimes failed before the rest of the bike, but if any firm can make a 200bhp-plus superbike with forced induction reliable, it's probably Kawasaki. Tuners such as Mr Turbo were getting huge power from turbocharged ZZ-R1100s in the Nineties. Kawasaki also produce a 300bhp supercharged jet-ski, plus the non-street-legal Ninja H2R that makes over 300bhp with an engine that has few changes from the H2 unit. But the H2's supercharger spins at over 100,000rpm, so must give some potential for problems.
Warranty & servicing
The Ninja H2 is a special bike but not in terms of servicing, where it's much like other Kawasaki fours. It has service intervals of 7600 miles for oil and filters, when the supercharger also needs inspecting, and a bigger service at 15,600 miles. Like other Kawas it comes with a two-year, unlimited mileage warranty that can be extended. This is a very different story to the non-street-legal H2R, which has a higher rev limit, produces a phenomenal 319bhp with ram-air and is treated like a racebike, being sold (for £41,000) with no warranty and requiring a service after every 15 hours of hard use.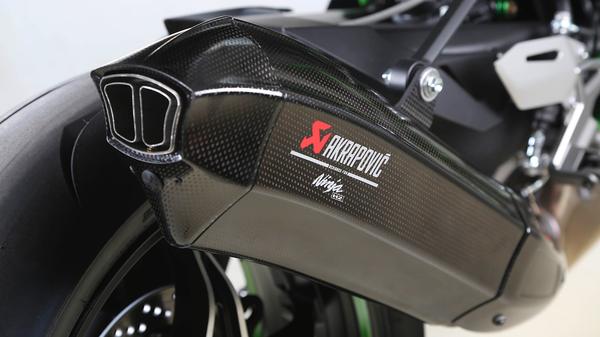 Equipment
The H2 comes with plenty of quality equipment as standard fitment, including major parts such as KYB's AOS-II air-oil separate front forks. It doesn't have cutting-edge electronics with a lean-angle sensor, but the KTRC traction control and KIBS anti-lock brake systems are sophisticated, and the Ninja has launch control plus a quick-shifter that works on up-changes only. The one flaw in the standard H2's styling is its large and ugly exhaust system, so Kawasaki UK have stepped in to fit a much more attractive carbon-fibre Akrapovic silencer.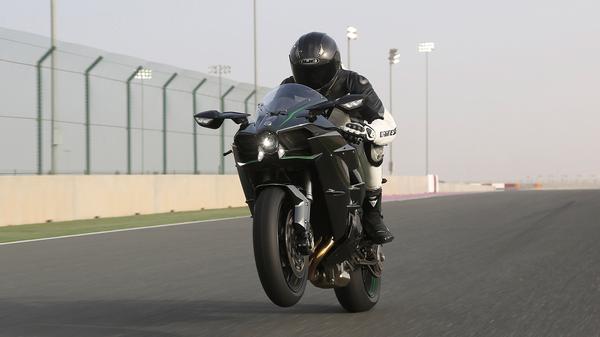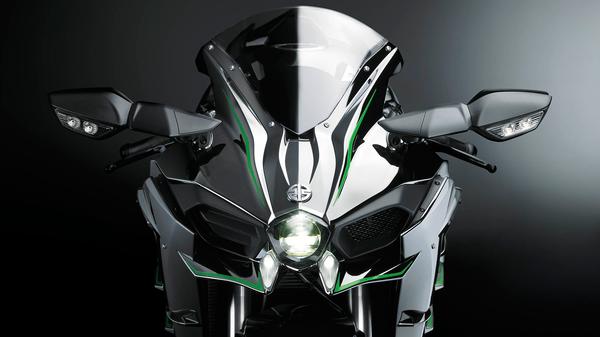 Why buy?
"

It's also visually stunning, brilliantly engineered, immaculately finished, thrillingly fast and very special

"
The Ninja H2 is nothing like a normal superbike, and polarises opinion like few others. Some will regard it as expensive, impractical and difficult to ride. It's also visually stunning, brilliantly engineered, immaculately finished, thrillingly fast, impressively sweet-handling and well-braked, and very special.