Expert Review
Kawasaki Ninja 650 Sports Tourer (2017 - ) review
The revamped, renamed version of the old ER-6f is much more than just a facelift of the popular faired middleweight twin: it's lighter, more potent and better equipped, too. As a sporty first middleweight, it's one of the best.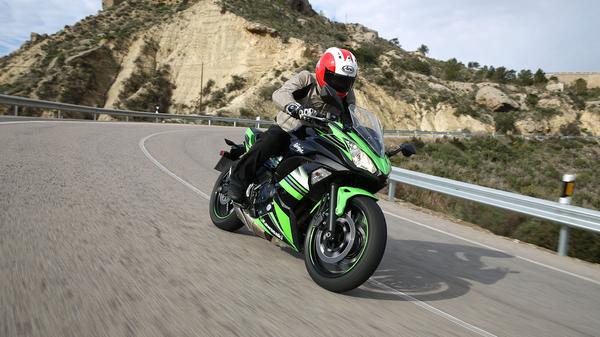 Words by: Phil West
Published on 3 April 2017 | 0 min read
The Auto Trader expert verdict:
Kawasaki's sporty, faired version of its novice-friendly, ER-6f middleweight twin has always been a goodie: unintimidating, yet fun and versatile. Now it has a better name, ZX-10R looks, better equipment, and goes better, too.
Reasons to buy:
Much improved ZX-10R looks
Lighter and more manageable all round
Improved performance, too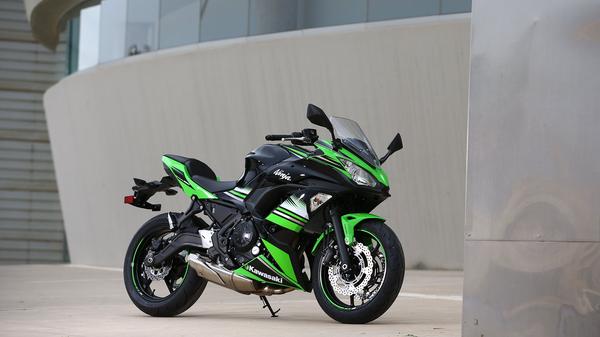 Design
The preceding ER-6f was already a good bike, but this ZX-10R restyle hugely improves its looks (particularly from the front), without compromising comfort and practicality. A new, lightweight, tubular frame (which has hints of the H2R hyperbike), engine modifications, and other changes shave weight by a significant 18kgs. On top of that, there's a new, improved instrument binnacle, low seat options, and lots of attractive detailing. For a £6,500-odd machine, this is a very attractive bike that's practical, comfortable, engaging, with lots to admire.
Expert rating: 5/5
Riding position
Those sporty looks are deceptive. The new seat is low and unintimidating while providing plenty of padding, yet there's more than enough leg-room for a six-footer. The two-piece bars are higher and further back than its Z650 roadster brother, which gives a more relaxing, and less aggressive riding position. Better still, the screen is adjustable (albeit requiring an Allen key) to give reasonable weather protection, and an accessory low seat is available for shorter riders. The Ninja 650 has all options covered.
Expert rating: 5/5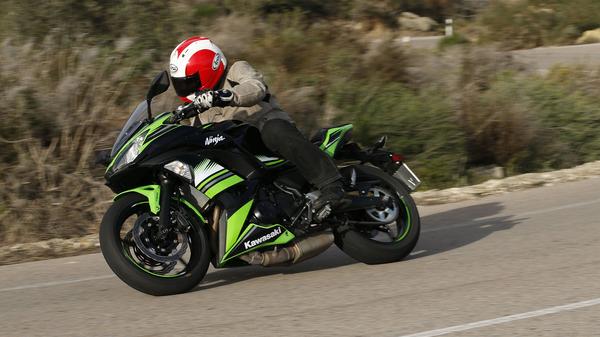 Practicality
The more relaxed riding position, its adjustable screen, and slightly better mirrors compared to the Z650 naked version, means the Ninja 650 is the more versatile and long-legged of the two. The base Kawasaki twin was always a decent all-rounder, being both easy and novice-friendly to ride. However, this new version has added sports appeal and ability, will tour reasonably, and is great around town thanks to its lightness and manageability. For an affordable middleweight twin, the Ninja 650 wants for very little.
Expert rating: 5/5
Performance & braking
Kawasaki's parallel 650 has always been the middleweight twin of choice for Minitwin racers. It's addictively perky and surprisingly potent at the top end, without lacking midrange flexibility, but this retuned version is better still. Lighter (by 2kg), and with new cams and inlets to boost midrange – albeit at the slight expense of top end – it's still a doddle to get on with, but sufficiently fun to thrash for more experienced riders as well. The single petal front disc is unchanged and hardly cutting-edge, but for this type of lightweight, budget bike, is more than adequate.
Expert rating: 5/5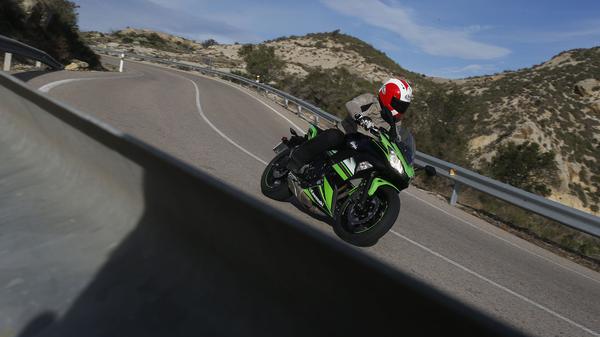 Ride & handling
Reduced weight is immediately noticeable. Combined with the Ninja's impressive balance it adds up to a machine that's impressively nimble, yet secure and stable at speed as well. The conventional forks and re-positioned rear shock are a little basic (this is a budget bike after all), but are more than up to the job. The easily adjustable preload makes a worthwhile difference. For the type of riders who'll go for it, the Ninja 650 is engaging and fun.
Expert rating: 5/5
Running costs
At the end of the day, like the preceding ER-6f, the Ninja 650 is a lightweight, budget-conscious machine, so running costs won't be high. With just 67bhp, its appetite for consumables such as tyres and chains won't be significant. As a lightweight, it's also easy on tyres and brake pads, and it's fuel-efficient as well. It's slightly pricier than some, faired rivals, which is why we've held back on a maximum score, but overall there are no shocks or surprises here.
Expert rating: 4/5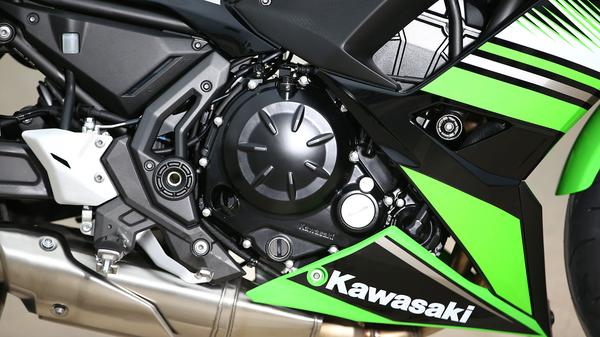 Reliability
The preceding ER-6f has proved fairly solid and reliable since being originally introduced way back in 2005, with its perky parallel twin engine being particularly robust. That said, this new Ninja 650 incarnation sees both the engine and its chassis receive a significant overhaul, so it's too early to be entirely certain about what the future holds. On balance, and with the knowledge that its reworked engine is now tuned more for midrange than peak power, we see little reason for caution.
Expert rating: 4/5
Warranty & servicing
Although both the Kawasaki Ninja 650 and its naked brother, the Z650, have both had a significant technical makeover from the last ER-6f and ER-6n, respectively, their service schedules are unchanged. That's a first oil and filter first service at 600miles, followed by minor services every 7,500miles, then a major (valve check) service every 15,000 miles thereafter. The warranty is as before, and remains at the industry standard, namely covering the first two years with unlimited mileage.
Expert rating: 4/5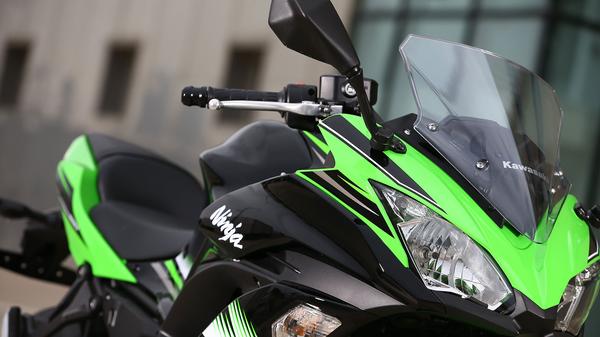 Equipment
For a so-called budget middleweight all-rounder priced not much over £6,000, the Ninja 650 is an impressively well-equipped machine. The new fairing is stylish and well-finished inside and out; indicators are white-lensed LEDs; mirrors are improved; there's a new, attractive digital LCD instrument binnacle; and lots of nice detailing everywhere. It lacks the electronic gizmos of larger bikes, but the little Kawasaki doesn't need them. You won't miss them, and for the price, you'll want for nothing.
Expert rating: 5/5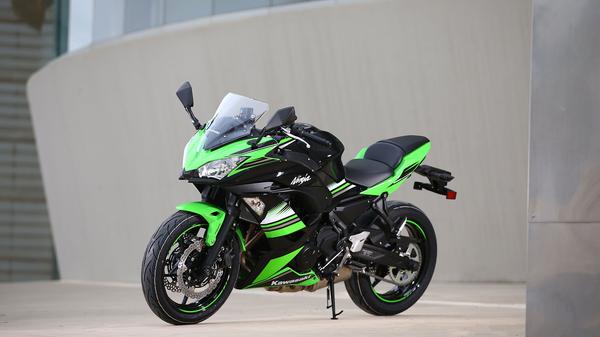 Why buy?
As an entry-level middleweight or first big bike, the Kawasaki Ninja 650 has an awful lot going for it. But the preceding version, the ER-6f, did, too. It's easy and unintimidating to ride; versatile and flexible; yet also entertainingly brisk and long-legged. This new version, being lighter, brisker, better looking, and better equipped, simply adds to the original recipe in every respect, yet has no discernible flaws and all for a bargain price. It's a great bike.
Expert rating: 4/5