Review Kawasaki Ninja 400 Sports A2 (2018 - ) review
Enlarged and updated version of already popular Ninja 300 A2 class sportster is better in every way – a great introduction to sports bikes for novice riders.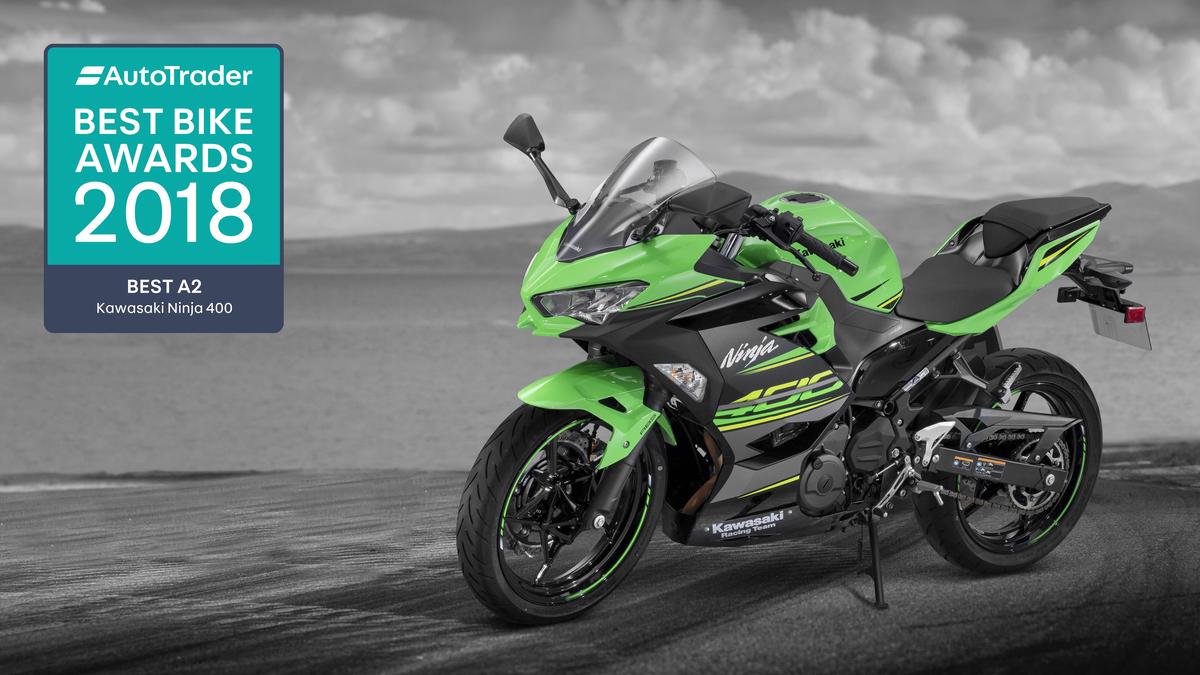 View gallery
The Auto Trader expert verdict: ★★★★★

★★★★★
4.5
Novice-friendly sports twin is more engaging, better equipped and nicer looking than virtually all its A2-licence compliant sports rivals and is a great introduction to Ninja sports bikes.
Reasons to buy
Easy but entertaining twin cylinder motor

'Mini ZX-10R' styling

Unintimidating but involving handling
Design
There wasn't much wrong with the old – Ninja 300 – one. But they've improved it anyway. The powertrain is improved, there's an updated chassis, new clocks (from the Ninja 650) and, best of all, fully-updated styling and bodywork. From the front the mini-Ninja now looks the spitting image of Kawasaki's world-beating ZX-10R big brother and isn't that what everyone wants of their first serious sportster?
Riding position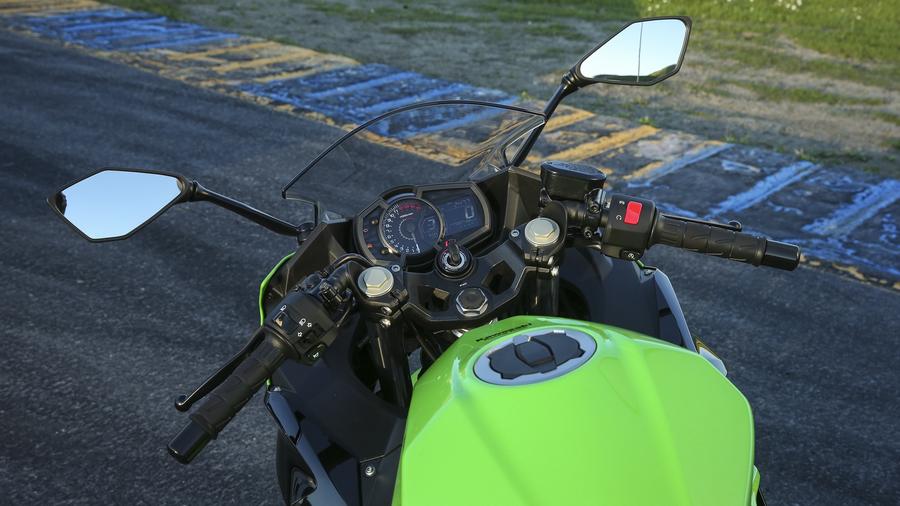 Although a sports bike with a sporty image the Ninja 400 is very much aimed at relative novices and so it's riding position is far more upright, comfortable and manageable than its image suggests. Pegs are relatively low, clip-ons surprisingly high, the saddle is narrow and low and the whole bike light and unintimidating – there's absolutely nothing to fear here. On the move, however, it cants you forward enough to feel a part of the action yet fully in control of the bike.
Practicality
Sports bikes aren't designed to be particularly practical but then the new Ninja 400 is no run-of-the-mill sportster. With novices in mind it's surprisingly comfortable, can take a pillion (at a push), its half-decent fairing and screen provides reasonable protection to ease longer distance rides and it's reasonably equipped as well. Not true all-rounder, maybe, but if it's your first big bike, the Ninja will happily do most things you require of it.
Performance & braking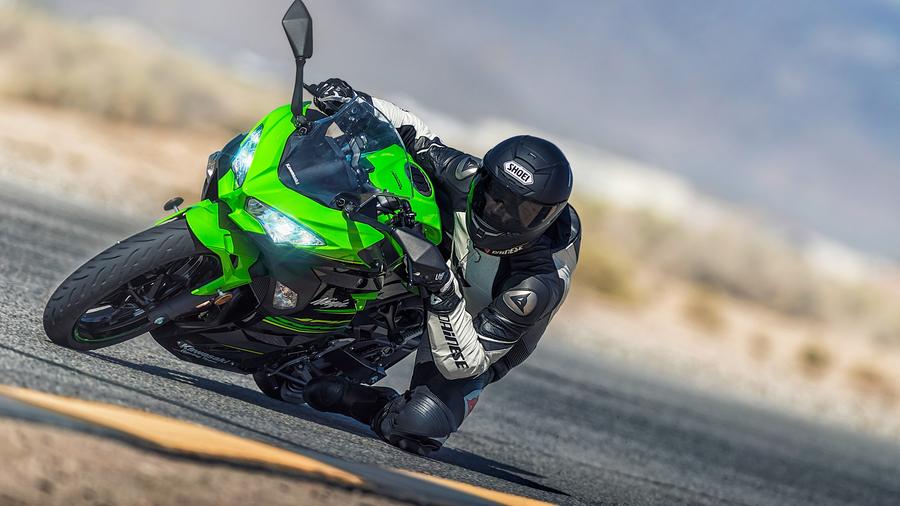 The preceding 300 version was already arguably the best A2 sportster thanks to its free-revving and brisk twin cylinder engine (which in turn was derived from the popular Ninja 250 before that). But in this enlarged form it's better than ever, with power boosted to 44.3bhp and peak torque to 38Nm. Best of all it's eager and willing to rev, capable of over 100mph, happy at motorway speeds, flexible and smooth enough to please novices and has bags of character as well while the wavy disc brake is more than up to the job.
Ride & handling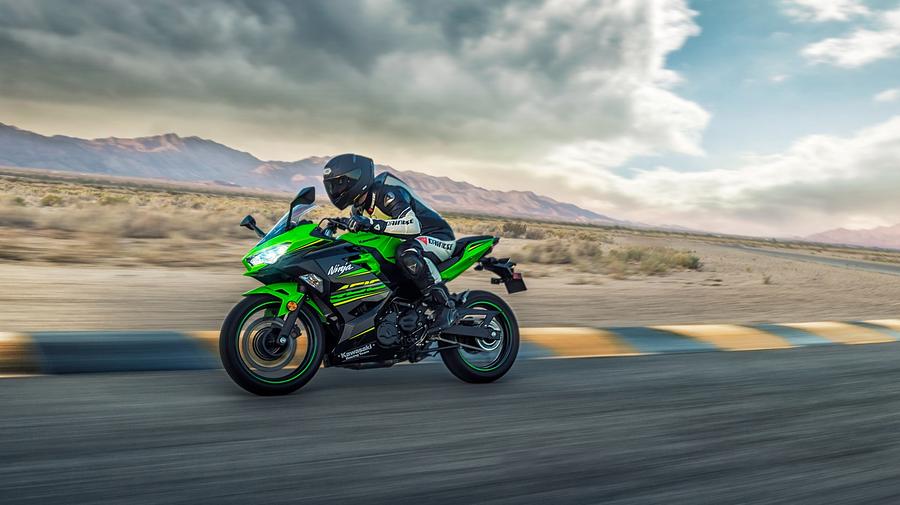 Along with the uprated 399cc engine the new Ninja 400 also gets a new frame. The Ninja H2-inspired tubular steel trellis is both lighter and stronger than before while the forks have been enlarged from 37mm to 41mm. The result is precise, firm and sporty manners, nimble steering and yet a plush ride around town – all of which is pretty much perfect for what Kawasaki's newcomer was designed to do.
Running costs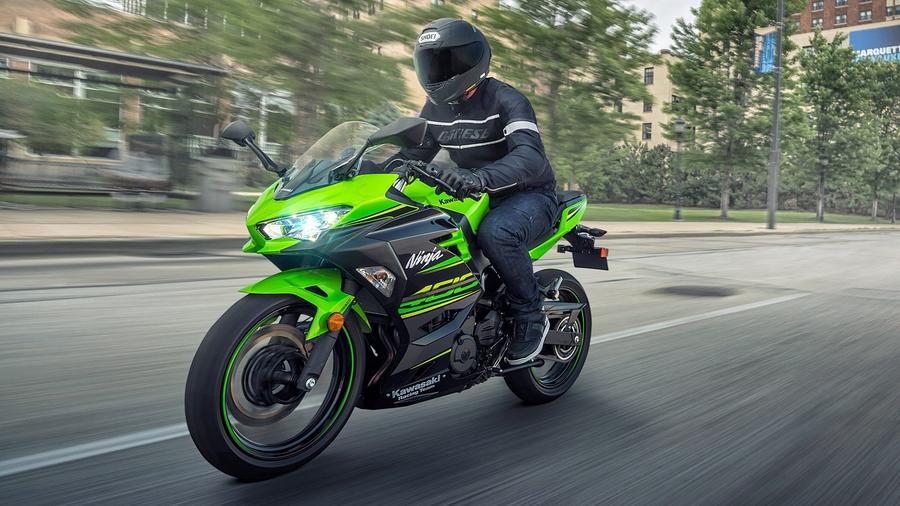 When it comes to 100mph+ sports bikes they probably don't get much cheaper or more affordable to run. Being light and relatively underpowered means the Ninja 400 asks little of its chain, brake pads and tyres while fuel consumption is pretty decent, too. Add all that little lot to a deliberately affordable initial purchase price plus decent resale values thanks to its popularity and you've got something of a sporting steal.
Reliability
There should be little to fear here, too. Although a significantly updated model, the Ninja 400 is derived from the preceding 300 which in turn was a development of the Ninja 250 which dates back into the mid-Noughties. None have had any serious reliability concerns. Of course, being a new model, prudence should prevail, more is being extracted from the parallel twin unit than ever before plus there's a new chassis, uprated cycle parts and more, so there are no guarantees. But we have no major concerns.
Warranty & servicing
Like all Kawasakis, the new Ninja 400 benefits from a manufacturer-backed, 24-month/unlimited mileage warranty which covers parts and labour. Servicing-wise, the new Ninja 400 is fairly straightforward, proven and, fairing aside, easy to work on as well. Encouragingly, service intervals have widened, too, with major valve clearance services now only required every 15,000 miles and minor services half that at 7,500.
Equipment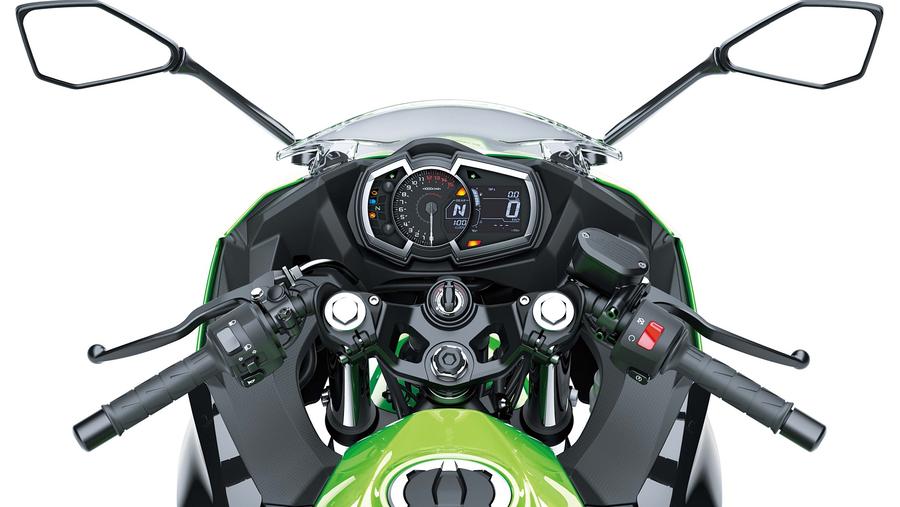 Being an entry-level A2 machine with an affordable price being an important sales point you wouldn't expect the new Ninja 400 to be lavishly equipped – and it's not. But it's not at all bad either. There's a new LCD digital display including a gear indicator and lightweight Nissin brakes while a taller screen and tank bag are available as extra cost accessories along with a 12v socket.
Why buy?
If you're after a credible, entertaining machine in the A2 category the choice is still fairly Spartan. There's Honda's 47bhp CBR500R twin, but it's a little soft and sensible. There's KTM's RC390, but it's a bit hardcore, small and a single or there's Yamaha's slightly bland R3. The new Ninja 400, however, is arguably the most entertaining of the lot, the best looking AND is still novice-friendly and affordable. What's not to like?