Expert Review
Kawasaki KLX250 enduro/trail (2009-18) review
Straightforward, novice-friendly enduro delivers genuine dirt ability that's a step up from most trail bikes yet is also easy, unintimidating, proven and durable with the star of the show being its slick, four-stroke single cylinder engine.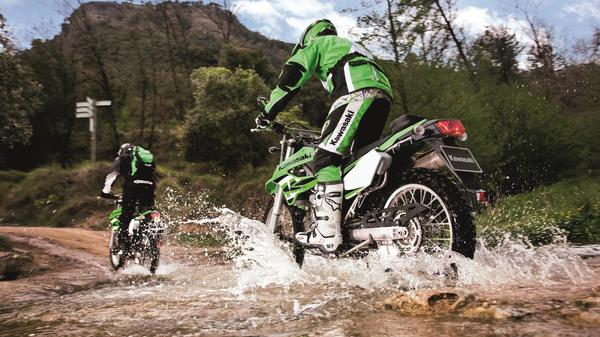 The Auto Trader expert verdict:
Kawasaki has a long, proven reputation for novice-friendly but capable lightweight off-roaders and the slick, liquid-cooled four-stroke KLX250 was a worthy successor to bikes like the two-stroke KDX200 in the 1990s. Sophisticated yet simple, effective yet easy and also rugged and reliable, the KLX is a step-up from mere 'trail' bikes without stretching the bank or your ability.
Reasons to buy:
Genuine dirt ability
Unintimidating manners
Modern, proven mechanicals
Design
There's no mystery, magic or over-complicated high tech with the KLX250 – just straightforward enduro ingredients – and among the most proven and durable of each with inexperienced off-road riders in mind. All-round proportions are unintimidating; the KLX is both slim and impressively light for a four-stroke and it's a doddle to ride with intuitive controls and smooth manners which, considering that is exactly what it was intended to deliver gains it good marks for design.
Riding position
Typically slim dirt bike ergonomics are made more welcome than most thanks to its slightly smaller all-round proportions. The long saddle is slim and reassuringly low compared to more hard-core off-roaders and yet the KLX is still more than capable in more experienced riders' hands as well. Of course, all of that is less successful on road, but if the exposed, upright KLX is less happy at speed or on dual carriageways it is nimble and effective in congested city traffic.
Practicality
The KLX250 is no all-rounder. It's a proper dirt, enduro bike aimed at novices that can also be ridden on the road so look elsewhere if you're after some kind of versatile transport. That said, it does what it set out to do brilliantly. It's great in the dirt, stylish, nimble and fun around town and can just about cope with the open road – although we wouldn't recommend attempting to cover any great distances on one and certainly not carrying a pillion or luggage.
Performance & braking
Although not the latest example of the type – the Kawasaki's liquid-cooled, DOHC single cylinder four-stroke engine actually dates back almost 20 years and was the reason why the model was finally killed off in 2018 – the modest 22bhp unit is perfectly suited to the KLX's 'gentle off-roader' role. It's soft, flexible and easy yet also has just about enough 'go' to keep pace with dual-carriageway traffic. Braking-wise, the KLX, again, though no longer cutting edge, has more than enough. The 'wavy' disc brakes front and rear have more than enough power to haul up the KLX's relatively light weight, especially off-road.
Ride & handling
Dual-purpose motorcycles are always compromised one way or another when it comes to being able to perform both on road and off, and the KLX is no different. With its focus being the dirt, its semi-knobbly tyres can squirm a little on the street, especially in the wet, while its long-travel, soft suspension delivers a fairly mushy ride. But it's nothing to be alarmed about, is more than capable of handling the meagre 22bhp performance available and is the price you pay for wanting a credible off-roader. Besides, it's nimble handling makes the KLX great at cutting through city traffic and its ease off road more than makes up for it.
Running costs
Being a relatively low powered, light, uncomplicated machine also makes the KLX250 relatively cheap to run. Although its dual-purpose, 'knobbly' tyres wear faster than dedicated road rubber, considering the limited road miles any example is likely to undertake it's no real concern. While on top of that, the KLX's muted 22bhp performance won't make any strenuous demands of its tyres, chain, brake pads etc. Fuel consumption, on the whole, is good, too, while insurance and road tax will also be cheap. If used hard off-road, however, chain and brake pad life will be reduced while likely damage from minor dirt drops or scrapes should also be budgeted for.
Reliability
The KLX250's liquid-cooled, four-stroke, single cylinder motor is both understressed and benefits from a long, untroubled history so you should have no mechanical concerns whatsoever – providing, of course, it's been well maintained, a relevant concern as, being novice-targetted, KLXs can often have a hard life. Just as important, however, is its chassis and cycle parts. The Kawasaki's steel, perimeter frame is strong, components sturdy and build quality and durability is better than most bikes of this type, but if it has been damaged or neglected it'll suffer – check all controls, brakes, suspension etc carefully.
Warranty & servicing
When new the KLX came with a typical two-year manufacturer-backed warranty covering all parts and labour for the first two years. However, with the bike going off sale in 2018, unless you're lucky enough to find a 'new old stock' example, this is now meaningless. Serving, as with most bikes of this style, is relatively straightforward by virtue of its simple, single-cylinder design and easy access to all components – although its liquid-cooling makes the KLX slightly more labour-intensive than rival air-cooled machines such as Suzuki's DR350S.
Equipment
With light weight and simplicity being key for any off-roader, the KLX250 is typical in being a very basic, straightforward and simple machine without any luxuries of gizmos. Instrumentation is by a very simple, small, LCD digital display and otherwise what you see is what you get with the only concession for practicality being a small but useful tool pouch mounted at the rear of the seat. That said, it also has everything a dirt bike like this needs.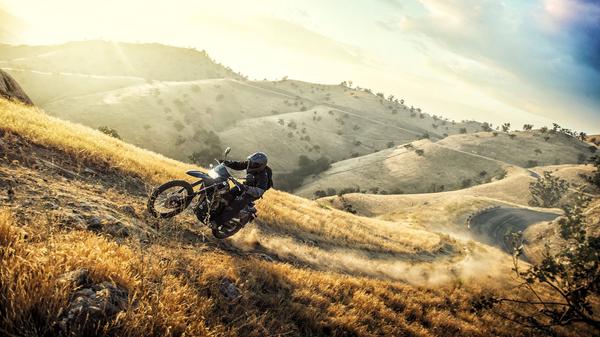 Why buy?
If you're looking at getting serious with your dirt biking the KLX250 was, and remains, one of the best options out there. Unintimidating yet capable, proven but also sufficiently modern and also reliable but entertaining – even for more experienced types – the KLX250 has it all. Yes, some slightly newer, more modern variants on the theme, such as Honda's new CRF300L, offer slightly more specification and performance, but that also comes at a far heftier price. The KLX, however, remains one of the best of its type at a temptingly affordable price.