Expert Review
Indian Springfield Cruiser (2016 - ) review
Revived US firm Indian go from strength to strength with this direct competitor to arch-rival Harley-Davidson's Road King. Impressively, the Springfield is bigger, slicker, flashier and better to ride – if more expensive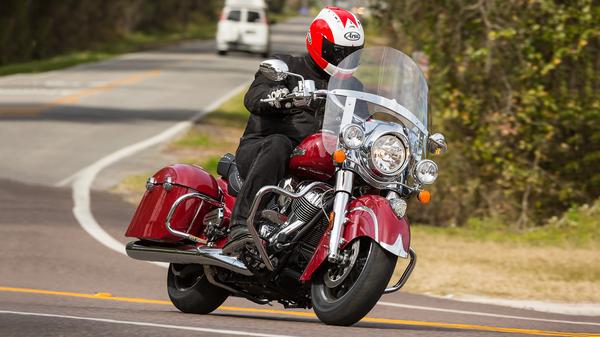 The Auto Trader expert verdict:
Reborn US firm Indian (the historic, Harley-rivalling brand was relaunched in 2013 now under the ownership of the huge Polaris concern) seems to be able to do no wrong with this latest offering being its best yet. A traditional pannier-ed and plexi-screened 'bagger' it rises above the average with fabulous style and detailing and Harley-beating performance.
Reasons to buy:
Fabulous style and build quality
Authentically American
Outperforms and handles its closest US rival
Design
Creating a modern, stylish Indian but based on its historic look and heritage is a big ask, but the new Polaris-owned concern has done a brilliant job. The mechanicals, based around the all-new 'Thunderstroke' engine, all work exceptionally yet are beautiful, too, while design touches like the exquisite, studded leather saddle, 'Warbonnet' mudguard lamp and flared fenders are all exquisitely recreated. The Springfield is a mouth-watering machine both at standstill and on the move.
Riding position
The traditional, upright, roomy touring 'bagger' stance is comfortable with plenty of room for two. That leather saddle is deep and plush (with the pillion pad detachable for when you want to clean up the bike's lines if riding solo); arms fall naturally to the wide bars and feet rest on roomy footboards. Yes, it's a big bike and a little awkward to manhandle at walking pace, but it's no criticism overall.
Practicality
OK, a chrome-laden, £20K, American-style cruiser is never going to be the most practical of bikes, but the Springfield perfectly encapsulates the growth in popularity, especially in the States, of the bagger breed where they reign supreme. With hard panniers and protective screen it's a proper two-up tourer, yet does so without losing any of its cruiser style. No commuter, maybe, but in Florida or California it makes perfect sense.
Performance & braking
All-new, 'Thunderstroke' 111 cubic inch (1700cc) air-cooled pushrod actuated V-twin is no sportster but has bags of easy torque and outguns the bike it set out to beat – Harley's Road King. It's no techno-laden missile but does more than enough of what a bike like this should. Brakes-wise its near-as-dammit at the of of its class, too, although with all that bulk to haul down, they needed to be good!
Ride & handling
For such a big bike, and a cruiser at that, the Springfield handles impressively. Ride is plush, comfortable for hundreds of miles and draws no complaint. Better still is the handling. Despite massive proportions the Springfield steers precisely and reassuringly, tracks reliably and, with much of its weight carried low, happily swings and sways through the turns without descending into a wallowy mush like some other bikes of this type.
Running costs
With the bike so new it's a little early to be certain about running cost, bu8t with a £20K machine such as this, economy was never that high on the agenda. That said, the low-revving Vee isn't extortionately thirsty, the belt drive is proven and the Springfield shouldn't have too voracious an appetite when it comes to consumables such as brake pads and tyres and even oil.
Reliability
Again, as we write it's a little early to be certain about the reliability of reborn Indian's all-new big twins, although the first models have no been out for over a couple of years with no horror stories to report and, with the Springfield essentially being a 'mash-up' of features from the Chief Vintage (Plexiglass screen) and Chieftain (hard panniers) there should be nothing to fear.
Warranty & servicing
As we've said before, there's no better measure of Indian's ambitions and confidence than by it becoming one of the very first motorcycle manufacturers in the UK to offer a five-year warranty. On top of that, service intervals are pretty much par for the course as well: the first check-up comes at 500 miles followed by routine 5000 miles checks afterwards. The drive belt, meanwhile, has a lifespan of 50,000 miles.
Equipment
Although not quite as lavishly equipped as its full-dress 'Roadmaster' stablemate, you still want for nothing with the new Springfield. On top of ticking all the 'bagger' boxes (hard panniers, detachable Plexiglass screen etc), Indian's newcomer also has ABS, cruise control, thorough instrumentation and plenty of nice detailing. Indian may not yet boast an accessories catalogue to rival that of Harley, but in virtually every other respect they're right up there.
Why buy?
Harley's so dominant in the US (its last new 'bagger', the Street Glide in 2010, was far and away the country's best seller) that any rival, especially any rival bagger, needs to not just be good, but to have genuine heritage and credibility as well, to have a chance. The Springfield does all three in spades. Its modern tech means it outperforms the H-D rival, its exquisitely recreated retro style is classier and better delivered and the Indian name resounds better than any other too. If you're brave enough to NOT have a Harley, the Springfield rewards in every way.