Expert Review
Indian FTR1200S retro/roadster (2021-) review
US flat-track inspired roadster was already good but gets a significant update with new wheels and added refinement to make a great alternative to the BMW RnineT/Ducati Monster mob.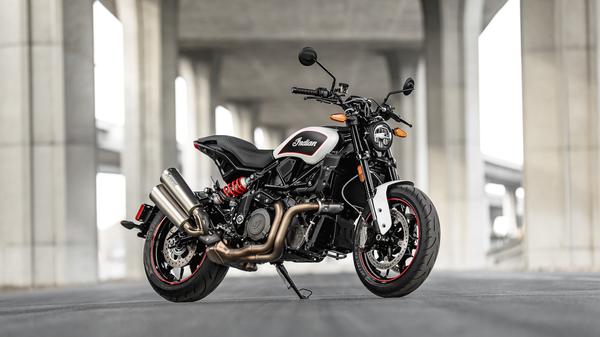 The Auto Trader expert verdict:
Available new from £12,050
When launched in 2019 the Scout-based, flat-track-styled FTR was an American breath of fresh air, but blighted by a rawness and oddball wheel sizes. That and more has been rectified with this new version with the result a refreshing alternative to the likes of the RnineT, Monster and Yamaha XSR.
Reasons to buy:
Punchy performance and handling
Individual US styling
Impressive spec and options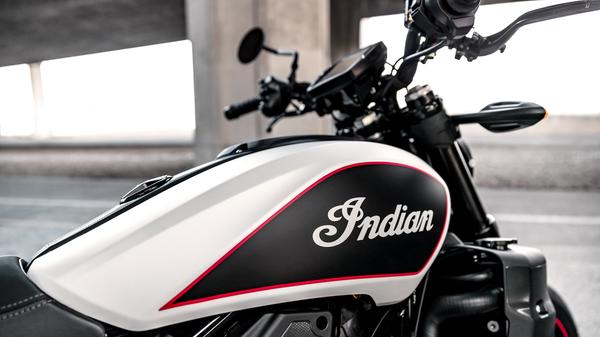 Design
Inspired by Indian's all-conquering 'Wrecking Crew' American flat track team's FTR750 racer, the road going 1200 uses a cleverly reworked Scout V-twin and all-new chassis to deliver a stylish, US take on the retro roadster theme. This reworked version rectifies previous annoyances without diminishing that style, it's available in four trim levels so you can pretty much get any spec you want and it's also impressively comfortable and reasonably practical. Best of all it stands out in an increasingly congested sector, always draws a crowd and is a bike you can't help but admire.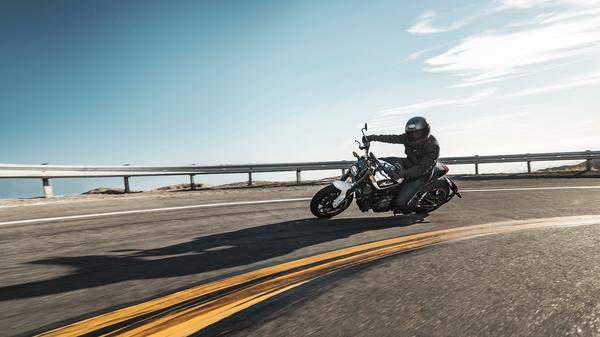 Riding position
The original 2019 FTR had a slightly excessive flat track style, which has now been toned down and made more suited to the street. The riding experience is now less exposed and twitchy due to 40mm narrower handlebars. New, smaller wheels along with revised suspension settings make for a significantly lower, more manageable seat height (780mm from 840mm). And the sum total is a riding position that's less extreme and more comfortable over distance. Ultimately the FTR's still and exposed, naked roadster but it's also more comfortable and tolerable than you might expect.
Practicality
Retro-style roadsters may deliver plenty of the feel-good-factor for relatively short Sunday rides, when they're also comfortable upright and natural but without much long distance or pillion ability there's also ultimately a limit to their practicality. All of this is true of the latest FTR, too. On the plus side it's decently comfortable and well equipped, is a doddle around town and there are longer distance variants such as the Rally which comes with a small windscreen. On the slight downside, the FTR's tank is only 13-litres and fiddly to refill. But if you want a town and country toy, the FTR's more practical – and fun – than you might think.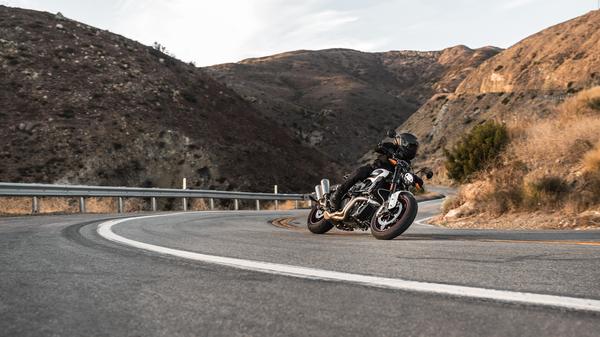 Performance & braking
Although the new wheels are the most conspicuous change for 2021, the FTR's engine has been refined, too. Based on the 1133cc Scout V-twin, the FTR version was developed with race engine specialists Swissauto and had a revised bore/stroke giving 1203cc, high compression heads and dual throttle bodies which combined to produce 121bhp compared to the Scout's 100. But although punchy and entertaining the original was also criticized for being a little raw and abrupt, particularly in this S model's sharpest Sport mode. This, too, has been recalibrated to give a smoother, more predictable throttle response', a slight boost in peak power to 123bhp plus rear cylinder deactivation at idle to aid cooling. It's still as lively and dynamic as any, but its rough edges have been smoothed and the cylinder deactivation is, if nothing else, a novelty. Braking, meanwhile, is unchanged and comprises top-spec twin Brembo four-pot radials up front biting onto dinner plate discs with a smaller disc at the rear and all kept in check by ABS.
Ride & handling
Although the original FTR1200 was a fine handler, the main criticism was its flat track-inspired 19/18inch wheel combo (instead of street bikes' conventional, proven 17s) which were fitted with skinny, semi-knobbly Dunlop tyres. The result wasn't bad – far from it – but the tyres restricted how far it could be explored while the wheel sizes precluded most alternative tyre choices. That's all changed for 2021. New 17in alloys wear fat Metzeler Sportec sports tyres (with the rear now a 180-section instead of the previous 150), steering geometry and suspension has been adjusted to suit and the result is sports-naked handling that's still sharp and entertaining yet also more composed through fast turns.
Running costs
Yes, the FTR1200S is a fairly premium, performance machine but it's no-where near as extreme as a 1000cc sports bike or super naked and this should be reflected in more reasonable running costs. Although punchy and lively, the now 123bhp twin won't consume things like tyres and chain as quickly as more powerful machines; it's lighter weight helps here, too and being a roadster that's unlikely to rack up high mileages, and certainly not fully-loaded with a pillion, also helps. On the slight downside, in this 'S' trim, the initial £13K+ price is not to be taken lightly and newcomers Indian don't yet have the bulletproof residual of some rivals, such as BMW. On the whole, however, you should have little to fear…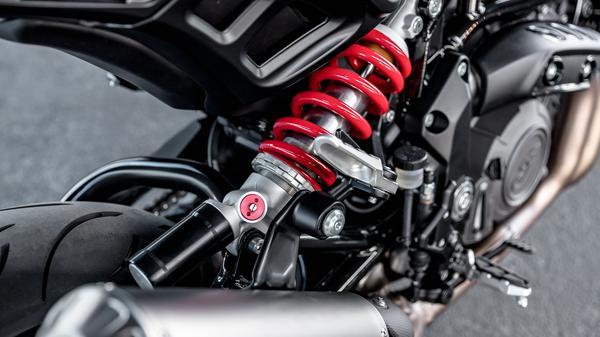 Reliability
Indian's reliability record, since the historic brand's revival in 2013 by automotive giant Polaris, has generally been good. Its bikes are premium priced with the quality finishes and attention to detail to match; being generally large capacity cruisers means their engines are understressed and durable and the smaller Scout on which the FTR is based, has had an impeccable reliability record, too, ever since it's introduction in 2014. The FTR is tuned and far more performance-oriented, of course, but again we've heard no scare stories while this version is tweaked further so we have to leave a little room for doubt. Overall, though, we've few concerns.
Warranty & servicing
The standard warranty offered on the Indian FTR1200 is a fairly typical manufacturer-backed, two-year, unlimited mileage affair covering all parts and labour, although an extended three-year warranty is also available as an option. Service intervals are fairly typical in being required every 10,000 miles or so, which is the same as for the Scout on which the FTR is based.
Equipment
The new FTR, as before, comes in four trim levels: the base FTR1200 at £12,295 with no TFT screen or riding modes but now fully adjustable inverted forks); the FTR Rally with most of the upgrades but 19/18in wires, Pirelli Scorpion tyres and small screen for £12,995; the upspecced S tested here with slick 4.3in TFT dash, three switchable modes and other electronics, premium paint and natty Akrapovic pipe for £13,695 and a limited edition FTR-R Carbon with Ohlins, carbon etc for £15,595. All are well built and decently equipped and the Akrapovic pipe, snazzy paint and switchable modes of the 'S' are tempting, but I also suspect I'd be just as happy with the standard FTR, at £1400 less…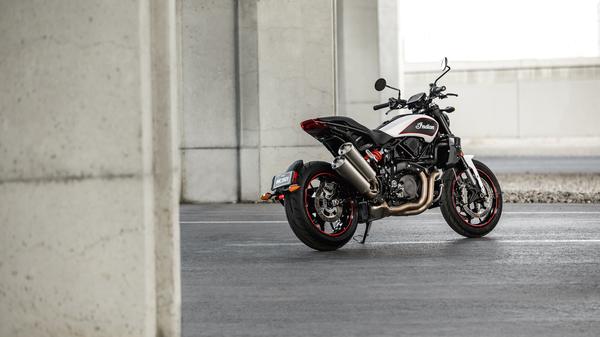 Why buy?
The performance sector of the retro roadster section is more competitive than ever with quality, proven machines available ranging from BMW's £12,985, 109bhp RnineT, Triumph's newly-updated £11,000, 98bhp Speed Twin, Ducati's £12,885, 86bhp 1100 Scrambler Sport Pro, which suggest the less well-known, £13,695 FTR1200S is a big ask – but it's more than worth a look. With 123bhp it's got more performance, it has a slicker, more sophisticated ride, more equipment including modes, TFT and Akrapovic and it has an individuality and exclusivity those bikes can't match, either. Yes, it's still a bit of a punt but we guarantee you won't be disappointed.