Expert Review
Indian FTR1200 review (2019 - )
Revived US brand Indian enters the sports/naked category with this street tracker inspired by its all-dominant FTR750 AMA flat track racers but based on hotted-up Scout 1200 mechanicals – it's brilliant, too: an American Monster!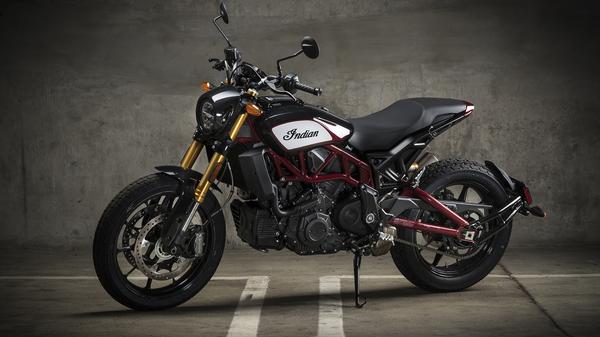 The Auto Trader expert verdict:
Born again Indian are showing their ambitions again this, their first sports roadster. Scout-based but fully uprated it looks good, goes and handles brilliantly and is surprisingly versatile, too. An American Monster with added exclusivity.
Reasons to buy:
Distinctive flat track looks
Punchy, uprated Scout V-twin
Great sports/road handling
Design
It'd have been very easy for Indian, as a cruiser manufacturer making their first sports 'naked, to get the FTR wrong. Instead they've got it so, so right. Traditionally the flat track style has transferred awkwardly to the street. Keep the rakish looks and you get a bike too skittery and exposed. Water them down and it ends up looking a mongrel. The FTR, though, does it brilliantly: delivering striking looks, right down to its purpose-designed semi-knobbly tyres, a sporting specification up there with the best a great, fun, invigorating riding experience and, most impressively of all, it's also a bike you can happily ride all day. It lacks for nothing where most street trackers lack for lots of things…
Riding position
A semi-sporty roadster gait boosted immeasurably by three things: bars that avoid being so wide that you end up being a spinnaker in the wind. You're not. A subtly little headlamp cowling which, without compromising the FTR's 'naked' profile, does wonders in knocking the edge off the windblast. Even motorways can be happily cruised at 80mph. And three, that seat might look small but it's well designed, supportive, and virtually all-day comfortable, something many so-called touring bikes can't even match.
Practicality
As a flat-track inspired bike, which normally suggests discomfort, limited range, a lack of pillion/luggage-carrying ability and so on, the FTR should be rubbish. In reality it's almost reasonable, which Indian should claim as a success. So, while not built for motorways, it's actually tolerable, it's also far more comfortable and versatile than it looks and, at a push, can take a pillion (briefly). For many folks' riding that's all fine and if you're looking for something more long-legged or practical you're probably looking in the wrong place anyway. It is worth adding, however, that Indian also offer a variety of touring accessories for the FTR including a screen and panniers, although we're still not quite sure why you'd want to…
Performance & braking
This is where it all starts to make sense. The Scout V-twin has been enlarged and tuned by Swissauto to produce an ample 120bhp with bags of yummy midrange grunt and, on this 'S' version, three switchable rider modes (Rain, Street and Sport) to flick through. OK, it's no 160bhp Monster or S1000R, but it's enough. The brakes, too, being top-notch twin Brembo radials biting on big discs, are also more than enough, with bags of sensation and even rawer stopping power. No American bike I t=can think of squirts and stops so well.
Ride & handling
Being not just American, but the first sporty bike from cruiser firm Indian and also one based on the bobber-style Scout should suggest something of a handling disappointment – especially considering those aforementioned knobbly tyres. The reality, however, is quite the opposite. The 19/18 inch wheel combination, frame geometry and quality, adjustable Sachs suspension delivers deliciously precise and light steering but with no discernible trade-off in terms of instability. You really can hustle it, almost knee-down, like a true super-naked through the turns. Ride-quality is excellent and the FTR's also slim, light enough and completely intuitive. Even the oddball tyres are tolerable. Street trackers never used to be like this.
Running costs
It might be based on a laid-back cruiser but, with added power and attitude any FTR is likely to get ridden fairly hard and, with it, you can expect its consumption of consumables to rise. So, tyres (you'll probably want to change them fairly soon, anyway), brake pads, chain etc are all likely to lead a harder life than on your usual Indian or cruiser and fuel consumption from the hotted up engine has diminished somewhat, too. That said, it's no worse than many street bikes and almost certainly better than more powerful, extreme rivals such as the Monster 1200 or BMW S1000R.
Reliability
Being so new and so different to and more stressed than the 1200 Scout on which it's based, our 'jury' has to remain out on the FTR's reliability a little. That said, in the five years or so the new Indian motorcycles have been back there have been virtually no reliability or warranty issues and build quality is impressively high so we've little reason to be concerned, either.
Warranty & servicing
Like most if the mainstream motorcycle manufacturers, both in the US, Europe and Japan, Indian offer a standard two-year, unlimited mileage, manufacturer-backed warranty for parts and labour. Service intervals are better than average, too, with oil changes due ever 10,000 miles and valve clearance major services only due every 30,000.
Equipment
It's worth saying here that there are two different versions of the FTR: the base model, with analogue clocks, no rider modes, more basic, non-adjustable suspension and a single-colour paint job and this 'S' version, with flash TFT colour screen dash, rider modes, adjustable suspension, fancy paint etc for a fairly reasonable £1100 more. There's also a limited edition 'Race Replica' version with Akrapovic pipe and carbon goodies for £1400 on top of that. That said, considering the style and ability of the bike, none of them feel lacking and we'd be just as happy with the raw appeal of the basic version.
Why buy?
Just when you thought naked bikes were beginning to get a bit samey, either being Euro-style sports 'nakeds' such as Ducati's long-lived Monster family or heritage-inspired retros, along comes the FTR as an exciting breath of fresh air. It's US flat track styling is fresh and exudes quality and exclusiveness; its real world dynamism and fun factor simply make you want to go out and ride and yet it's also surprisingly comfortable and versatile, reassuringly well built and inspiringly original. It's a bike you'll both lovingly stare at in the garage and ride with a big fat grin on your face. You'll also, even, probably be the only Indian in the car park and if that doesn't add up to all-round appeal we don't know what does…