Expert Review
Indian Chieftain Dark Horse (2019 -) review
American upstart Harley rivals Indian up the game yet again its restyled, updated 'bagger' rival to H-D's hugely popular (in the US) Street Glide. The Chieftain was always potent and useful, now it's better than ever.
The Auto Trader expert verdict:
'Baggers' (panniers and screens equipped cruisers) are hugely popular in the US where the definitive Harley Street Glide remains king – but this updated and restyled alternative from US rivals Indian could change that.
Reasons to buy:
Harley-beating powertrain and chassis (just)
Great brand and build quality
Improved styling and equipment for 2019
Design
The old Chieftain bagger was already a great, handsome bike, but a little held back, if anything, by its classic Indian, 1930s art deco styling. With this new version it's been given a more mainstream makeover with new fairing, mudguards and more (though it keeps the iconic Indian 'war bonnet' fender emblem) that have shades of its great Harley rival. While in this special 'Dark Horse' spec it comes in one of three moody satin paint finishes complete with blacked-out engine and exhaust. Striking it is.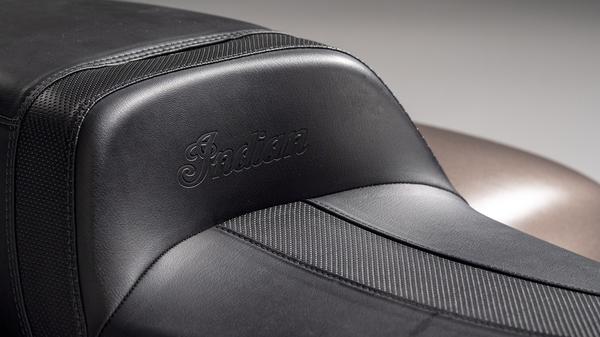 Riding position
All baggers are roomy, upright and luxurious – they're primarily designed for long distance comfort with a whiff of custom style, after all – but the oversized, premium-priced Indians are better than almost all and the new, revised Chieftain takes things up a notch again. If you're reminded of reading a newspaper in your favourite armchair, you won't be the only one. That said, these are big, heavy (361kg), cumbersome bikes so the downside is maneuvering them at standstill or at walking pace – it's not for the feint-hearted.
Practicality
It depends really what your idea of 'practicality' is. In the vast expanse of the US, baggers have proved hugely popular for their unique blend of touring practicality (panniers and screen) mixed with cruiser style and as such, bikes like the new Chieftain, are hugely practical. In the UK, though, apart from the odd summer cruise, they make far less sense being cumbersome around town, awkward through traffic, only average performers and vulnerable to British weather. The new Chieftain is no better or worse in this regard but it'd be a shame to use year round and often a handful on small British roads.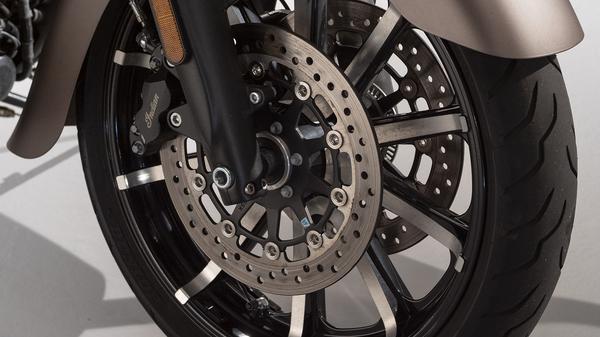 Performance & braking
Indian's 1811cc 'Thunderstroke' V-twin was purpose built for its all-new 'big twins', as first launched in 2014 following the purchase of the historic brand by Polaris in 2011 – and has always been impressive. The 111ci motor was designed from the outset to be bigger and better than the then offerings from closest rival Harley and, with around 100bhp and 110ft-lb+ on tap, that's what it delivered – even though Harley's engines have grown and got better since. For the latest Chieftain it's been improved further and now has three switchable riding modes (Tour, Standard and Sport) plus a rear cylinder deactivation system to aid cooling in traffic. Brakes, have also matched or bettered Harley. Overall, though, this is still a heavy, lumbering cruiser with the stopping potential of a supertanker, so don't get carried away…
Ride & handling
Indian's big twins all benefit from a modern die-cast aluminium frame (compared to Harley's more traditional steel tube cradle) and employ decent suspension including a monoshock rear (something Harley themselves have now copied with their latest Softails) and the result, though still heavy, was a ride and handling better than most cruisers. The new Chieftain now has a fashionable 19-inch front wheel in place of the old 16-er, but even so its steering is light and easy and its stability and ride remains plush and reassuring. It's still not, of course, a sports bike you can 'chuck around', but it carves and rolls pleasingly and is fun.
Running costs
With an on-the-road price starting at over £23,000, an 1811cc engine producing over 100bhp with masses of torque plus an all up weight over 360kg (all of which encourage a healthy appetite for consumables such as fuel and brake pad), day-to-day ownership of the Indian Chieftain Dark Horse was never likely to come cheaply. And it doesn't. But then, this is a premium, luxury machine with all the benefits and prestige that brings and, being a gentle cruiser, means it's actually not that bad, either. Not being a performance bike means its not ridden hard and tyre and fuel consumption isn't too bad and final drive is by belt, not chain.
Reliability
Though powered by an all-new, big, powerful engine, Indian's big twins also benefit from parent company Polaris/Victory's years of V-twin experience. In addition, the motor is fairly under stressed, overall, in not being a performance machine while the quality of build and general sturdiness is good, too. All of that has added up to an impeccable reliability record in their five years so far and, with this latest Chieftain being significantly updated and improved, we've no reason to question its likely reliability.
Warranty & servicing
When it comes to servicing, the recommended schedule on the big twins including the new Chieftain is fairly typical with minor services every 5000 miles or so and major ones, to check the valve gear etc., ever 10K. On the upside, being a relatively new brand, Indian have been very generous with their manufacturer-backed parts and labour warranties, which, compared to the usual two years extend actually to three, with even five year warranties sometimes being available in various schemes.
Equipment
This is more like it. While US-style 'baggers' may not be renown for their performance or economy, when it comes to luxuries and equipment these behemoth tourers are usually second only to full-dress tourers in terms of the numbers of toys that come with them. This new Chieftain is a classic example, boasting not only new rider modes, plus the usual screen and panniers, cruise control, heated grips and so on but also an all-new 'Ride Command Infotainment' system which, via a large, full-color, TFT touchscreen, boasts satnav, stereo, Bluetooth and more.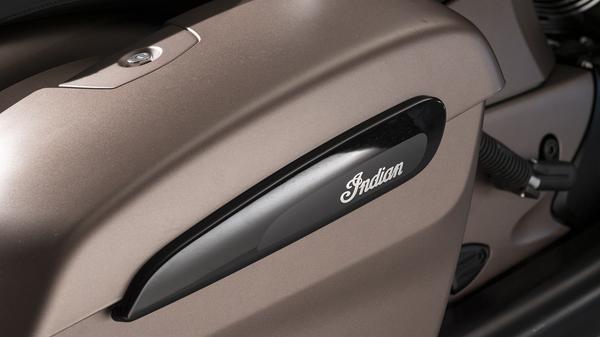 Why buy?
Since their reintroduction in 2014, Indian's big twins have been the 'thinking man's' alternative to the classic Harley-Davidson – what they might lack in history and proven dealer back-up they made up for with bold engineering, even more lavish luxury, brazen art deco 1930s style and a name that's just as credible but a little less conventional. And of those, Indian's Chieftain was the mainstream bagger option. Until now, however, some were also put off by that slightly 'acquired taste' 1930s styling and unproven spec. This updated version changes that: all the Indian benefits of performance and luxury remain; it's got an attractive restyling job; an even more stylish 'Dark Horse' satin option (as here) and uprated equipment. If you want a genuine American bagger but don't want to join the Harley herd, there's never been a better reason to go with Indian.