Expert Review
Indian Chief Dark Horse Cruiser (2015 - ) review
The Indian Chief Dark Horse is a de-chromed and de-cluttered version of the popular Chief Classic, and only available in matt black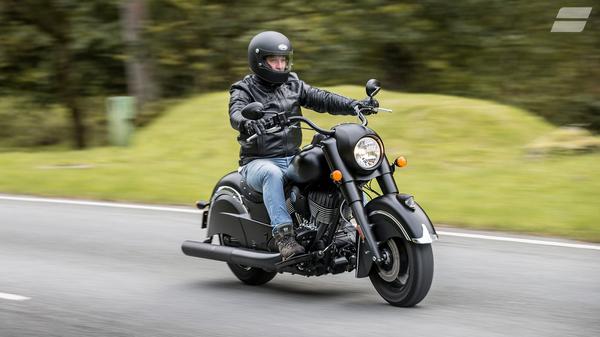 The Auto Trader expert verdict:
The Dark Horse is the meanest member of the reinvented, and hugely ambitious, Indian motorcycles family, designed to challenge the American V-twin custom scene straight out of the crate. It is an accomplished cruiser with masses of style and substance.
Reasons to buy:
Handsome styling
Prodigious engine
Attracts lots of admirers
Design
"

The matt black finish is as 2015 as a coffee barista's man bun

"
The Dark Horse takes the Chief Classic and strips it of any unwanted chrome adornments, leather frills and nostalgia for the 'good ol' days' to create a badass motorcycle the Hell's Angels would be proud of. Heavily valanced mudguards offer a small nod to Indian's heritage, but the satin matt black finish is as 2015 as a coffee barista's man bun. As you'd expect from a bike that looks like it's just left The Terminator film set, the Dark Horse attracts a lot of attention, so if you're the sort of person who doesn't like talking to strangers at every fuel stop, then it probably isn't for you.
Riding position
The Chief Dark Horse is set up for a solo rider, although a pillion seat is optional. It offers a reclined and relaxed rider setup with wide bars, soft seat and big footboards that allow plenty of movement. It's comfortable for a hundred miles, but you'll be looking forward to that big stretch. Looking this cool isn't easy, you know…
Practicality
"

Daily use would require some dedication as that matt finish is tricky to clean

"
Given the stripped back nature of the Chief Dark Horse, you'd expect there to be little creature comforts and you'd be right. Aside from the heated leather seat, keyless go and wide, rubber-lined footboards that are spring loaded in case you touch down mid-corner, there is very little to speak of. Daily use would require some dedication too, as that matt finish is tricky to clean.
Performance & braking
"

You'll pore over the intricacies of that V-twin engine for hours

"
The Dark Horse is powered by the same 1811cc, air-cooled, 49-degree V-twin dubbed 'Thunderstroke' that features in the Chief Classic and Chieftain. It is such an intricate and beautifully detailed engine that you can't help pore over it for hours before thumbing the starter button. It develops 92bhp and 102 lb ft of torque at 2600rpm, and will haul the Dark Horse onto three figures and a 5500rpm redline. The chorus it makes at idle is warm, bassy, textured and enveloping. The Indian-branded Nissin brakes also do an amazing job at hauling 357kg (wet) of mass to a standstill in confidence.
Ride & handling
Tubeless, 16-inch cast wheels replace the Chief Classic's spoked rims and have helped shave a significant amount of unsprung weight from the Dark Horse, though in motorcycle terms, this is still a big barge. However, the low mass and low 660mm seating position makes it surprisingly easy to maneuver, even at low speeds. The steering rake angle is less aggressive than other Indian models, too - 29 degrees and 155mm to the Chieftain's 25 degrees and 150mm – as it does without the heavy bar-mounted fairing. Suspension feels calm and unobtrusive on all manner of surface imperfections, thanks in part to an air-damped rear shock.
Running costs
The Dark Horse looks pricey, but when you consider the level of detail involved in its manufacture, you should really be comparing this bike with something from Harley-Davidson's Custom Vehicle Operations (CVO). At which stage, the Dark Horse represents value for money. Fuel consumption will be just above the 30mpg mark, but if you're buying a 1.8-litre cruiser, you shouldn't be focusing too heavily on fuel bills.
Reliability
The build quality of all Indian Chief models is as solid and reassuring as the first positive clunk into the six-speed gearbox. There have been some isolated incidents petrol tank surface rust, but these have been immediately replaced under Indian's magnificent five-year warranty.
Warranty & servicing
Indian is one of the first manufacturers in the UK to offer a hugely appealing five-year warranty, which also happens to be transferable should you wish to sell your Dark Horse. Service intervals are unintimidating too, with an initial checkup at 500 miles for new oil, and filter, plus belt adjustment, then periodical checks every 5,000 miles thereafter. A belt change is prescribed every 50,000 miles, depending on usage, while valve actuation is by hydraulic lifter and therefore maintenance free.
Equipment
Luxuries on the Dark Horse are limited to keyless start and cruise control. Technically, all the accessory items that fit the regular Chief will work here, such as top rails, top boxes, fenders struts and ape hanger handlebars. Just be sure to order everything in black.
Why buy?
The Dark Horse is too special (and impractical) to be the only bike in your garage, but for those moments when you crave exclusivity and feel-good factor, not much comes close.