Expert Review
Husqvarna Svartpilen 401 Roadster/Retro (2018 - ) review
Street smart single-cylinder roadster has KTM 390 Duke mechanicals with extra scrambler style – it's now decent value, too.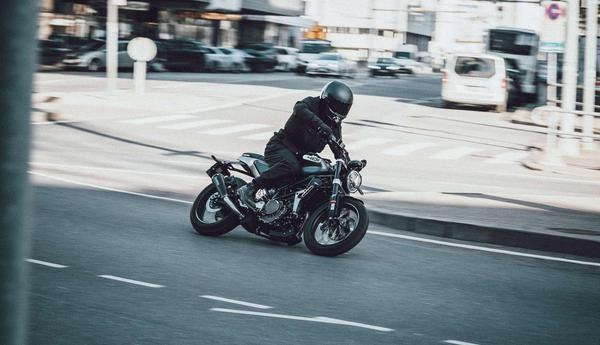 Words by: Phil West
Published on 7 February 2022 | 0 min read
The Auto Trader expert verdict:
Having taken over Husqvarna in 2013 KTM relaunched the historic Swedish brand with the funky Svartpilen scrambler and Vitpilen café racer duo, both based on KTM's single cylinder Dukes and each available in 125, 401 and 701 forms. Although originally overpriced, they're great fun city bikes with the upright Svartpilen our pick, especially in punchy 42bhp 401 form. A price cut since now means it undercuts the KTM by £50 but gives far more style and exclusivity.
Reasons to buy:
Lively nimble performance
Individual style and classy details
Now (slightly) undercuts its KTM 390 Duke sister bike
Design
The fashionable new 'Huskies' are all based on the KTM Duke but with a stylish, bespoke tank/seat unit, different dash/headlight and other details. The café racer style Vitpilen has low, 'clip-on' bars and street tyres, the scrambler Svartpilen, higher trail-bike style handlebars and semi-knobbly tyres on its wire spoked wheels. They're a successful transformation, too, are ultra-trendy and 'cool', retain the base bikes' dynamism and, now at least, are slightly cheaper, too. Four our money, though, the mid-range 401s make the most sense (unless you're 17 and restricted to a 125) and the more comfortable, slightly roomier and more practical Svartpilen the best of those.
Expert rating: 5/5
Riding position
Ultimately, being based on the KTM 390 Duke single cylinder roadster means the Svartpilen 401 can only so roomy and comfortable, but it makes a decent fist of it. Yes, it's comparatively slim and compact, but that's what helps make it be so lightweight and nimble. And in this scrambler-style, Svartpilen guise, the 'Husky' 401 is as upright and roomy as can be expected (the café racer Vitpilen is far more extreme). The result is great for nippy through town traffic and a blast on Sunday afternoon B-roads, for long distance touring, motorways or pillion carrying, though, forget it.
Expert rating: 4/5
Practicality
The Svartpilen is a fashion conscious, single cylinder, city hustler, so there are limits as to its practicality. It's a doddle to ride, a great fun 'first big' bike and is nimble, punchy and effective around town or on short blasts. At those things it excels. But being quite small and upright limits its comfort over distance and its vibey single cylinder is not designed for motorway speed cruising anyway. Add onto that no weather protection, limited pillion space and also little by way of luggage carrying capacity and it quickly becomes clear that all-round practicality is not what the Svartpilen is all about. If you want those things, look elsewhere. But if you want a cool round town or B-road toy, it's brilliant.
Expert rating: 3/5
Performance & braking
Considering its powered by a sub-400cc single, the Svartpilen is a brilliant performer but then, being based on the KTM 390 Duke you probably knew that already. The liquid-cooled, 375cc, DOHC single is impressively slick and high tech, thrives on revs and is far smoother than you might expect. Thrash it as KTM/Husky intended and you'll see around 100mph and have an absolute ball – as long as the road's not too straight. But it's also impressively responsive and grunty lower down, too. A similar slim lightness to the 390 Duke (and identical brakes, comprising a big, single front disc grasped by a meaty, Bybre, radial-mounted four piston caliper) means it's got impressive stopping power, too. Up to the limit of the fashion victim semi-knobbly scrambler-style tyres, the Svartpilen thrives on hard braking and having its nose buried in the tarmac. As we said, it's a brilliant B-road blaster.
Expert rating: 5/5
Ride & handling
With the same lightweight tubular steel trellis frame, aggressive steering geometry and decent quality, WP suspension (comprising beefy 43mm inverted forks and a preload adjustable single rear shock) as the 390 Duke, you'd expect the Svartpilen 401 to be a fine handler – nimble, sharp steering, instinctive and yet with a quality ride, too – and you'd be right. It's involving and fun on twisty roads like only a quality lightweight single can be. But it's also reasonable when cruising on faster roads with a smooth, controlled ride. The only reason we're not giving it five out of five here is due to the compromised grip of the semi-knobbly tyres. Although they're actually better than they look they certainly limit the handling experience a tad.
Expert rating: 4/5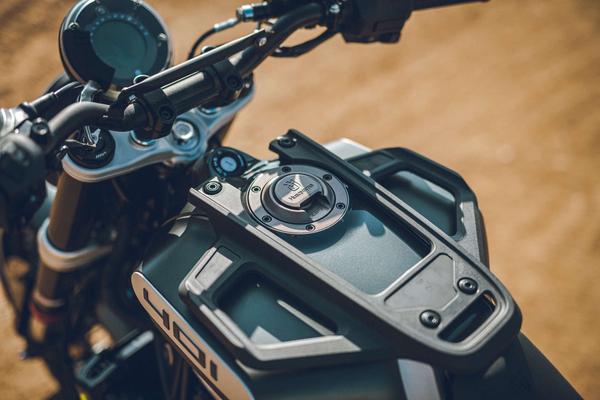 Running costs
Ultimately the Svartpilen 401 is a fairly low powered and lightweight machine, so running costs are never going to be too bad. Yes, it might be ridden aggressively and its tyres and brakes taxed more than might be in a more humdrum commuter but its hunger for such consumables is in no way excessive. On top of that it easily returns in excess of 50mpg, although a premium bike prices have come down and it should be fairly cheap to insure and service, too. Our only concern is that, being a revived brand with little track record, it's hard to say how its residuals will fare.
Expert rating: 4/5
Reliability
Yes, it's a new, high performance lightweight, but the Svartpilen 401 is also based on KTM 390 Duke mechanicals and, as that bike has now been around for the best part of a decade, we've few concerns. Obviously, we need to reserve judgement on things like its new, bespoke dash, but ultimately this is a premium product made by KTM who have a more than decent track record with such machines so there should be little to fear.
Expert rating: 4/5
Warranty & servicing
The Svartpilen 401 is based on the same engine and chassis as the KTM 390 Duke so naturally its service schedule is identical. Major services involving valve checks are every 9000 miles with interim ones at 4500 miles. It's a single cylinder machine that, being a naked, also has everything fairly accessible, so we wouldn't expect excessive service charges. Warranty-wise, it comes with a fairly standard, 24-month, unlimited mileage, manufacturer backed 'guarantee' for all parts and labour.
Expert rating: 4/5
Equipment
Although different in some significant ways the Svartpilen shares most if the same equipment as its KTM 390 Duke stablemate, and there's not much wrong with that. So, there's a slipper clutch, Bosch ABS, the aforementioned WP suspension, radial brakes (albeit Bybre not Brembo), neat alloy-rimmed wire spoke wheels and so on. Its bespoke LCD dash isn't quite as swish as the full-colour TFT version fitted to the Duke but it's certainly not bad, includes a useful gear indicator and fuel gauge and extra cost options such as a smartphone holder and Akrapovic slip-on silencer are available as accessories.
Expert rating: 4/5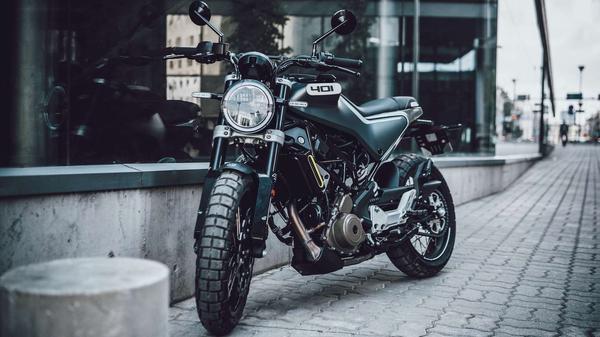 Why buy?
If you fancy the excitement, lively performance and quality spec of the KTM 390 Duke but want a more exclusive, less orange, more fashionable 'street scrambler' look, the Svartpilen 401 has an awful lot going for it. It's stylish, different, great fun, well equipped and a great option as a first big bike if most of your riding is around town or on short B-road blasts. The Svartpilen also appeals over its Vitpilen café racer brother by being roomy and more comfortable. On the slight downside, the Pirelli Scorpion Rally tyres are a case of form over function. When originally launched it was difficult to argue a case for the Husqvarna as it was £1000 more than the Duke. Now, price cuts leave it at £50 less. TFT screen aside, we'd have the Svartpilen every day of the week.
Expert rating: 4/5