Advice
How to pick your motorcycle training
Beginning your motorcycling journey can initially seem like a daunting prospect. People will tell you that it's too impractical, too expensive or simply too dangerous, but if you can deflect a lot of that, then it you'll find that it will could soon become one of the most rewarding experience of your life. In fact, the training and lessons themselves are actually straightforward - and most of all, they should be fun!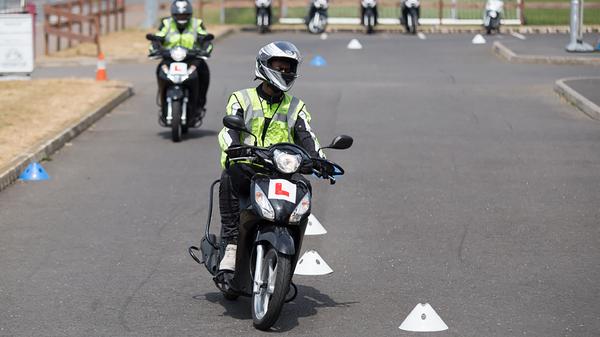 We have our motorcycle training partner
RideTo
here to help you, by outlining the essential considerations to get on two wheels and pick motorcycle training, suited to you.
Choosing a training school is very easy these days. Simply go online, look for someone local who offers motorcycle training and then send them a message to book a lesson. But we recommend taking pause and considering shopping around and looking in a little more detail for the right training for you. Alternatively, if you have any questions, you can always contact
RideTo.
What kind of riding is right for you?
If you're looking for a quick day's worth of Compulsory Basic Training (CBT) then your training requirements will naturally be different from somebody looking to complete their Direct Access Scheme (DAS) riding tuition.
For somebody who is new to riding and perhaps doesn't know their brake from their throttle, you're going to want to find a school with particular emphasis on teaching the basics. You'll be surprised at how many training establishments say that they're geared up for completely new riders, but don't necessarily enjoy taking the 'baby steps' approach that's required from somebody who is completely knew to the mechanics and operation of a motorcycle. Similarly, more experienced riders might not want to choose a school that has orientated their entire business around getting pizza delivery riders their CBTs for their scooters, so it always pays to do a little research first. With all that said, there are a few things to look out for across either direction that you choose. So regardless of whether you're a completely new rider looking to get their L-Plates, or somebody with a little more road experience looking to get rid of their L-Plates altogether, here are our tips for picking the right bike training school for you…
Look for energy & enthusiasm
This might seem a little ridiculous at first but you should treat the motorcycle training schools that you contact in the same manner as you would anyone else selling a service to you. How many times have you walked away from a company because their customer service lacked that little something? Well, now consider that the service the company is selling you is essentially a particular set of skills that will be potentially life-saving and injury-preventing. If - after a conversation or two - your instincts are telling you to walk away, or that you don't feel comfortable then it's probably time to find an instructor that is more fitted to you and your requirements.
There's also the fact that you're going to be spending a lot of time in the saddle being followed by an instructor who will be talking - and shouting on occasion - at you through a radio in your ear, so it's very important that you 'get on' and that you find somebody who you feel comfortable with. There's nothing worse than coming off the bike after an hour long ride in the rain terrified to look your instructor in the eye because they've been yelling at you and you're too scared to reply! In essence, find somebody that you can get along with and that you'd be happy taking instruction from. Some people respond to being treated harshly, others require 'kid gloves'.
Get a good feel for their care and attention to equipment
Whilst you could go out and spend hundreds of pounds on motorcycle clothing and gear before your lessons, you shouldn't be expected to do so. In fact, we'd recommend that you hold off on purchasing anything until you've had a couple of days' training. What's best is that you make use of the equipment available at your school of choice, as you would hope that they have the best and most suitable kit for you.
In fact, we would highly recommend having the kit discussion with any training establishments that you're speaking to whilst you're in the middle of your school selection process; this will be a great way for them to get to know you and for you to get to know them on a personal level, but more importantly you can perhaps grasp the time to take a look at the kit - and the bikes - that they are suggesting that you train with. You're not expected to have a full, mechanical knowledge of a motorcycle, nor should you have working knowledge of the ECE safety laws with regards to motorcycling helmets and equipment, but a cursory glance at an example bike from the school should be able to tell you if it's clean, has been well maintained and looked after. Likewise with riding kit… If there are holes in the gloves and scrapes all over the helmets then you might well be recommended into taking a look at another school elsewhere. Ultimately, you know yourself better than anyone… So find somebody that's suited for you and what you need. The extra time you spend in choosing the right school will pay off in the long run; with potentially better riding skills learned, and fewer lessons needed, which could well result in you possibly paying less over the longer term. If you are looking to start your journey on to two wheels or have any questions, small or large then contact
RideTo
. As the largest motorcycle training platform in the UK, they are specialists in training and are always there to help.