Guide
How to clean your bike
Like all good investments, you need to look after them to ensure they last for as long as possible and retain their value. This is certainly the case when it comes to your bike. Continue reading to discover the steps you need to take.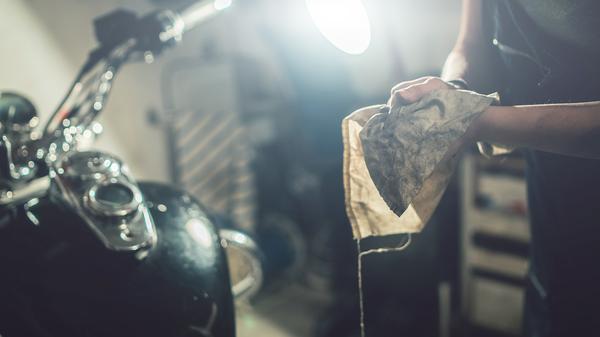 1. Keep it cool
Make sure your bike exhaust and engine are cold before starting, to avoid burning yourself.

2. Keep your bike off the ground
Place your bike on stands so that the wheels do not touch the ground, this will make it much easier to clean.
3. Get it wet
Use a hose or bucket of water to pre-rinse your bike with water. Make sure you cover any big clumps of dirt, getting water on these bits will help loosen dirt, you should be able to blast it off with a hose.
4. Invest in a specialist cleaner
Buy a high-quality cleaner that has been designed for motorbikes specifically, this investment will help keep your bike squeaky clean.
5. Start with the chassis & engine
Work on the chassis and engine first. We advise working on one part of the bike at the time to avoid the cleaner drying out.
6. Tackle bug splats
You can purchase a dedicated cleaner for this - it's always best to tackle these as soon as you can to prevent damage going forward.
7. Tend to the tar spots
To shift complex compounds found on these deposits, use a dedicated tar removing solution.
8. Aim for a squeaky clean feel
Use a hose to rinse the bike throughout, make sure it is squeaky clean by the time you've finished.
9. Use dedicated cleaners for chain lube
A usual cleaning agent will probably not be strong enough, keep on top of this to keep your chain in good condition.
10. Dry the bike off
Grab some old sheets or towels to make sure your bike is dry after you've finished washing it.
11. Apply polish
Use polish on your bike, as per the instructions on the bottle. This will keep your bike looking super shiny.
12. Rejuvenate the plastics
Last but not least, treat the plastic on your bike with ACF-50. Simply use a cloth and rub it on.

So there you have it; the steps you need to take to keep bikes and motorbikes clean. We hope that you have found this information helpful.