Guide
How much does it cost per month to run an electric bike?
A big part of the appeal of the growing popularity of electric motorcycles and scooters is not just their green credentials, their minimal emissions and carbon footprint being far better for the environment than conventional petrol machines, but also that they're far cheaper to run. But exactly HOW much cheaper are they? And how much, overall, does it cost per month to run such a machine?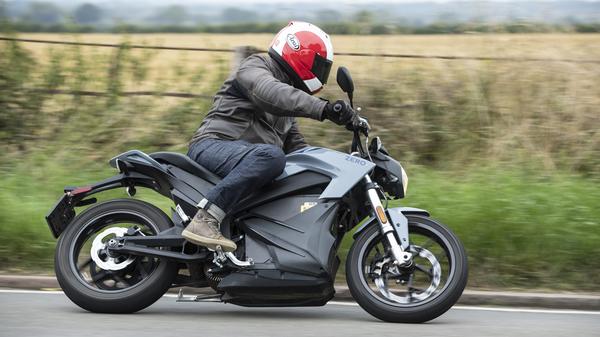 Words by: Phil West
Published on 8 November 2022 | 0 min read
It's a question that's not immediately easy to answer. While, undoubtedly, a full 'charge' of an electric machine is cheaper than a full tank of petrol for an ICE one, that's by no means the end of the story. Electric machine 'range' (the distance available on a full charge) varies widely, for example, while recent widely reported increases in energy prices have also narrowed the gap.
On the other hand, ICE machines are still, generally, far cheaper to buy than comparable electric ones, which significantly counteracts running cost savings. Then there's lots of other factors to consider such as road tax, insurance, and servicing. If you're getting onto two wheels for the first time there's things like licences, training, clothing, helmet and so on never mind the 'consumables' of your bike itself, such as tyres.
So, how much does it all cost?
Unfortunately, it's not a simple answer as so many variables such as bike type, your mileage, location etc are involved. But consider the following and you should get a good idea.
Buying a bike – electric v ICE
There are now so many different types and models of electric two-wheeler available you can find yourself paying anything from just over £2000 for the most basic, 50cc equivalent electric scooter all the way up to £30,000 plus for one of the latest premium, high performance electric superbikes from the likes of Energica – with everything in between.
The general perception is that, when comparing like-for-like, electric v ICE, electric bikes remain more expensive, although, over time, this is potentially equalled out by electric machines reduced running costs.
Government Grants for Electric Bikes
The Government initially softened this blow by offering a grant of 20% up to maximum of £1500 on the purchase of electric bikes, although in December 2021 this was slashed down to 35% up to a maximum of £150 on electric moped and £500 on electric motorcycles up to a price of £10,000. Some more premium brands, such as Livewire, did temporarily absorb this hit with their own offers. That said, electric bikes generally remain more expensive than their petrol equivalent, but that gap is slowly narrowing and likely to be more so when major players such as Honda bring out their expected first electric bikes imminently. So, for example, one of the cheapest new electric scooters currently available is the 50cc equivalent/AM licence compatible Yadea E-Lex from Lexmoto at £2040. By comparison, Lexmoto's cheapest 50cc ICE scooter, the Echo 50, is just £1750. The same is true, if not with even larger gaps, in the A1, A2 and full licence categories. Lexmoto's petrol Titan 125 scooter is £2000, its LX08 125cc equivalent electric scooter is £3200. US firm's Zero's A2 equivalent FXE Supermoto is £12,670, KTM's A2-compliant ICE 390 Duke is £5149. While at the top end, Italian firm Energica's top electric superbike, the 150bhp Ego+, is £28,000+ while a comparable ICE Ducati, such as the Panigale V2, starts at £16,000… Another factor you have to bear in mind is residuals – the future used value of any machine after being bought new. Some petrol bikes, notably Harley Davidsons and BMWs, traditionally retain high residual values as they're trusted, reliable and desirable. Electric bikes generally fare much worse, mostly due to uncertainties over durability and battery life, plus also because many of the brands involved are unproven and less well known.
Getting on the road
If you're new to two wheels, getting on the road involves not only buying a bike but also a legally required helmet, some protective clothing (jacket, gloves, boots at a minimum) and getting a licence and the training to gain a CBT certificate (for AM/A1 bikes, A2 and above requires passing a more in-depth test and theory test as well). All of these, like for like, are the same for both electric and ICE machines, so we won't go into further, here, and are also dealt with in our 'How much does it cost per month to run a motorcycle',
here
– but they should still be budgeted for.
Running costs
This is the one area where electric two wheelers can offer a significant saving over ICE machines – not just in terms of them being cheaper to 'refill', i.e., fully recharge compared to refilling an ICE machine's petrol tank – but elsewhere, too.

Electric Bikes Are Exempt From Road Tax
Electric scooters and motorcycles are exempt from Road Tax – ICE machines aren't, for which there are four bands, as follows: Up to 150cc £19 a year; 151-400cc £42; 401-600cc £64 and 600cc+ which is £88. The larger two categories can be bought six-monthly, for a slight premium and all of these are also payable monthly in instalments, although again there's a slight surcharge for this.
Servicing
Annual servicing can also be far cheaper with an electric machine. As the drive system effectively only has one moving part (compared to the many hundreds in, say, a four-cylinder, 16-valve petrol engine) and the only fluids are in its brakes, an annual service for an electric machine is often little more than a cursory inspection and systems check while major service on an ICE superbike is often well in excess of £300. Over time, this adds up. With fewer moving parts and, generally, less performance, the costs of consumables such as brake pads, chains, tyres etc can be less on an electric machine, too, although this is not always the case.
Electric Fuel Costs
While, finally, the biggest running cost saving of all, potentially at least, when comparing electric to ICE is the most obvious one of all – fuel. This, of course, varies wildly depending what sort of electric two-wheeler you're considering and has also been affected by recent rises in energy prices. But as a rough guide, fully recharging a smaller electric commuter costs well under 50p for a range of around 40 miles, double if it's a twin-battery model. Gaining 80 miles out of a 125cc or smaller ICE scoot will cost around £5. That sounds very attractive but even then, you should take into consideration range of the machine, recharging speed (some fast chargers are available) and the type of riding in terms of mileage and regularity you do. Short commutes into a city centre with chargers available and one at home can be attractive. Any long distance (100miles+) leisure rides into the countryside may be less so.
Looking for an electric bike?