Expert Review
Honda CTX Sports Tourer (2013 - 2015) review
The Honda CTX1300 is a quirky, idiosyncratic bagger which has a beguiling charm to it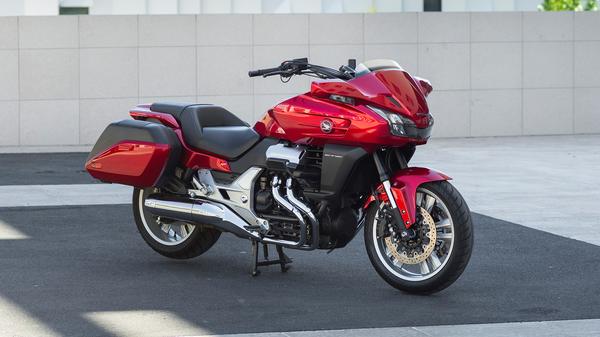 The Auto Trader expert verdict:
Honda calls its quirky CTX1300 a "new style touring cruiser". It's perhaps better described as just a cruiser but whatever the laid-back V4 is, it's distinctive, versatile and fun to ride
Reasons to buy:
Flexible and characterful V4 motor
Reasonably agile and sweet handling chassis
Comes with fairing and panniers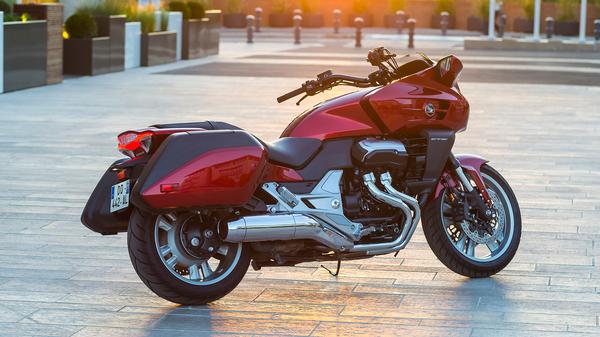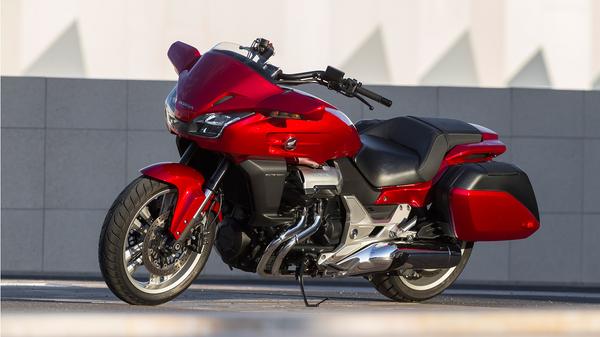 Design
"

The CTX is nicely shaped and cleverly detailed

"
Baggers are about style as much as performance or practicality, and the CTX is nicely shaped and cleverly detailed. Its half-fairing holds the short screen, plus angular mirrors that incorporate the indicators. The transverse-mounted V4 engine's protruding pots give a distinctive look, and the CTX is finished to Honda's normal high standard in white, black or red paintwork.
Riding position
The wide, pulled-back one-piece handlebar gives a relaxed riding position, in conjunction with fairly forward-set footrests. The seat is very low at just 735mm and wide enough to be comfortable for both rider and pillion. The rider's view is of an instrument panel featuring a small digital display between two round dials for speed and revs, plus speakers in the fairing for the standard fitment sound system.
Practicality
The CTX isn't as practical for long distances as the more down-to-earth ST1300, but it has a reasonably generous, 19.5-litre tank that should be good for a range of at least 150 miles. The rider doesn't get much hand protection from the mirrors, whose low position means they give a reasonable view rearwards, below your forearms. Heated grips and self-cancelling indicators come as standard.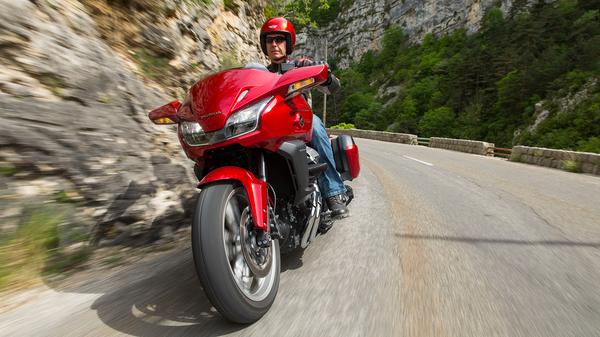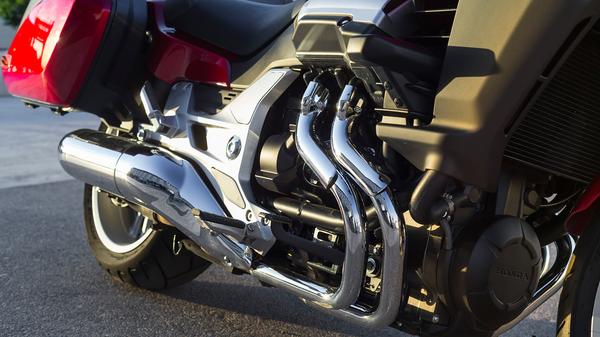 Performance & braking
"

It's a smooth and easy-going unit with a broad spread of torque

"
The CTX's 1,261cc, transverse mounted V4 motor is detuned from Pan European spec, with softer cam timing and smaller throttle bodies, plus a reworked injection system and a new exhaust. Its maximum output of 83bhp is 34bhp down on the ST's figure but the CTX reaches its peak at just 6,000rpm. It's a smooth and easy-going unit with a broad spread of torque. There's useable grunt almost from idle, and smooth acceleration all the way to the 7,000rpm red line. Throttle response is generally good although occasionally I noticed a slightly snatchy feel in the lower gears. Similarly the five-speed, shaft-drive transmission system also worked very smoothly almost all the time, but found a false neutral on a couple of occasions. Overall gearing is slightly higher than the ST's, giving a pleasantly long-legged character. There's plenty of stopping power, thanks to a linked, Dual-CBS system that adds a touch of front brake when you use the rear pedal. Simply pressing on the foot pedal was enough to slow the Honda hard enough for most situations. Using the hand lever to bring in the twin front discs' total of six pistons gives very powerful stopping, with the reliability of an efficient ABS system.
Ride & handling
The CTX's new chassis is fairly basic, with a tubular steel frame that holds non-adjustable, 43mm upside-down forks and a pair of preload-adjustable rear shocks. The Honda is heavy, at 338kg, but at least keeps its weight close to the ground. Ride quality is generally good although there's only 109mm of travel at the rear. The low and wide stepped seat gives some useful back support, and has a reasonably large pillion area plus solid grab-handles. Stability at speed is fine; not surprising, given the long wheelbase, conservative geometry and 18-inch diameter front wheel. And the Honda steers with a pleasantly light touch, feeling more manageable than you might expect. In bends the handlebars occasionally twitch as the forks struggle to absorb bumps, and the shocks can feel vague when you're cornering hard. But there's a reasonable amount of grip and ground clearance, and the bike is fun on a twisty road.
Running costs
The CTX should have pretty much identical running costs to the Pan European, which typically gives about 40mpg. But this is a big, heavy bike, so expect to fork out for consumables such as brakes and tyres fairly regularly.
Reliability
The Pan European has an excellent reputation for reliability and longevity, and there's no reason why the CTX should not be as good. Honda's quality if finish is generally excellent; the CTX's paintwork seems particularly glossy.
Warranty & servicing
Like most Hondas the bike comes with a two year unlimited mileage warranty, while the maintenance-free shaft final drive helps make up for the elderly V4 engine's relatively frequent service intervals.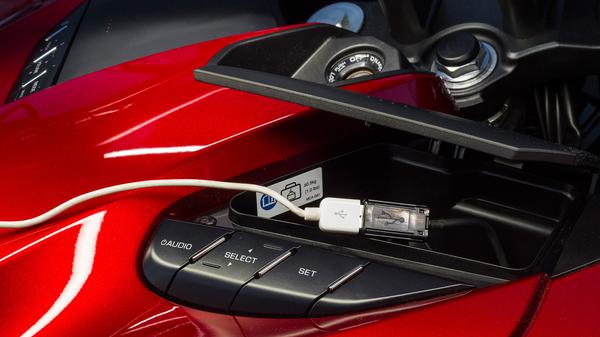 Equipment
"

The CTX's party piece is its sound system, controlled by car-type buttons in the top of the dummy fuel tank

"
The CTX's party piece is its sound system, controlled by car-type buttons in the top of the dummy fuel tank (petrol lives under the seat). The system links to a smart-phone via Bluetooth, or via the USB port in one of the fairing's two small compartments. (This can also charge the phone.) Unfortunately the low screen generates turbulence that drowns out the sound system by 50mph. To be fair I'm very tall, there is a higher accessory screen available, and shorter riders had less of a problem. The panniers are useful, although disappointingly neither was big enough to hold my open-face helmet, let alone a full-face. Accessories include chromed cylinder head covers and other parts, as well as more practical items including rear carrier, top-box and pillion backrest.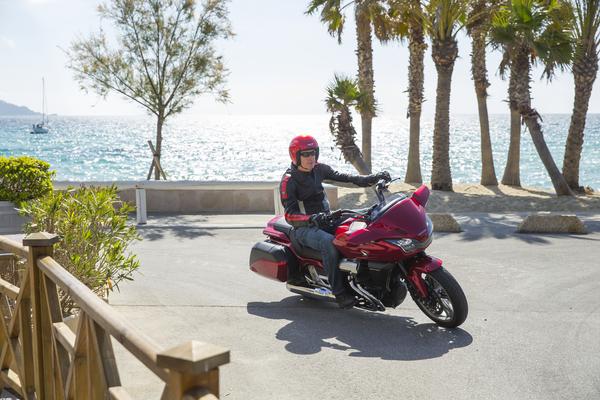 Why buy?
"

It's an attractive machine with the benefit of a distinctive V4 character

"
With a bike as quirky as the CTX, desirability is even more of a personal issue than normal. If you like the bagger look — and plenty of people do — it's an attractive machine with the benefit of a distinctive V4 character, enjoyable performance and a respectable degree of practicality.