Expert Review
Honda CMX500 Rebel Roadster/Retro (2017 - ) review
This new A2 licence/learner-friendly cruiser is based on the pleasant CBR500 parallel twin, but it's got an even lower, easier, pared-down style.
The Auto Trader expert verdict:
Bobbers and retro cruisers are back in fashion, and they don't get more welcoming and learner-friendly than the Rebel. It might not have the look or street cred of a Harley, but the Honda is far easier and pleasing to ride. And it's cheaper, too.
Reasons to buy:
Completely unintimidating
Proven, easy performance and handling
Reassuring Honda quality at a great price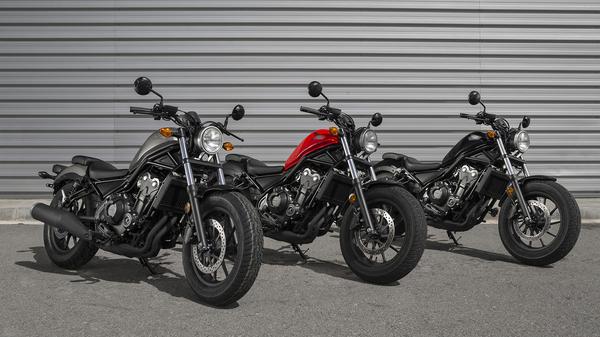 Design
Cruiser or bobber style and novice-friendly manageability don't usually go hand-in-hand. With the Rebel there's no doubt comfort and ease-of-use has won out over good looks and street cred. However, the Honda's better in the flesh than in pictures and is certainly a grower, with all the black-out bobber styling cues in all the right places. As an affordable, first big bike for many, the Rebel's a brilliant, fun and completely unintimidating ride.
Expert rating: 4/5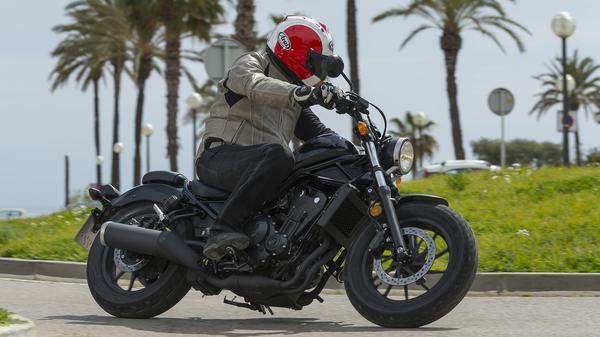 Riding position
Proof that custom style bikes don't have to be awkward or ungainly. The Rebel is based on the slim, light and already manageable CBR500F/CB500F/CB500X parallel twin, but a new tubular frame with twin shock rear end provides an even lower (690mm) single seat. The riding position, though, is more upright roadster than laid-back custom, and the ergonomics, in typical Honda fashion, are fastidiously sorted. The result is cruiser style, but utterly novice-friendly manageability that fits all.
Expert rating: 5/5
Practicality
Again, far better than you might expect from a so-called cruiser. Easy manageability and good comfort means the Rebel's both great around town, and better than most at longer commutes, thanks to its pleasingly willing powerplant. On the downside, there's no weather protection, zero luggage capacity (although small, soft panniers are available as an optional extra) and only a small pillion pad, so it can't match the versatility and long-leggedness of the CBR or CB500X.
Expert rating: 4/5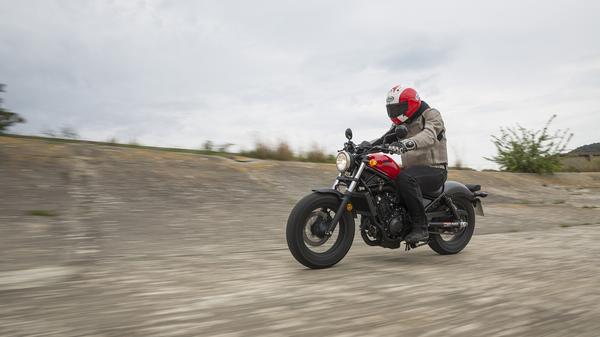 Performance & braking
At the end of the day, the Rebel's a fairly soft 471cc twin with budget cycle parts, so it's never going to set your pants on fire. That said, within its A2-licence-qualifying and custom-style remit, the Rebel's an impressive performer. That parallel twin engine has been detuned slightly, reducing peak power from 47- to 45bhp to boost midrange torque, but it's still flexible and brisk. Despite only having a single front disc gripped by a twin-piston caliper, braking is more than sufficient considering the Rebel's performance.
Expert rating: 4/5
Ride & handling
As with its performance, the Rebel is far better dynamically than its seemingly meagre specification would suggest. Despite its balloon, fat 16-inch tyres, steering is intuitive and reassuring, and the ride – despite fairly basic, preload-only adjustable twin rear shocks – is both plush and reasonably controlled. The result is a bike that both cruises pleasantly and is willing and able to be entertainingly thrashed along twisty country lanes. No middleweight cruiser is as much fun.
Expert rating: 4/5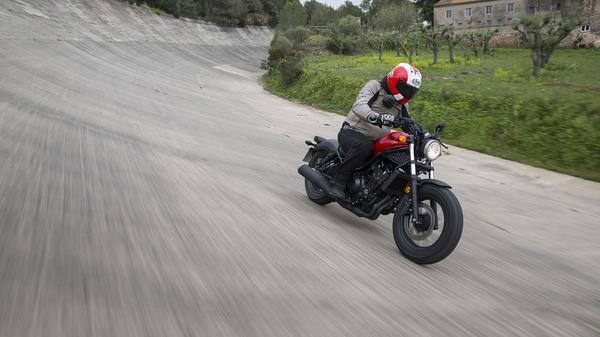 Running costs
The whole of Honda's learner-friendly 500 twin range was designed with an eye on cost, and this latest addition, the Rebel, is no different. The purpose-built, parallel twin engine is relatively frugal on fuel, and with just 45bhp to hand, its appetite for consumables such as tyres, brake pads, chain and so on is at least as good as most rivals in the class, so you should have no major concerns.
Expert rating: 5/5
Reliability
Although the Rebel is a new model, there should be little cause for concern. Honda has an enviable reputation for reliability and, in addition, the CMX is based on the proven CBR/CB/CB500X trio, which have been around for three years with no horror stories reported. What's more, being a cruiser-style learner bike, it's unlikely to be ridden as hard as a top-end sports machine.
Expert rating: 4/5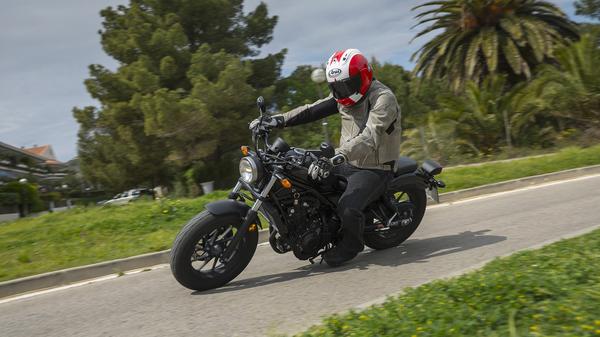 Warranty & servicing
Back in 2013 the very first 500 twins had a shockingly over cautious service schedule, but now the Thai-built machines have proved themselves, this has been relaxed back to fairly standard stuff. Major services are required every 8,000 miles, while the warranty is a conventional two-year/unlimited mileage affair.
Expert rating: 4/5
Equipment
Not much to get excited about here. Honda's 500 twin family was already designed to be fairly budget and affordable and, being a pared back bobber, the Rebel takes the minimalist thing further still. There's a simple, single digital instrument pod and, not much else: no electronics, no luxuries, no frills, and no fripperies. As a riding experience, however, the Rebel has everything it needs.
Expert rating: 3/5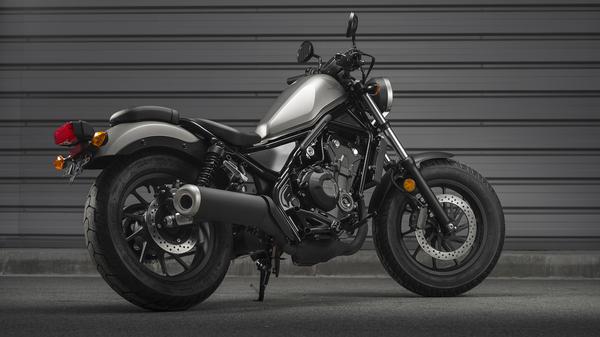 Why buy?
As a first big bike or A2 introduction into motorcycling, the Rebel has a lot to commend it. Its style – if not quite matching the cool of a Harley – is bang on trend. As a novice proposition, middleweights don't get any easier or unintimidating: it's surprisingly entertaining, comfortable and versatile. It also has reassuring Honda build quality, and it's great value, too. If you like the style, it's almost a no-brainer.
Expert rating: 4/5