Expert Review
Honda CBR650F Super Sports (2017 - ) review
Just when you thought affordable, sporty, 600-class all-rounders were a thing of the past, along comes this. It's not flash or fancy, but the CBR650F pretty much does it all, and for under £7,000.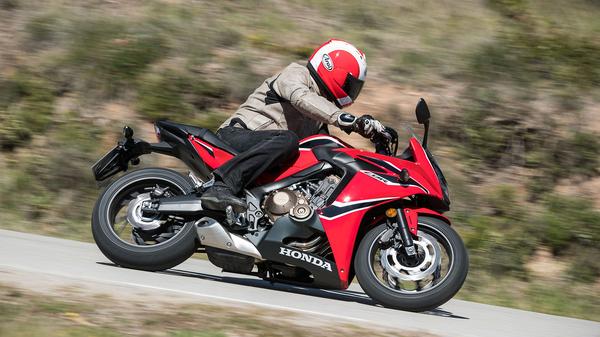 Words by: Phil West
Published on 26 May 2017 | 0 min read
The Auto Trader expert verdict:
Honda reinvented its CBR600F in 2011 in a bid to recreate the perfect blend of performance, versatility and value that proved so popular with the original in the 1990s. Two revisions later, and now in 650cc form, it's just about done it.
Reasons to buy:
Truly entertaining road sports ability
Styling updates have resulted in a genuine looker
Mouth-watering value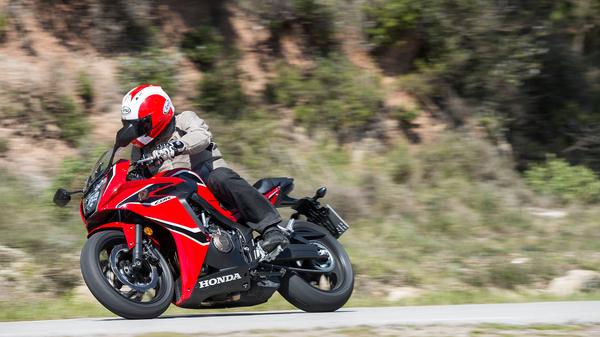 Design
This CBR is the proof that a number of small improvements – as long as they're the right ones – can make a big difference. There wasn't much wrong with the old CBR650F, but required tweaks for Euro4 have prompted Honda to make it sportier and subtly more attractive all round. The result is sharper looking and sportier performing, yet without losing its already brilliant versatility and value. A brilliantly conceived all-rounder at bargain bike money.
Expert rating: 4/5
Riding position
Surprisingly brilliant. One of the key changes to the updated CBR650F is to its riding position, with the intention of making it sportier. This Honda has certainly achieved, but not by adversely affecting comfort and practicality. The clip-on handlebars are both 90mm narrower and 90mm lower than the outgoing version, and the effect is to ramp up its aggressiveness and make the rider feel more involved and integrated, especially when attacking a series of bends. At the same time, it's not in any way more uncomfortable at cruising speed, or more cramped for taller riders. Perfect.
Expert rating: 5/5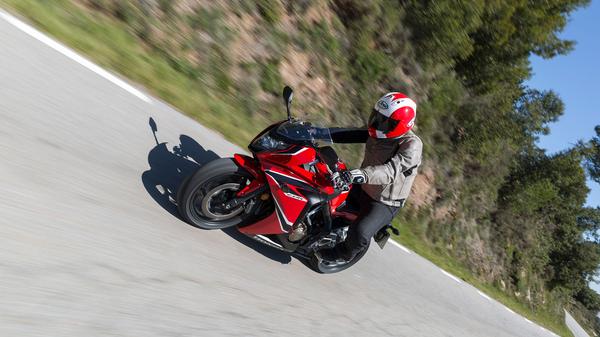 Practicality
A pleasant, impressive surprise. The old CBR650F was a decent all-rounder at a great price, just a little bit insipid and uninspiring. This new one loses none of that versatility and usefulness, while being a substantially more engaging and entertaining machine. Tour, scratch, commute, tackle town traffic, or take you on holiday two-up, the CBR650F can do it all. It certainly evokes memories of the brilliant 1990s original, the CBR600F. Praise doesn't come much higher than that.
Expert rating: 5/5
Performance & braking
There's much more to this update of the CBR650F than merely revised rider ergonomics. Partly due to Euro4 requirements, the four-cylinder engine's had a decent makeover, too. Power and torque are both healthily up (bhp goes from 86 to 90), overall gearing is shortened slightly to further improve acceleration and liveliness, and there's a new, rortier exhaust, too. The result certainly delivers. It's no full-on, extreme supersports like the ZX-6R, admittedly, but as a road sportster it's great real world fun and usefully flexible, too. Brakes are unchanged, but deliver without complaint.
Expert rating: 4/5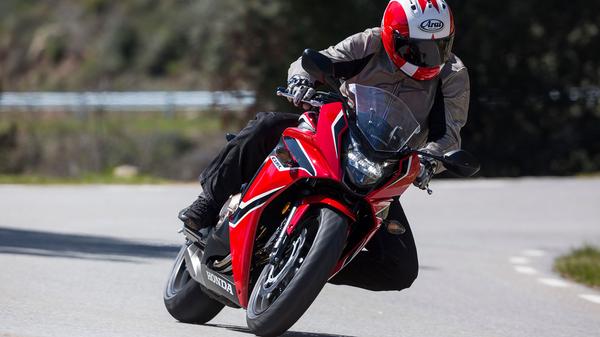 Ride & handling
Although the updated CBR650F's suspension and steering geometry is unchanged, so the ride isn't any different from the old, the more aggressive, pointy riding position does noticeably improve the handling. Being more forward inclined means the steering is more intuitive and more engaging, and the bike's willingness to be carved through some enticing bends is more enhanced. It's not a massive difference: it's still not as slick and refined as a more expensive supersports, but it's enough to make it far more appealing. Again, it reminds of the old '90s CBR600F. Praise indeed.
Expert rating: 4/5
Running costs
Despite the changes and improvements, the CBR650F remains a budget-orientated machine. Although it's a sporty, four-cylinder middleweight, it's significantly cheaper to run than most. With a lower power output, its hunger for consumables such as tyres, chain, fuel etc., will be less than full-on supersports such as Kawasaki's ZX-6R, while insurance will be cheaper, too. Considering how much of a bike you get for your money, it's something of a steal.
Expert rating: 5/5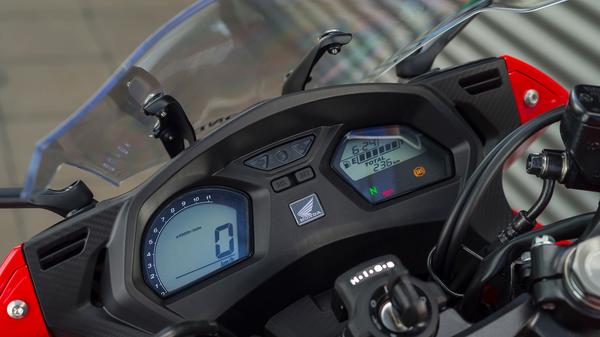 Reliability
As a significantly updated model, it's arguably too early to be certain about the new CBR650F's likely reliability. That said, it does have a decent track record and is not overly stressed, so we have few qualms. The basic engine architecture dates to the first 'revived' CBR600F in 2011, as do most of its cycle parts, while over the intervening years, no major problems or horror stories have come to light either. We have no causes for concern.
Expert rating: 5/5
Warranty & servicing
Although there have been significant and welcome technical updates to this latest CBR650F, these don't affect its warranty or service schedule whatsoever. Warranty is Honda's standard offering: it covers the first two years with unlimited mileage. The service schedule is fairly typical, too, with minor service checks every 8,000miles, and full top-end valve adjustment due ever 16,000 miles; both of which are at the better end of the class.
Expert rating: 4/5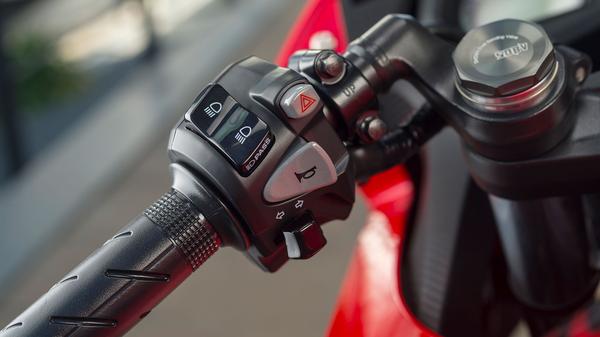 Equipment
You can never have everything with budget-orientated bikes, and the updated CBR650F, although a significant improvement over the old in terms of how it looks and rides, is still a little lacking compared to more expensive and sophisticated models. The dash is a little basic (we'd have liked the addition of a gear indicator, for example), and the screen, though reasonably effective, is non-adjustable. Otherwise, it does have the basics you need.
Expert rating: 4/5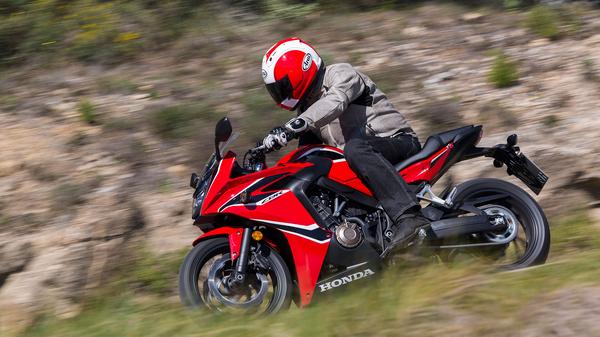 Why buy?
The old CBR650F was tempting enough as a value sports middleweight four and had few rivals, but it was also a little bland and left us cold. This one, with sharper looks, a more engaging and entertaining riding experience and improved performance, yet all for the same bargain price, is far more tempting. It's great fun, a good move as a first big bike, and so versatile it reminds of the old '90s CBR600F. There are no other four-cylinders that comes close at this price. A true 'bike for all reasons' and, at this price, a steal.
Expert rating: 4/5