Expert Review
Honda CB650R (2019 - ) review
Restyled, updated and renamed CB650F is lighter, sharper and classier than ever and remains, uniquely, the only affordable four-cylinder roadster in the middleweight class.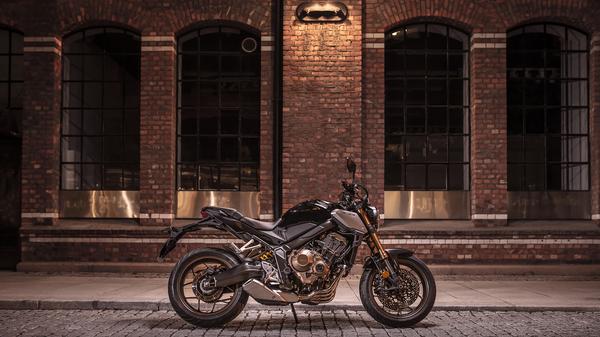 The Auto Trader expert verdict:
Available new from £7,202
Modern day 'Hornet' is now on its third incarnation since its introduction in 2014 and gets sharper, CB1000R-style 'Neo Café' looks and slightly updated performance and equipment. Still affordable and easy it's a decent introduction to four-cylinder bikes.
Reasons to buy:
Affordable four-cylinder performance
Novice-friendly roadster manners
Uprated style, performance and equipment
Design
There wasn't much wrong with the old CB650F (updated and restyled in 2017) or the slightly softer original (launched 2014) but Honda have improved it anyway. This affordable, entry-level four-cylinder roadster is based on old CB600F Hornet mechanicals and retains much of that bike's spirit and character. Though a four, it's easy to ride, versatile and now benefits from sharper, what Honda calls 'Neo Café' styling, plus uprated instruments and suspension.
Riding position
Honda are usually brilliant at getting rider ergonomics right, and the new CB further proves the point. Being a four, the CB's broader, longer and heavier than its mostly twin-cylinder rivals like Yamaha's MT-07 – but that suits larger riders. It's also very neutral and natural, easy to ride with intuitive controls. For a roadster-style bike the CB's riding position is impossible to fault. Besides, if you want something a little sportier or with more weather protection, Honda have the faired CBR650R version, too.
Practicality
The practicality of a roadster such as the CB is always compromised by their exposed riding position, which makes long-distance cruising a chore – hence the loss of one mark. But otherwise Honda's newcomer is pretty versatile. It's easy to ride, well-proportioned, comfortable, happy both around town and at 80mph on M-ways plus is fun on a Sunday scratch and reasonable at carrying a pillion. Its faired CBR brother, however, is even better still.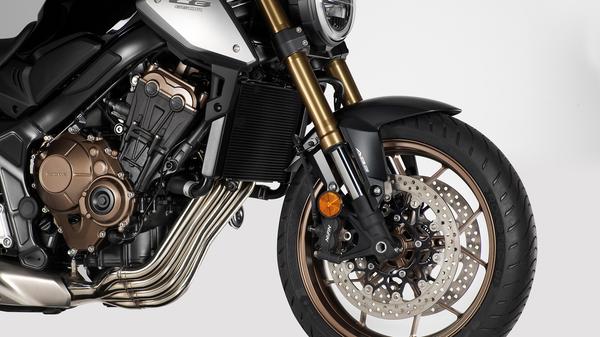 Performance & braking
Again, for a budget middleweight, the CB is better than most. The reworked 649cc four now produces a decent 92bhp (although you need to rev it all the way up to 12,000rpm to get it) and is silky smooth but although adequately flexible lacks the instant, low-down grunt of Yamaha's twin-cylinder MT-07. It's brakes – new twin four-piston radial calipers biting onto 310mm discs up front – are better than most as well, although, with extra weight than the twin-cylinder competition, it needs them to remain on par. Overall, though, it's an exciting introduction to four-cylinder performance.
Ride & handling
Being longer, heavier and with lazier steering geometry than its ultra-nimble, whippet-like MT-07 rival means the Honda hasn't the instant agility of the Yamaha but the CB remains a neutral, decent handling machine and one that now also benefits from a smooth, sophisticated ride. That, in turn, is due to new, reasonable quality Showa 'SFF' inverted front forks and an uprated shock. It's no toy-like twin, admittedly, but there's a real sense of four-cylinder sports ability here that can be enjoyed by novices and experienced riders alike.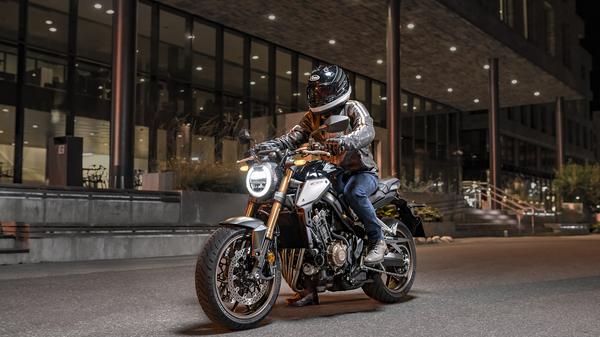 Running costs
A heavier, more powerful four-cylinder machine is never going to be as cheap to run as a comparable twin, such as Yamaha's best-selling MT-07 and the same is true of the CB: it's fuel consumption is around 10mpg higher and we'd expect its consumption of consumables such as tyres, brake pads, chain etc to be higher, too. But with all that said, the CB's still an affordable introduction to four-cylinder motorcycling and, with a mpg figure around 50 and a middling 92bhp, running costs won't be prohibitively expensive.
Reliability
Honda have a deserved reputation for reliability that's better than most and, although assembled in Thailand (along with Honda's CB500 twin family) to cut costs and its spec is slightly budget to help keep it affordable, with mechanicals that date back to the 2007 Hornet and generally pleasing build quality we've no reason to have qualms about the CB650R. Further reassurance comes from the fact that there have been no scare stories about either of the previous CB650F models dating back to 2014 either.
Warranty & servicing
As before, although there have been a significant number of technical changes to the new CB650R over the old CB650F, this doesn't affect the service schedule or warranty. The latter remains as the standard Honda two-years, unlimited mileage, manufacturer backed parts and labour scheme while minor services are required every 8000 miles and major valve checks every 16,000.
Equipment
Although the spec and equipment of the CB have been improved again with this latest CB, most notably with the suspension, LED indicators and headlamp and new 'reversed LCD' digital display, this is still a fairly basic, budget bike with no electronics and little by way of adjustability. What's more, although an improvement, the new dash is annoyingly dim in bright sunlight and difficult to read.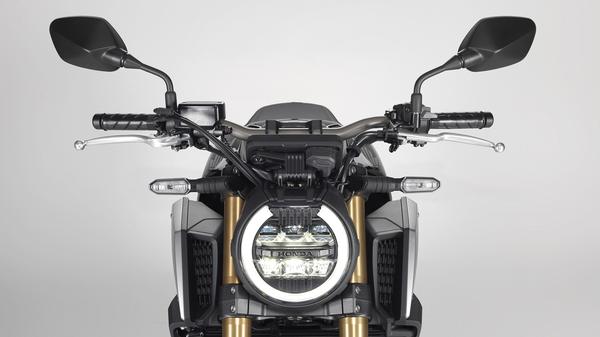 Why buy?
As with both previous versions, Honda's CB brings a decently stylish, affordable and entertaining four-cylinder option to the novice-friendly middleweight roadster class and, in so being, is one that suits larger riders or those seeking an introduction to four-cylinder thrills. This latest version improves on that theme in being slightly more powerful, lighter, better equipped and with new styling – but this is more evolution than revolution.