Expert Review
Honda CB500F Naked (2021-) review
Naked version of Honda's brilliant, A2-compliant twin is updated again with revised styling, new brakes and suspension and more.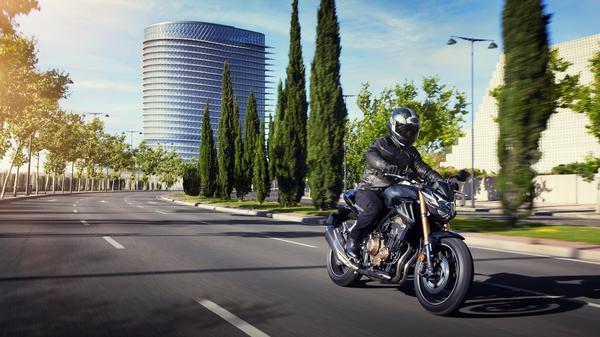 The Auto Trader expert verdict:
Available new from £5,602
There wasn't much wrong with this brilliant, affordable, A2 500 but Honda have updated it anyway. Pleasing twin cylinder motor is unchanged but the styling is sharper, suspension and brakes better and all-round experience one of the best in class.
Reasons to buy:
Refined, class-leading twin cylinder performance
New, inverted Showa front suspension and radial-mount brakes
Sharpened style and specification
Design
The naked, roadster variant of Honda's CB500 family (there's also the CMX500 custom, CBR500R sportster and CB500X adventure bike, all base around the same powertrain) has always had two strong factors working in its favour – its purpose-designed as an A2 bike, so is almost uniquely a 500cc twin with a full 47bhp (compared to smaller, less powerful, often single cylinder rivals) and has also been consistently updated and refined. First launched in 2013, it was updated in 2016, 2019 and, now again, each time gaining the extra style, refinement and features to help keep it on top. This update is no different. New 'Big Piston' Showa inverted forks and radial-mount Nissin brakes remove criticisms of slightly basic cycle parts and improve the ride; updated styling and graphics help keep it sharp and trendy looking (although it can't quite match the 'uber'-street looks of, say, Husqvarna's new Svartpilen 401) and quality is improved, too. It might be a little predictable, safe and sensible, but the CB500 certainly delivers and that reassuring performance, quality and track record is impo9rtant when looking for a 'first big bike'.
Riding position
Honda are traditionally brilliant when it comes to getting rider ergonomics right and the further refined CB500F is a typical example. Being a 500 twin compared to some smaller, single cylinder rivals (such as KTM's Duke 390 or BMW's G310R) means the CB500F is slightly larger and more substantial but unless you're particularly short that's no bad thing. It's still impressively slim and light, getting on board is completely natural and bars, footpegs and controls are all beautifully placed – important if you're a novice rider. Nor does it ever feel heavy or awkward. Being the naked roadster of Honda's CB500 foursome also means the F is also the cheapest and most novice-friendly of the bunch, that riding position, with wider, higher bars, is great around town, yet it's also sporty enough to be fun and engaging down twisty B-roads. The downside, however, is zero weather protection and it lacks the versatility of its faired siblings over distance.
Practicality
As before, and as the concept of the naked, roadster CB500F is unchanged, it depends what you want from your A2-compliant bike. A full-sized but very novice-friendly machine there are few better: it's easy and unintimidating to ride with smooth, refined, almost soft performance; it's very comfortable, manageable and works exceptionally as a novice-friendly 'big bike'; it's great around town, decent fun and also has more performance than most of its single-cylinder rivals. That all said, ultimately it's also still a naked roadster, so if you anticipate doing larger, motorway journeys you'd be better off going for either the more sporty looking, fully-faired CBR500R or half-faired, roomier, taller CB500X 'adventure' version. As an A2 roadster, though, there's nothing more practical.
Performance & braking
Another of the ace cards held by Honda's A2 500 twin family – simply by virtue of its purpose-designed, twin cylinder, 471cc, 47bhp (the maximum allowed) engine. With nearly all rivals either being singles, having less cc and bhp or all three, the CB500F reigns over all its closest rivals when it comes to performance. That said, however, some lighter, punchier singles such as KTM's Duke 390 or Husqvarna's identically-powered Svartpilen 401, though less powerful, are punchier and more exciting at low speeds – even if they can't match the Honda's top speed. Being a typical Honda, the CB500F's delivery is quite soft and unexciting, too, although, as it's a novice-targetted bike that's not really a criticism. This latest version has also taken a step up, braking-wise. Older versions had fairly basic, low cost brakes but not any more, with a new, twin, flashy, radial-mount Nissin calipers that work powerfully with bags of feel.
Ride & handling
This is another area where the latest version of the CB500F has taken a significant step up. One of the biggest criticisms of earlier models (not that there were many) was its slightly budget and basic suspension, with non-adjustable, conventional 'right-way-up' telescopic front forks. Now, though, along with the new twin front discs, there's new, 41mm Showa 'Big Piston' inverted forks plus a lighter rear swing arm with revised single shock settings. The result is just as plush and compliant as before but also with a slightly sharper, more sophisticated sporting feel. It might not be quite as nimble as ultra-lightweights such as the KTM Duke but it's not far behind and offers a great blend of novice-friendliness and classy motorcycling fun.
Running costs
Being a slightly more premium-priced offering than many plus having a slightly heavier, potentially thirstier twin cylinder engine means the CB500F isn't quite as affordable and frugal as some – but there's not much in it. The softly-tuned engine is good for up to 80mpg if ridden gently and compared to most motorcycles, the CB's light weight and gentle performance means it has no great hunger for consumables such as tyres, brake pads, chains and so on. On top of that, although pricier than some, it's a popular bike and also a Honda, so residual values are better than most, too. Overall, you'll have little reason for concern.
Reliability
When originally launched way back in 2013, the new CB500 family raised some eyebrows for being the first mainstream Hondas completely designed and manufactured outside of Japan in a new production facility in Malaysia – one of the reasons for its initially fairly short servicing intervals. Nearly a decade on, with an impeccable reliability record and countless refinements and updates since, those concerns have almost completely gone. We hold back one mark as this version is significantly new but overall we've no major reason for any doubt.
Warranty & servicing
As with nearly all Hondas and indeed most of its mainstream rivals, the CB500F comes with a standard two-year, manufacturer-backed warranty covering all parts and labour. Servicing has been relaxed a little since the original bikes. After the first 600-mile service, minor services are due every 4000 miles, oil and filter changes at 8000, 16,000 and so on and major valve inspections/adjustments at 16,000 miles.
Equipment
Although ultimately a budget machined aimed at novices, this is another area where the CB500F (and its A2 Honda siblings) have been successively improved ever since its original launch back in 2013. So, although there's no sophisticated electronics and its dash is a more basic 'reversed' LCD digital display rather than the fancier, full colour TFT screen offered by, say, the KTM Duke, there are now LED lights all round, decent mirrors, a span-adjustable lever and, of course, those aforementioned improved suspension and brake components. It's not luxurious, but there is an air of quality about the CB500F its predecessors can't match.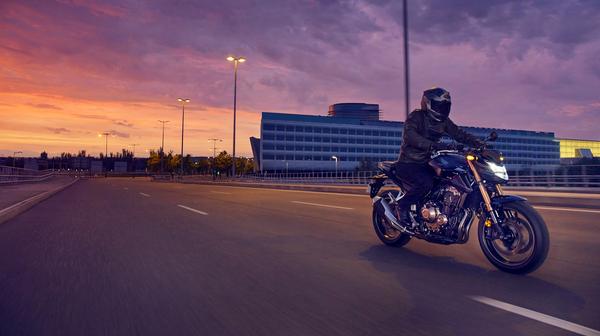 Why buy?
If you're after an A2-class roadster the CB500F stands out more than ever. A full 500cc, 47bhp twin in a sea mostly populated by less powerful singles, it's also larger and more substantial (which will definitely appeal to taller riders), is about as novice-friendly as they come, is a Honda (with all the extensive dealer network and proven reliability and residuals that comes with that) and is decently versatile, too. In short, the CB500F might not be the sexiest or sportiest A2 naked but it has an awful lot going for it. And, if you want a bit more weather protection or versatility, Honda has that covered, too, with its CBR500R and CB500X variants.