Expert Review
Honda CB500 Naked (2013 - 2016) review
The Honda CB500F is the naked, roadster version of Honda's A2-licence and novice-friendly 500 twin triumvi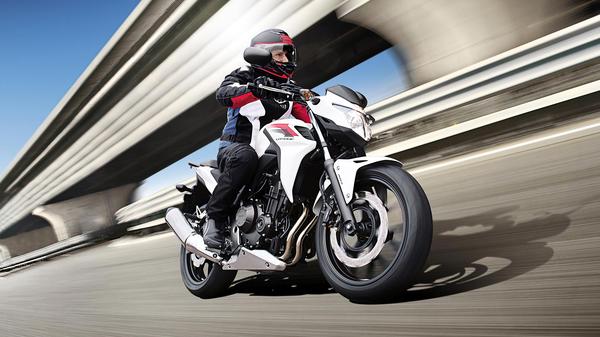 The Auto Trader expert verdict:
Cheapest, most basic, 'roadster' version of new CB/CBR500 family of novice-friendly, A2-licence compliant twins is arguably the best of the bunch in being simple, affordable, versatile and yet with enough pep to be fun. Malaysian assembly keeps prices down yet spec and build quality is typical Honda. A great choice as a 'first big bike'. The only downside is surprisingly frequent recommended service intervals.
Reasons to buy:
Flexible twin is a doddle to use and fun to thrash
Light weight and great ergonomics are novice-friendly
Price is competitive with most rivals, unusual for a Honda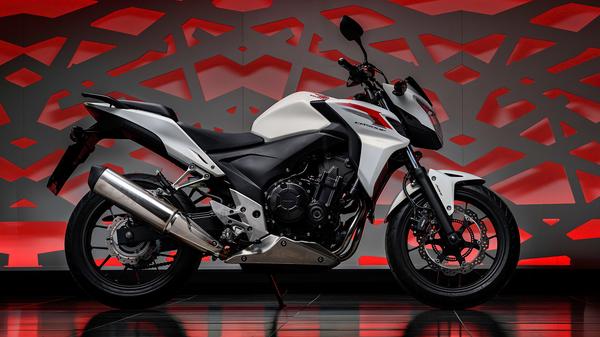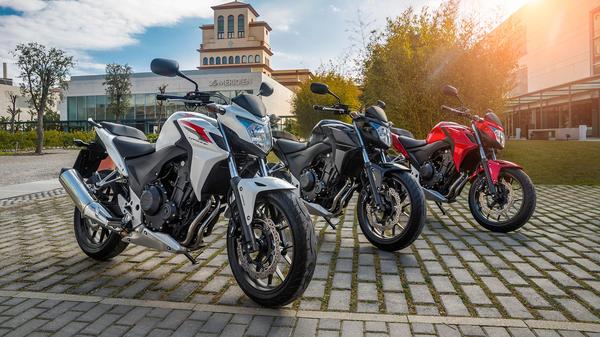 Design
"

This commuter/all-rounder has enough of a semi-aggressive, pseudo-super naked look

"
Designed collectively with the faired CBR500R sportster and CB500X adventure-styled variant, the CB500F was a wholly new machine conceived around a common, all-new, liquid-cooled, 499cc, 47bhp (to be A2 compliant) motor, tubular steel diamond frame and similar cycle parts which may be a little basic but help it stay cheap. In this roadster form it has a headlamp cowl, side pods, flat and one-piece tubular bars which combine to give this commuter/all-rounder enough of a semi-aggressive, pseudo-super naked look.
Riding position
Flat bars (which are 49mm higher than the clip-ons-equipped CBR500R) help give an upright gait which feels perfectly natural and roomy (even for me at 6'3") thanks to carefully honed ergonomics. Being relatively light and slim makes it extremely novice-friendly while it's also both great around town thanks to its upright gait and wider, lighter steering bars and perfectly at home on scratchy A and B roads both of which more than compensate for its reduced weather protection which only really comes into play at a sustained 80mph+.
Practicality
Depends what you're looking for. Around town or on local jaunts, being light, upright and easy to ride there's few better than the CB500F. If sustained high speed cruising is required you'd be better off looking at its faired siblings, the CBR500R sportster or CB500X adventure machine. While if you need two-up pulling power and comfort a larger, more powerful alternative is probably a better bet. Of its type, though, the CB500F does its job brilliantly.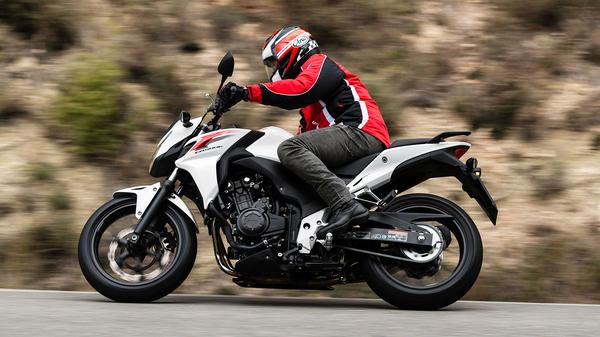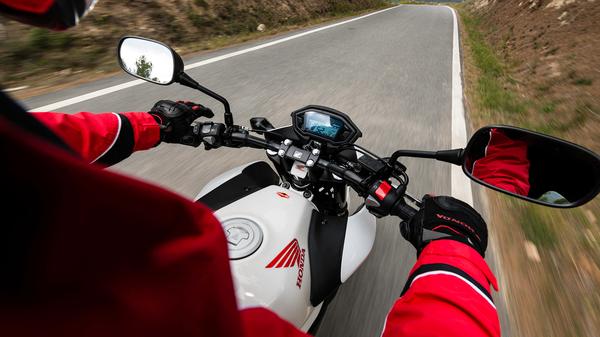 Performance & braking
"

The motor's eminently thrashable and the basic suspension and brakes are more than adequate

"
Being 'restricted' (due to the A2 licence regulation) to 47bhp; equipped with fairly budget cycle parts (to make it novice-friendly) and also being a roadster (compared to its sportier CBR500R brother) means the CB was never going to set your pants on fire. That said, within those limitations, it's fun, easily capable of 110mph+, easy to ride, the motor's eminently thrashable and the basic suspension and brakes are more than adequate.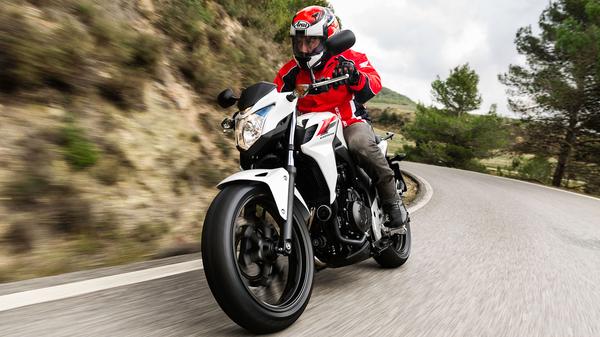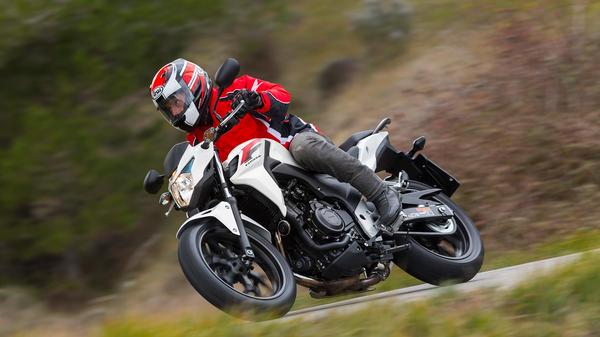 Ride & handling
"

The CB500F is set up well, rides pleasantly and has entertaining handling

"
The conventional telescopic forks may be a tad basic and unadjustable, the single rear shock only adjustable for preload and the single front disc hardly cutting edge but the CB500F is set up well, rides pleasantly and, within the limits of its performance gives a pleasant enough ride and entertaining handling thanks to its light weight and decent balance and geometry. If you don't set your expectations too high, you'll be impressed.
Running costs
The CB500F has been built to be affordable and economical and on the whole Honda has delivered. The understressed parallel twin engine should routinely return around 80mpg with more to come if you ride particularly gently and being a lightweight commuter means consumables such as tyres, brake pads and chain last better than most rivals as well. Middleweights don't get much cheaper to run than the CB500F.
Reliability
Although a 'clean sheet', all-new design and also the first Honda motorcycle completely designed outside of Japan (in Malaysia), there have been few concerns to date over the CB/CBR500 family – although it's also still fairly early days so the jury's still out. Just one manufacturer recall so far (which is better than most): for a loose 'rocker arm shaft sealing bolt' – check yours has been dealt with correctly.
Warranty & servicing
Like other Hondas the CB comes with a two-year, unlimited mileage warranty. One of the most contentious issues with the new CB/CBR family was Honda's requirement for a valve check at the bike's first 600-mile service (most motorcycles normally have just an oil and filter change) which, although subsidized by Honda, usually leads to a £250 bill. However, the next (8000-mile) service does without the valve check with the one after that at 16,000 miles, so Honda argue the cost evens itself out.
Equipment
Although designed as a budget, basic, affordable machine, the CB is also a Honda so, in some respects, is better than most rivals. Cycle parts are simple, but the digital LCD instrument display is decent (and interestingly is tinted blue compared to the CBR's red and X's yellow), finish is good and a reasonable variety of accessories including a seat hump and fly screen are available as well.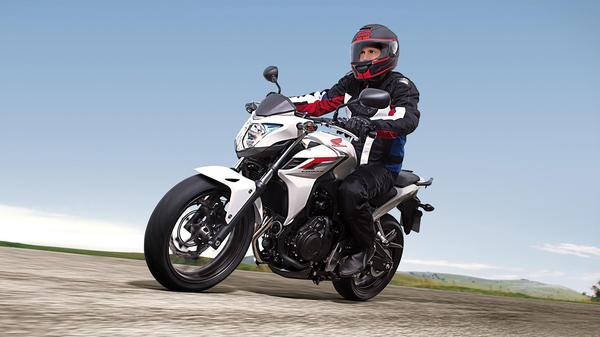 Why buy?
"

It's affordable, with reasonable running costs and, most importantly, it's a Honda

"
As a 'first big bike' the CB500F's got a lot going for it: it's easy and unthreatening to ride yet still versatile and entertaining; it's affordable, with reasonable running costs and it's a Honda. In fact the biggest competition to the roadster 'F' comes from its even more tempting brothers: the popular, sportster-styled CBR500R and roomier and longer-legged, adventure-style CB500X.