Expert Review
Honda CB1000R naked/roadster (2021-) review
Updated for 2021, the CB1000R is a typically Honda take on the 'super naked' – smooth, classy, comfortable… and not really a 'hooligan bike' at all…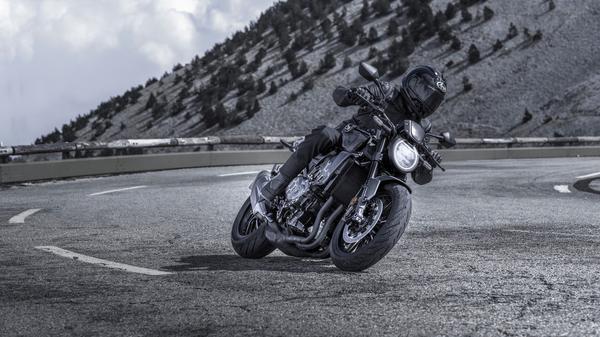 The Auto Trader expert verdict:
Honda's 'super naked' roadster is based on the old Fireblade, restyled, detuned, smoothed out and now with a posh dash, Euro5 compliance and improved detailing – it's a gentleman among hooligan bikes.
Reasons to buy:
Decent all-round performance
Smooth, user-friendly refinement
New-for-2021 TFT dash and special 'Black Edition' version
Design
Super naked styling can sometimes be a bit hit or miss – Yamaha's R1-derived but odd-looking MT-10 proves that. But Honda's CB1000R is undoubtedly handsome, distinctive and classy (if possibly slightly subtle for some tastes). Originally launched in 2008 based on a detuned, 130bhp version of the then Fireblade, though good looking it wasn't a huge success. In 2018, however, it was boosted to 148bhp and sharpened up all-round with what Honda call 'Neo Café' styling. For 2021 that style's been enhanced further with new 10-spoke wheels, a slick, TFT dash, plus Euro5 revisions, while this smoldering, beautifully detailed 'Black Edition' has been added to the family. The result is stylish, classy, beautifully detailed and refined with the Black Edition mouth-wateringly better still – although, at nearly £13K, it's debatable as to whether it's worth the extra.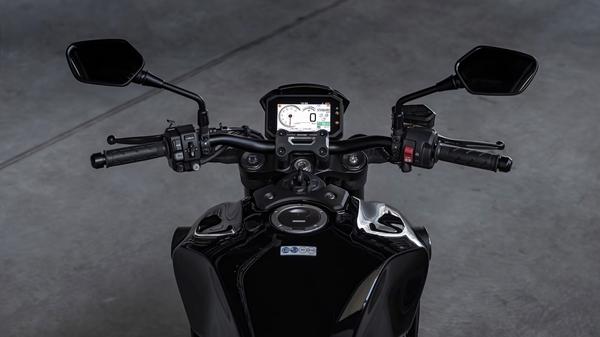 Riding position
Honda are usually among the best of the big bike brands when it comes to getting the ergonomics of its machines right and this is certainly true of the CB1000R, partly due to its continual refinement since its original introduction in 2008. The seat is reassuringly slim, as is the rear of the tank, plus low enough not to be a hindrance. the reach to the flattish bars is natural and footpeg placement is neither too cramped nor too low to risk grounding out with spirited riding. All in all, compared to most rivals the CB1000R's easy to get on with, reasonably comfortable over distance and is a pleasing, classic roadster to ride, say, around town. With no weather or wind protection, long distances at speed are, of course, another matter, but if that was a major concern you wouldn't be considering this sort of bike in the first place…
Practicality
Super nakeds such as the CB1000R aren't by their very nature, being essentially unfaired sports bikes, the most practical of machines, but the big Honda does it better than most. It's comfortable, easy to get on with and, though quick, its performance is sufficiently mild-mannered to make it decent around town and unintimidating for relative novices. It also takes a pillion reasonably, has enough performance to satisfy many and is durable and trustworthy. Of course, long distances or full-on, two-up touring are probably out of the question and, especially when it comes to the jewel-like Black Edition, you'd be unlikely to want to use it year-round in all weathers, but the CB1000R's still a better all-rounder than most bikes of this type.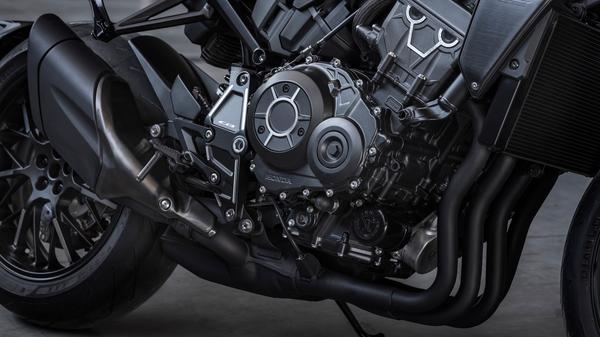 Performance & braking
Any machine with Fireblade power shouldn't be considered lacking in performance, but with 'just' 143.5bhp from its reworked for Euro5 lump the CB1000R can't match the more punchy performance of Japanese rivals such as Yamaha's 160bhp MT-10 and Suzuki's refreshed 150bhp GSX-S1000. That said it doesn't suffer by much. Prod the Honda into the sharpest of its riding modes and it's exciting enough for most yet with a slick, classy, refined sheen mostly foreign in the category. Braking-wise, with twin big meaty Tokico radial 4-piston calipers up front biting onto dinner plate-sized discs, the Honda pretty much hauls up as sharply as any rival – at least those from Japan. Truly exotic European super nakeds such as Ducati's Streetfighter V4 and Aprilia's Tuono V4 Factory, however, with their light weight and WSB-spec brakes, remain in a different league.
Ride & handling
The simple facts that it's from Honda, the marque renown for their more refined and comfortable machines and that it has been refined over more than 10 years, should tell you everything you need to know about the rider and handling of the CB1000R. It's sporty, yes, but distinctly more plush and cossetting than harder-edged rivals. Cycle parts are decent quality and the steering is sharp enough isolation, but when speeds rise the rear shock in particular begins to wallow slightly and the CB's fairly hefty weight begins to make itself shown. Don't get me wrong: in isolation, the CB, especially in Dynamic engine mode, can be a sporty, fun super naked with more refinement and easy comfort than most. But nor is it as sharp, engaging and as securely suspended as most of its Japanese rivals, never mind the higher spec competition from Europe.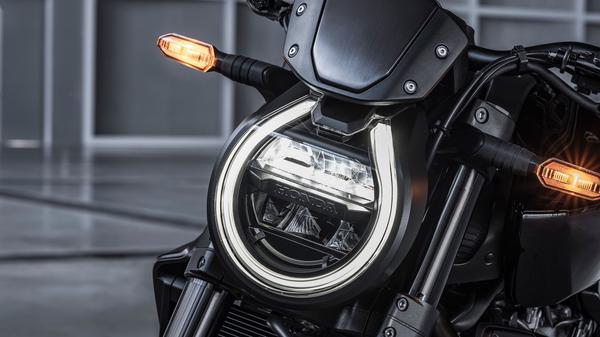 Running costs
Like most super nakeds, the CB1000R is derived from a superbike so running costs are never going to be cheap. That said, the big Honda is based on a detuned version of an older engine and produces less power than most rivals so it should be slightly better than most of the competition – although not by much. Expect a fairly high hunger not just for fuel and tyres, but also other consumables such as chains, sprockets and brake pads. Insurance premiums will be at near-superbike levels, too, while as the CB1000R has never been a huge seller, residual values won't be as good as more popular rivals, too.
Reliability
Honda's reliability record is better than most and its CB1000R, being mechanically a detuned version of an already proven performer plus also a machine with over a decade's development and refinement behind it, should be better than most so we have no overall concerns. That said, the updates for 2021, primarily including the sophisticated new colour TFT dash, leave a slight concern until proven otherwise – albeit small – hence our deduction of one mark.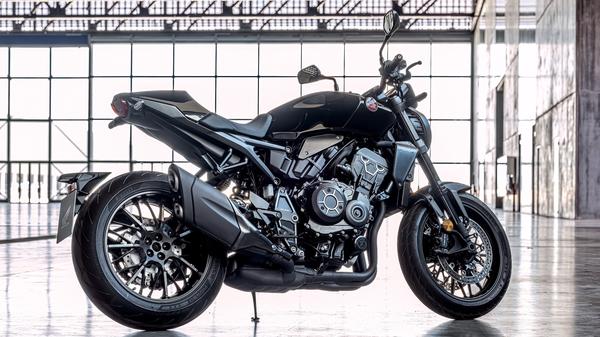 Warranty & servicing
The Honda CB1000R is fairly typical when it comes to warranties and servicing. Honda offer a fairly standard, manufacturer backed, two year, unlimited mileage warranty for all parts and labour, although this can be extended to three years, while services are due annually or every 8000 miles with major valve adjustments due every 16,000.
Equipment
The new colour five-inch TFT is a stand out, quality addition and is well designed and easy to use. There's three switchable riding modes, plus adjustable traction control and engine braking, there's a quickshifter/auto-blipper as standard, which now seems to be the norm in this class and the new, 10-spoke alloy wheels for 2021 are another classy touch. If you want more, however, you need to go for the Black Edition, complete with black everywhere and lots of neat milled aluminium touches including a special placque on the top yoke – and that costs over a grand extra.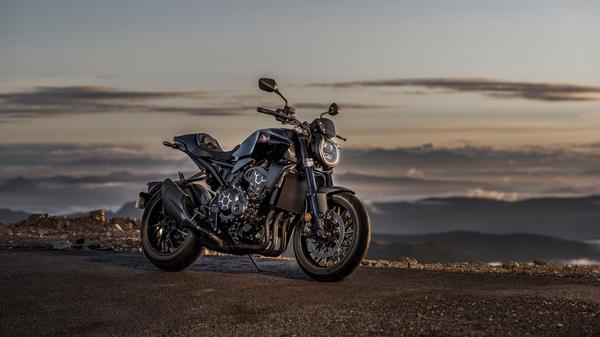 Why buy?
The CB1000R is a classy, refined, quality, pleasing, easy to ride machine in a class brim-full of noisy, riotous hooligan machines. With 143bhp and decent handling, the Honda's still fast, of course, plus it has an easy class and refinement few can match, but it's not the angry, fire-spitting hooligan machines like this often are. Maybe all that's for the good. If you want a cultured, classy machine that does most things well you won't be disappointed. But as a lairy, thrilling, explosive, anti-social super naked, the CB1000R struggles to pull it off. It's a Dr Jeckyll that begrudgingly and only very occasionally, turns into Mr Hyde…