Review Harley-Davidson Softail FXDR 114 (2018 - ) review
Harley's all-new Softail family of cruisers has been big news and the radically-styled, hot rod FXDR is the boldest, brashest yet. But though striking it's uncomfortable, no more potent and pricey, too.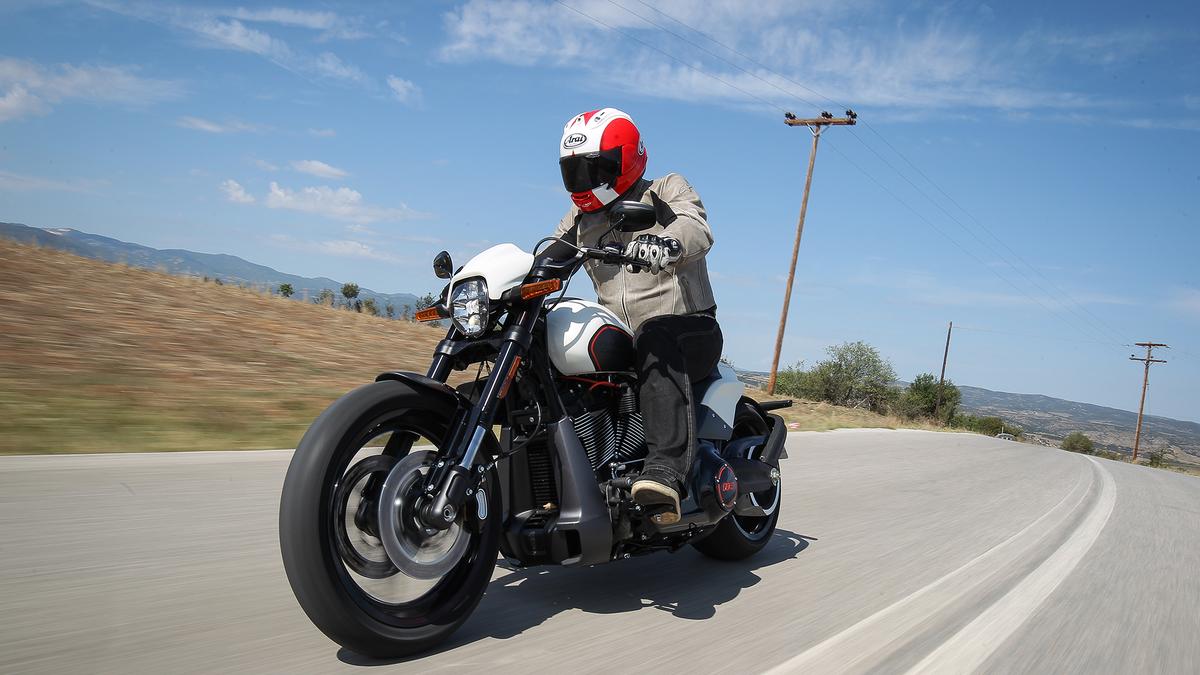 View gallery
The Auto Trader expert verdict: ★★★★★

★★★★★
3.3
The new monoshocked Softails with new engines, styling and detailing, has mostly been big hits but the FXDR disappoints slightly. It's great looking, yes, but the £5K cheaper Fat Bob is a far better ride.
Reasons to buy
Dramatic 'hot rod' styling

Decent cycle parts including inverted forks and powerful brakes

With 95bhp Harley's most potent 'Big Twin' yet
Design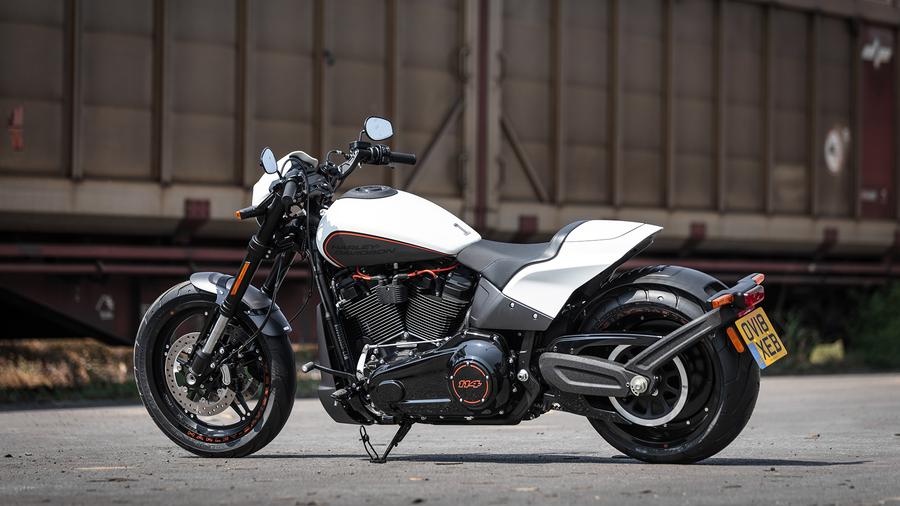 The FXDR is all about image – and there's no doubt Harley has got it right. Intended to be the most potent, performance-orientated of all Harley's new Softail cruisers and all to appeal to a younger audience and so begin to bridge the gap to Harley's forthcoming, all-new range of adventure bikes and super nakeds, the FXDR is lean, mean and aggressive. There's a single seat, new, aggressive exhaust, small headlamp cowling and lots of tactile satin finishes and sharp angles. In terms of 'look', if you're after this sort of bike, you won't be disappointed.
Riding position
Sadly, from the moment you first climb on board, those first impressions of the FXDR, start to go south. The solo seat is low, firm and limits movement, the reach forward to the straight-ish drag bars further and more extreme than you expect and that combined with semi-forward 'highway' footpegs puts the rider in a more than awkward curl with most of your weight placed on your backside. All of that makes manouvering the long FXDR difficult while any kind of road imperfections jars your spine. Pillions, meanwhile, are only possible if you buy and added cost kit.
Practicality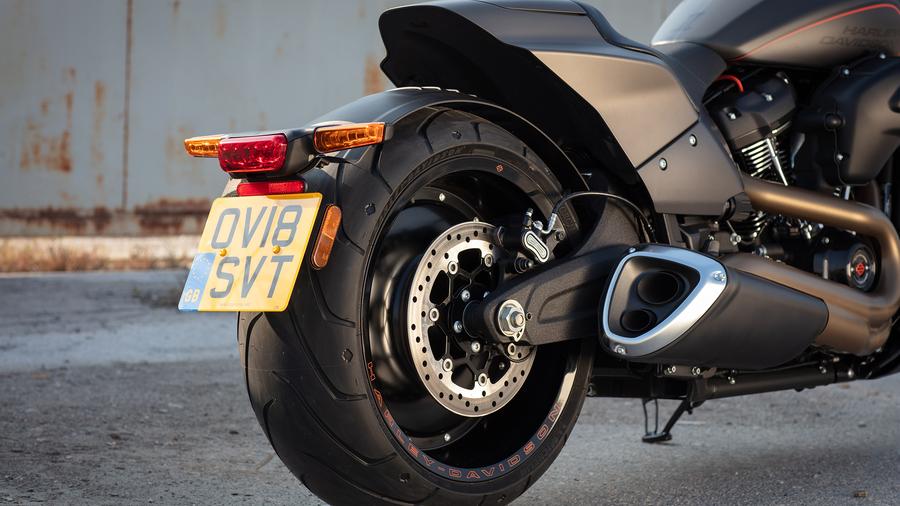 Harley would argue that the FXDR was designed from the outset for pose not practicality so perhaps this is a little unfair. Besides, H-D provides other Softails, such as the Sport Glide or Heritage Classic (both of which we'd recommend), if practicality is a priority. As it stands, however, the FXDR can't take a pillion or luggage, is awkward around town, uncomfortable over distance, has no weather protection to speak of and its equipment is fairly Spartan, too. All of which sounds fairly damning, but then, if you want practicality, you're looking in the wrong place…
Performance & braking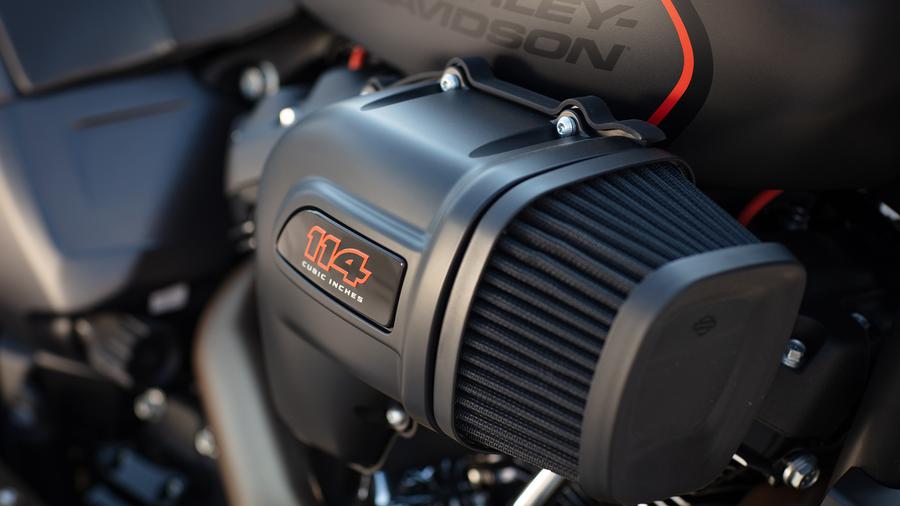 The new exhaust and intake (that massive airbox on the right-hand side which gets in the way of your knee) helps makes the FXDR version of Harley's latest 'Milwaukee Eight', 114ci (1868cc) the most potent yet, while its twin four-piston brakes are among Harley's best, too. Trouble is, although 5bhp up and a fruity and decent performer, that still adds up to 'only' 95bhp which is simply embarrassed by the likes of rival 'hot rods' such as Ducati's 160bhp Diavel or Yamaha's now defunct 197bhp V-MAX and doesn't really live up to Harley's performance hype – especially when you take it's whopping price tag into consideration.
Ride & handling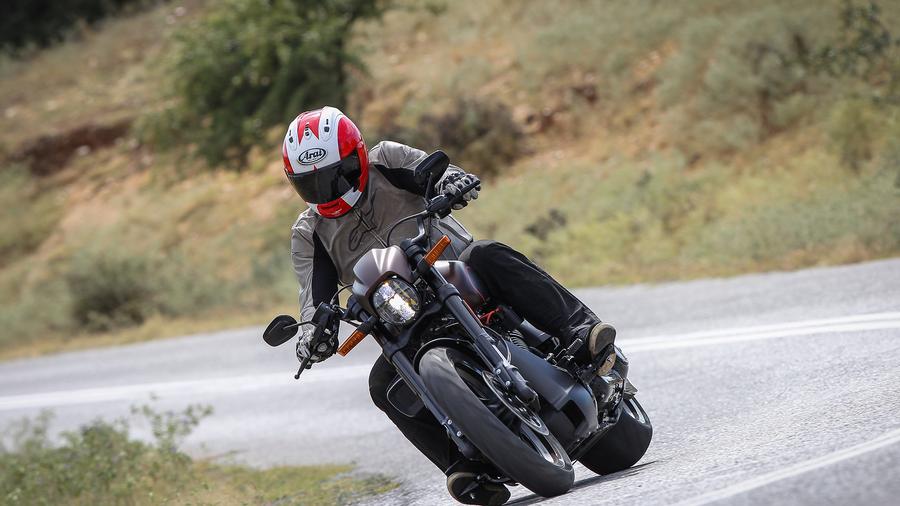 Although intended more as a straight line blaster than an A-road carver, as manifested by its fat, drag bike style 240-section rear tyre and kicked-out forks, Harley also say the FXDR is some kind of performance machine – why else would it have semi-decent inverted forks? The reality, though, is that, while it can be hustled up to a point, and is something that requires real physical effort, it's so long and wide it's reluctant to turn and the riding position and limited suspension travel means the ride can be harsh as well. Yes, it's better than the even more drag bike styled Breakout, but, by comparison, Harley's own Fat Bob will run rings around it.
Running costs
You wouldn't expect running a premium priced, big bore, so-called 'performance' Harley to come cheap, but it's actually better than you might think. The menial 95bhp performance means the FXDR's actually far better on fuel and consumables (tyres, brake pads etc) than rivals such as the Diavel and V-MAX, the fact that it uses Harley proven belt drive rather than a conventional chain saves money, too, while Harley residual values are famously among the best in the business. Yes, it's expensive, but after the initial outlay there should little, financially, to worry about…
Reliability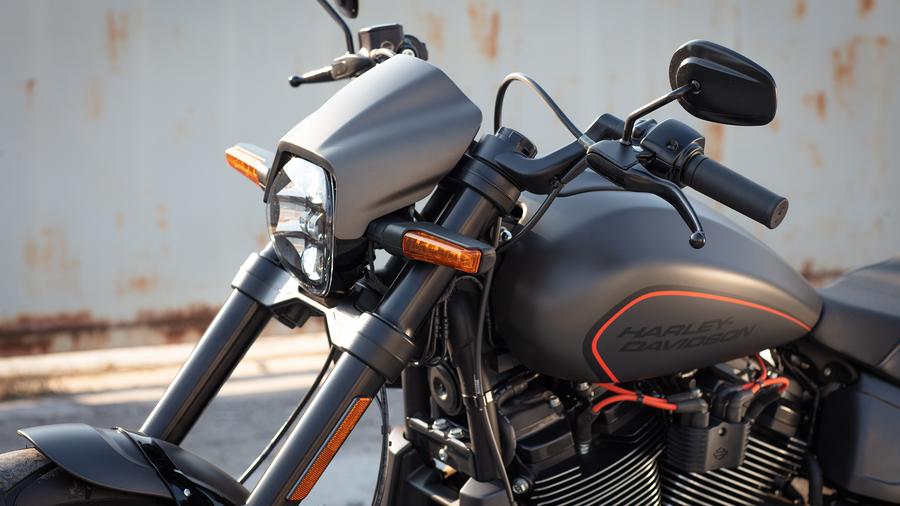 Although the 'Milwaukee Eight' engine has been tweaked slightly for the FXDR it's still fairly understressed in producing just 95bhp and the base version, which debuted two years ago in Harley's touring family of bikes, hasn't yet caused any concerns. Chassis-wise, again, the basic Softail frame is the same as in the rest of the Softail family as introduced a year ago; the remainder of the cycle parts are solid and good quality and there's little by way of complicated electronics or creature comforts to go wrong. Overall, we have no reason for concern.
Warranty & servicing
No news or surprises here. Harley, like most of the manor motorcycle manufacturers, offer a standard, two-year, unlimited mileage manufacturer-backed parts and labour warranty – although it should be said that increasing numbers are beginning to offer three-year ones. Servicing-wise, Harley's 'big twins' are due their first service at 1000miles and all others at 5000 miles and as they're fairly simple mechanically aren't particularly difficult (or expensive) to do.
Equipment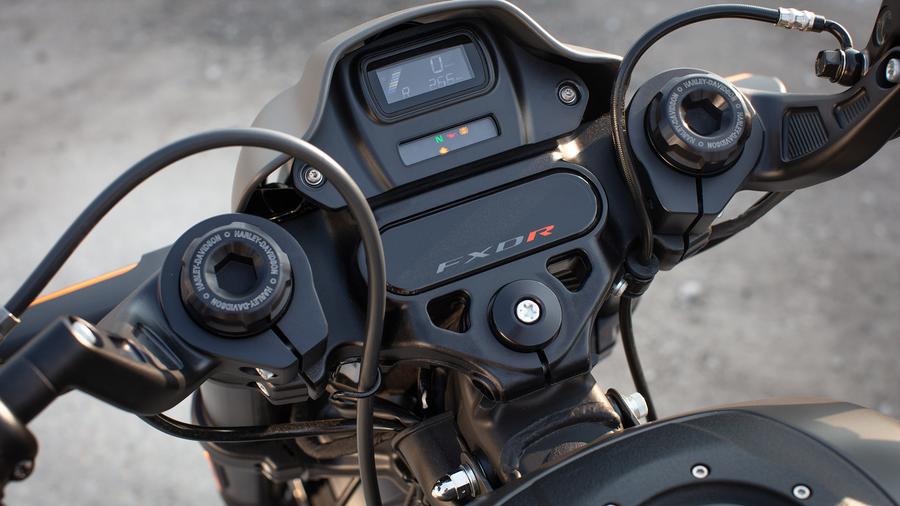 Yes, the FXDR is intended as a fairly raw, minimalist 'hot rod', so you'd expect it to be quite Spartan. And yes, it does have quality suspension and brakes. But you are still left wondering what you're getting for your £20K. Clocks are minimal, too, there's no electronics or creature comforts and obviously no lavish bodywork or luggage, but we'd expect perhaps a few more performance goodies for our money and the lack of any pillion provision is criminal.
Why buy?
There's no getting away from the fact that if you want the latest, most potent (just), most aggressive-looking and overall most youthful 'big twin' Harley bruiser, the FXDR is the one. But having ridden it we're also slightly disappointed by its extreme ergonomics, underwhelming performance, awkward handling and, considering the price, lack of equipment. Looks aside, dynamically, Harley's own Fat Bob, which is also intended as some kind of hot rod and is available with virtually an identical 114ci engine, is far, far better dynamically and more practical, too – and for a full four grand less. Considering that, you've got to like the FXDR's looks a helluva lot…