Expert Review
Harley-Davidson Nightster custom/cruiser (2022-)
its entry-level cruiser and reinvents the classic Sportster for the 21st century. Not cheap, though…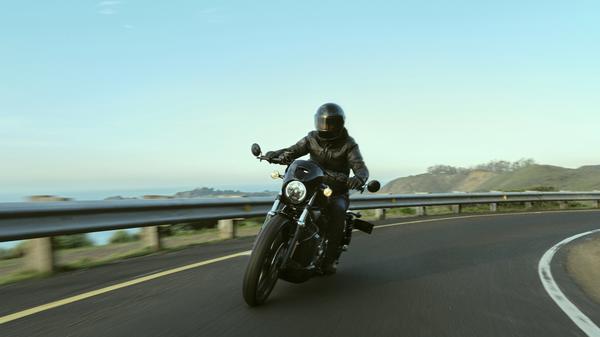 Words by: Phil West
Published on 6 October 2022 | 0 min read
The Auto Trader expert verdict:
There's a lot to like here: The modern, liquid-cooled engine has modes and more and the Nightster handles, looks good and retains the Harley vibe. But, at £12,995 or, here, £13,370, as an entry-level replacement for the old air-cooled Sportster (which all cost under £10K when deleted last year), it's a little pricey.
Reasons to buy:
Effective and likeable Sportster 883 replacement
89bhp and three modes a major step up from old 883's 52bhp motor
Enough 'Harley' features to convince devoted fans.
Design
With Harley finally forced, by Euro5 emissions/noise regulations, to ditch its old but much-loved, entry-level, air-cooled, Sportster 883/1200 family, there had been much scepticism about whether a modern, liquid-cooled 'Sporty' could deliver – but for the most part the historic US brand has pulled it off. The first, the, balloon-tyred, bigger-engined, 1250 Sportster S arrived last year, effectively as a reincarnated Sportster 1200. Now this smaller-engined Nightster 975 is the first of the new '883s'. The looks of the new liquid-cooled lump take some getting used to, not least as the V-twin is now set at 60 not 45 degrees, but there's still a Harley 'vibe' and the extra power, modes and more compensate. Elsewhere, however, it's mostly familiar, but slightly updated Harley Nightster with, like the old 883 version, moody, blacked-out, bare bones hot rod styling (although the grey and red colour alternatives to black take the price from £12,995 to £13,370), small headlamp cowling, single seat and skinny 19in front and fat 16in rear wheel combo.
Expert rating: 4/5
Riding position
As a bare bones, 'sporty' Sportster you shouldn't expect much by way of luxuries or creature comforts and the new Nightster bears that out. An impressively low 705mm seat height means virtually anyone can get on board and the overall gait to flat-ish, straight bars is upright, neutral, unintimidating and fine for blasting around town. However, that's about as good as it gets. As standard, in keeping with the basic theme, there's no pillion (along with pillion pegs it's an added cost extra), the headlamp cowling doesn't do much and the bar end mirrors get in the way of filtering but it's not bad.
Expert rating: 4/5
Practicality
Bikes like the Nightster are more about posing than practicality. Harley's new entry-level cruiser can't take a pillion, is uncomfortable over distance, there's no luggage capacity, no weather protection, not much by way of practical accessories such as heated grips and it's not the sort of bike you'd want to ride year-round and expose to the worst of winter, either. That said, it's comfortable enough over short hops, is perky and easy to ride and mostly a joy around town. Grab yourself a hipster-style satchel and it's a more than capable round town commuter – but that's about its limit.
Expert rating: 3/5
Performance & braking
The Nightster is the smallest, most entry-level variant of Harley-Davidson's all new Sportster replacements so, as the old air-cooled 883 and 1200 produced only around 52 and 65bhp respectively, perhaps great things shouldn't be expected. In reality, though, it's a significant step up. The new, liquid-cooled, DOHC, 8v 60-dgree V-twin boasts variable valve timing and produces a claimed 89bhp and 70.1ft-lbs, which, if not earth-shattering is more than respectable. By comparison, that's better than closest rival Indian's similar (but now deleted) 999cc Sixty version of its Indian 1200 which produced just 78bhp and is also better than Triumph's 900cc version of its Bonneville twin, the T100, which now puts out 64bhp, although both those bikes are also cheaper than the Nightster. There are also three riding modes. It all adds up to perky round town manners and acceleration and, if you can hang on, a top speed of around 120mph. Braking is a similar step up from the old 883 with a Brembo front caliper biting onto a single disc assisted by ABS. It's not brutally fierce, but is most times enough, especially when assisted by the rear.
Expert rating: 4/5
Ride & handling
Again, style overrides substance or sporting ability here, but the new Nightster, especially considering how most will be ridden, is more than adequate. The low seat and short-travel twin rear shocks handle most things although can jar and bottom out over potholes; while the 41mm conventional Showa front forks may be a little basic and lack adjustment but do feature the latest 'Dual Bending Valve' technology. (The more upmarket 1250 Sportster S, incidentally, has a fully adjustable monoshock with equally adjustable inverted front forks). With the weight carried low, the riding position upright and the bars wide, it's nimble enough, and easy to throw around but it's, although a 'Sportster', is no real sportster…
Expert rating: 4/5
Running costs
It's early days for the new Nightster and is, after all, a Harley, so no-one should expect it to be cheap to run. That said, it is the US firm's most basic, budget version of its new, modernised offerings, is not hugely powerful, should be more reasonable than most to insure and is unlikely to be ridden hard or over great distances, so it shouldn't be too expensive to run, either. Fuel consumption is around 50mpg, the Nightster is unlikely to get through consumables such as brake pads with any great hunger and, being a Harley, means it has belt not chain drive, too. It's also perhaps too early to be certain about residual values but Harley's record is far better than most and we've no reason to doubt the Nightster will continues the theme.
Expert rating: 4/5
Reliability
Again, we have to reserve judgement slightly simply as the Nightster 975 is an all-new bike with a new engine (and from a company with little history of modern technology such as liquid-cooling, variable valve timing and electronic modes). That all said, its 975 'Revolution' engine is essentially the same as the larger 1250 version which debuted in Harley's Pan America adventure bike in early 2021 with few reports of mechanical issues since and the Nightster is also comparatively simple, basic and, by its very nature, less likely to be ridden hard or over extensive distances, so we've little reason for any concern. As for that 'Made in Thailand' jibe – it's mostly superficial. Harley built a re-assembly plant in Thailand to get around EU tariffs. For the most part, bikes are built in the US, disassembled into 'kits' then reassembled in Thailand, and, for our experience, quality is no different from US built bikes…
Expert rating: 4/5
Warranty & servicing
The Nightster benefits from Harley-Davidson's usual, manufacturer-backed, two-year, unlimited mileage warranty which covers all parts and labour, which is typical of most manufacturers. Servicing-wise, the new engine requires servicing every 5000 miles, which isn't particularly extensive, but as stated earlier, this style of bike is unlikely to rack up high mileages and because of the variable valve timing it does benefit from being able to do without the usual (and expensive) valve adjustment service, so it's not all bad.
Expert rating: 4/5
Equipment
The 'entry-level', hot rod, pared-back style of the Nightster means equipment levels are deliberately fairly basic. Although there's three riding modes (Rain, Road and Sport), ABS and TCS that is pretty much your lot. A pillion seat is a £180 extra (and the pillion pegs to go with it even more), the tank takes just 11.7litres (and is hidden under the seat, the conventional item is a dummy) and there's just one instrument dial. Even the new switchgear (which thankfully now has a conventional indicator toggle instead of Harley's old separate switch system as still retained on its 'Big Twins') is a little crude and awkward. That said, the single clock contains an LCD digital panel which can be set up to show everything you need, and quality is pretty good. Overall, though, for £13K+ we'd have hoped for slightly better suspension and a few extras!
Expert rating: 4/5
Why buy?
The old 883 and 1200 Sportsters were much loved and, being accessible in both size and price, were effective introductions to Harley's V-twins. Sadly, their air-cooled, push-rod engines were not just obsolete environmentally but in terms of performance, too, so had to go. The new Revolution 975 (and 1250) units may not completely convince the purists but they're effective, efficient, still have a Harley vibe while, in this Nightster form, also has much of the old style and pleasure with extra performance and tech. Instead, our main niggle is that it's so much more expensive than the old Nightster and yet also lacks the extra equipment and quality cycle parts that might have made up for it.
Expert rating: 4/5