Expert Review
Harley-Davidson Low Rider S cruiser (2019-) review
Harley's sports-cruiser, the Low Rider S, returns for 2020 with new Softail chassis, latest 'Milwaukee Twin' engine and improved cycle parts. Harley's don't come much sportier, but it's no Diavel-beater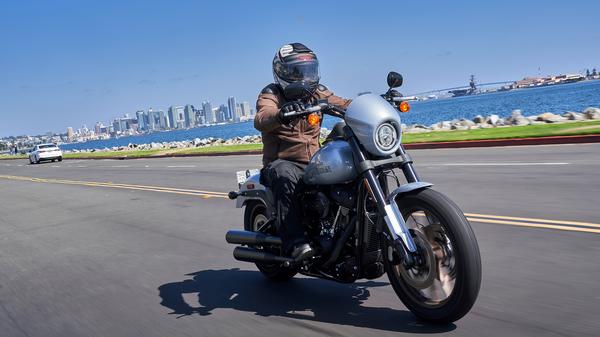 The Auto Trader expert verdict:
Available new from £11,651
This new interpretation of the classic, black, mean and moody Low Rider S is a marked step up from the old, twin shock, 'Twin Cam' 2017 version – more power, better chassis and uprated forks, without losing its classic 'JPS' looks, but it remains fairly crude and the riding position is awkward.
Reasons to buy:
Classic '70s 'JPS' looks
Enlarged/improved V-twin performance
Softail chassis a step up from the old, too
Design
As an updated recreation of the original Low Rider S this new version is impressively done: the latest, largest, 114cubic inch 'Milwaukee Eight' V-twin noticeably out-stomps the old 110ci 'Twin Cam'; the new Softail chassis, which first debuted across Harley's cruisers two years ago and uprated cycle parts including new inverted forks, and all without affecting its handsome black looks. But there are more than a few irritations, such as the idiotic clocks, it's uncomfortable, basic and is nowhere near the performance of, say, a Ducati Diavel.
Riding position
Forward, straight bars, semi-forward footpegs and slim, solo seat might give a riding position that looks mean and moody but it also makes the Low Rider S awkward to ride and, after 40 minutes or so, blooming uncomfortable, too. If ever a bike proved riding positions should be designed for comfort not looks, this is it but the Low Rider S isn't the first Harley to be so afflicted and, knowing H-D's track record, it probably won't be the last.
Practicality
Let's face it, few Harleys are built to be practical vehicles – although, that said, its tourers and 'baggers' make decent all-rounders, at least in the US – and this extreme, 'performance cruiser, is among the worst. There's little comfort, no pillion provision, no luggage or weather protection either (that headlamp cowling really is only for looks and zero rider aids. On top of that, it's a precious Harley so it'd be a crime to log up high mileages on year round. That said, it's not disastrous, either: the S is an OK town bike, has enough performance for most applications and is rugged and reliable. But day-to-day transport it's not.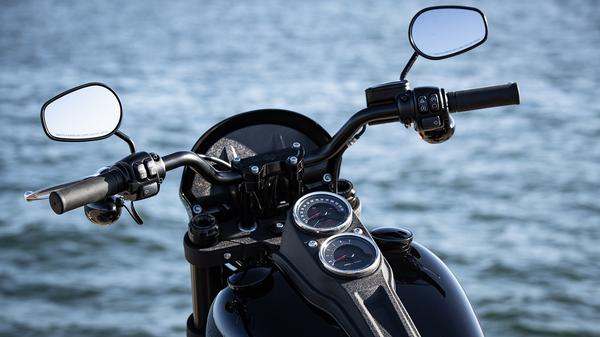 Performance & braking
The 114ci (1868cc), 8v 'Milwaukee Eight' V-twin may be uprated and, with a half-decent 93bhp and 114ftlb, among Harley's best yet but there's also no denying it remains fairly crude, has an irritatingly clunky gearshift and isn't a patch on fully-modern performance cruisers such as Ducati's 160bhp, electronics-laden Diavel. But maybe that's also missing the point. If you want a black, 'badass' Hog, with all that entails, warts and all, they currently don't come any meaner…
Ride & handling
Again, the new S is a notable improvement on the old. The Softail (hidden monoshock) chassis gives a slightly better ride than the old twin shock Dyna version (although it has to be said that the S's riding position, putting all of your weight on your backside, masks this somewhat) and the new inverted front are welcome, too. But it has to be said that this is still a lumbering lump rather than any kind of sports machine. Harley alternatives such as the Fat Bob handle better, are more comfortable and cheaper, for example.
Running costs
The cost of running big, glitzy Harleys never comes cheap but nor is it as steep as you might fear. Harley residuals are among the best around and the S remains an iconic model, so you shouldn't dread depreciation too much. Despite being a 'performance machine' Harley's 95bhp take on that still means that fuel, tyre and brake pad consumption is no different to the norm while it's belt drive as well, while, as the S is in no way a long haul bike mileages are almost certainly likely to be kept low as well.
Reliability
Despite being the biggest, most performance-orientated member of Harley's latest 'Milwaukee Eight' V-twin family, as introduced on its touring family in 2017 it's still fairly under stressed and there have been no major problems with the series over the years since. What's more, the new Softail chassis, as introduced in 2018, has also already proved itself while the rest of the bike is either fairly Spartan or familiar, off-the-peg parts. All told, then, though new, virtually everything about the S has already proven itself so we've no reliability concerns whatsoever.
Warranty & servicing
Harleys latest big twins comes with the industry standard warranty covering all parts and labour for two years irrespective of mileage, so the Low Rider S is par for the course. Servicing-wise, although the intervals are annually or 500 miles, service costs, as the engine is exposed, air-cooled and comparatively straightforward are reasonably affordable.
Equipment
The Low Rider S is a pared=back, minimalist hot rod, so although it has uprated suspension, brakes and Harley's biggest engine, you don't get an awful lot else. There are no electronics, no luggage or heated grips, its headlamp cowling is cosmetic only and its fairly basic twin clocks (no fancy TFT dashes here, no siree) are annoyingly positioned out of eyeline on the tank, so you can't see what little they display without an awkward crane of the neck anyway. Luxury it isn't.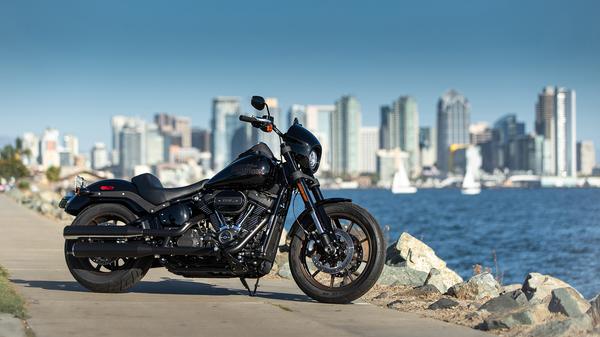 Why buy?
There's no denying the Low Rider S, in its black and gold with its mean and purposeful stance, looks great, if you like that sort of thing. There's also no doubt its engine, chassis, forks and more are all an improvement on the old version. But it'd be remiss of us to ignore the uninspiring performance, crude ride and annoying details such as the unreadable clocks, painful riding position and horrid gearchange. It's a shame as Harley do comfortable performance V-twins that are far better – the Fat Bob or Sport Glide spring to mind. If that's what your after, we'd look there instead.