Review Harley-Davidson LiveWire (2019 - ) review
Harley-Davidson is the first large motorcycle manufacturer to take the leap of faith into an electrified future. Jon Quirk finds out if the Livewire has sufficient spark to tempt Harley's existing customer base.
The Auto Trader expert verdict: ★★★★★

★★★★★
4.1
The Livewire may be Harley-Davidson's first electric motorcycle, but it's a brilliant first effort for a company that has been wedded to the internal combustion engine since 1903. Fast and fun on a B-road, yet refined, comfortable and silent in the city, it gives us a glimpse of how the Harley-Davidson brand could thrive in a post petrol era, with an experience that is no less entertaining or characterful.
Reasons to buy
Genuinely compelling EV motorcycle

Effortless and entertaining to ride

Strong dealer network and aftersales support
Design
Harley-Davidson has always considered the powertrain to be the crown jewel of its design, and this philosophy doesn't change in an electrified future. The Livewire features a traditional frame that houses both a lithium-ion battery pack and electric motor. The battery itself features multiple fins to aid cooling, while the electric motor has been elongated and encased in an aluminium jacket to look more like a conventional power unit. Even the charging port - which, disappointingly, is made from plastic - has been positioned where you would normally find a fuel filler cap. To the casual observer, only the lack of exhausts and bespoke paint (Fuse Orange and Fuse Yellow are exclusive to Livewire) would allude to this motorcycle's modern propulsion.
Riding position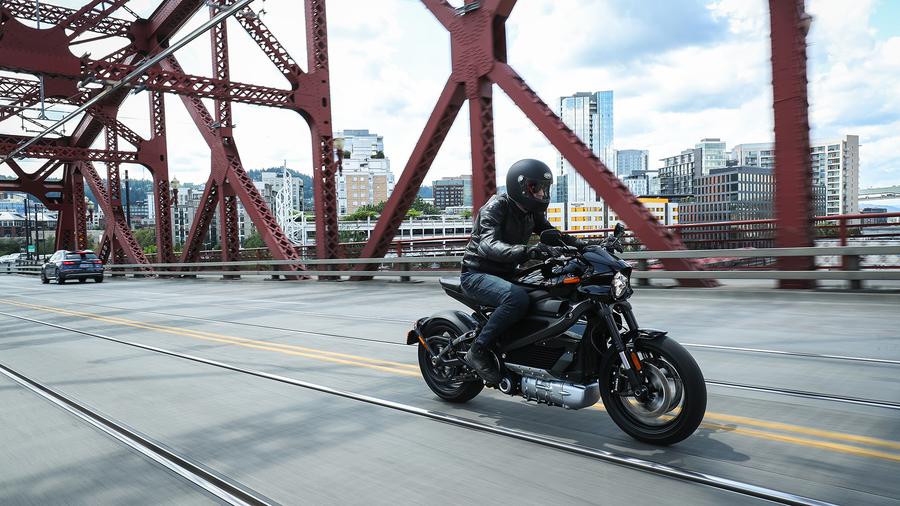 The Livewire is a racier, tighter fit than what you may consider to be more traditional Harley-Davidson geometry. Gone are the outstretched pegs, footboards and monster rear tyre in favour of a more neutral, upright riding position that feels more like you're sat on a Yamaha MT-07. The seat height is set low enough for most riders to get both feet flat on the floor, while the pegs are high enough to create a decent lean angle without touching down. The clear digital display puts the key focus on speed, state of charge, consumption and range, with a small icon in the top right corner alluding to your selected rider mode.
Practicality
To make the electric vehicle experience as easy as possible, the Livewire features keyless go and a H-D Connect App to remotely check your bike's state of charge. The LiveWire has a maximum range of 146-miles in low-speed city driving, although the more realistic combined figure is 95-miles. This may be enough for a Sunday afternoon blast with buddies, but not for a road trip. The fact Harley's parts and accessories team have developed a single seat cowl before a set of panniers tells you all you need to know here. The bike comes equipped with a level one charger for your home three-pin plug, or there's a DC fast-charging port that will provide an 80 per cent charge in 40-minutes or a 100 per cent charge in 60-minutes. Either way, you're going to be spending an inordinate amount of time in service station car parks on your own. Pillion space is very limited.
Performance & braking
Performance is courtesy of a 15.5kWh battery pack consisting of 70 lithium ion cells developed in partnership with Samsung. They're used to power an electric motor that develops the equivalent of 105hp and 88 lb ft of torque. Not huge numbers in a bike that weighs 250kg but remember that electric vehicles can generate their maximum torque from 0rpm so it feels quick. When red lights go green, the Livewire will always win: 0-60mph is dispatched in a Ducati-troubling three seconds but with the musicality of a spin-dryer on its final cycle. Yet when performance is this easy to access, you really do get the feeling the internal combustion engine is on borrowed time. Even if you decide to perform multiple burnouts or ride flat out for 30-minutes, the Livewire is programmed to let you, only going into a low power mode when you reach the reserve battery limit. So good is the level of regenerative braking that the hi-spec Brembo Monobloc front brake calipers are rarely used, but they feel progressive and unflustered when called upon.
Ride & handling
Gliding in and out of Portland's dense city centre, the Livewire feels other-worldly to ride. The ease of a twist-and-go powertrain and the silent running of the motor feels both eerily satisfying and more culturally acceptable, with little on your mind other than how lustrous the black paint looks in the morning sunshine. Similarly, you don't get any heavyweight heat leaching from the batteries so it's a far more comfortable bike to sit on in traffic. Yet Harley's landmark Livewire isn't without a sense of fun. As soon as you peel onto faster sections of road, the bike minimises its bulk with a baffling agility that makes every Sportster, Dyna and Electra-Glide before it feel cumbersome and so last century. Even on Michelin Scorcher tyres, the bike grips well and holds its line confidently through the corners, though there is certainly more dynamic range to come here. Suspension can be on the firm side, which is particularly noticeable under heavy braking, but it's a worthy trade-off for managing all that weight without excessive fork dive.
Running costs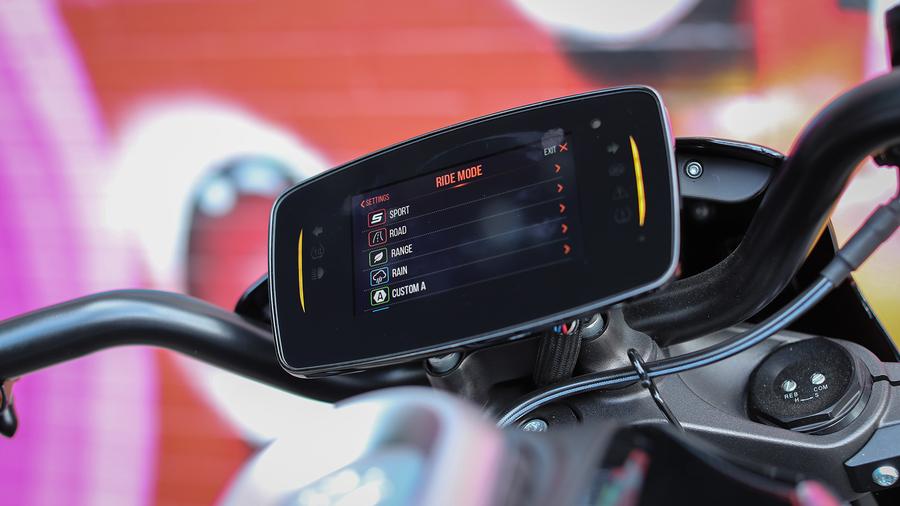 For the foreseeable future, electric motorcycles will be far more expensive than their petrol-powered counterparts and the Livewire's £28,995 asking price confirms this. These costs may be acceptable to early adopters, but they may prove cost prohibitive to others. That said, the prospect of replenishing your metaphorical tank using an off-peak plug rather than a highly-taxed fuel pump certainly has its appeal. And inevitably, as battery technology improves and increases in scale, more affordable versions will come down the pipe.
Reliability
The Livewire may be the company's first electric vehicle, but this isn't a project that has been delivered in haste. Original plans for an electric Harley-Davidson were conceived in 2010, and a prototype called 'Project Livewire' was developed in 2014, gathering data and global customer feedback for two years. In that time, the battery packs have benefitted from a doubling in energy density and have also been crashed, drowned and run in 50-degree heat to ensure maximum structural integrity.
Warranty & servicing
Harley-Davidson's approach with the Livewire has been to systematically allay every EV fear you may have, from battery life (five-years, unlimited mileage) to breaking down (roadside recovery included in warranty). Even charging will be free at Harley dealerships, 12 of which have already been selected in the UK to sell and maintain the Livewire. Following the first 1000-mile service that includes tyre, oil and belt tension checks, the servicing schedule should be far less intensive than a conventional petrol engine. The battery pack and electric motor, known as the Rechargeable Energy Storage System (RESS), will also be available as a serviceable item, meaning as battery technology improves, customers could conceivably upgrade their RESS units.
Equipment
All bikes receive keyless go and a host of rider assistance including ABS and cornering ABS, rear-wheel lift mitigation, drag torque slip control and cornering traction control. There are seven different rider modes, three of which are customisable to create the perfect level of traction, performance and regenerative braking for any scenario. Optional extras include the subscription-based 'H-D Connect' service which, beyond offering a remote dashboard of your bike's status, also provides a map of nearby charging stations, turn-by-turn navigation and enhanced security in the shape of a tracker with mobile phone notifications that can be sent to you and the authorities.
Why buy?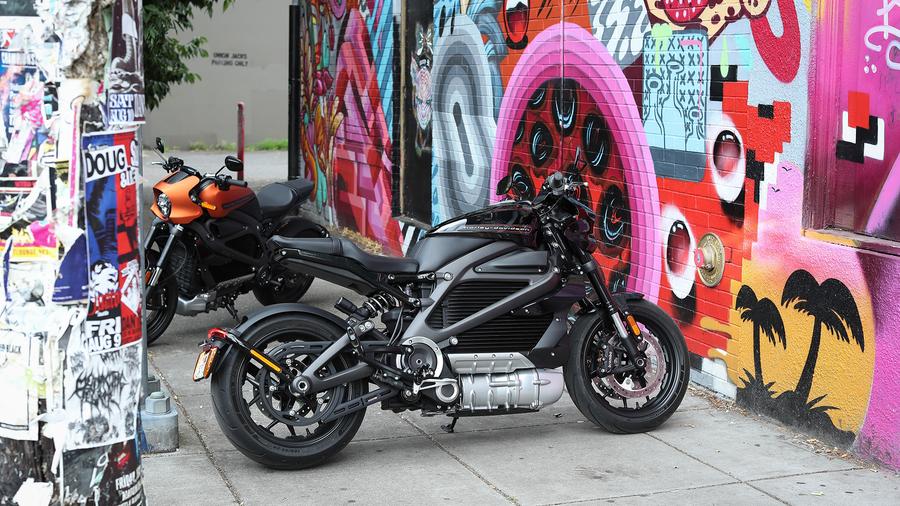 Because in the years to come, the Livewire will be remembered as a future icon: the EV bike that the rest of the motorcycle world envied and attempted to emulate. It may prove too expensive and perhaps too early to gather mass adoption right now, but this is a highly convincing leap into an electrified future.