Expert Review
Energica Eva Ribelle RS review electric/sports (2021-)
Already the hottest electric super naked, the new RS version of the Eva Ribelle delivers acceleration and spec no other electric naked can match – at a price.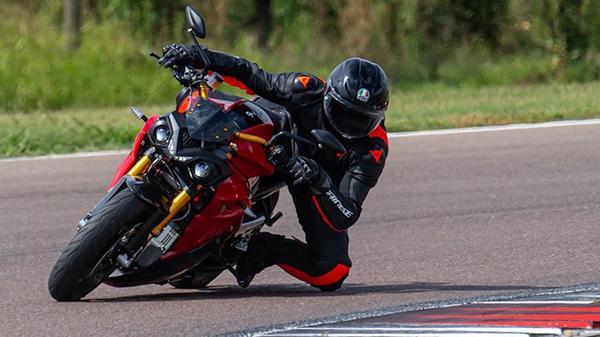 The Auto Trader expert verdict:
Italian performance EV bike specialists Energica are unchallenged when it comes to exotic electric bikes and the new RS versions of Ego sportster, more affordable EsseEsse roadster and, here, the super naked version of the Ego, make the most convincing electric bike argument so far – if you can afford them.
Reasons to buy:
Warp drive acceleration
Top spec cycle parts
True Italian exotica style and appeal
Design
While the Californian Zero electric range set the mass-market electric bike standard with their clean, minimalist designs, Italian exotica specialists Energica – the firm behind the MotoE GP series – remain unchallenged when it comes to high-spec, beautifully-styled, money-no-option sporting versions. They're great looking (the Ego sportster's fairing was used for Norton's V4 superbike), well-specced (TFT screen, Brembo brakes, Marzocchi or Ohlins suspension, electronics etc) and, most importantly of all, they work. The Eva Ribelle RS is right up there with ICE super nakeds such a Ducati's Streetfighter V4 or KTM's 1290 Super Duke, it's just a little heavy, can have limited range and is expensive.
Expert rating: 4/5
Riding position
The Eva Ribelle RS, like any true 'super naked', is basically an unfaired, more upright version of a sports bike sibling – in this case Energica's Ego superbike. As such it's well done: the riding position is natural and comfortable with well-placed bars and foot pegs, it's surprisingly easy and intuitive to attune to and it succeeds in supplying a happy compromise between sporty crouch (which you really need to hang on with when accelerating hard) and upright, manageable practicality. That said, this is a surprisingly big, broad and, most of all, hefty bike, so it's not for raw novices.
Expert rating: 4/5
Practicality
Few super nakeds offer much by way of practicality. Without a protective fairing they're not much good for touring or prolonged sports riding; they can't happily take pillions or luggage and they're by definition expensive, extreme and extravagant – and the electric Eva Ribelle, especially in this even 'hotter' RS form, is all that and more. That said, though heavy, it's nimble enough around town; its electric, gear-less 'twist and go' delivery makes it easy to ride (if you're OK with the weight and bulk) and it's cheap to run, so if you can afford.
Expert rating: 3/5
Performance & braking
If the Eva Ribelle, or indeed, any Energica, didn't perform there wouldn't be much point to them ¬ but, boy, they do just that and the new RS versions raise the bar yet again. Featuring a new electric motor and inverter co-developed with specialists Mavel, the RS raises the Ribelle's peak power from an already blistering 144bhp to a whopping 169bhp. Energica claim a reduction of 0.2seconds as a result in its 0-60mph time and we can confirm it's an absolutely face-melting 2.6seconds, accompanied by an eerily whistling sound track. For sheer acceleration and a warp-like experience, no ICE motorcycle comes close. Luckily, the top spec Brembo radial brakes are more than up to the task of hauling that down (and, besides, top speed is restricted to 125mph anyway), but there's also four-way adjustable engine braking, too, which also regenerates power, F1-style, which has a bigger effect than you might expect.
Expert rating: 5/5
Ride & handling
Which a Ducati-style, tubular steel trellis frame, top spec Marzocchi front/Biturbo rear multi-adjustable suspension and even an optional Ohlins suspension upgrade (for a further, whopping £2627), you'd expect the Eva Ribelle's ride and handling to be good – and it is – but due to its weight and bulk nor is it a flickable, nimble sportsbike. Instead, fast corners have to be set up, quick flick-flacks approached with care and discretion is usually advised over valour. Overall, straight-line acceleration considered, the hefty, space age Energica is more like, say, BMW's ballistic but heavy K1600 six than the same firm's supersport S1000RR.
Expert rating: 4/5
Running costs
On face value, like any electric bike, the Eva Ribelle RS's running costs should be pretty good. The new motor and slightly lighter weight (due to a new cooling system) are claimed to improve range by 10% at around 150miles and a full recharge costs just a couple of quid and, via a fast charger, only takes a couple of hours. On top of that it is of course ULEV compliant and there's no road tax to pay. But nor is that the end of the story. With an uprated 526 chain and sprockets and its high performance, the Eva Ribelle RS is still going to cost when it comes to consumables such as chain, brake pads and tyres and its high price and limited track record also means that residual values are likely to be poor. But you can't have everything!
Expert rating: 4/5
Reliability
Electrics bike so far have proved pretty reliable, especially at the top end of the market. Moving mechanical parts are few, after all, the cycle parts are proven (as are the electronics and dash) and question marks about battery life have proved largely unfounded. It may be too early to be absolutely certain (which is why we're holding back a mark here) but we have few qualms about reliability.
Expert rating: 4/5
Warranty & servicing
The Energica Eva Ribelle RS itself is covered by a three-year, unlimited mileage, manufacturer-backed warranty covering all parts and labour (which is a full year great than the industry standard), while the battery itself is covered by a 31,000-mile warranty. Servicing is far simpler and cheaper than an equivalent ICE bike, too, with an annual inspection expected to cost under £100.
Expert rating: 4/5
Equipment
Another area where the Eva Ribelle RS impresses – as it probably should considering its eye-watering price. Along with the aforementioned, fully-adjustable Marzocchi and Biturbo suspension it has flash Brembo brakes and electronics including colour TFT dash, riding modes, traction control and battery regeneration. That, however, is where it ends – unless you pay more, which is why it only gets 4/5 here. Ohlins suspension and OZ forged wheels can also be had (for £2627 and £2134 respectively), while you can also get a screen and mounting kit (£260), small soft panniers (£607), carbon front mudguard (£339), heated grips (£235) and keyless option (£337). Go for all that and you're quickly looking at a tag approaching £35K!
Expert rating: 4/5
Why buy?
Simple: if you want the ultimate current (sic) electric bike it's an Energica, whether you go for the Ego sportster or Eva Ribelle super naked. And if you want the ultimate, highest performance versions of those, go for the new RS version with its improved performance and (slightly) lighter weight. And, when you then bask in its presence, its styling and spec, and then whack open that twist grip to experience the full, mind-bending force of its acceleration, you won't be disappointed. For most of us, though, that near £30K price tag and limited practicality means it remains the stuff of fantasy.
Expert rating: 4/5