Expert Review
Ducati Scrambler 800 Roadster/Retro (2015 - ) review
The Ducati Scrambler is a pleasingly simple, stylish and affordable motorcycle. It's fun to ride and easy to customise, too.
The Auto Trader expert verdict:
Available new from £7,751
When you strip away all the transient hype surrounding the Scrambler, you'll discover a retro motorcycle with permanence. This is an entry-level Ducati that is worthy of the Bologna badge, boasting urban-friendly style and a simple, oh-so-fun to ride character. Competitive pricing and the potential to customise only adds to the desirability.
Reasons to buy:
Ready-made slice of retro cool
Rider-friendly V-twin engine
Inexpensive by Ducati standards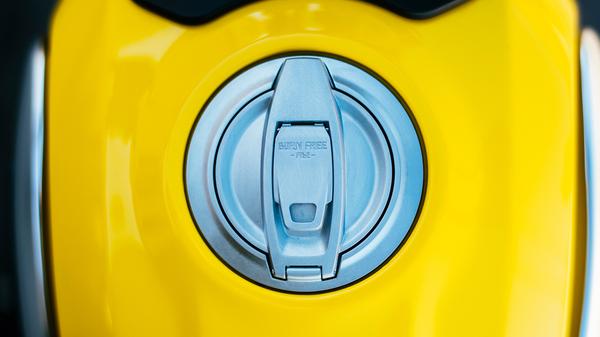 Design
"

Neat detail touches include the headlight's alloy surround and the intricate fuel tank filler cap

"
The Scrambler's retro look has been inspired by the single-cylinder Scramblers that were popular in Italy and the US (much less so in the UK) in the Sixties. There are neat detail touches everywhere, from the arced cable throttle, the headlight's alloy surround and daytime-running LED and the intricate fuel tank filler cap (whose "Born Free 1962" logo commemorates the original Scrambler 250's introduction). There are four versions of Scrambler to help suit most tastes. The red Icon is the cheapest Scrambler on sale, followed by three equally-priced versions: the adventure based Urban Enudro, the flat track-inspired Full Throttle and the Classic, as seen in our video review. The fact that all the different parts fit all four models gives plenty of scope for customisation.
Riding position
The Scrambler is intended to be a simple, naked roadster with a laid-back vibe, and its riding position is chosen accordingly. Its one-piece handlebar is wide and high even by naked bike standards, giving a very upright riding position. The seat is fairly low, at 790mm, and although it's fairly thick and well padded it's also quite slim so most riders should have no trouble getting their feet down. For those who do, a 20mm lower accessory seat is available but you have to pay extra for it.
Practicality
For an entry-level naked bike, the Scrambler is respectable. The seat is comfortable and has a broad area for the pillion, though the under-seat hand-holds aren't the most convenient. Ducati has thoughtfully provided a USB socket and phone pocket under the seat, plus a small tool bag contains a C-spanner to adjust the rear shock's preload. That said, the Scrambler has no alternative riding modes or traction control, and the latter would arguably be useful for less experienced riders in particular.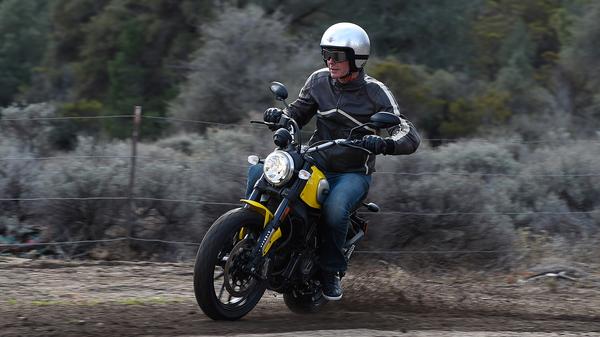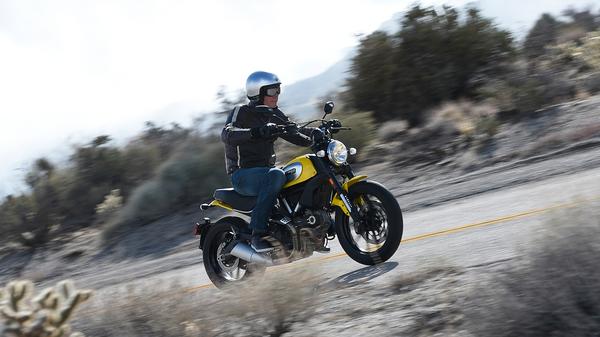 Performance & braking
"

It gives generous midrange torque that helps make the bike easy to ride

"
The engine is an 803cc, air-cooled sohc V-twin that used to feature in the now discontinued Ducati Monster 796. For the Scrambler, the unit has been detuned, mainly with intake and injection changes plus new camshafts and exhaust. This cuts maximum output from 87bhp to 75bhp at 8250rpm, but gives generous midrange torque that helps make the bike easy to ride. That said, in the lower gears, the power delivery can feel very slightly snatchy on initial throttle opening, which novices might find a bit awkward. On the open road, it cruises smoothly at 70mph or more, the upright riding position adding to the sense of speed. There may only a single front disc, but the big 330mm Brembo rotor and its radial four-pot caliper provides plenty of power, well backed-up by the smaller rear disc and standard fitment ABS.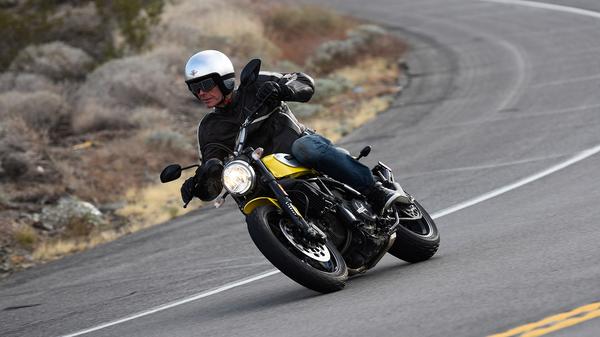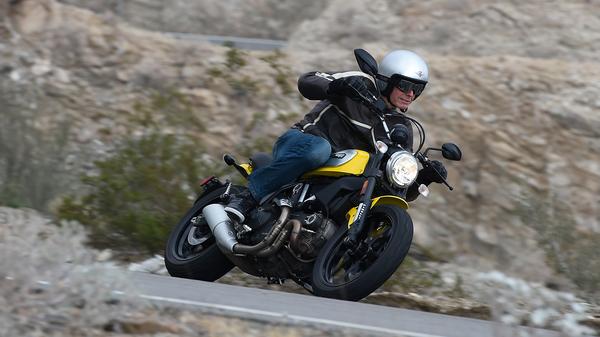 Ride & handling
"

The chassis manages to give a good balance between comfort and sporty handling.

"
A new but familiar looking tubular steel frame holds upside-down forks and a cantilever monoshock, with an 18-inch wheel up front, and a 17-inch rear wrapped in specially developed Pirelli MT 60 RS tyres. The chassis manages to give a good balance between comfort and sporty handling, and the Scrambler's wide handlebar gives plenty of leverage, making the bike easy to flick around. Suspension is well up to the job, too, despite the 41mm Kayaba units being relatively basic. There's a generous 150mm of travel at each end, and both spring and damping rates at both ends are well chosen: firm enough to give a sporty feel with not too much fork dive, yet compliant enough to make the Scrambler reasonably comfortable.
Running costs
I averaged a respectable 45mpg on the launch. Monster 796 owners typically get about 50mpg, so the same is likely to be true of the Scrambler.
Reliability
This Scrambler's score here is very different to the mark that its namesake would have got in the Sixties, when Ducatis had a very poor reputation for reliability. That's far from the case these days, added to which the 803cc V-twin is a well tried engine. The firm insists that quality won't be affected by producing Scramblers in Brazil and Thailand, as well as Bologna. UK market bikes will come from Italy, in any case.
Warranty & servicing
The Scrambler carries Ducati's normal two-year, unlimited mileage warranty. As a fairly simple, modestly powerful roadster the Scrambler should be reasonably economical to run. Its aircooled motor's 7,500 mile service intervals don't quite match those of Ducati's more recent liquid-cooled lumps, but are still reasonable, and the desmo valvegear needs checking only at double that distance.
Equipment
You wouldn't expect too much equipment on an entry-level naked bike, so the Scrambler's under-seat USB socket is a bonus. The single, round, alloy-rimmed instrument console contains a central digital speedo, which is easily legible, and a tacho bar running round the bottom, which I found slightly hard to read, though the flexible motor meant this wasn't a problem. The clock's look is attractive but there's no gear indicator or fuel gauge, let alone a fuel consumption indicator. If the Scrambler is modestly equipped as standard, you can change that by splashing out on accessories – the figure of 60 items is double Ducati's normal figure for a new model. The components that differentiate the four Scrambler models are designed to fit all of them, so for example you can bolt the Urban Enduro's wire wheels or seat to the Icon or Full Throttle. The list of extras runs from lightweight carbon-fibre and billet aluminium components, all the way to vintage style saddle-bags.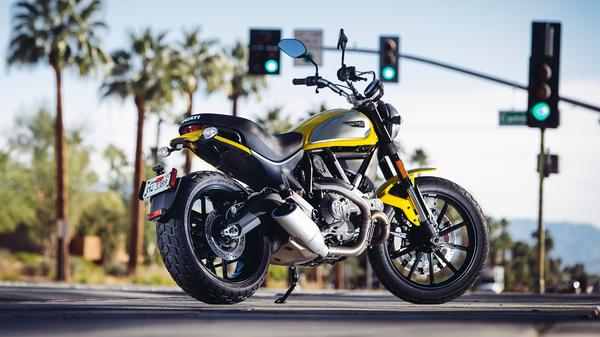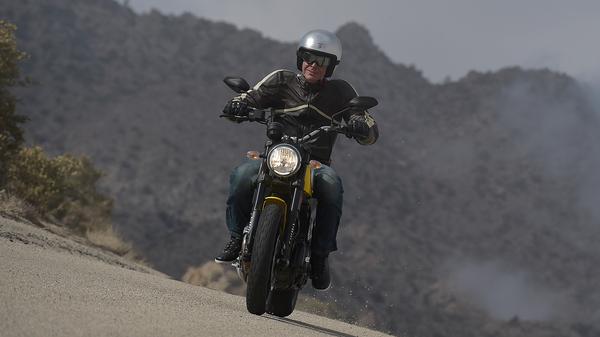 Why buy?
"

The Ducati Scrambler is far more than a hipster plaything

"
The Ducati Scrambler may be the latest 'must have' accessory on the urban motorcycling scene, but it is far more than a hipster plaything. For a ready-made slice of retro cool, look no further.