Expert Review
Ducati Scrambler Nightshift retro/roadster (2021-) review
New-for-2021 version of Ducati's popular Scrambler 800 has added style and spec but is also over £2000 more than base Icon Dark with almost identical performance.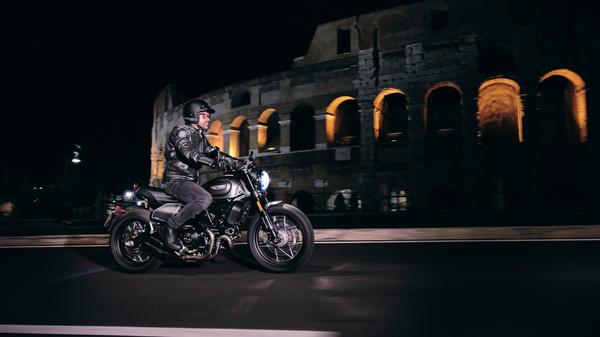 The Auto Trader expert verdict:
Available new from £11,006
Ducati's 800 Scramblers have bags of image and pleasing manners and the new top-of-the-range Nightshift adds 'blacked-out' styling and sweet details – but for pretty hefty price.
Reasons to buy:
Proven Scrambler 800 performance
Distinctive flat track styling
Added quality details
Design
The Nightshift is basically a flat track-inspired, restyled and upspecced version of Ducati's popular Scrambler 800, the Italian firm's novice-friendly, retro roadster rivals to Triumph's successful Bonneville family which has proved a big hit since their original introduction in four different styles in 2015. With a fairly soft 803cc, 75bhp V-twin and simple chassis they made up with style and affordability what they lacked in performance and spec. The new Nightshift changes that slightly by adding extra moody blacked-out style, café racer seat, flat track side panels, handlebars from the 1100 Sport Pro, café racer bar-end mirrors, spoked wheels with semi-knobbly tyres and more. Trouble is, although the basics are unchanged, the style seems a little muddled and the extras hike the price from around £800 to over £10K, which is higher performing Scrambler 1100 territory.
Riding position
Forget that 'flat tracker' bit, as far as riding position goes the Nightshift is more 'sports roadster' or café racer. Although essentially a Scrambler 800, the Nightshift has the straight, flat handlebar from the bigger 1100 Sport Pro which cants the rider slightly more forward giving a purposeful, sporty roadster gait that means the rider feel more involved and connected when riding hard through some twisties. That less upright riding position, however, also means the Nightshift is a little less comfortable than its 'sister' 800 Scramblers, the more trail bike style Desert Sled, Icon and Icon Dark, when merely cruising or cutting through traffic around town. It's not extreme and certainly not agony, but it is slightly less welcoming and novice-friendly than the other Scrambler 800s.
Practicality
Retro roadsters are more about 'show' than practical 'go' whether your bike is a Bonneville, BMW RnineT or Scrambler, but usually their easy manners, nimble, twin cylinder size and upright ergonomics make them decent all-rounders – although we wouldn't recommend them for long distance touring or winter commuting). The same is true of the Nightshift. It's accessible for relative novices (although its high price is more off-putting). Its performance and proportions make it a decent town bike (although we'd prefer a Scrambler with bars that aren't as low) and it's fun on A and B roads – but that is about your lot. It's no off-roader (despite those knobbly tyres), has no weather protection or luggage capacity, is not that fast and has limited use other than as a sunny Sunday afternoon toy. For some, however, that's enough.
Performance & braking
Although the Nightshift's 803cc V-twin is unchanged from that of other Scrambler 800s and its peak power of 75bhp is nothing to get excited about, its performance is at least as good as most retro roadsters of similar size (Moto Guzzi V7 and Bonneville T100, for example). The V-twin's delivery is easy, 'thrummy', progressive and sufficient, the six-speed gearbox is slick, there's plenty of authentic Italia character and any buyer is unlikely to be disappointed. Braking, too, courtesy of a single front disc grasped by a radially mounted four-piston caliper with ABS assistance, is decent enough, too. Instead, our main complaint is the high price of the Nightshift puts it almost on par with the Scrambler 1100 with 10bhp and extra grunt more and exactly the same style and handling…
Ride & handling
Ducatis generally are renowned for their handling and sporting ability and although a retro-style machine, and a fairly soft, budget one at that, the Scrambler 800 family doesn't disappoint. In fact, in this Nightshift form, it's slightly enhanced on side, due to its more aggressive, café racer riding position, yet diminished on the other, due to its semi-knobbly Pirelli MT60 tyres (although they do perform better than you might expect). The suspension, comprising inverted Kayaba 41mm forks up front and a single shock at the rear is decent but only has preload adjustment at the rear and overall the ride is on the sporty side of plush with nimble handling and precise steering.
Running costs
Ducatis generally aren't cheap to run, usually being both premium-priced and high performance-orientated machines, but the Bologna brand's Scramblers are gentler, less intense and more affordable machines. Their performance isn't too taxing on consumables such as tyres, chain, brake pads and so on and insurance is comparatively reasonable. On the slight downside, however, the Nightshift is by far the priciest of the Scrambler 800s, costing over £10K new when the introductory Icon Dark (with similarly 'blacked-out' styling, it has to be said) is under £8000. Because of this we wouldn't be surprised to see Nightshift residual values to suffer compared to its Scrambler stablemates.
Reliability
Although the Nightshift is a new model, the Scrambler 800 family on which it's based has been around since 2015, has been repeatedly updated and refined (most recently to meet the new Euro5 emissions and noise regulations), has an essentially understressed and fairly simple powertrain and we've heard of very few reliability issues. All of that bodes well for the Nightshift who's mechanicals are identical, especially as its extra specification comprises of high quality items such as LED indicators or the 1100 Sport Pro's tapered handlebars, which are not only premium items in their own right but have also already been proven on other machines. The only exceptions are the flat track style side panels and new ribbed seat and we can't imagine either of those causing a breakdown!
Warranty & servicing
Like other members of Ducati's now long established Scrambler 800 family, the new Nightshift has the Italian firm's usual two-year, unlimited mileage, manufacturer-backed warranty covering all parts and labour. What's more, as the Nightshift's motor is identical to other Scrambler 800s, its 7,500-mile service intervals are the same, too, with the novel desmodromic valve system requiring checks and possible adjustment at double that distance.
Equipment
As mentioned at the beginning, the Nightshift is effectively a Ducati Scrambler 800 but with a few styling and premium specification changes. Accordingly the wheels are natty wires not cheaper cast aluminium, the flat bars are from the 1100 Sport Pro and feature café racer bar end mirrors, there's a bespoke, café racer style bench seat, it has flat track inspired number board side panels and there a re mini, LED indicators all round. All of that is in addition to the Scrambler's neat, single round LCD instrument pod, usual Ducati switchgear and, since 2019, cornering ABS.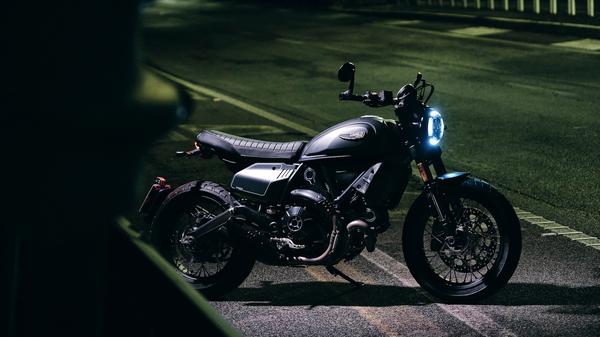 Why buy?
If you want the top-of-the-range, best-equipped Scrambler 800, with its proven 75bhp performance and pleasing chassis, this is it, especially if you're enamoured by its slightly confusing café racer/flat tracker style. Trouble is, Ducati's cheapest Scrambler 800, the Icon Dark, has the same engine/chassis, similar 'blacked-out' styling (except for the wires, LEDs, side panels etc) and costs over £2000 less while the better performing, 85bhp, but again equally blacked-out Scrambler 1100 Dark Pro, is just £800 more. You pays your money…