Expert Review
Ducati Scrambler Desert Sled (2017 - ) review
Ducati has been pushing the retro roadster fashion more than most manufacturers with its 803cc V-twin Scrambler family. With the Desert Sled, they finally appeal to more experienced riders.

Words by: Phil West
Published on 19 September 2017 | 0 min read
The Auto Trader expert verdict:
The first of 2017's additions to Ducati's retro Scrambler family of V-twins is its best yet. The Desert Sled uses 2015's original, basic Scrambler's novice-friendly and affordable 76ps twin platform, and gives it taller, more macho, '70s XT500-alike styling. The result is not just the coolest-looking Scrambler so far, but also the best to ride.
Reasons to buy:
The best looking of the retro-styled Scramblers
Genuine, off-road trail bike ability
Larger proportions all round suit taller Scrambler fans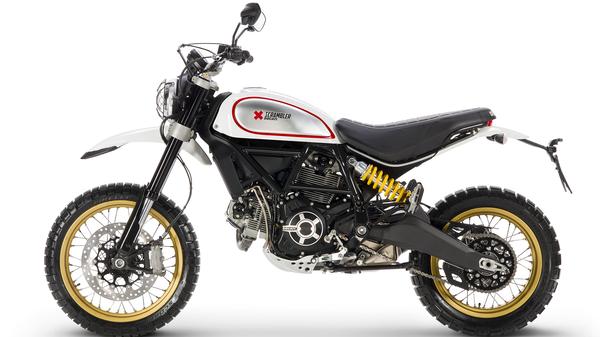 Design
First launched in 2015, Ducati's retro-styled, novice-friendly and budget-priced Scrambler family has always been cooler and more appealing than most of the current retro offerings, but they've also often seemed a little too, well, nice. The 2017 arrival of the trail bike-style Desert Sled changes all that. Its Yamaha XT500-alike looks make it the prettiest scrambler yet, while lengthened and uprated suspension, swing-arm and more, give it off-road credibility, while still performing as a decent roadster. A great-looking, retro Ducati with dirt credentials and street appeal. What's not to like?
Expert rating: 5/5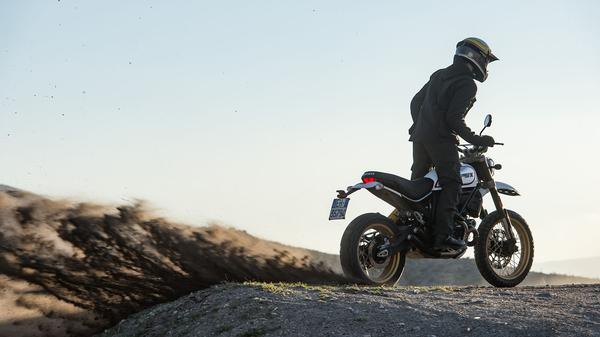 Riding position
Longer suspension, a bigger, 19-inch front wheel, longer swing arm, and wider bars all make the Sled larger than previous Scramblers, but taller riders welcome this. Otherwise it has a familiar, upright and very manageable 'trailie' riding position that's both comfortable and puts the rider firmly in control. Being exposed to the elements means it's less good over distance or at high speed, but in its natural habitat – around town or mild trails – the 'Sled's ergonomics are perfect.
Expert rating: 5/5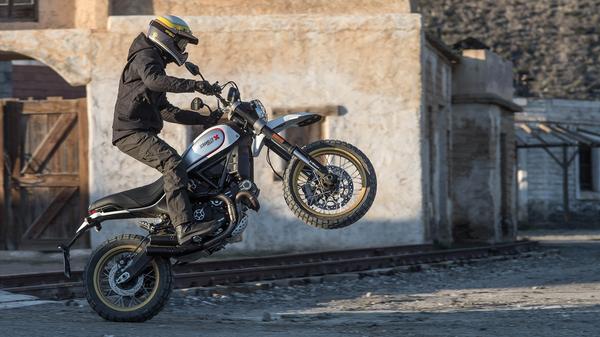 Practicality
The 'Sled's something of a fashion victim, and a trail one at that, so this was never going to be its strong suit. Long distances, pillions, luggage or year round use are not where it's at. That said, being a road-orientated 'trailie' with an easy-to-get-on-with 76ps twin means Ducati's newcomer is also far more useful and versatile that the '70s trail bike singles from which it gains inspiration. For short commutes, buzzing around town, showing off, green lanes and general fun, the 'Sled is brilliant. Anything else, forget it.
Expert rating: 3/5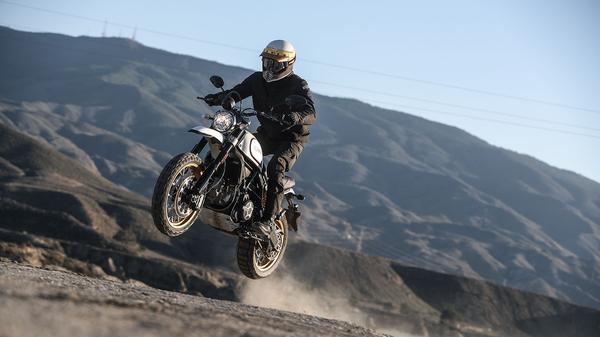 Performance & braking
Outright Tarmac-rippling performance was never high on Ducati's wish list, and the 'Sled is certainly no sportsbike, but it is a surprisingly fun performer both down twisty lanes and on (gentle) dirt. The familiar, Scrambler 803cc aircooled twin puts out the same easy but adequate 76ps (although the throttle response has been softened slightly), and it's also flexible and instant. Braking, meanwhile, is also more than sufficient courtesy of a beefy, single front disc, ably assisted by ABS (which can be switched off when off-road).
Expert rating: 4/5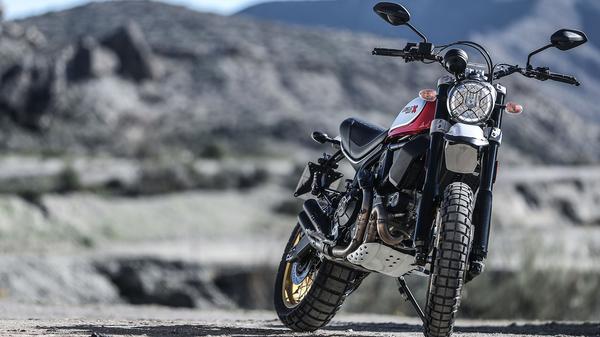 Ride & handling
Ducati made significant revisions to the Scrambler chassis to convert it into the Desert Sled, and the results are a huge bonus. The stock bike's skinny 41mm non-adjustable forks make way for new, longer, 46mm items, which are now fully-adjustable. The previously slightly crude and budget steel shock makes way for a fancy new multi-adjustable (and longer) aluminium unit, while the frame has been reinforced and the swing arm extended. The result not just makes the 'Sled taller and give it substantially more presence, but gives it a far more sophisticated ride on the road and genuine ability off it. The 'Sled has the best Scrambler chassis by far.
Expert rating: 5/5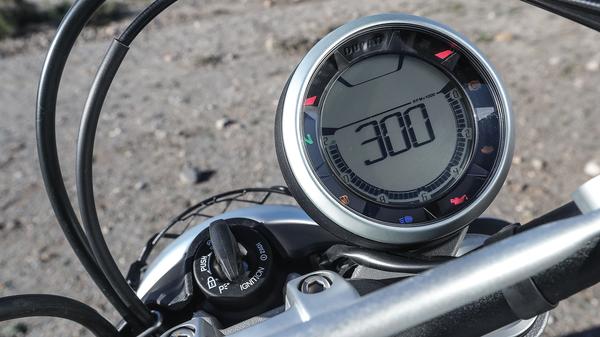 Running costs
Ducati ownership never comes cheap, but the Scrambler family has been designed from the outset to be novice-friendly and affordable. The Scrambler, though the most expensive of the bunch, is no different. Nor is its modest performance (compared to some Ducatis) particularly demanding on consumables such as tyres, chain, fuel, brake pads and so on. Overall, with the Desert Sled, as with any Scrambler, there's no reason to fear the expense of Ducati ownership.
Expert rating: 4/5
Reliability
The key components of the Desert Sled – 803cc aircooled V-twin engine and characteristic Ducati tubular steel trellis frame – are unchanged from those of previous Scrambler models and have proven durable and reliable. In addition, the main changes have all seen fairly basic components replaced with higher quality items – such as with the more sophisticated, longer travel suspension. Although it's still early days, we have no significant reason to have doubts over the 'Sled's reliability.
Expert rating: 4/5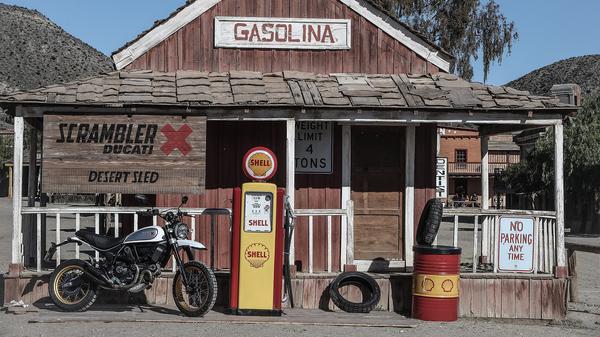 Warranty & servicing
Like other members of Ducati's extended and growing Scrambler family, the Desert Sled carries the Italian firm's usual two-year, unlimited mileage warranty, and as its motor is also unchanged from those bikes, being an aircooled, 803cc, 75bhp unit, its 7,500-mile service intervals are the same, too. That might not quite be as good as some of Ducati's more sophisticated, liquid-cooled lumps, but they are still reasonable, and the desmodromic valve system needs checking only at double that distance.
Expert rating: 4/5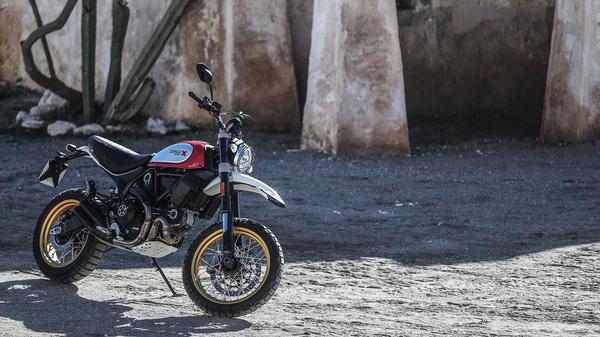 Equipment
With one eye on cost and value, all of Ducati's Scramblers can be seen as a little basic when it comes to equipment. The intention instead is that style-conscious owners can then customise their bikes with equipment and accessories of choice from an extensive options catalogue. What's more, not being an outright performance machine means Scramblers lack the latest in electronics and gadgets, too. There is a useful USB socket under the seat; the 'Sled gets a new headlamp grill; raised mudguards front and rear; a new exhaust system; detachable rear pillion pegs; and bashplate, so it's not all bad.
Expert rating: 4/5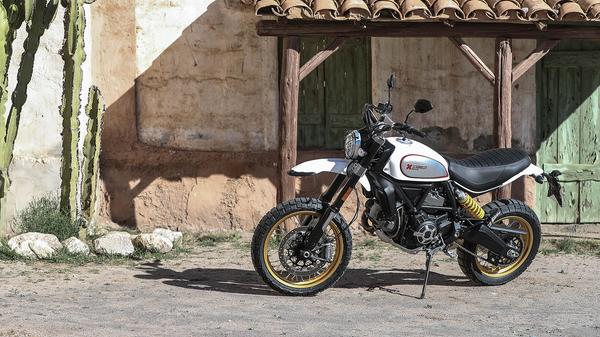 Why buy?
Since their introduction in various forms from 2015, Ducati's retro but novice-friendly Scramblers have always had appeal. Their easy manners, affordable price, entertaining performance and – most of all – their classic Italian style, has made them a huge success. But for more mature, demanding or slightly larger riders, they could also seem a little lacking. The Desert 'Sled changes that. Here's the first Scrambler with a touch of hardcore credibility and full size proportions, while compromising none of its previous strengths. The fact that the 'Sled looks so damn good is the cherry on top. Say hello to the most desirable of all current Scramblers.
Expert rating: 4/5