Expert Review
Ducati Scrambler 1100 Sport PRO (2020 - ) review
Ducati's larger retro roadster Scrambler duo get updated with new style while the top-spec 'PRO', with Ohlins suspension and café racer attitude, is a true Triumph Thruxton alternative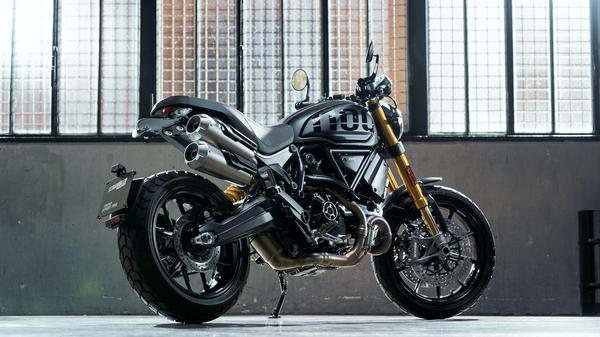 The Auto Trader expert verdict:
Available new from £11,006
Ducati's Scrambler 800 retro V-twins may have proved popular for their affordability and novice-friendly manners but 2018's bigger 1100 version seemed soft and unconvincing. Two new restyled variants for 2020 change that with the range-topping PRO gaining classy Ohlins suspension but it still lacks the power of some rivals.
Reasons to buy:
Cultured ride and handling
Sophisticated modes and equipment
Sportiest of Ducati's Scrambler family
Design
Somehow the larger 1100 Scramblers lack the convincing cuteness of the 800cc originals and, despite a facelift including a sharper rear end and twin stacked exhausts, the two new 1100 Sports still lack retro allure – which is baffling considering Ducati absolutely nailed it with its earlier Monsters and Sport Classics. The 1100 Sport is the more basic, upright roadster while the 1100 Sport PRO, with flat bars, twin-finish black livery and a conspicuous lack of Ducati badges manages to look far more dull and anonymous than its name and spec suggest. What's more, gimmicky detailing like 'Born Free' cast into the filler cap and renamed rider modes, going from the universally understood 'Urban/Touring/Sport' options to 'City/Journey/Active' is pointless and annoying.
Riding position
While the new 1100 Sport has upright bars, 'normal' suspension and familiar Scrambler-family livery, the PRO has a lower, straight bar, complete with café racer style bar-end mirrors. In truth, they're not a problem. The riding position is nowhere near as extreme as that suggests and the mirrors work well, if adding a bit of width through traffic. That seat, though, while appearing sumptuous and deeply padded, is quite literally a pain after as little as 30 minutes. Somehow it locks you in position, is overly-firm and canted slightly forward and the result is a desperate need for 'comfort breaks' far sooner than you might otherwise like.
Practicality
All Scramblers are more about 'Show' than 'Go', although some of the 800s certainly make decent all-rounders, but the café racer style 1100 Sport PRO takes things to new extremes. Pillions are possible but unlikely to be comfortable; there's little to no weather protection for any long distance or touring ambitions; aftermarket luggage would have to be of the trendy canvas satchel variety and the sheer quantity of its glitz and gloss means this isn't a bike for all seasons. That said, the riding position isn't so extreme as to counter city riding (although the bar end mirrors don't help here) and if your riding is mostly blasting between hipster events and coffee shops it's more than up to the job – but then that's wasting the lavish suspension and the base 1100 Sport is better, for £1500 less.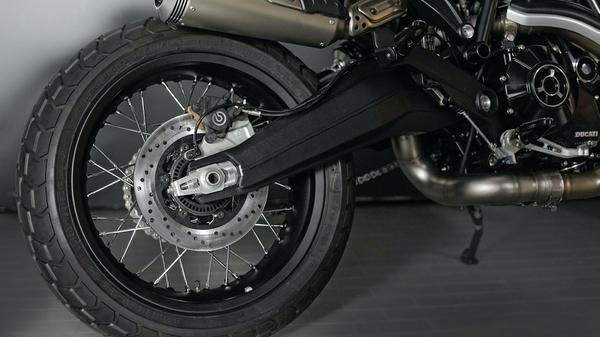 Performance & braking
Although updated to comply with the new Euro5 regulations, the Scrambler 1100's 1079cc air-cooled V-twin is otherwise unchanged – which is a bit of a missed opportunity. The end result is 85bhp at 7500rpm and 65ftlb of torque at just 4750rpm. Most of the time, in isolation, that's fine, although we found the 'Active' mode annoyingly sharp and choppy, much preferring the 'Journey' mode. But those figures are also significantly down on rivals such as Triumph's Thruxton 1200 (96bhp) and BMW's RnineT (110). They're also no better than Ducati's own, old 1000 Sport (92bhp) or 1100 Monster (100bhp) and, while we realise some neutering is inevitable under the latest emissions regulations, we still wonder if Ducati couldn't have done more. On the upside, with the latest Brembo radial calipers and slick cornering ABS, its stopping power is beyond criticism, although they're probably overkill on this kind of bike.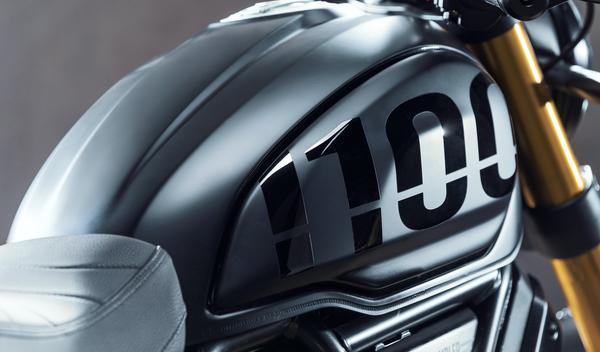 Ride & handling
Despite the oversized 18-inch front wheel and 'fashion victim' semi-knobbly Pirelli Scorpion tyres (surely an anathema on any street bike fitted with Ohlins), the PRO is a sweet, sporty handling machine which comes into its own on twisty, demanding B-roads where its quick, intuitive steering and cultured ride come into their own. The rest of the time, though, the PRO's merely competent and fails to shine sufficiently to justify its premium price. Yes, the ride is classy, its adjustability appealing, but with those tyres, what's the point?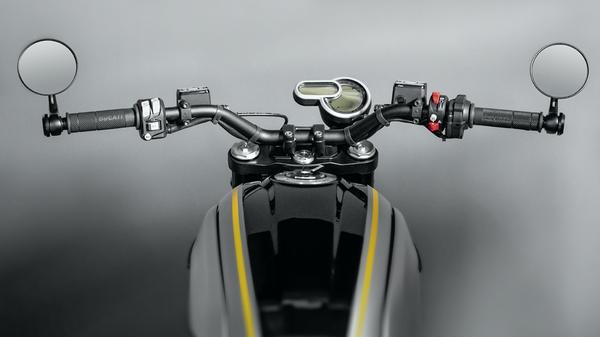 Running costs
Although 1100cc and premium-priced, the Scrambler 1100 Sport PRO still only puts out 85bhp; is more likely than most performance machines to be ridden relatively gently and is also a poseur's delight ridden on short, fair-weather rides, so mileages won't be high. All of that helps keep running costs low so don't expect an excessive hunger for consumables nor particularly inflated insurance premiums etc, either. Ultimately, though, the Scrambler 1100 Sport PRO remains a luxury-priced Ducati, so running costs are never going to be cheap, either.
Reliability
The Scrambler 1100 Sport PRO is a new model, so the jury has to remain out. That said it's also fundamentally an update on a machine which came out in 2018, has had no major problems reported so far and which in turn was derived from Ducati's long-established, proven, air-cooled 'Dual Spark' motor, so overall we're confident that there's little to fear. Build and component quality is generally good, too while this is very much the kind of machine that will be cossetted and correctly looked after by an enthusiast, meaning that it will be well-maintained and regularly cleaned as well.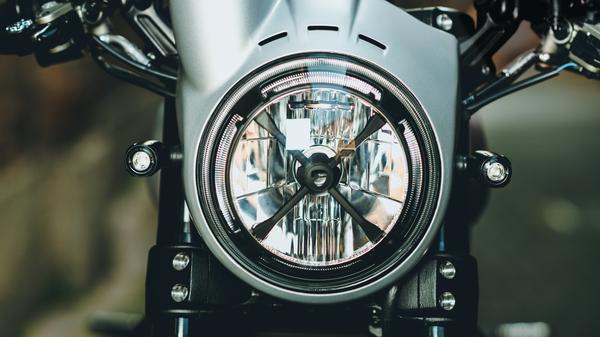 Warranty & servicing
Like most major brands, Ducati now offers a two-year, unlimited mileage manufacturer-backed warranty on its new machines covering all parts and associated labour. Ducati service intervals have also improved hugely in recent years and the new Scrambler 1100 Sport PRO is fairly typical of this. After the initial 600mile 'break-in' service, the 1100 requires oil and filter changes and all-over checks every 7500miles (or annually) with the most expensive valve-train adjustment every 15,000, or two years.
Equipment
There's no doubt the new Scrambler 1100 Sport Pro is well-equipped, certainly for a retro – but then, considering its £13K price tag it should be. So, there's the fancy Ohlins suspension and posh Brembo brakes, plenty of customizable electronic rider aids; a slick (but fiddly and over-complicated) digital dash, bar end mirrors and plenty of tactile surfaces and finishes – in short you'll want for very little. Instead, our main gripe was the gimmicky nature of some of its goodies, how fiddly and difficult to read the dash was and how uncomfortable the fancy looking seat was.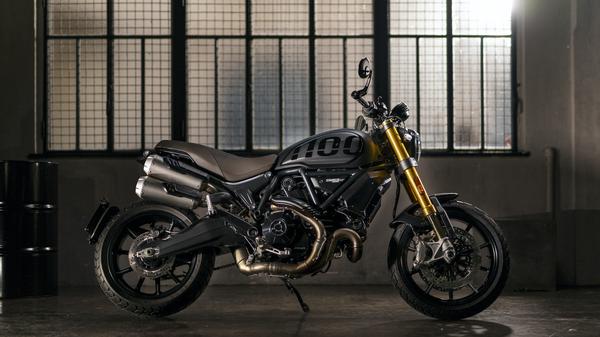 Why buy?
The new 1100 Sport PRO certainly raises the bar when it comes to Ducati Scrambler sporting ability and its Ohlins suspension in particular deserves to be singled out for the cultured ride it delivers, along with sprightly, nimble steering which seems at odds with its large front wheel and semi knobbly tyres. Counter to that, however, is its slightly disappointing engine performance, poor seat comfort, gimmicky detailing and unconvincing overall style. Nearly £13K is a lot to pay for a performance retro and for around the same you can get Triumph's new, similarly-suspended, 105bhp Thruxton RS or you could save nearly £3K and go for the Speed Twin instead.