Expert Review
Ducati Panigale V4S Super Sports (2018 - ) review
Ducati revolutionizes the superbike class yet again with this all-new, ultra-sophisticated and dazzlingly fast V4 successor to its long line of V-twins.

Words by: Phil West
Published on 6 August 2018 | 0 min read
The Auto Trader expert verdict:
Ditching V-twins in favour of an all-new V4 hints at how bold Ducati have been. But the sheer brilliance - and speed - of the Panigale utterly vindicates them. Fast, sophisticated, exotic and sublime this is the new superbike standard.
Reasons to buy:
A new standard in superbike performance
Refined and unintimidating ride
Spec and electronics second to none
Design
The boldness of Ducati's move from V-twin to V4 power is matched by how similar, almost disappointingly so, its styling is to the old Panigale 1299. But that's irrelevant. Instead what impresses most is how effective, cohesive and refined this all-new standard setter is. It wants for nothing, performs astonishingly and is set to be the superbike benchmark for years to come.
Expert rating: 5/5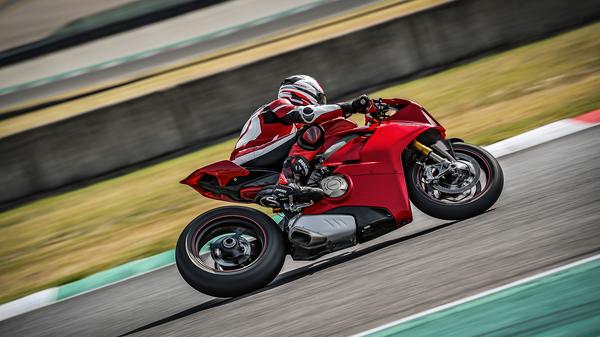 Riding position
Yes, Ducati's new V4 looks extreme: all 'bum up, nose down' awkwardness. But take it from this aging, stiff 50-something - it's anything but. After the slight stretch over the single saddle everything's natural sports ease: a slim waist, an easy cant forward to sports clip-ons and footpegs that are neither too high or extreme. Ultimately, of course, its suffers from the same no compromise approach to long distance comfort or nimble maneuverability as all pure sportsters, but as a track weapon built solely for speed, it's impeccable.
Expert rating: 5/5
Practicality
No pure sports bike can be expected to offer much by way of practicality. Pillion provision? Not a lot. Long distance comfort? Better than you'd expect but not a priority. Luggage-carrying ability? Minimal. In addition, the new V4's steering lock is minimal, making manouvring difficult. But all of that's just as true of most of the Ducati's rivals so it's harsh to criticize the new V4 too much here. What's more, for what it sets out to do, the V4S is brilliantly adept, is surprisingly easy and unintimidating to ride (thanks in part to all those electronics), is well-equipped with a fabulous dash so you always know what's going on and, more than anything, is such a nice place to be you're more than prepared to forgive it its extremeness.
Expert rating: 4/5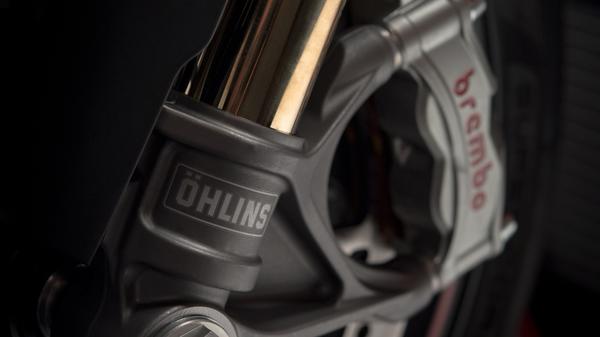 Performance & braking
Somehow five out of five doesn't seem enough. Ducati's all-new, MotoGP-inspired V4 powerplant is simply astonishingly potent. 214bhp at the crank which translates into a real 198bhp at the rear wheel are both class-leading figures and the way the big bang, reverse crank motor puts that down, firing its rider into the future with instant power is simply mind-blowing - and made all the more so by the no fuss way the electronics (anti-wheelie, traction control and more) keep it all under control. The brakes, meanwhile, exclusively comprising (for now) Brembo's new, ultra-lightweight 'Stylema' radial calipers, are equally impressive, aided by cornering ABS and, on the road, simple beyond criticism. Told you 5/5 wasn't enough…
Expert rating: 5/5
Ride & handling
If we're blown away by the new Panigale V4's performance, the same is just as true of its handling. In this S form, the new V4 has an Ohlins semi-active suspension system that adjusts in real time to both conditions and terrain and how the bike is being ridden - all astonishing stuff. What truly impresses, though, is how seamless and inconspicuously effective it is. Again, beyond criticism. Also impressive is the effect of the GP-style counter-rotating crank, which minimizes gyroscopic effect and noticeably makes the bike far more willing to turn without sacrificing stability.
Expert rating: 5/5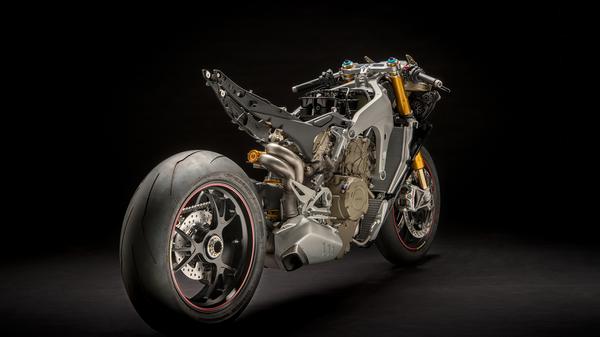 Running costs
OK, you shouldn't be expecting much in terms of economy with a £24K, 200bhp Ducati but, to be honest, if that's what's important you really are looking in the wrong place. For that reason among others we're loathe to mark down the otherwise stupendous V4 here. Even so, it can't be ignored that any owner should expect fairly significant tyre, pad and chain wear, fuel consumption isn't exactly frugal, especially if the V4's being ridden as it was designed to be and spare parts prices, being a luxury Ducati, aren't the cheapest either. Oh well, it was never going to be perfect…
Expert rating: 4/5
Reliability
This aspect, too, is one where it's difficult to be 100% accurate, if only for the simple reason that the Panigale V4 is an all-new bike. That said, Ducati's reputation of late is light years from the bad old day of the '80s and now has a record better than most and its dealer and spares back-up is today far better than most as well. Most of the V4's chassis and technology is proven as well. Overall, if it weren't for the small fact that this is an all-new, 200+bhp V4 that's likely to be ridden hard and any faults quickly exposed, we'd give it an even higher score.
Expert rating: 4/5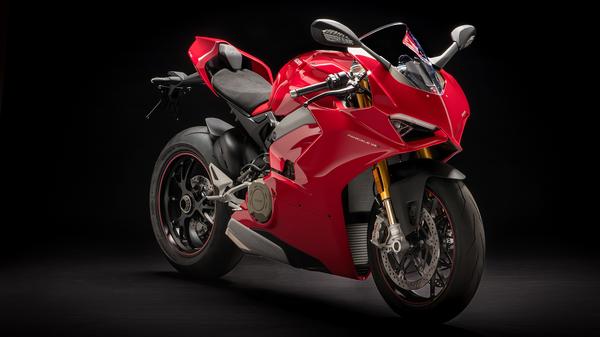 Warranty & servicing
Ducati service intervals have improved hugely in recent years - as pioneered with the original 2010 Multistrada 1200 which came with expanded 15,000-mile major service intervals and 7500-mile minor ones, and the same is true of the all-new Panigale V4. Therefore, although it's a sophisticated machine and service costs can accordingly be higher than average, on balance there's little to fear. Like other Ducatis the new Panigale V4 comes with a two-year, unlimited mileage warranty.
Expert rating: 5/5
Equipment
Simply, in this top-spec, S trim (which includes Ohlins' revolutionary semi-active suspension package), Ducati's new V4 superbike wants for nothing, in sports bike terms at least. So, while there's few creature comforts, luxuries or toys such as stereos and heated grips, in terms of performance goodies, it's got the lot. So, check off: state-of-the-art electronics including traction control, slide control, launch control, modes and cornering ABS. Add to that a single-sided swinger and flash TFT colour screen and more besides. In short: it's got the lot.
Expert rating: 5/5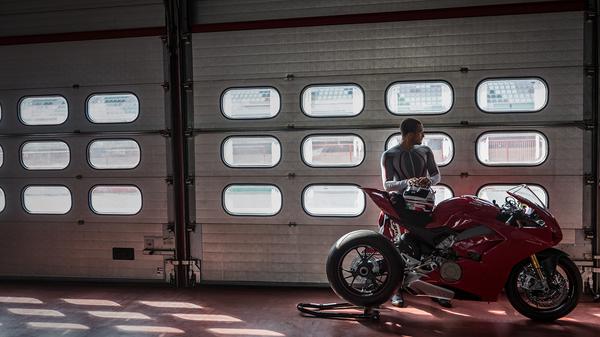 Why buy?
If - and this is a big 'if' - you happen to have £24K available to splash on a superbike, decisions don't get much easier: the all-new Ducati Panigale V4S has it all. It has the most power, is the fastest, has the best electronics, has class-leading handling, too AND is Italian, gorgeous, exclusive and exotic. No wonder it's Auto Trader's Bike of the Year 2018. Told you it was an easy decision. Now then, where did I leave that 24 grand…
Expert rating: 5/5