Expert Review
Ducati Multistrada 1200 Adventure (2010 - 2018) review
The original Multistrada 1200 was a revolutionary gem of an all-rounder back in 2010. The all-new 2015 version, now with variable valve technology and more, is even better yet.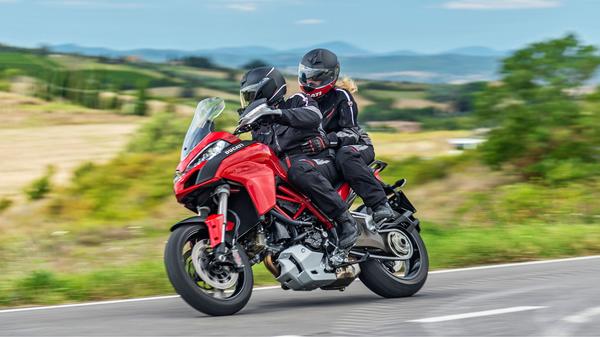 The Auto Trader expert verdict:
Italian exotica you can ride every day and use for every purpose. Ducati pretty much invented the 'adventure sports' category when it unveiled the first Multistrada 1200 in 2010 and the new 2015 version is even better yet. Bikes simply don't get any more innovative, capable, versatile and impressive.
Reasons to buy:
Fabulously versatile
The first 'adventure sports' that could keep up with a superbike
Incredibly sophisticated electronics and rider aids package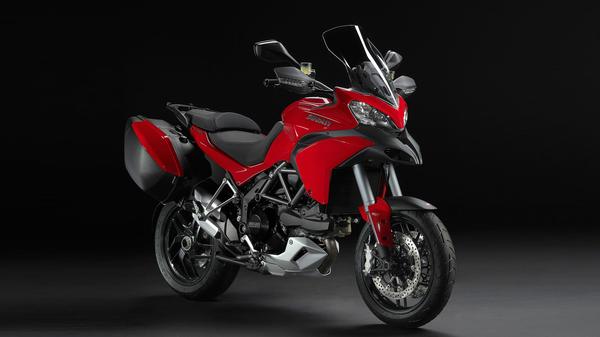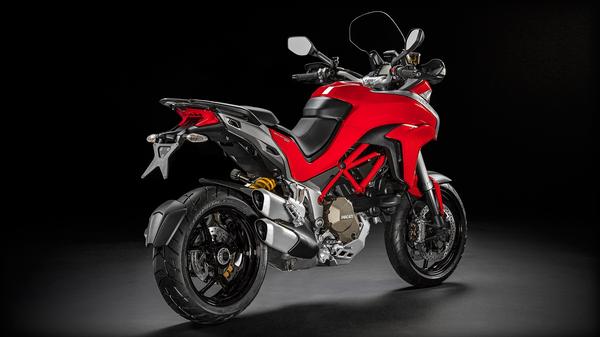 Design
"

New features include 'DVT', or Desmodromic Variable Timing

"
Despite similar styling, the 2015 Multistrada 1200 is effectively an all-new version of the radical, tech-laden 'sports adventure' machine first introduced by Ducati to huge acclaim in 2010. New features include 'DVT', or Desmodromic Variable Timing, which improves performance further plus updated ergonomics, bodywork, clocks and more. Two versions are available, the standard 1200 and the full monty 1200S which gets, among other things, Ducati's 'Skyhook' semi-active suspension. Both are brilliant.
Riding position
Typical upright 'adventure style', but with an added sporting edge. The Ducati Multistrada pretty much created a new style of 'adventure sports' when launched in 2010 and part of the reason for its huge success was its versatility: all-day touring comfort for two, decently nimble around town and with sharp enough steering and enough sport 'attitude' to satisfy all but the most hardcore of sports riders. The fact that the seat is height adjustable, too, is the icing on the cake.
Practicality
The Multistrada, as its name implies (it's Italian for 'Multi-Street') pretty much does it all. The Italian 1200 will tour (bespoke panniers are available), scratch, commute and more – in fact Ducati would have you believe it's a passable off-roader as well (although most think that's stretching the point a little). Central to that is the Multistrada's pioneering rider modes system which, as has now become commonplace, remaps the engine and electronics to 'Tour', 'Sport', 'Urban' or 'Enduro' settings at the flick of a switch and, on the S version, adjusts the suspension to suit, too.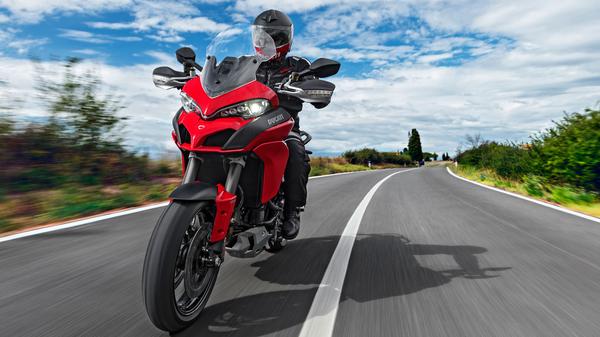 Performance & braking
"

Both Multistradas have the brakes to match, as well; radial-mounted Brembos

"
Before the 1200 Multistrada, a 150bhp 'adventure' bike, with the handling and braking to match, was unheard of. And while the rest of the biking world has caught up a little since (with bikes such as KTM's new 1290 Super Adventure and BMW's new S1000XR), 2015's reincarnation just about keeps ahead of the game with 10bhp extra and, more importantly, smoothed out delivery and extra grunt thanks to the new DVT. Both Multistradas have the brakes to match, as well – radial-mounted Brembos – with slightly higher specification versions on the S.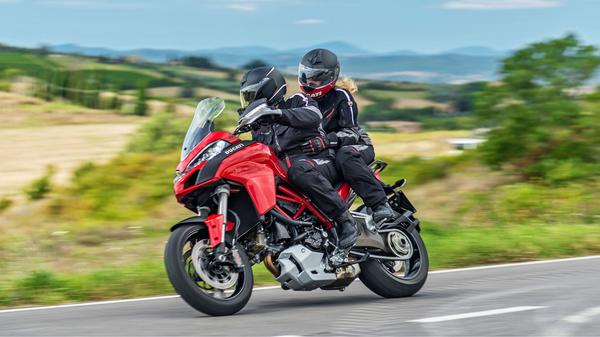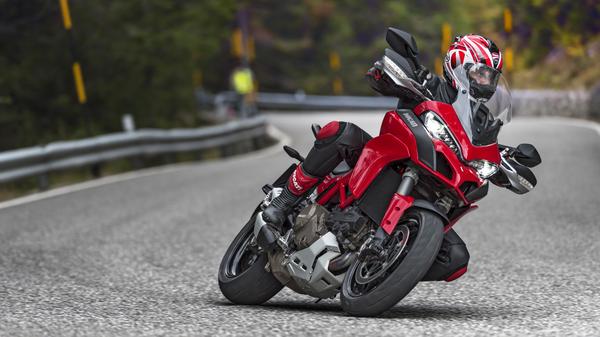 Ride & handling
"

The Multistrada 1200 makes a mockery of pre-existing conceptions about adventure bikes

"
Again, as with its performance, the Multistrada 1200 makes a mockery of pre-existing conceptions about adventure bikes and sports handling. Before the Multistrada, such machines tended to weave and wallow when ridden hard due to their combination of bulk, size, long travel suspension and dual-purpose tyres. Not so the Multistrada, which is light, taut and precise. Although the standard version is decent, the top specification 'S' version, complete with its hugely-impressive, semi-active 'Skyhook' suspension, which is adjustable at the press of a button, is the one to go for…
Running costs
High-end Ducati ownership never comes cheap, and the same is pretty much as true of the Multistrada as the Italian firm's sports exotica. With 160bhp on tap the Multistrada has as healthy an appetite for fuel, tyres, brake pads etc as most superbikes while its insurance is group 17. And although residuals have improved, they're yet to match the best from, say, BMW or Harley-Davidson.
Reliability
The days of 'fragile Ducatis' have long gone and, despite a handful of minor warranty issues and recalls, there's been no major problems to report and no reason to consider its reliability any worse than a comparable machine from Japan, Germany or the UK. That said, Ducatis more than most deserve (rather than demand) pampering and looking after – few would want to run one through an English winter, for example. Most, naturally enough, are.
Warranty & servicing
Ducati service intervals have also improved hugely in recent years – as pioneered with the original 2010 Multistrada 1200 which came with expanded 15,000-mile major service intervals. The latest version is the same, so although it's a sophisticated machine and service costs can accordingly be higher than average, on balance there's little to fear. Like other Ducatis the Multistrada 1200 comes with a two-year, unlimited mileage warranty
Equipment
While both standard and S models get cornering ABS, Ducati Wheelie Control, Ducati Traction control, four different riding modes, an adjustable screen plus a height adjustable seat the top spec 'S' also gets Ducati's radical 'Skyhook' semi-active suspension system, cornering LED headlights, higher spec Brembo brakes and a full colour digital dashboard. If that isn't enough, everything from luggage systems to heated grips and main stands are available as extra cost options.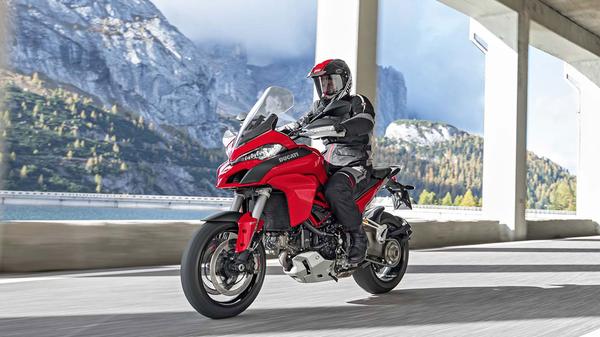 Why buy?
"

This is true Italian exotica sporting appeal plus enviable every-day practicality

"
You can have your cake as well as eat it with a Ducati Multistrada 1200: true Italian exotica sporting appeal plus enviable every-day practicality and with the cherry on top being the very latest in electronic rider aids, namely semi-active suspension, riding modes, traction control and more. Although rivals have caught up since 2010 (the new BMW S1000XR and KTM 1290 Super Adventure, in particular, run the Ducati close), they've still to match the style and cache of the Italian. The thinking man's Italian exotica.