Expert Review
Ducati Diavel Custom/Cruiser (2019 - ) review
The original 2011 Diavel revolutionized what 'cruisers' were capable of with 160bhp and sportsbike handling, now this all-new version goes a stage further with variable valve-timing, sharper chassis, uprated electronics and more. Compared to a Harley it's the Starship Enterprise…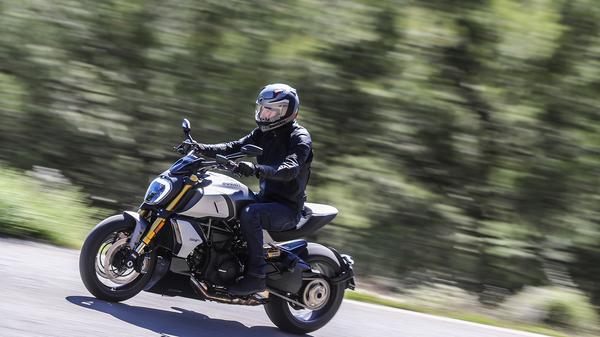 The Auto Trader expert verdict:
Available new from £17,151
You'd expect a Ducati 'cruiser' to be different and the Diavel is – fast, exotic, fine-handling and astonishingly able. This all-new 2019 version raises the bar further with VVT, sharper chassis and colour TFT screen-accessed uprated electronics. While in this 'S' trim there's Ohlins, Brembo M50s, quick shifter/blipper and more. Cruisers never used to be like this…
Reasons to buy:
Cruiser convention-defying sophistication
Superbike-level performance
Exotic appeal in a comfortable package
Design
Back in 2011 we expected Ducati's first interpretation of a cruiser to be clever and special but no one predicted how much we'd be blown away. Despite its laid back stance, kicked out front end and fat back tyres, all cruiser prerequisites, that first Diavel boasted 160bhp superbike power, genre-defying handling and electronic sophistication that made a Harley look like something from the steam age. Now Ducati have raised the bar again. With DVT, a sharper chassis, uprated electronics access via a new, colour TFT screen and, in this 'S' spec, Ohlins suspension, Brembo M50 brakes and carbon galore. And yet the Diavel still looks like a cruiser, albeit a 21st century one and is comfortable too. Cruisers simply aren't supposed to be this good.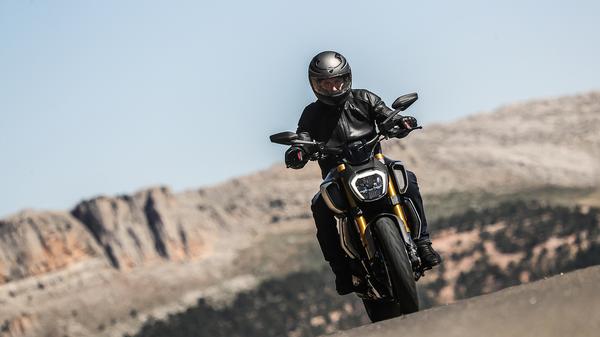 Riding position
Yes it's cruiser upright and notionally laid-back (although in truth the Diavel's probably more pert hot rod than lazy cruiser) but it also manages that and is also relatively easily manageable and respectably comfortable, too (although the weight going through your bum does get to you on a long day). If you want the 'full-on' cruiser style you're probably more tempted by the more extreme XDiavel version, but, ignoring that, the Diavel, ergonomically at least, is pretty much beyond criticism in cruiser terms.
Practicality
On face value a performance, 160bhp cruiser makes no sort of practical sense at all but in reality the Diavel is probably second only to the Multistradas for versatility in Ducati's big bike range – especially for those after a more relaxed riding position. Yes, motorway comfort isn't great with no weather protection (although some is available as optional extras) and it's undeniably a handful around town. Nor is it a bike you'll want to subject to winter and unnecessary rain. All that said, however, the Diavel's a surprisingly decent all-rounder that can scratch, tour, take a pillion and be a stylish posing tool around town.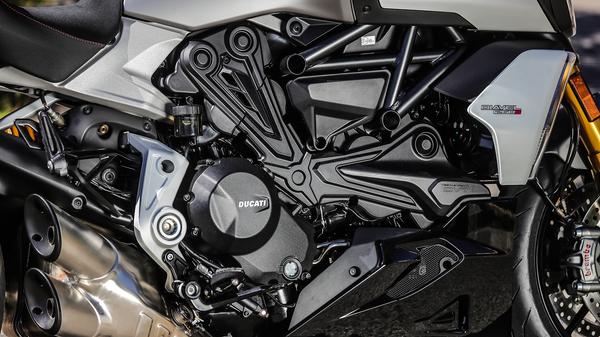 Performance & braking
The Diavel simply makes mincemeat of every other cruiser, pretty much, when it comes to performance, especially at higher speeds and this latest version, thanks to its enhanced electronics and enlarged midrange is better still. It's not so much in acceleration – although impressive there are plenty of other big engine, torque hot rods, Harleys included, that can blast up to 60+ as thunderously as the Diavel. Instead it's at the top end of its rev range, approaching silly speeds, where its 160bhp and sophistication shows its superbike roots. The same is true of its brakes. Big, meaty, radially-mounted Brembos already grace the stock version, which are on a par with most superbikes for pure stopping power. But this S version has the glorious, even higher spec 'M50' versions, which stop the Diavel in a squeal of tyre smoke.
Ride & handling
No cruiser should handle like this. As before, the original, 2011 Diavel redefined the kind of handling a cruiser was capable of. Even with kicked out forks and a fat back tyre it could show a clean pair of heels to most so-called sports bikes. But this latest version is better yet, steering even sharper, being even more secure and generally being a sophisticated hoot. It's not perfect – it could only achieve that anathema by NOT being a cruiser, after all. And it still is a big, long bike that needs setting up. Overall, though, the new Diavel's almost a Monster in terms of its ride and scratchability…
Running costs
The cost of running an exotic, high-powered Ducati is never going to come cheaply, whether that's a Panigale superbike, Multistrada all-rounder or cruiser Diavel and the same is true of this latest version. Fuel economy, thanks to its 160bhp and the sheer joy of using it, can be the wrong side of 40mpg and, if used as Bologna intended, the new Diavel can have a pretty healthy appetite for tyres, brake pads, chain and any other consumables as well. Of course, if you ride it more gently it's less voracious. But where's the fun in that?
Reliability
The days of 'fragile Ducatis' are a thing of the past and the Italian company has rightly lauded its durability record and long service intervals in recent years. What's more, the Testastretta L-twin is mow long established and proven and in this 160bhp DVT form has already been in used in the Multistrada for over a year. On that basis we have no cause for concern. Our only doubt is over the immense sophistication and sheer volume of features and electronics this latest Diavel now has, ranging from TFT screen to quick shifter. The latest switchgear seems a touch flimsy, too.
Warranty & servicing
Like other Ducatis and indeed most of the major manufacturers, the new Diavel 1260 S comes with a manufacturer-backed, two-year, unlimited mileage warranty for parts and labout. Ducati service intervals have also improved hugely in recent years – as pioneered with the original 2010 Multistrada 1200 which came with expanded 15,000-mile major service intervals. The same remains true of these latest 1260 DVT versions so, although the Diavel 1260 S is a mind-bogglingly sophisticated machine and service costs can accordingly be higher than average, on balance we have little to fear.
Equipment
Simply: few bikes have more. On top of the variable valve-timing and TFT controlled electronics sweet which includes customizable rider modes, launch control, traction control, cornering ABS and more, this S version also gets a quick shifter/auto blipper, Ohlins suspension, the latest spec Brembo brakes, a smattering of carbon fibre, single-sided swing arm, cornering LED riding lights, LED indicators and… the list goes on. If you're not into gizmos and gadgets you're looking at the wrong bike.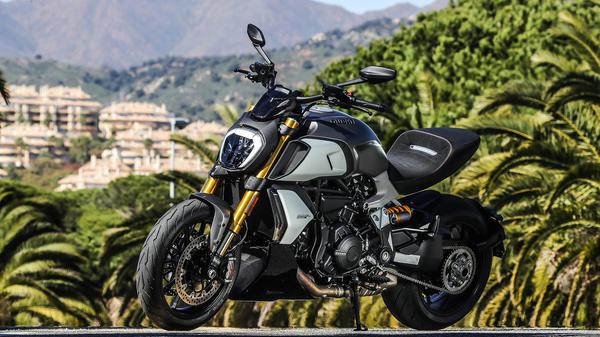 Why buy?
In many respects the Diavel is a unique proposition: a laid back, comfortable cruiser that makes absolutely no compromises for those who still want superbike performance and sophistication. The Diavel is a comfortable, cool ride for two, but it's also a blistering weapon more than able of handing onto the coattails of simply anything AND with the latest electronic gizmos, gadgets, you name it, to go with it. With the Diavel you really can have your cake and eat it. And, in this latest 1260 S form, it's never tasted better…