Expert Review
Ducati 1299 Panigale Super Sports (2015 - 2016) review
The 2015 Ducati 1299 Panigale is an utterly brilliant, if witheringly expensive sports bike. Road-legal racers don't come much better than this.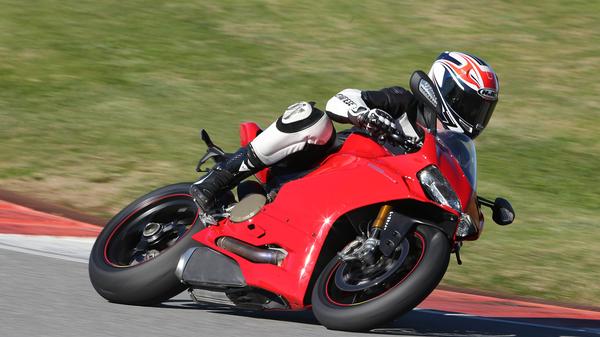 The Auto Trader expert verdict:
Ducati's superb super-sports flagship blends Italian style, mind-blowing 200bhp performance and racer-like handling and braking with reasonable comfort and outstanding safety features. It's a magnificent motorbike, albeit a very expensive one.
Reasons to buy:
Breathtaking performance, agility and braking
Outstanding electronic refinement and safety
Irresistible looks and V-twin character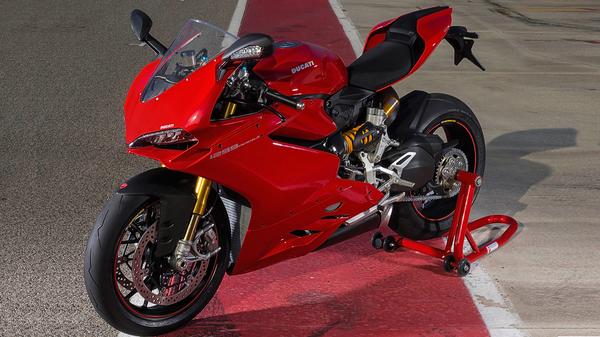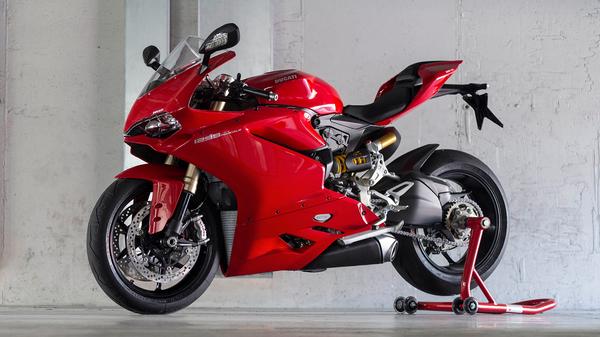 Design
"

The familiar sharp, yet curvaceous Panigale snout is reshaped to incorporate headlights in the fairing's air scoops

"
The 1199 Panigale set new standards with its sleek styling and innovative, aluminium monocoque-framed chassis, and the 1299 is a subtle development of that. The familiar sharp, yet curvaceous Panigale snout is reshaped to incorporate headlights in the fairing's air scoops, while the rear section has a new "split" tailpiece. Like the 1199, the chassis uses the engine as a structural member and adds an aluminium front section that doubles as the airbox, contributing to the bike's light weight. The 1299 has slightly steeper steering geometry (at 24 degrees), and follows the race-developed 1199 Panigale R in having a 4mm lower pivot for the single-sided swing-arm, for improved grip under acceleration.
Riding position
The 1299 is still very much a hard-core super-sports bike, so don't expect a relaxed and upright riding position, but Ducati has attempted to make it a little less uncompromising. The screen is taller by 20mm, the fairing and mirrors are slightly wider and the seat is redesigned to be more comfortable. At 830mm, it's 5mm taller, though slim enough to be acceptably low for most riders. Those changes are generally welcome, and do nothing to detract from the Panigale's style or performance on track. The new screen is usefully easier to shelter behind; the mirrors seem to work; the machined footrests should prove less slippery than previous Panigale pegs. One minor quibble is that the sidestand is slightly too tucked-in to be easily flicked down.
Practicality
As a top-of-the-range Italian sports bike the Panigale is no more designed for urban commuting than a Lamborghini is, but the ergonomic changes should make it easier to live with. Fuel capacity is a fairly modest 17 litres, so with the big desmo V-twin gulping gas at 40mpg or worse you're looking at stopping after only about 120 miles. Most owners are likely to have an alternative bike for everyday use, so possibly won't miss the cruise control and heated grips that are options with BMW's rival S1000RR.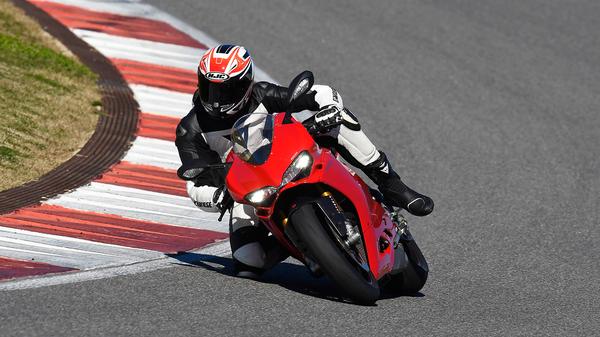 Performance & braking
"

With a likely top speed of just over 190mph, it's exceptionally fast

"
If ever a motorbike deserved a perfect score in both of the above categories, it's this one. With its claimed peak output of 205bhp matched by considerably enhanced midrange thanks to the increased engine capacity, the 1299 matches its class-leading top-end performance with impressive flexibility, backed-up by cutting-edge electronics. And the Panigale's combination of Brembo M50 Monobloc calipers, light weight, sticky Pirelli rubber and Bosch's cornering ABS system means that it's arguably the best braked motorcycle ever produced.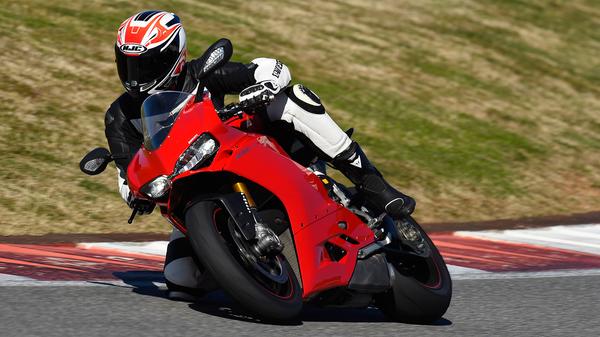 Ride & handling
"

The Ducati steers superbly, its light weight and sharp geometry allowing quick changes of direction along with great precision

"
While the standard 1299 comes with conventional Marzocchi forks and Sachs shock, the Panigale S features Öhlins' Smart EC semi-active suspension, which links the 43mm diameter NIX30 forks, TTX36 shock and an electronically adjustable steering damper to the bike's three riding modes. The system gives the option of either simple push-button adjustment or "event controlled" operation, by which the Öhlins units are continually fine-tuned automatically. The Ducati steers superbly, its light weight and sharp geometry allowing quick changes of direction along with great precision. I was very impressed by the Smart EC, which firmed up the front end to allow fearsomely hard braking, yet was compliant and gave excellent feedback once the brake was eased off into a turn. (The semi-active system should also help make the 1299 a respectably comfortable roadster.) But the Ducati shook its head on the way out of some Portimao bends until I stiffened the forks and shock to the hardest setting. It's a powerful, light, racy bike that will require some setting up to give of its best.
Running costs
If you're looking for a bike that's cheap to run there are a many far more sensible options than the Panigale, which when ridden hard will get through sticky Pirelli Supercorsa SP tyres almost as quickly as it will drain its fuel tank. Which is fair enough, given that it's as fast and far safer and more versatile than the Ducati factory 999 on which Neil Hodgson won the World Superbike title as recently as 2003
Reliability
It's hard to be sure with a new and even more powerful engine, but the Superquadro unit has been around for several years now and Ducati's dohc V-twin has earned a decent reputation for reliability.
Warranty & servicing
The Panigale comes with the firm's normal two-year, unlimited mileage warranty and 7,500 mile service intervals, and 15,000 miles between checks on its desmo valvegear, the 1299 is also a lot cheaper to maintain.
Equipment
With a sports bike in 2015, equipment mostly means electronic features, of which even the standard 1299 incorporates a long list. Its TFT digital display automatically changes info depending on riding mode, as with the 1199, and adds a lean-angle reading. The DQS quick-shifter, DTC traction control, DWC wheelie control and EBC engine braking control are standard fitment, as is the cornering ABS that is also linked to the lean-angle sensor. The headlights are LEDs in the case of the Panigale S, which also comes with forged Marchesini wheels and a carbon-fibre front mudguard, as well as the Öhlins Smart EC semi-active suspension. Both versions of the 1299 are primed to accept the accessory DDA+ GPS data analyser, which logs lap times and can show a trace of a circuit with riding lines plus details of revs, gear, lean angle etc. Accessories include a Sport pack with carbon-fibre parts, and a Touring pack that includes a comfort seat and tank bag. Performance parts include a very light and trick looking titanium Akrapovic exhaust.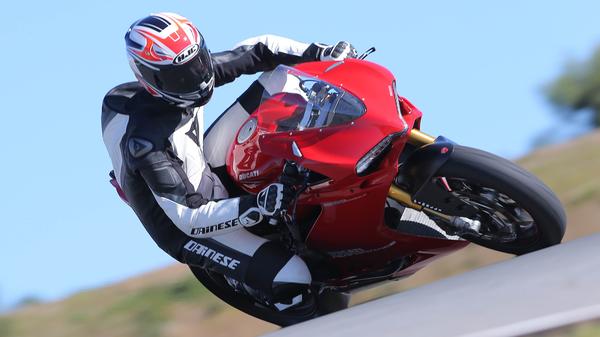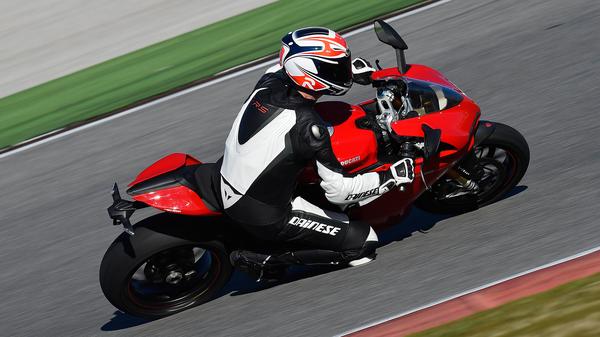 Why buy?
"

Even by Ducati's recent high standards, it's an utterly brilliant bike

"
The 2015 crop of top-end sports bikes are all phenomenal machines that combine awesome performance with levels of electronic refinement and safety that were unimaginable just a few years ago. The 1299 Panigale is the lightest and among the most powerful of the lot, and might prove to be the quickest around a typical track. It is also arguably the most beautiful, and its V-twin character and improbably loud exhaust note make every ride an event. Even by Ducati's recent high standards, it's an utterly brilliant bike.